Agreement for Sale of Business Assets
Agreement when one party is purchasing only certain business assets from another party.
File types included
Microsoft Word
Adobe PDF
WordPerfect
Rich Text Format
Compatible with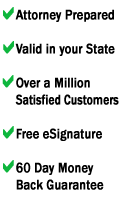 For Immediate Download
$9.99
Add to Cart
Free eSignature included
with every order
Please select a state
Attorney prepared
Our forms are kept up-to-date and accurate by our lawyers
Unlike other sites, every document on FindLegalForms.com is prepared by an attorney, so you can be sure that you are getting a form that is accurate and valid in your state.
Valid in your state
Our forms are guaranteed
to be valid in your state
Our team works tirelessly to keep our products current. As the laws change in your state, so do our forms.
Over 3,500,000
satisfied customers
In over 10 years of creating and selling legal forms, our focus has never changed: providing our customers high quality legal products, low prices and an experience that takes some confusion out of the law.
Free eSignature
Sign your form online, free with any form purchase
We now provide a free Electronic Signature Service to all of our visitors. There are no hidden charges or subscription fees, it's just plain free.
60-Days Money Back
Try our forms with no risk
If you are unhappy with your form purchase for any reason at all, contact us within 60 days and we will refund 100% of your money back.
This form should be used when one party is purchasing only certain business assets from another party. This form is set up for use in the sale of sole proprietorship assets to an individual. This structure may be easily adapted to fit other situations if necessary (sale from a partnership to a corporation, etc.).
Among others, this form includes the following provisions:


List of Assets


Payment Amount


How Purchase Price Will Be Paid


Deposit


Date of Close


Additional Terms
State Law Compliance:
This form complies with the laws of all states.
Dimensions
Designed for Letter Size (8.5" x 11")
Editable
Yes (.doc, .wpd and .rtf)
Usage
Unlimited number of prints
This is the content of the form and is provided for your convenience. It is not necessarily what the actual form looks like and does not include the information, instructions and other materials that come with the form you would purchase. An actual sample can also be viewed by clicking on the "Sample Form" near the top left of this page.
Agreement for the Sale of Business Assets
This Packet Includes:
1. Information
2. Agreement for the Sale of Business Assets
Information
Agreement for the Sale of Business Assets
This form should be used when one party is purchasing only certain business assets from another party. This form as it is shown is set up for use in the sale of sole proprietorship assets to an individual. This structure may be easily adapted to fit other particular situations if necessary. For example, if the business assets are being sold by a partnership and the buyer is a corporation, a few simple substitutions will be necessary to change the document to the appropriate form. Simply substitute the name and address of the partnership for the seller's name wherever indicated, substitute the name and address of the corporate buyer where necessary, and provide the proper signature lines. (Note: notarization is not provided for this form. Notarization of this form is only necessary if the sale of the business assets includes the sale of real estate. In that case, a notarization will be needed in order to record this document with the appropriate county real estate records office.)
The following information will have to be used to fill in this form:
q · Name and address of the seller
q · Name and address of the buyer
q · Name and type of business of the seller
q · A complete list of the business assets being sold
q · The total amount being paid for the assets
q · How this total amount is allocated among the assets being sold
q · How the total amount will be paid
q · The amount of earnest money
q · The amount of down payment paid at closing
q · The amount of a promissory note
q · The interest rate of the note
q · The term of the note
q · The amount of monthly payments of the note
q · The closing date of the sale
q · The location of the closing of the sale
q · The documents of sale that the seller will provide at closing
q · Any adjustments to the sale price that must be made at closing
q
· An accounting balance sheet of the business
q
· The terms of an agreement not to compete with the buyer
q · How long such an agreement will last, and
q · The geographical area covered by the agreement
q · The amount of insurance the buyer agrees to carry on the business
q · Any additional terms of agreement the parties wish to include
q · The name of the state whose laws will govern the agreement
Note that you may also need to use the following additional documents in conjunction with the basic Agreement for Sale of Business Assets form:
· U.C.C. Financing Statement
· Security Agreement
· Promissory Note
· Bill of Sale
· Bulk Sales Affidavit and Notice
DISCLAIMER:
FindLegalForms, Inc. ("FLF") is not a law firm and does not provide legal advice. The use of these materials is not a substitute for legal advice. Only an attorney can provide legal advice. An attorney should be consulted for all serious legal matters. No Attorney-Client relationship is created by use of these materials.
THESE MATERIALS ARE PROVIDED "AS-IS." FLF DOES NOT GIVE ANY EXPRESS OR IMPLIED WARRANTIES OF MERCHANTABILITY, SUITABILITY OR COMPLETENESS FOR ANY OF THE MATERIALS FOR YOUR PARTICULAR NEEDS. THE MATERIALS ARE USED AT YOUR OWN RISK. IN NO EVENT WILL: I) FLF, ITS AGENTS, PARTNERS, OR AFFILIATES; OR II) THE PROVIDERS, AUTHORS OR PUBLISHERS OF ITS MATERIALS, BE RESPONSIBLE OR LIABLE FOR ANY DIRECT, INDIRECT, INCIDENTAL, SPECIAL, EXEMPLARY, OR CONSEQUENTIAL DAMAGES (INCLUDING, BUT NOT LIMITED TO, PROCUREMENT OF SUBSTITUTE GOODS OR SERVICES; LOSS OF USE, DATE OR PROFITS; OR BUSINESS INTERRUPTION) HOWEVER USED AND ON ANY THEORY OF LIABILITY, WHETHER IN CONTRACT, STRICT LIABILITY, OR TORT (INCLUDING NEGLIGENCE OR OTHERWISE) ARISING IN ANY WAY OUT OF THE USE OF THESE MATERIALS.
AGREEMENT FOR SALE OF BUSINESS ASSETS
This Agreement is made on ______, 20 __, between _______________ , Seller, of ____________________________ , City of __________________, State of _____________________ , and ___________________, Buyer, of _________ , City of __________________, State of _____________________ .
The Seller now owns and conducts a ___________________________________________business, under the name of ________________________________________ , at _______________________________ , City of __________________ , State of ____________________________.
For valuable consideration, the Seller agrees to sell and the Buyer agrees to buy certain assets of this business for the following price and on the following terms:
1. The Seller will sell to the Buyer certain assets of the business as listed on Exhibit A, which is attached and is a part of this agreement. The assets will be transferred free from all liabilities, claims, and indebtedness, unless listed on Exhibit A.
2. The Buyer agrees to pay the Seller the sum of $______________, which the Seller agrees to accept as full payment.
3. The purchase price will be paid as follows:
Earnest money $ _________ (Received by Seller on signing this Agreement)
Cash down payment $ _________ (Due on Closing)
Promissory note payable $ _________
TOTAL Price $ _________
The $ _________ Promissory Note will bear interest at ____% (_________ percent) per year, payable monthly for _________ years at $_________ per month with the first payment due 1 (one) month after the date of closing. The
Promissory note will be secured by a U.C.C. Financing Statement and a Security Agreement in the usual commercial form. The Promissory Note will be prepayable without limitation or penalty.
4. The Seller acknowledges receiving the Earnest money deposit of $_________________ from the Buyer. If this sale is not completed for any valid reason, this money will be returned to the Buyer without penalty or interest.
5. This agreement will close on _________________, 20__ , at ___ o'clock _ . m., at ___________________________, City of ________________________ , State of ________________________ .
At that time, and upon payment by Buyer of the portion of the purchase price then due, the Seller will deliver to Buyer the following documents:
(a) A Bill of Sale for all personal property (equipment, inventory, parts, supplies, and any other personal property).
(b) All other documents of transfer as listed below:
At closing, adjustments to the purchase price will be made for changes in inventory since this Agreement was made, and for the following other items:
6. The Seller represents and warrants that it is in full compliance with and is not in violation of any laws or regulations affecting the Seller's business, including any laws governing Bulk Sales or Transfers.
7. Seller represents that it has good and marketable title to all of the assets shown on Exhibit A, and that those assets are free and clear of any restrictions on transfer, claims, taxes, indebtedness, or liabilities except those specified on the Exhibit A. If this sale includes the sale of inventory of the business, the Seller has provided the Buyer with a completed Bulk Transfer Affidavit containing a complete list of all creditors of the Seller, together with the amount claimed to be
due to each creditor. Seller also warrants that all equipment will be delivered in working order on the date of closing.
8. Between the date of this Agreement and the date of closing of the Sale, the Seller agrees to carry on the business in the usual manner and agrees not to enter into any unusual contract or other agreement affecting the business assets being sold without the consent of the Buyer.
9. The Buyer represents that it is financially capable of completing the purchase of these business assets and fully understands its obligations under this Agreement.
10. Buyer agrees to carry hazard and liability insurance on the assets of the business in the amount of $ __________ and to provide the Seller with proof of this coverage until the Promissory Note is paid in full. However, the risk of any loss or damage to any assets being sold remain with the Seller until the date of closing.
11. No modification of this Agreement will be effective unless it is in writing and is signed by both the Buyer and Seller. This Agreement binds and benefits both the Buyer and Seller and any successors. Time is of the essence of this agreement. This document, including any attachments, is the entire agreement between the Buyer and Seller. This Agreement is governed by the laws of the State of _______________________ .
Dated: ______________________________, 20 ____
______________________________
Signature of Seller
DBA _________________________
Name of Business
A(n) ____________________ (state of operation) sole proprietorship
____________________
Signature of Buyer
Exhibit A
You've found your form, but will you need others? If there are other related forms you may need in the future, it may be beneficial to look at our combo packages. On average, customers who purchase a combo package save 40% on the related forms they need. Take a look at the combo packages below to see if one is right for you.

Sale of Business Combo
Get 8 forms for just $39.95

Save 69%!
This Sale of Business Combo Package contains all our popular related forms.
Customer Reviews
Average Rating:
Reviews: 2
---





I was selling a business in a hurry to an associate, we have known each other for over 30 yrs, so he wanted to buy my busines and because of the fiscal cliff uncertainty, we needed to get a deal done quickly (Letter of intent to purchase, Business asset sale,Lease Agreement, Promissor note and a non-competition agreement) before the end of the year($50,000.00 in increased capital gain taxes were on the line).A secondary problem was that I'm Computer illiterate and this is the part I want consumers to know about, FindLegalForms.com's Webmaster was incredibly patient with me, Helping guide me to the correct format and telling me how to store my edited forms etc. Thank you.
---





I sold the equipment and good will from my small business for a small amount of money and didn't want overly complicated legal advice to cost me a lot of money, so I followed the guidelines for my state tax department and the IRS and downloaded this form. It worked perfectly in this circumstance and the purchaser agreed. No lawyer or accountant was needed saving us both lots of money.
---
Looking for something else?