Confidentiality, Non-Disclosure and Non-Circumvention Agreement - Entertainment
for Your State
This Confidentiality, Non-Disclosure and Circumvention Agreement (Entertainment) is between a producer and a writer of a script. In this agreement, the writer agrees to disclose confidential information to a producer. The producer may then disclose this information to others under the restrictions and terms sets out in the agreement. This form is available for immediate download.
File types included
Microsoft Word
Adobe PDF
WordPerfect
Rich Text Format
Compatible with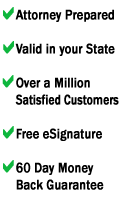 For Immediate Download
$19.95
Add to Cart
Free eSignature included
with every order
Please select a state
Attorney prepared
Our forms are kept up-to-date and accurate by our lawyers
Unlike other sites, every document on FindLegalForms.com is prepared by an attorney, so you can be sure that you are getting a form that is accurate and valid in your state.
Valid in your state
Our forms are guaranteed
to be valid in your state
Our team works tirelessly to keep our products current. As the laws change in your state, so do our forms.
Over 3,500,000
satisfied customers
In over 10 years of creating and selling legal forms, our focus has never changed: providing our customers high quality legal products, low prices and an experience that takes some confusion out of the law.
Free eSignature
Sign your form online, free with any form purchase
We now provide a free Electronic Signature Service to all of our visitors. There are no hidden charges or subscription fees, it's just plain free.
60-Days Money Back
Try our forms with no risk
If you are unhappy with your form purchase for any reason at all, contact us within 60 days and we will refund 100% of your money back.
This Confidentiality, Non-Disclosure and Non-Circumvention Agreement is an agreement between a producer and the writer of a manuscript. In this agreement the writer agrees to disclose certain ideas, concepts and materials to the producer but places certain restrictions on what confidential information the producer can disclose to another. Because the information being disclosed is confidential, it is crucial that this type of agreement be memorialized in writing. A well-written Confidentiality, Non-Disclosure and Non-Circumvention Agreement will prove invaluable in the event of disagreements, misunderstandings or litigation between the parties.
This Confidentiality, Non-Disclosure and Non-Circumvention Agreement contains the following provisions:
Parties: The identities of the writer and the producer and the date the agreement is signed;
Disclosure/Confidential Information: The writer agrees to disclose the script and confidential information to the producer, including concepts, ideas, drawings and business strategies;
Purpose/Limitations on Use: The producer agrees to disclose information only for the purpose of evaluation and investors' interest in the project and for no other purposes except those expressly set forth in the agreement;
Non-Circumvention: The producer agrees not to use or participate in any projects which contains similar concepts or ideas as those disclosed under this agreement for a set period of time;
Signatures: The writer and producer must sign and date the agreement.
Protect Yourself, Your Rights and Your Property by Using Our Professionally Prepared Forms.
This attorney-prepared packet contains:
General Information
Confidentiality, Non-Disclosure and Non-Circumvention Agreement
State Law Compliance:
This form complies with the laws of your state
Dimensions
Designed for Letter Size (8.5" x 11")
Editable
Yes (.doc, .wpd and .rtf)
Usage
Unlimited number of prints
This is the content of the form and is provided for your convenience. It is not necessarily what the actual form looks like and does not include the information, instructions and other materials that come with the form you would purchase. An actual sample can also be viewed by clicking on the "Sample Form" near the top left of this page.
CONFIDENTIALITY, NON-DISCLOSURE
NON-CIRCUMVENTION AGREEMENT
This CONFIDENTIALITY, NON-DISCLOSURE AND NON-CIRCUMVENTION AGREEMENT (this
"Agreement
") made this ____ day of _______________, 200___ by and between ________________________, and its principals, and affiliates (including, without limitation, _______________________________) (
"Producer
") and ________________________, its principals, and affiliates (including, without limitation, _____________________) (
"Writer
").
A.
Writer has developed that certain manuscript, with the working title:
"______________________
" (the
"Script
");
B.
Writer wishes to disclose the concepts, ideas, business strategy, prospective talent, and materials to Producer to permit Producer to determine whether it and other investors known to the Producer will participate in the financing and further development of the Script; and
C.
Producer is willing to accept the restrictions on the disclosure and use of the concepts, ideas, business strategy, prospective talent, and materials of the Script as provided in this Agreement t
o permit Writer to disclose confidential information to Producer.
NOW THEREFORE
, in consideration of the foregoing premises and the mutual covenants hereinafter set forth and other valuable considerations, the sufficiency and receipt of which are hereby acknowledged, the parties agree as follows:
1.
Disclosure
. Writer shall disclose the Script and Confidential Information to the Producer. Confidential Information shall include, without limitation, any concepts, ideas, relationship contacts, story boards, drawings, video and audio tape, treatments, film trailers, plans, notes, contracts, models, business strategy, distribution, prospective talent, marketing and promotion concepts and business plans, whether owned by Writer or not.
2.
Purpose
. Producer agrees that this disclosure is only for the purpose of the Producer
'
s evaluation to determine its and other investors
'
interest in providing financing for the further development, production, and distribution of the Script.
3.
Limitation on Use
. Except for the sole purpose stated in Paragraph 2 above, Producer agrees not to appropriate, summarize, disseminate, copy, distribute, disclose, distribute, share, discuss (either verbally or in writing) or use any Confidential Information or any portion of the Script in any way whatsoever, including but not limited to, adaptation, imitation, redesign, or modification of the Script. Nothing contained in this Agreement shall be deemed to give Producer any rights whatsoever in and to the Script or to Confidential Information.
Other than as specifically provided herein, Producer will not use Confidential Information for any purpose other than as stated herein.
4.
Non Circumvent
:
Producer further agrees that, for a period of five (5) years following the execution of this Agreement, Producer will not, either directly or indirectly, participate (including but not limited to financing or providing material therefor) in the development, production or creation of any project or endeavor that contains any similar theme, personality, characterizations, plot, character development, concepts or story as contained in the Script or which contains or is based upon Confidential Information.
5.
Confidentiality
. All information, documents or materials disclosed by Writer to Producer that relates or refers, directly or indirectly, to the Script, shall be deemed confidential and shall include all documents generated by Producer which contain, comment upon, or relate in any way to the Script, and any samples of the Script received by Producer together with any information derived therefrom. Producer understands and agrees that the disclosure of the Script by the Producer to anyone other than ________________could irreparably damage Writer. As consideration and in return for the disclosure of this Script, Producer shall keep secret and hold in confidence all such information concerning the Script and treat the Script as if it were Producer
'
s own proprietary property by not disclosing it to any person or entity other than possible investors.
Producer agrees to exercise the same degree of care to keep the Script secret and confidential as it employs to preserve and safeguard its own materials. Except for the sole purpose stated in Paragraph 2 above, Producer agrees that it is prohibited from disclosing, disseminating, sending, delivering, conveying (in any form or through any media), sharing, or discussing (either
verbally or in writing) any Confidential Information, or any portion thereof, with any person or entity which is not an employee, agent or officer of Producer, or an investor known to the Producer.
6.
Conditions For Dissemination to Officers, Agents, Employees
. Producer further agrees that it
will provide access to the Confidential Information only to such of its investors, officers, principals, employees or agents and no others, on a
"need to know
" basis, and only to the extent that such investors, officers, employees and agents who must have access to such Confidential Information in order to allow Producer and its investors to decide whether and to what extent it or they will participate in the Script.
7.
Good Faith Negotiations
. If, on the basis of the evaluation of the Script, Producer wishes to provide financing for the production of the Script, Producer agrees to enter into good faith negotiations to arrive at a mutually satisfactory agreement for these purposes. Until and unless such an agreement is entered into, this nondisclosure Agreement shall remain in force.
8.
Ownership of the Script
.
Producer acknowledges and agrees that Writer brought and introduced Producer to the Script and all Confidential Information and intellectual property relating to the Script. Producer agrees that Writer might suffer irreparable harm as a result of breaching this Agreement and that monetary damages may be inadequate to compensate Writer for such breach. As such Producer agrees that Writer in addition to and not in lieu of other rights and remedies, shall be entitled to temporary or permanent injunctive relief in order to prevent further losses.
9.
Return of Confidential Information
. If Producer decides not to pursue the Script, Producer shall within five (5) business days after such determination return any and all Confidential Information to Writer, along with all copies or derivatives thereof and all writings and/or visuals generated by Writer in connection with Producer
'
s determination.
10.
Survival of Producer
'
s Obligations
. If the Producer decides not to participate in the Script, Producer
'
s obligations under this Agreement to prevent competition and to keep confidential the Script and the Confidential Information shall extend from the date of this Agreement and shall survive the expiration or termination of this Agreement.
11.
Not a
Sale
or Offer
. Nothing in this Agreement shall be deemed a sale or offer for sale of the Script, and nothing contained herein shall in any way obligate Writer to grant to Producer, a license or any other rights, directly or by implication, estoppel or otherwise to the Confidential Information or the Script.
12
.
Successors and Assigns
. This Agreement shall be binding upon and shall inure to the benefit of the parties and their respective legal representatives, successors, and assigns.
13.
Entire Agreement
. This Agreement sets forth the entire agreement between the parties and may not be amended or modified, except by a writing signed by all of the parties.
14.
Attorney
'
s Fees
. In the event of litigation between the parties in connection with this Agreement, the unsuccessful party or parties to such litigation will pay to the successful party therein all costs and expenses, including reasonable attorneys
'
fees and costs incurred therein by such successful party, which costs and expenses shall be included as a part of any judgement rendered in such action, in addition to any other relief to which the successful party may be entitled.
15.
Governing Law
. This Agreement will be governed by and construed in accordance with the laws of the State of ________________,
applicable to contracts entered into and performed entirely within the State of __________. Any action brought on any matter hereunder may be instituted and maintained in a state or federal court of general jurisdiction in ____________________________, and each party hereby waives any objection that party may have to either the jurisdiction or venue of such court.
Producer hereby irrevocably appoints Writer as Producer
'
s agent for service of process for litigation hereunder, and Writer shall forward a copy of any such process to Producer by fax or regular mail.
16.
Severability
. In the event any provision of this Agreement shall be held invalid or unenforceable by any court of competent jurisdiction, such holding shall not effect the validity of the remaining provisions hereof.
17.
Counterparts. This Agreement may be executed in two (2) or more counterparts, each of which shall be deemed an original without production of the others.
WRITER:

________________________

By:

Name:

Title:

Date:

PRODUCER:

________________________

By:

Name:

Title:

Date:
ACKNOWLEDGEMENT OF CONFIDENTIALITY, NON-DISCLOSURE AND NON-CIRCUMVENTION AGREEMENTAND INTENTION TO BE BOUND BY SUCH AGREEMENT
I, the undersigned, acknowledge that I have received a copy of and have read that certain
Confidentiality, Non-Disclosure and Non-Circumvention Agreement (
"Agreement
") made as of _____________________, 20___ by and between
________________________ (
"Writer
") and ________________________ and its principals and affiliates (
"Producer
") and I agree to be bound by the terms and conditions of that Agreement. I also acknowledge and agree that any Confidential Information which I may receive shall be handled, at all times, as required under such Agreement and that I will assist Writer in any effort to enforce such Agreement. I further acknowledge and agree that should I breach the terms and conditions of the Agreement, that Writer may take any and all actions against me as are available to it against the Producer.
You've found your form, but will you need others? If there are other related forms you may need in the future, it may be beneficial to look at our combo packages. On average, customers who purchase a combo package save 40% on the related forms they need. Take a look at the combo packages below to see if one is right for you.

Screenwriter Combo Kit
Get 8 forms for just $39.95

Save 68%!
This combo kit includes a number of forms for screenwriters. Significant savings off the retail price!

Motion Picture Producer Combo Package
Get 40 forms for just $99.95

Save 87%!
Best Value! This kit includes a comprehensive library of forms for film producers.
Customer Reviews
Average Rating:
Reviews: 1
---





---
Looking for something else?