Confidentiality Agreement Potential Investor
for Your State
This Confidentiality Agreement is between a company and a Potential Investor who will be provided with the company's confidential and proprietary information. This attorney-prepared form can easily be customized to fit your company's unique situation.
File types included
Microsoft Word
Adobe PDF
WordPerfect
Rich Text Format
Compatible with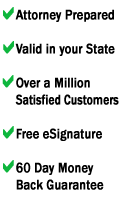 For Immediate Download
$19.95
Add to Cart
Free eSignature included
with every order
Please select a state
Attorney prepared
Our forms are kept up-to-date and accurate by our lawyers
Unlike other sites, every document on FindLegalForms.com is prepared by an attorney, so you can be sure that you are getting a form that is accurate and valid in your state.
Valid in your state
Our forms are guaranteed
to be valid in your state
Our team works tirelessly to keep our products current. As the laws change in your state, so do our forms.
Over 3,500,000
satisfied customers
In over 10 years of creating and selling legal forms, our focus has never changed: providing our customers high quality legal products, low prices and an experience that takes some confusion out of the law.
Free eSignature
Sign your form online, free with any form purchase
We now provide a free Electronic Signature Service to all of our visitors. There are no hidden charges or subscription fees, it's just plain free.
60-Days Money Back
Try our forms with no risk
If you are unhappy with your form purchase for any reason at all, contact us within 60 days and we will refund 100% of your money back.
This Confidentiality Agreement for Potential Investor is between a company and a potential investor who receives confidential and proprietary information about the company. This agreement specifically spells out that the information provided is for investment purposes only and the investor is prohibited from contacting company's owner or employees. It is imperative that this agreement be clearly set out in writing. A well-written Confidentiality Agreement with a Potential Investor will prove invaluable in the event of disagreements, misunderstandings or litigation.
This Confidentiality Agreement Potential Investor contains the following provisions:
Parties: Sets out the name and address of the company and the potential investor;
Recitals and Definition: Spells out the clear intent of the agreement and that it is intended for investment purposes only;
Potential Investor's Obligations: Sets out in clear detail the specific obligations of the investor with regard to the company's confidential information;
Property Rights/No License Granted: Sets out that company retains all intellectual property rights and that investor is not granted a license of any kind for the company's intellectual property;
Signatures: This agreement must be signed and accepted by both parties.
Protect yourself, your rights and your and your rights by purchasing this attorney-prepared form.
This attorney-prepared package includes:
General Information
Instructions and Checklist
Confidentiality Agreement Potential Investor
State Law Compliance:
This form complies with the laws of all states
Dimensions
Designed for Letter Size (8.5" x 11")
Editable
Yes (.doc, .wpd and .rtf)
Usage
Unlimited number of prints
This is the content of the form and is provided for your convenience. It is not necessarily what the actual form looks like and does not include the information, instructions and other materials that come with the form you would purchase. An actual sample can also be viewed by clicking on the "Sample Form" near the top left of this page.
Confidentiality Agreement
Potential Investor
This Packet Includes:
1. General Information
2. Instructions and Checklist
3. Confidentiality Agreement - Potential Investor
General Information
Confidentiality Agreement - Potential Investor
This Confidentiality Agreement is between a company and a potential investor. This agreement will assist the investor in determining whether to invest with the company because the investor will receive confidential information regarding the company's business, finances and products or services which are currently being developed. This agreement sets forth that the information the Company provides is for investment purposes only and that investor will not contact the company owner or its employees regarding the company's business.
A savvy business owner will insist that any potential investor sign a confidentiality agreement. This agreement spells out in detail the obligations of the potential investor and that the company retains all rights to the confidential information or intellectual property referenced in the agreement. A well-written Confidentiality Agreement for a Potential Investor will prove invaluable in the event of miscommunication or disagreements regarding the disclosed information.
Instructions and Checklist
Confidentiality Agreement - Potential Investor
Both parties must read the agreement carefully.
Insert all requested information in the spaces provided on the form.
This form contains the basic terms and language that should be included in similar agreements.
Both the company and the potential investor must sign the Agreement.
Both parties should retain either an original or copy of the signed agreement.
All legal documents should be kept in a safe location such as a fireproof safe or safe deposit box.
DISCLAIMER:
FindLegalForms, Inc. ("FLF") is not a law firm and does not provide legal advice. The use of these materials is not a substitute for legal advice. Only an attorney can provide legal advice. An attorney should be consulted for all serious legal matters. No Attorney-Client relationship is created by use of these materials.
THESE MATERIALS ARE PROVIDED "AS-IS." FLF DOES NOT GIVE ANY EXPRESS OR IMPLIED WARRANTIES OF MERCHANTABILITY, SUITABILITY OR COMPLETENESS FOR ANY OF THE MATERIALS FOR YOUR PARTICULAR NEEDS. THE MATERIALS ARE USED AT YOUR OWN RISK. IN NO EVENT WILL: I) FLF, ITS AGENTS, PARTNERS, OR AFFILIATES; OR II) THE PROVIDERS, AUTHORS OR PUBLISHERS OF ITS MATERIALS, BE RESPONSIBLE OR LIABLE FOR ANY DIRECT, INDIRECT, INCIDENTAL, SPECIAL, EXEMPLARY, OR CONSEQUENTIAL DAMAGES (INCLUDING, BUT NOT LIMITED TO, PROCUREMENT OF SUBSTITUTE GOODS OR SERVICES; LOSS OF USE, DATE OR PROFITS; OR BUSINESS INTERRUPTION) HOWEVER USED AND ON ANY THEORY OF LIABILITY, WHETHER IN CONTRACT, STRICT LIABILITY, OR TORT (INCLUDING NEGLIGENCE OR OTHERWISE) ARISING IN ANY WAY OUT OF THE USE OF THESE MATERIALS.
CONFIDENTIALITY AGREEMENT
POTENTIAL INVESTOR
THIS CONFIDENTIALITY AGREEMENT ("Agreement") is made as of this ____ day of _________, 20____ ("Effective Date") by and between _________________________________, a ________ corporation, having a place of business at ________________________ ("Company"), and ________________ ("Potential Investor"), of _______________________, with reference to the following facts:
1. RECITALS
A. For the purpose of assisting Potential Investor in determining whether to invest in Company, Potential Investor wishes to receive information that Company wants to keep confidential relating to Company's business plan, financial matters, and products and/or services currently under development; and
B. Company, in order to permit Potential Investor to make such a determination, wishes to disclose to Potential Investor to certain confidential information of the Company.
2. DEFINITION
Upon the execution of this Agreement, Company will deliver to the Potential Investor, information on the business listed below. This information is intended solely for the limited use by Potential Investor in considering whether Potential Investor will pursue an offer to acquire the business. The information will contain brief, selected information pertaining to the business and affairs of the business and does not purport to be all-inclusive or to contain all of the information, which a prospective purchaser may desire or require. Neither Company or Potential Investor nor any of their respective officers, employees or agents makes any representation and no liability of any kind whatsoever is assumed by Company or Potential Investor with respect thereto. The parties agree that the delivery of the information is subject to the following terms, covenants and conditions:
3. POTENTIAL INVESTOR'S OBLIGATIONS
Potential Investor agrees for the Nondisclosure Period (defined below)
(i) to hold all of the Confidential Information of Company in strict confidence,
(ii) not to make use of any Confidential Information of Company in any manner other than for purposes of evaluating a potential investment in Company, including, but not limited to, not using any Confidential Information to design, develop or produce products or services, and
(iii) not to copy the Confidential Information of Company, in each instance without the prior written consent of the Company. As used in this Agreement, "Confidential Information" means and includes all information, whether verbal or written, disclosed by Company to Potential Investor and relating to Company's business plans, strategies, financial information, research and development and marketing, including, without limitation, trade secrets, software, product design information, client, customer, vendor and potential investor lists, prices and pricing policies not otherwise published, research and development materials, prototypes, business plans, new products and services under development, and marketing, business and Internet strategies. Confidential Information does not include information which is (a) known by Potential Investor at the time of receipt from Company, (b) approved in writing for release from this provision by Company, (c) now or which hereafter becomes part of the public domain through no action or omission of Potential Investor, (d) independently developed by Potential Investor without the use of Confidential Information, and/or (e) acquired by Potential Investor from a third party without restriction on use or disclosure and without breach by such third party of an obligation of confidentiality. The "Nondisclosure Period" shall be begin on the Effective Date and continue for a period of five (5) years.
4. FOR INVESTMENT PURPOSES ONLY
Potential Investor acknowledges and agrees that this Agreement is made for the purposes of considering an investment in Company only and nothing herein shall be construed in any way as an offer, an attempted offer, or a solicitation for the sale of any product or service which has been or may be developed by Company.
5. INDEMNIFICATION & REMEDIES
Potential Investor agrees to indemnify Company from any loss or damage, which Company may suffer as a result of their breach of the terms and conditions of this Agreement. In the event of a breach or threatened breach of this Agreement, Company shall be entitled to all remedies at law and equity, including injunctive relief and Potential Investor shall be responsible for all reasonable attorney's fees and costs incurred by Company in the prosecution of such action. Accordingly, the Potential Investor agrees that if any provision herein is breached, Company shall be entitled, in addition to all other available remedies, including but not limited to those under Federal Statute and monetary damages, to injunctive or other appropriate equitable relief to restrain such breach by the Potential Investor or their representatives, without showing or proving any actual damage sustained.
6. ACTIONS NOT REQUIRED
Potential Investor understands that nothing herein (a) requires the disclosure of any Confidential Information of Company, which shall be disclosed, if at all, solely at the option of Company or (b) requires Company or Potential Investor to proceed with any proposed transaction or relationship in connection with which Confidential Information of Company may be disclosed.
7. PROPERTY RIGHTS
Company retains all of its intellectual property rights in and to its Confidential Information. Immediately upon a written request by Company at any time, Potential Investor will turn over to Company all Confidential Information of Company and all documents or media containing any Confidential Information of Company and any and all copies or extracts thereof.
8. NO LICENSE GRANTED
Neither the execution and delivery of this Agreement nor the furnishing of any Confidential Information of Company by Company shall be construed as granting to Potential Investor either expressly, by implication, estoppels or otherwise, any license under any invention, patent, trademark, or copyright now or hereafter owned or controlled by Company.
9. NO ADEQUATE REMEDY AT LAW
Potential Investor acknowledges and agrees that due to the unique nature of the Confidential Information of Company, there can be no adequate remedy at law for any breach of its obligations hereunder, that any such breach may allow Potential Investor or third parties to unfairly compete with Company resulting in irreparable harm to Company, and, therefore, that upon any such breach or any threat thereof, Company shall be entitled to (a) specific performance and other injunctive relief without the necessity of posting a bond, in addition to whatever remedies it might have at law, and (b) be indemnified by Potential Investor from any loss or harm, including, without limitation, attorney's fees, in connection with any breach or enforcement of Potential Investor's obligations hereunder or the unauthorized use or release of any such Confidential Information of Company. Potential Investor shall notify Company in writing immediately upon the occurrence of any such unauthorized release or other breach of which it is aware.
10. GOVERNING LAW
This Agreement shall be governed in all respects by the laws of the State of _____________ without regard to the conflict of law provisions of such state. This Agreement shall be binding upon the successors and assigns of the respective parties.
11. DISCLOSURE UNDER COURT ORDER
Potential Investor may make disclosures required by court order if Potential Investor (a) uses reasonable efforts to limit disclosure and to obtain confidential treatment or a protective order and (b) promptly provides notice to Company of and allows Company to participate in the proceeding.
12. NOTICE
All notices or requests required or contemplated by this Agreement shall be in writing and (a) if from Company to Potential Investor, shall be hand-delivered or mailed to ____________, __________________, or such other address as Potential Investor shall specify in written notice to Company, or (b) if from Potential Investor to Company, shall be hand-delivered or mailed to _________________, or such other address as Company shall specify in written notice to Potential Investor. Requests or notices given by personal delivery shall be deemed given and received at the time of delivery and requests or notices given by mail shall be deemed given and received the earlier of three days from the date of mailing or upon receipt.
AGREED AND ACCEPTED THIS __________ DAY OF _______________________, 20___.
Potential Investor: Company:
__________________________________ ___________________________________
Signature Signature
Print Name ________________________ Print Name _________________________
Address___________________________ Address_____________________________
_________________________________ ___________________________________
Looking for something else?