Copyright Cease & Desist Letter
for Your State
This Copyright Cease and Desist Letter demands that a party immediately cease use of a registered copyright. This letter sets out the specifics about the copyright and that further action will be taken if the matter cannot be resolved.
For Immediate Download
$7.99
Add to Cart
Free eSignature included
with every order
Please select a state
File types included
Microsoft Word
Adobe PDF
WordPerfect
Rich Text Format
Compatible with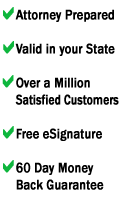 For Immediate Download
$7.99
Add to Cart
Free eSignature included
with every order
Please select a state
Attorney prepared
Our forms are kept up-to-date and accurate by our lawyers
Unlike other sites, every document on FindLegalForms.com is prepared by an attorney, so you can be sure that you are getting a form that is accurate and valid in your state.
Valid in your state
Our forms are guaranteed
to be valid in your state
Our team works tirelessly to keep our products current. As the laws change in your state, so do our forms.
Over 3,500,000
satisfied customers
In over 10 years of creating and selling legal forms, our focus has never changed: providing our customers high quality legal products, low prices and an experience that takes some confusion out of the law.
Free eSignature
Sign your form online, free with any form purchase
We now provide a free Electronic Signature Service to all of our visitors. There are no hidden charges or subscription fees, it's just plain free.
60-Days Money Back
Try our forms with no risk
If you are unhappy with your form purchase for any reason at all, contact us within 60 days and we will refund 100% of your money back.
This Copyright Cease and Desist Letter demands that an individual or entity immediately cease use of a registered copyright. This letter sets forth your ownership in the specific copyright, its first publication date and copyright registration date. It also sets forth a detailed account describing how the copyright has been violated and that you have not given permission for its use. It is crucial that this cease and desist letter be clearly set out in writing. A well-written Copyright Cease and Desist Letter will ensure that the infringing party receives your infringement notification and will be useful if the matter is not resolved and litigation is filed.
This Copyright Cease and Desist Letter includes:
Parties: Name of the owner of the registered copyright and the infringing party;
Copyright Information: Sets forth details about the copyright including its title, first publication date and the date of registration (if applicable);
Infringement: Describes in specific detail how the registered copyright has been infringed;
Cease and Desist: Demands that all infringement activity be ceased immediately and that further action will be taken if the infringement continues.
Protect your rights and your property by using our attorney-prepared forms.
This attorney-prepared packet contains:
Instructions and Checklist
General Information
Copyright Cease and Desist Letter
State Law Compliance:
This form complies with the laws of all states
Dimensions
Designed for Letter Size (8.5" x 11")
Editable
Yes (.doc, .wpd and .rtf)
Usage
Unlimited number of prints
This is the content of the form and is provided for your convenience. It is not necessarily what the actual form looks like and does not include the information, instructions and other materials that come with the form you would purchase. An actual sample can also be viewed by clicking on the "Sample Form" near the top left of this page.
Copyright Infringement
Cease & Desist Letter
This Packet Includes:
1. Instructions & Checklist
2. General Information
3. Copyright Infringement Cease & Desist Letter
Instructions & Checklist
Copyright Infringement – Cease & Desist Letter
Italicized instructions have been included on this form to assist you in completing it and should be removed before printing.
This form is not intended and is not a substitute for legal advice. This form should only be a starting point for you and should not be used without first consulting with an attorney. An attorney should be consulted before negotiating any document with another party.
? The purchase and use of this form is subject to the "Terms and Conditions" found at findlegalforms.com.
General Information
Copyright Infringement – Cease & Desist Letter
Copyright is a federal law, which protects authors of "original works of authorship fixed in a tangible form of expression." This protection gives the authors the exclusive rights (including authorization of others) with regard to their original works including:
1. Reproduction;
2. Derivative works;
3. The distribution of copies;
4. Performance; and
5. Display.
In the case of sound recordings to perform the work publicly by means of a digital audio transmission.
However, this protection does have some limitations, the most common being—"fair use." Fair use gives a specific exemption to the copyright protection and liabilities, allowing a third party to use the original work if it is for purposes of criticism, comment, news reporting, teaching or research.
You have a copyright in a work at the moment it is created and fixed in a tangible form for the first time. However, registering gives you additional benefits including: a) a public record of your claim, b) the right to file an infringement suit, c) prima facie evidence in court of the validity of your copyright if made within five years of publication, and d) additional damages if you win an infringement suit.
This letter is designed to help you in situations where your copyrighted work has been copied or used without your authorization. This letter communicates your rights and ownership in the copyrighted work and demands that the offending party immediately cease their use or operation of the infringing material and to provide written assurance that they will not make unauthorized use of your copyrighted work in the future.
For more information you can also check the Copyright Office Website at
www.copyright.gov
DISCLAIMER:
FindLegalForms, Inc. ("FLF") is not a law firm and does not provide legal advice. The use of these materials is not a substitute for legal advice. Only an attorney can provide legal advice. An attorney should be consulted for all serious legal matters. No Attorney-Client relationship is created by use of these materials.
THESE MATERIALS ARE PROVIDED "AS-IS." FLF DOES NOT GIVE ANY EXPRESS OR IMPLIED WARRANTIES OF MERCHANTABILITY, SUITABILITY OR COMPLETENESS FOR ANY OF THE MATERIALS FOR YOUR PARTICULAR NEEDS. THE MATERIALS ARE USED AT YOUR OWN RISK. IN NO EVENT WILL: I) FLF, ITS AGENTS, PARTNERS, OR AFFILIATES; OR II) THE PROVIDERS, AUTHORS OR PUBLISHERS OF ITS MATERIALS, BE RESPONSIBLE OR LIABLE FOR ANY DIRECT, INDIRECT, INCIDENTAL, SPECIAL, EXEMPLARY, OR CONSEQUENTIAL DAMAGES (INCLUDING, BUT NOT LIMITED TO, PROCUREMENT OF SUBSTITUTE GOODS OR SERVICES; LOSS OF USE, DATE OR PROFITS; OR BUSINESS INTERRUPTION) HOWEVER USED AND ON ANY THEORY OF LIABILITY, WHETHER IN CONTRACT, STRICT LIABILITY, OR TORT (INCLUDING NEGLIGENCE OR OTHERWISE) ARISING IN ANY WAY OUT OF THE USE OF THESE MATERIALS.
(Your Address)
Date
(Insert Name of Recipient)
(Insert Address of Recipient)
Re: Copyright Infringement
To (insert name of recipient if available):
I own and retain all rights in my copyrighted work entitled ________________________ (the "Protected Work"), first published on _______________, ______ and registered on (insert copyright registration date if applicable). It has recently come to my attention that you have made unauthorized use of the Protected Work by (describe how the copyright has been violated, e.g. displaying my work on your website, using the Protected Work as the basis for another work, etc.).
You have neither requested nor received permission from me to use the Protected Work in any way. Therefore, your use of the Protected Work is an infringement of my rights under 17 U.S.C. Section 101 et seq. and you could be liable for statutory damages as high as $150,000 as set forth in Section 504(c)(2) therein.
As such, I therefore demand that you: i) cease your use of the Protected Work immediately; ii) provide me with prompt written assurance that you will cease and desist from any future unauthorized uses of the Protected Work within _______ days; (include the following if applicable "and iii) deliver to me any remaining copies of the infringing work or destroy such infringing works immediately."
Thank you for your prompt attention to this matter. I would like to resolve this situation amicably, but I am willing to exercise my rights to their fullest extent if necessary.
You may contact me at ___________________ or via email at __________________________ .
Very truly yours,
(Insert Your Name)
You've found your form, but will you need others? If there are other related forms you may need in the future, it may be beneficial to look at our combo packages. On average, customers who purchase a combo package save 40% on the related forms they need. Take a look at the combo packages below to see if one is right for you.

Copyright Forms Combo Package
Get 5 forms for just $39.95

Save 36%!
Popular Our most popular Copyright forms together in a convenient packet.

Intellectual Property Letter Forms Combo Packages
Get 3 forms for just $12.50

Save 50%!
Save Money by getting our popular Intellectual Property Letter forms together in one convenient packet
Looking for something else?