Crew Deal Memo (motion picture)
for Your State
This Crew Deal Memo covers a movie crew who are salaried and work on-call. It sets out the terms of employment including wages, work days and times, overtime and alcohol and drug policies. This form is for use in your state and is ready for immediate download.
For Immediate Download
$19.95
Add to Cart
Free eSignature included
with every order
Please select a state
File types included
Microsoft Word
Adobe PDF
WordPerfect
Rich Text Format
Compatible with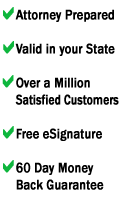 For Immediate Download
$19.95
Add to Cart
Free eSignature included
with every order
Please select a state
Attorney prepared
Our forms are kept up-to-date and accurate by our lawyers
Unlike other sites, every document on FindLegalForms.com is prepared by an attorney, so you can be sure that you are getting a form that is accurate and valid in your state.
Valid in your state
Our forms are guaranteed
to be valid in your state
Our team works tirelessly to keep our products current. As the laws change in your state, so do our forms.
Over 3,500,000
satisfied customers
In over 10 years of creating and selling legal forms, our focus has never changed: providing our customers high quality legal products, low prices and an experience that takes some confusion out of the law.
Free eSignature
Sign your form online, free with any form purchase
We now provide a free Electronic Signature Service to all of our visitors. There are no hidden charges or subscription fees, it's just plain free.
60-Days Money Back
Try our forms with no risk
If you are unhappy with your form purchase for any reason at all, contact us within 60 days and we will refund 100% of your money back.
This Crew Deal Memo covers a movie crew who is salaried and on-call. This memo sets out the terms and conditions of a crew's employment including wages, work dates and times, meals and alcohol/drug policy. It also sets out that any result or proceeds of a crew's services will be considered as a work for hire. It is important that this type of transaction be memorialized in writing. A written Crew Deal Memo for members who are salaried and on-call will prove helpful in the event of disagreements or misunderstandings.
This Crew Deal Memo contains the following provisions:
Parties: The name of the production company, title of motion picture and pertinent information regarding employee including name, address and social security number;
Wages: Employee will be paid on a weekly basis following services. Employment is based on a six-day work week;
Nights, Weekend or Holiday Work: No extra compensation will be paid for working on nights, weekends or on a holiday;
Meals: Meals will be provided to the crew at approximate six hour intervals;
Alcohol and Drugs: Use of alcohol or drugs during work hours is reason for immediate termination;
Term: There is no guaranteed term of employment and company reserves the right to discharge employee at any time;
Signatures: The employee must accept the terms of the memo and sign. Production company must also sign and date the memo.
Protect Yourself and Your Rights by using our professionally prepared forms.
This attorney-prepared packet contains:
General Information
Crew Deal Memo
State Law Compliance:
This form complies with the laws of all states
Dimensions
Designed for Letter Size (8.5" x 11")
Editable
Yes (.doc, .wpd and .rtf)
Usage
Unlimited number of prints
This is the content of the form and is provided for your convenience. It is not necessarily what the actual form looks like and does not include the information, instructions and other materials that come with the form you would purchase. An actual sample can also be viewed by clicking on the "Sample Form" near the top left of this page.
CREW DEAL MEMO
PRODUCTION COMPANY:
__________________________________
MOTION PICTURE:
"_________________
"
SOCIAL SECURITY NUMBER:
FED I.D. NUMBER:
(items below to be completed by production company only)
EMPLOYEE BOX AND EQUIPMENT IS SOLE RESPONSIBILITYOF EMPLOYEE. PRODUCTION COMPANY ASSUMES NO RESPONSIBILITY FOR SAME.
TERMS AND CONDITIONS OF EMPLOYMENT
1. PAYMENT OF WAGES: Wages shall be paid to all employees no later than Friday following the week in which services were performed. Pay date may be delayed by reason of an intervening federal or state holiday. Employment is for a 6-day work week.
2. EXEMPT EMPLOYEES: Employees shall not be beneficiary of additional overtime, turnaround or other hourly payments except as expressly provided in this deal memo or required by law.
3. NIGHTS, WEEKENDS, HOLIDAYS, WORK TIME: Unless expressly provided elsewhere in this deal memo, or required by law, no increased or additional compensation shall accrue or be payable to employee for the rendering of services at night or on weekends or holidays, or after the expiration of any particular number of hours of service in any period.
4. MEALS: The Production Company will provide meal breaks and/or food service at approximately six (6) hour intervals.
5. IMMIGRATION REFORM AND CONTROL ACT OF 1986 (IRCA): Employment (or the engagement of services) hereunder is subject to employee providing the requisite documents required by IRCA and completing and signing the required Form I-9 pursuant to IRCA Section 274a.2. Employee shall comply with the immigration verification employment eligibility provisions required by law.
6. CAR INSURANCE: Employee is responsible for liability and collision insurance and deductibles on her/his personal vehicle used in conjunction with their employment.
7. ALCOHOL/DRUGS: Use of alcohol or drugs during hours of employment will result in employee
'
s immediate termination.
8. PURCHASES: Employee will be held personally responsible for purchases, rentals and expenses not approved in advance by production.
9. EXCLUSIVITY: Employee
'
s services are on an exclusive basis to the production of the motion picture (the
"Picture
") referred to in this deal memo for such period of time as required unless otherwise specified in this deal memo.
10. CREDIT: Unless otherwise specified in this deal memo, screen credit is at Production Company
'
s discretion subject to employee
'
s performing all services required through completion of term.
11. TERM: Unless expressly provided elsewhere in this agreement, employee
'
s employment hereunder shall not be for a
"run of the show
" or for any guaranteed period of employment. Production reserves the right to discharge employee at any time, subject only to the obligation to pay the balance of any guaranteed compensation due. Production Company will attempt to notify employees a minimum of twenty-four (24) hours in advance of layoff. This agreement is subject to immediate suspension and/or termination (at Production
'
s election) without further obligation on the part of Production in the event of any incapacity or default of employee or in the case of any suspension, postponement or interference with the production by reason of labor controversy, strike, earthquake, act of God, governmental action, regulation, or decree or for any other customary force majeure reason.
12. NO WAIVER: The terms and conditions of this deal memo are binding on Production Company and employee and shall not be waived or altered by any method. Any added conditions on the front of this deal memo inconsistent with these conditions of employment shall be null and void.
13. WORK-FOR-HIRE: Production Company shall be the owner of all of the results and proceeds of employee
'
s services, including any copyright, trademark and any other intellectual property rights in any work or property created by Employee, or anyone under Employee
'
s direction. Employee acknowledges that Employee
'
s work is a
"work made for hire
" within the scope of Employee
'
s employment, and therefore Employer shall be the author and copyright owner of any work created under this agreement. In the event that any of proceeds of Employee
'
s work are not considered a work for hire, then Employee
'
s copyright to such work is hereby assigned to Employer.
14. PUBLICITY: Employee shall not directly or indirectly circulate, publish or otherwise disseminate any news story, article, book or other publicity concerning the Picture, or employee
'
s or others
'
services without Production Company
'
s prior written consent, provided that employee may issue personal publicity mentioning the Picture so long as such references are not derogatory. Employee has permission to show a videotape of Picture in connection with seeking future employment. Employer shall have the right to use employee
'
s name, voice, picture and likeness in connection with the Picture, the advertising and publicizing thereof, and any promotional films or clips respecting the Picture without additional compensation therefore.
15.
ARBITRATION AND JURISDICTION: This Agreement shall be interpreted in accordance with the laws of the State of __________________, applicable to agreements executed and to be wholly performed therein. Any controversy or claim arising out of or in relation to this Agreement or the validity, construction or performance of this Agreement, or the breach thereof, shall be resolved by arbitration in accordance with the rules and procedures of the Independent Film & Television Alliance (IFTA), said rules may be amended from time to time with rights of discovery if requested by the arbitrator. Such rules and procedures are incorporated and made a part of this Agreement by reference. If IFTA shall refuse to accept jurisdiction of such dispute, then the parties agree to arbitrate such matter before and in accordance with the rules of the American Arbitration Association under its jurisdiction in ________________ before a single arbitrator familiar with entertainment law. The parties shall have the right to engage in pre-hearing discovery in connection with such arbitration proceedings. The parties agree hereto that they will abide by and perform any award rendered in any arbitration conducted pursuant hereto, that any court having jurisdiction thereof may issue a judgment based upon such award and that the prevailing party in such arbitration and/or confirmation proceeding shall be entitled to recover its reasonable attorney
'
s fees and expenses. The arbitration will be held in __________________ and any award shall be final, binding and non-appealable. The Parties agree to accept service of process in accordance with the IFTA Rules.
EMPLOYEE ACCEPTS ALL CONDITIONS OF EMPLOYMENT AS DESCRIBED ABOVE.
EMPLOYEE SIGNATURE: ___________________________________________
DATE: ______________________
PRODUCTION COMPANY SIGNATURE: _______________________________
DATE: _______________________
You've found your form, but will you need others? If there are other related forms you may need in the future, it may be beneficial to look at our combo packages. On average, customers who purchase a combo package save 40% on the related forms they need. Take a look at the combo packages below to see if one is right for you.

Motion Picture Producer Combo Package
Get 40 forms for just $99.95

Save 87%!
Best Value! This kit includes a comprehensive library of forms for film producers.
Looking for something else?