Equipment Lease Termination Agreement
for Your State
This Equipment Lease Termination Agreement is for use by parties to an Equipment Lease who wish to terminate the lease before its expiration date. It is important to have a written Termination Agreement in the event there are future questions or concerns. This form is designed for use in all states and is ready for immediate download.
For Immediate Download
$19.95
Add to Cart
Free eSignature included
with every order
Please select a state
File types included
Microsoft Word
Adobe PDF
WordPerfect
Rich Text Format
Compatible with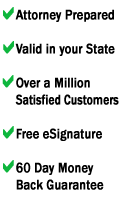 For Immediate Download
$19.95
Add to Cart
Free eSignature included
with every order
Please select a state
Attorney prepared
Our forms are kept up-to-date and accurate by our lawyers
Unlike other sites, every document on FindLegalForms.com is prepared by an attorney, so you can be sure that you are getting a form that is accurate and valid in your state.
Valid in your state
Our forms are guaranteed
to be valid in your state
Our team works tirelessly to keep our products current. As the laws change in your state, so do our forms.
Over 3,500,000
satisfied customers
In over 10 years of creating and selling legal forms, our focus has never changed: providing our customers high quality legal products, low prices and an experience that takes some confusion out of the law.
Free eSignature
Sign your form online, free with any form purchase
We now provide a free Electronic Signature Service to all of our visitors. There are no hidden charges or subscription fees, it's just plain free.
60-Days Money Back
Try our forms with no risk
If you are unhappy with your form purchase for any reason at all, contact us within 60 days and we will refund 100% of your money back.
An Equipment Lease Termination Agreement is utilized when the parties to an equipment lease consent to terminate the original lease before the expiration date. Having a written termination agreement is beneficial as it clearly sets forth all the terms relating to the early termination of the lease. Should a dispute or disagreements arise, the parties have the termination agreement to refer to for guidance.
Among others, this Equipment Lease Termination Agreement includes the following provisions:
Parties to the Agreement: This provision contains the identity and names of the parties entering into the agreement;
Equipment: Detailed description of the equipment which is being leased;
Termination: Sets forth the effective date of the lease termination;
Lease Termination Fee: Sets forth the amount of any termination fee the lessor deems fair;
Return of Materials: Sets out the date the equipment is to be surrendered.
Protect Yourself, Your Rights and Your Business by using our professionally prepared up-to-date forms. This attorney-prepared packet contains:
General Information
Instructions and Checklist
Equipment Lease Termination Agreement
State Law Compliance:
This form complies with the laws of all states
Dimensions
Designed for Letter Size (8.5" x 11")
Editable
Yes (.doc, .wpd and .rtf)
Usage
Unlimited number of prints
This is the content of the form and is provided for your convenience. It is not necessarily what the actual form looks like and does not include the information, instructions and other materials that come with the form you would purchase. An actual sample can also be viewed by clicking on the "Sample Form" near the top left of this page.
Equipment Lease Termination Agreement
This Packet Includes:
1. General Information
2. Instructions and Checklist
3. Equipment Lease Termination Agreement
General Information
Equipment Lease Termination Agreement
An Equipment Lease Termination Agreement is a contract where the parties to an equipment lease (the "Lessor" and "Lessee") agree to terminate the Equipment Lease previously entered into.
Having a written Equipment Lease Termination Agreement is beneficial for a number of reasons. First, it clearly states the terms relating to early termination of the agreement. Second, because it is written, the parties will avoid future misunderstandings. And, if a problem does occur, it can be easily referenced for guidance or clarification.
These types of agreements are governed by state law. Many of the state laws differ dramatically; therefore, the Lessor and the Lessee should become familiar with the laws of their state before entering into this lease termination. In addition, before using this form you should always consult with your attorney to ensure that it addresses your specific situation.
Instructions and Checklist
Equipment Lease Termination Agreement
Both the Lessor and the Lessee should review the termination agreement carefully before signing.
Insert all requested information in the spaces provided on the form.
The Lessor and Lessee must both sign the termination agreement. Generally each party will retain an original signed agreement; therefore, at least two original copies of the agreement should be executed (i.e. signed).
All legal documents should be kept in a safe location such as a fireproof safe or safe deposit box.
DISCLAIMER:
FindLegalForms, Inc. ("FLF") is not a law firm and does not provide legal advice. The use of these materials is not a substitute for legal advice. Only an attorney can provide legal advice. An attorney should be consulted for all serious legal matters. No Attorney-Client relationship is created by use of these materials.
THESE MATERIALS ARE PROVIDED "AS-IS." FLF DOES NOT GIVE ANY EXPRESS OR IMPLIED WARRANTIES OF MERCHANTABILITY, SUITABILITY OR COMPLETENESS FOR ANY OF THE MATERIALS FOR YOUR PARTICULAR NEEDS. THE MATERIALS ARE USED AT YOUR OWN RISK. IN NO EVENT WILL: I) FLF, ITS AGENTS, PARTNERS, OR AFFILIATES; OR II) THE PROVIDERS, AUTHORS OR PUBLISHERS OF ITS MATERIALS, BE RESPONSIBLE OR LIABLE FOR ANY DIRECT, INDIRECT, INCIDENTAL, SPECIAL, EXEMPLARY, OR CONSEQUENTIAL DAMAGES (INCLUDING, BUT NOT LIMITED TO, PROCUREMENT OF SUBSTITUTE GOODS OR SERVICES; LOSS OF USE, DATE OR PROFITS; OR BUSINESS INTERRUPTION) HOWEVER USED AND ON ANY THEORY OF LIABILITY, WHETHER IN CONTRACT, STRICT LIABILITY, OR TORT (INCLUDING NEGLIGENCE OR OTHERWISE) ARISING IN ANY WAY OUT OF THE USE OF THESE MATERIALS.
EQUIPMENT LEASE TERMINATION AGREEMENT
THIS EQUIPMENT LEASE TERMINATION AGREEMENT (hereinafter referred to as the "Agreement") is made and entered into on this _____________ day of ______________________, 20__________ (hereinafter referred to as the "Termination Date") by and between:
________________________________, having an address at _______________________ ________________________________ (hereinafter referred to as the "Lessor"), and
_________________________________, having an address at _______________________ ________________________________ (hereinafter referred to as the "Lessee") (individually referred to as "Party" and collectively as "Parties")
RECITALS
WHEREAS, the Lessor and Lessee have executed certain Equipment Lease Agreement, dated __________________________ (hereinafter referred to as the "Lease Agreement"), pursuant to which the Lessor has granted Lessee the exclusive right to use the following Equipments: ______________________________________________________ (the "Equipments");
AND WHEREAS, the Lessor and Lessee have determined that it is in their best interests to mutually terminate the Lease Agreement under the terms and conditions as set forth in this Agreement
NOW, THEREFORE, in consideration of the mutual covenants and other good and valuable consideration hereinafter set forth, the receipt and sufficiency of which is hereby acknowledged, the Lessor and Lessee hereby agree as follows:
1. TERMINATION
Effective as of the Termination Date, the Lease Agreement shall stand terminated and thereafter it shall have no future force or effect, nor will the Parties be liable for any ongoing obligations except for the surviving obligations in the Lease Agreement.
2. LEASE TERMINATION FEE
In consideration of this Agreement, and to provide for the Lessor's administrative, processing and legal fees, and to reimburse Lessor for any loss of rentals, the Lessee agrees to pay Lessor a Lease termination fee of ____________________________ Dollars ($________________).
3. RETURN OF MATERIALS
On or before the Termination Date, the Lessee shall surrender the Leased Equipments and all rights there under in its possession or control to the Lessor.
4. SURVIVING OBLIGATIONS
The Parties shall only remain obligated under the Lease Agreement for any obligations that were intended to survive the expiration of the term of the Lease Agreement as provided therein.
5. RELEASE
The Parties, on their own behalf and on behalf of their executors, administrators, representatives, affiliates, successors or assigns, do hereby mutually and reciprocally remise, release and forever discharge each other and their respective administrators, executors, representatives, successors and assigns, from any and all actions, causes of action, suits, debts, accounts, covenants, disputes, agreements, promises, damages, judgments, executions, claims, and demands whatsoever in law or in equity that they ever had, now has, or that they or their administrators, executors, representatives, successors and assigns hereafter can or may have, by reason of any act, omission, matter, cause or thing whatsoever occurring at any time prior to the execution of this Agreement, whether known or unknown, suspected or unsuspected, foreseen or unforeseen. However, the provisions of this Section shall not apply to the rights and duties of the Parties which are contained in this Agreement.
6. NOTICES
All written notices or other written communications required under this Agreement shall be deemed properly given when provided to the parties entitled thereto by personal delivery (including delivery by services such as messengers and airfreight forwarders), by electronic means (such as by electronic mail, telex or facsimile transmission) or by mail sent registered or certified mail, postage prepaid at the following addresses (or to such other address of a party designated in writing by such party to the others):
LESSOR
_________________________
_________________________
_________________________
LESSEE
_________________________
_________________________
_________________________
All notices given by electronic means shall be confirmed by delivering to the party entitled thereto a copy of said notice by certified or registered mail, postage prepaid, return receipt requested. All written notices shall be deemed delivered and properly received five (5) days after mailing the notice, in the case of written notice given by mail, or upon the earlier of two (2) days after the mailing of the confirmation notice or upon actual receipt of the notice provided by personal delivery or electronic means
7. SUCCESSORS & ASSIGNS
This Agreement is binding upon each Party, and shall inure to the benefit of each Party to this Agreement and their respective officers, directors, employees, agents, subsidiaries, parent corporations, affiliated companies, successors, assigns, agents, heirs, and personal representatives.
8. ENTIRE AGREEMENT
This Agreement constitutes the entire understanding between the parties hereto as to the termination of the Lease Agreement and it merges all prior discussions between them relating thereto. Any amendment or modification to this Agreement shall be effective only if in writing and signed by each party hereto.
9. SEVERABILITY
In the event that any provision of this Agreement is determined to be invalid or unenforceable by a court of competent jurisdiction, the remainder of this Agreement shall remain in full force and effect without said provision. In such event, the Parties shall in good faith attempt to negotiate a substitute clause for any provision declared invalid or unenforceable, which substitute clause shall most nearly approximate the intent of the Parties in agreeing to such invalid provision, without itself being invalid.
10. COUNTERPARTS
This Agreement may be executed in multiple counterparts, each of which, when executed and delivered, shall be deemed an original, but all of which shall together constitute one and the same instrument.
11. GOVERNING LAW
This Agreement will be governed by and interpreted and construed in accordance with the laws of the State of ___________________, without regard to conflict of laws principles thereof.
IN WITNESS WHEREOF, the parties have executed this Lease Termination Agreement as of the dates set forth below their respective signatures.
_________________________ ___________________________
LESSOR LESSEE
Customer Reviews
Average Rating:
Reviews: 1
---





Wording was straight and clear, plain english yet to the point, we managed to adjust the contract to suit our business needs and I will be looking for other documents in the future
---
Looking for something else?