Event Sponsorship Agreement
This is an agreement between an event organizer and a sponsor.
For Immediate Download
$19.95
Add to Cart
Free eSignature included
with every order
Please select a state
File types included
Microsoft Word
Adobe PDF
WordPerfect
Rich Text Format
Compatible with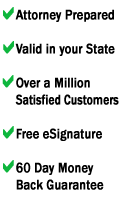 For Immediate Download
$19.95
Add to Cart
Free eSignature included
with every order
Please select a state
Attorney prepared
Our forms are kept up-to-date and accurate by our lawyers
Unlike other sites, every document on FindLegalForms.com is prepared by an attorney, so you can be sure that you are getting a form that is accurate and valid in your state.
Valid in your state
Our forms are guaranteed
to be valid in your state
Our team works tirelessly to keep our products current. As the laws change in your state, so do our forms.
Over 3,500,000
satisfied customers
In over 10 years of creating and selling legal forms, our focus has never changed: providing our customers high quality legal products, low prices and an experience that takes some confusion out of the law.
Free eSignature
Sign your form online, free with any form purchase
We now provide a free Electronic Signature Service to all of our visitors. There are no hidden charges or subscription fees, it's just plain free.
60-Days Money Back
Try our forms with no risk
If you are unhappy with your form purchase for any reason at all, contact us within 60 days and we will refund 100% of your money back.
This Event Sponsorship Agreement is between an event organizer and a company or individual who desires to sponsor the event. This agreement sets out the terms of the arrangement such as the fees involved, insurance requirements and the use of intellectual property. This agreement also sets forth the independent contractor status between the parties. Having a written Event Sponsorship Agreement will prove invaluable in the event of disagreements or litigation.
These important provisions are included in this Event Sponsorship Agreement:
Parties to the Agreement: Contains the identity and names of the parties entering into the agreement;
Services and Term of Agreement: Sets out the services which will be provided and the date(s) the services will be rendered;
Use of Intellectual Property: Sets out the use of intellectual property including logos, trademarks and trade names;
Sponsorship Fee: The amount of any fees due at the execution of the agreement;
Independent Contractor: Sets forth the independent contractor relationship between the event organizer and the sponsor.
Protect yourself, your rights and your property by using our professionally prepared up-to-date forms.
This attorney prepared packet includes:
General Information
Instructions and Checklist
Event Sponsorship Agreement for your state
State Law Compliance:
This form complies with the laws of your state
Dimensions
Designed for Letter Size (8.5" x 11")
Editable
Yes (.doc, .wpd and .rtf)
Usage
Unlimited number of prints
This is the content of the form and is provided for your convenience. It is not necessarily what the actual form looks like and does not include the information, instructions and other materials that come with the form you would purchase. An actual sample can also be viewed by clicking on the "Sample Form" near the top left of this page.
Event Sponsorship Agreement
This Agreement is made
and entered on this ____________ day of ___________________, 20________
by and between _____________________ (hereinafter referred to as
"Company
") and _______________________ (hereinafter referred to as
"Sponsor
").
RECITALS
WHEREAS,
Company
seeks to promote _____________
____________________
___ and for this purpose is organizing an event entitled ________________________
_________
______ (the
"Event
") to be held on or about the ___________ day of ___________________, 20______ at _________________________________________________
______________________
______
;
AND, WHEREAS,
the Sponsor is desirous of sponsoring the Event in consideration of fees paid by the Company
;
NOW, THEREFORE,
in consideration of the premises and the mutual agreements contained herein and the mutual benefits to be derived from this Agreement, the parties hereby agree as follows:
1. Services
The Sponsor will act as sponsor of the Event for the Company and will provide certain services as mentioned in the attached Exhibit A. The Sponsor shall supervise and organize the Event, including but not limited to making necessary arrangements for the Event. Such arrangements may include obtaining any permits or licenses, negotiating any leases, arranging equipments necessary for the Event and fixing price and the services by any other contractor for the Event.
2. Term of Agreement
This agreement shall commence on the date
written above
and shall continue in full force and effect
until the conclusion of the Event.
3. Use of Company's Logo, Trademarks, and Trade names
The Sponsor
shall use the Company
'
s
logo, trademarks, and trade
name
solely in connection with promoting the Event including but not limited to publicizing the event and making any public announcements. The Sponsor agrees not to use the Company
'
s logo, trademarks and trade name for any other purpose or purposes without the prior written consent of the Company. T
he
Sponsor
shall acquire no goodwill or other interest in the
logo, trademarks and trade names
.
4. Sponsorship Fee
The Company shall pay the Sponsor an amount of $
__________________
payable upon
execution of this Agreement. Payment not received by the due date will be in default of this Agreement.
5. Independent Contractor
Nothing contained in this Agreement or any document executed in connection herewith, shall be construed to create an employer-employee, partnership or joint venture relationship between the Company and
Sponsor
.
Sponsor
is an independent contractor and not an employee of the Company
.
As an independent contractor,
Sponso
r
shall have no authority or power to incur debts, obligations or commitments of any kind whatsoever for or on behalf of the Company, or to bind the Company to any contract, agreement etc.
6. Persons Appointed by Sponsor
Sponsor hereby agrees that any person or persons retained by the Sponsor to work at the Event will be employees of the Sponsor and Sponsor will be solely responsible for any and all salary, wages, insurance and other benefits to which to which such persons will be entitled under the applicable laws.
7. Insurance
The Sponsor agrees to provide insurance in an amount of $_____________ for the Event and shall provide the Company on request a Certificate of insurance from the insurance company.
8. Termination
The following shall constitute a breach and material default of this Agreement
a
) The failure by Sponsor to cure payment default under this Agreement; and/or
b
) Either party
'
s failure to comply with
a material term or condition of
or to satisfy a material obligation it has assumed under this Agreement.
In the event
of a material default by a party,
the other party may give notice to such party of such failure and demand the performance of such party
'
s obligations hereunder or compliance with the terms and conditions hereof within a reasonable period after the date of such notice, which period shall not exceed
seven (7)
days. In the event the party receiving notice of such failure or violation does not correct, remedy, or cease such failure or violation within the time specified in such notice, the other party may terminate this Agreement, whereupon all obligations of the parties hereto that had not been incurred as of the effective termination date shall terminate.
9. Confidentiality
Each party expressly undertakes to retain in confidence all information and know-how transmitted to it by the other party that the disclosing party has designated as proprietary and/or confidential or that, by the nature of the circumstances surrounding the disclosure, ought in good faith to be treated as proprietary and/or confidential, and will make no use of such information and know-how except under the terms, for the purposes of and during the existence of this Agreement. Each party's obligation under this Agreement with respect to any particular information shall extend to the earlier of such time as such information is publicly available through no fault of the receiving party or
two
years following termination of the Agreement.
10. Force Majeure
In the event that either party to this Agreement is unable to perform its obligations hereunder or to enjoy any of its benefits due to any cause, a natural disaster, or action or decree of governmental body with appropriate jurisdiction (hereinafter referred to as a
"Force Majeure Event
"), the party that has been so affected shall immediately give notice to the other party of such fact and shall do everything possible to resume its performance. If the party is unable to perform, the party that received such notice may terminate this Agreement by giving notice thereof to the party unable to perform because of such Force Majeure Event.
11. Indemnification
Each party shall indemnify and hold the other harmless for any losses, claims, damages, awards, penalties, or injuries incurred by any third party, including reasonable attorney
'
s fees, which arise from any alleged breach of such indemnifying party
'
s representations and warranties made under this Agreement, provided that the indemnifying party is promptly notified of any such claims.
12. Assignment
Neither this Agreement nor the Services shall be assigned, subcontracted or otherwise transferred by either party without the prior written consent of the other party except that no consent shall be necessary for Company
'
s assignment of this Agreement and its rights and obligations hereunder to a parent, subsidiary, affiliate or successor in interest to the business of Company.
13. Notices
Any notice or communication to be given by one party to the other under this Agreement must be in writing; and if given by registered or certified mail, such notice or communication shall be deemed to have been given and received when a registered or certified letter containing such notice or communication, properly addressed, with postage prepaid, is deposited in the United States mail, but if given otherwise than by registered or certified mail, it shall be deemed to have been given when received by the party to whom it is addressed. Such notices or communications shall be delivered or sent to the addresses each party specifies in writing upon execution of this Agreement.
14. Amendments
No addition to, deletion from
or other modification of any of the provisions hereof shall be valid unless made in writing and signed by an authorized representative of each of the parties hereto.
15. Applicable Law
This Agreement shall be constructed under the laws of the State of
__________________
16. Headings
The headings of paragraphs, sections and other subdivisions of this Agreement are for convenient reference only. They shall not be used in any way to govern, limit, modify, construe this agreement or any part or provision thereof or otherwise be given any legal effect
17. Waivers
No waiver of full performance by either party shall be constructed, or operate, as a waiver of any subsequent default of any of the term, covenants and conditions of this Agreement. The payment or acceptance of fees or changes for any period after default shall not be deemed a waiver of any right or acceptance of defective performance.
18. Entire Agreement
The parties to this Agreement acknowledge that it is a negotiated agreement, that they have had the opportunity to have this Agreement reviewed by their respective legal counsel. This Agreement constitutes the entire agreement between the parties hereto respecting the subject matter hereof, and there are no understandings or agreements between them respecting the subject matter hereof, written or oral, other than as set forth herein.
In Witness Whereof
the parties hereto have executed this Agreement by having their duly authorized representative(s) sign his/her/their name(s) in the respective spaces provided below:
By:
________________________
By:
________________________
________________________
________________________
(Type or print name of signer)
(Type or print name of signer)
________________________
________________________
(Type or print title of signer)
(Type or print title of signer)
________________________
________________________
EXHIBIT A
Looking for something else?