Good Will Adjustment to Remove Late Payment
for Your State
This Goodwill Adjustment to Remove Late Payment is in an easy to use letter format. This letter politely asks that a creditor remove late payment information from an account and to send this updated information to all credit reporting agencies.
For Immediate Download
$2.99
Add to Cart
Free eSignature included
with every order
Please select a state
File types included
Microsoft Word
Adobe PDF
WordPerfect
Rich Text Format
Compatible with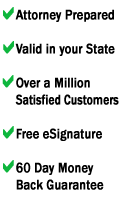 For Immediate Download
$2.99
Add to Cart
Free eSignature included
with every order
Please select a state
Attorney prepared
Our forms are kept up-to-date and accurate by our lawyers
Unlike other sites, every document on FindLegalForms.com is prepared by an attorney, so you can be sure that you are getting a form that is accurate and valid in your state.
Valid in your state
Our forms are guaranteed
to be valid in your state
Our team works tirelessly to keep our products current. As the laws change in your state, so do our forms.
Over 3,500,000
satisfied customers
In over 10 years of creating and selling legal forms, our focus has never changed: providing our customers high quality legal products, low prices and an experience that takes some confusion out of the law.
Free eSignature
Sign your form online, free with any form purchase
We now provide a free Electronic Signature Service to all of our visitors. There are no hidden charges or subscription fees, it's just plain free.
60-Days Money Back
Try our forms with no risk
If you are unhappy with your form purchase for any reason at all, contact us within 60 days and we will refund 100% of your money back.
This Goodwill Adjustment to Remove Late Payment from a credit file can be used when asking a creditor to remove late payment information. Most creditors will be happy to remove this information if you have had the account for over eighteen months and have not asked for this type of adjustment in the last year. This letter sets out the reasons why the payment was late and asks that this information be updated or removed. It is important that this request be set out in writing and that all necessary identification is sent with the letter.
This Goodwill Adjustment to Remove Late Payment Letter contains the following:
Parties: Sets forth the name and address of the writer and the credit reporting agency along with any relevant account information;
Request for Adjustment: Politely asks for the adjustment, gives a detailed reason why the payment was late and any reasons why the adjustment is being asked for at this time;
Necessary Identification: Enclose any identification necessary to identify you as the owner of the account.
Protect Yourself and Your Rights by using this accurate and up-to-date form.
This attorney-prepared package includes:
Information
Goodwill Adjustment to Remove Late Payment
State Law Compliance:
This form complies with the laws of all states
Dimensions
Designed for Letter Size (8.5" x 11")
Editable
Yes (.doc, .wpd and .rtf)
Usage
Unlimited number of prints
This is the content of the form and is provided for your convenience. It is not necessarily what the actual form looks like and does not include the information, instructions and other materials that come with the form you would purchase. An actual sample can also be viewed by clicking on the "Sample Form" near the top left of this page.
LETTER #1
Date:
CERTIFIED MAIL-RETURN RECEIPT REQUESTED
Attn: Credit Reporting Department Account Manager
RE:
Account #: ________________________
Dear Credit Reporting Account Manager:
I am writing a letter about my experience with your fine company that is a mixture of a grateful "thank-you" and a pressing request concerning a loan in my credit files that I sincerely hope to have revised.
I received a credit account in the year ________________________. Unfortunately, several years later, I lost my job, with a wife and small children to care for. I became disorganized with respect to, as you saw, making timely payments. I am now aware that I should have called you immediately, but I had become distracted by the loss of my job, and I think everyone knows how frightening that is.
In ________________ of ___________, I filed a petition for a Chapter 13 Bankruptcy. However, a few years later, I fully recognized my responsibility with respect to payable accounts and have worked diligently to rehabilitate my financial situation.
To be honest, that year was a "wake-up" call for me regarding personal and fiscal organization. Since then I believe I have learned the essential organizational and financial management principles I desperately needed.
We are about to make an application for a mortgage, and it has come to my attention that the late notations and the
"reported non-payments
" since ___________________ on my account with ____________________________ may preclude me from taking full advantage of the very lowest interest rates now available. Since those notations do not reflect my current status with __________________________, I am requesting that you give me a second chance at a positive credit rating by revising those trade lines. If my memory serves me correctly, I have made the minimum payment of $________, in a timely manner since _______________________. I sincerely hope that there is redemption and I beg you for such consideration. I wish to thank you again for allowing me the opportunity to share my thoughts and bumps in the road, and for giving me a second chance at a relationship with you, one that I am determined to keep spotless.
Please let me know if any additional documentation would assist in reaching a positive outcome, and I thank you again for the time you have spent reading and reviewing the contents of this letter. As proof of my identity, I am enclosing a clear copy of my current photo ID and copy of a recent utility bill as proof of my identity and residency (Patriot Act Requirement).
Respectfully yours,
Your Signature
LETTER #2
Date:
CERTIFIED MAIL-RETURN RECEIPT REQUESTED
Name of Credit Card Company
Attn: Credit Reporting Department
RE:
Account #: ____________________________
Dear Capital One Credit Reporting Department:
I have been a Capital One customer since 1991 and during that time, I have enjoyed my experience with Capital One greatly. I am writing to see if you would be willing to make a
"goodwill
" adjustment to your reporting to the three credit agencies. I have a few late payments on the above referenced account that date back to 1996 and 1998. All but one of the late payments is reported as 30-days late. Since that time I have been an exceptional customer paying early every month and have been rewarded by Capital One with ever increasing limits and lower APRs.
Because of my exceptional payment history over the last 36 months, I would like you to consider removing the negative payments from my credit report. At the time of those late payments, I had moved because of a new job, and all of a sudden, the company I was working for experienced a downturn and my hours were drastically cut. I say that not to justify why the payments were late, but rather to show that the late payments are not a good indicator of my actual credit worthiness. I hope that Capital One is willing to work with me on erasing the late payments from my credit reports.
I have been a very happy customer in the past and hope to continue a long relationship with Capital One. With today
'
s credit industry so competitive, I know how important it is to maintain good relationships with customers. Capital One has been exceptional in my book so far and I highly recommend it to all my friends and relatives. I hope that you will consider my humble request and prove once again, why Capital One is the
"leader of the pack
" an above the rest. I look forward to your reply.
Lastly, enclosed is a copy of my current photo ID and recent utility bill as proof of my identity and residency (Patriot Act Requirement).
Your Signature
You've found your form, but will you need others? If there are other related forms you may need in the future, it may be beneficial to look at our combo packages. On average, customers who purchase a combo package save 40% on the related forms they need. Take a look at the combo packages below to see if one is right for you.

Credit Repair Forms Combo Package
Get 13 forms for just $39.95

Save 52%!
Popular Our very popular credit forms together in a convenient packet.
Looking for something else?