Patent Assignment Agreement
for Your State
This Patent Assignment Agreement will effectively assign a patent from one party to another. It is important to both parties that the terms of a patent assignment be set out in writing. This form is available for immediate download and for use in all states.
For Immediate Download
$10.95
Add to Cart
Free eSignature included
with every order
Please select a state
File types included
Microsoft Word
Adobe PDF
WordPerfect
Rich Text Format
Compatible with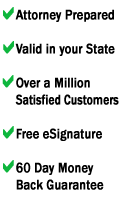 For Immediate Download
$10.95
Add to Cart
Free eSignature included
with every order
Please select a state
Attorney prepared
Our forms are kept up-to-date and accurate by our lawyers
Unlike other sites, every document on FindLegalForms.com is prepared by an attorney, so you can be sure that you are getting a form that is accurate and valid in your state.
Valid in your state
Our forms are guaranteed
to be valid in your state
Our team works tirelessly to keep our products current. As the laws change in your state, so do our forms.
Over 3,500,000
satisfied customers
In over 10 years of creating and selling legal forms, our focus has never changed: providing our customers high quality legal products, low prices and an experience that takes some confusion out of the law.
Free eSignature
Sign your form online, free with any form purchase
We now provide a free Electronic Signature Service to all of our visitors. There are no hidden charges or subscription fees, it's just plain free.
60-Days Money Back
Try our forms with no risk
If you are unhappy with your form purchase for any reason at all, contact us within 60 days and we will refund 100% of your money back.
Most inventors file a patent application in order to protect the rights in their invention. Having a patent also prohibits others from producing or profiting from the invention. This Patent Assignment Agreement will effectively assign an inventor's rights in and to a patent to another party. This agreement sets out the specific terms of the assignment including the identities of the assignor and assignee, description of the invention, relevant patent information and the amount paid for the patent. It is essential that this transaction be memorialized in writing and recorded with the United States Patent and Trademark Office. In the event of disagreements or litigation, a well-written Patent Assignment Agreement will prove invaluable.
This Patent Assignment Agreement contains the following provisions:
Parties: Sets out the identities and business addresses of the assignor and assignee;
Patent: A brief description of the invention and the patent number;
Assignment: Assignor assigns all rights, title and interest in the patent to the assignee;
Payment: The amount paid by assignee for the patent and how payment will be made;
Assignor's Representations and Warranties: Assignor sets out that it has the legal right to assign the patent;
Signatures: Both parties must sign the agreement in the presence of a notary public.
Protect your Rights and Property by using our attorney prepared up-to-date forms.
This attorney-prepared packet contains:
Instructions and Checklist
General Information
Step-by-Step Instructions
Patent Assignment Agreement
State Law Compliance:
This form complies with the laws of all states
Dimensions
Designed for Letter Size (8.5" x 11")
Editable
Yes (.doc, .wpd and .rtf)
Usage
Unlimited number of prints
This is the content of the form and is provided for your convenience. It is not necessarily what the actual form looks like and does not include the information, instructions and other materials that come with the form you would purchase. An actual sample can also be viewed by clicking on the "Sample Form" near the top left of this page.
Patent Assignment Agreement
This Packet Includes:
1. Instructions and Checklist
2. General Information
3. Step-by-Step Instructions
4. Patent Assignment Agreement
Instructions and Checklist
Patent Assignment Agreement
q Note that as with any legal agreement; the document must be properly executed (signed) by both parties, the Assignor and the Assignee. This agreement needs to be notarized.
q The Assignee should retain the original signed document as this original will need to be recorded with the US Patent Office. The Assignor should retain a copy of the document for their records.
q Once the document is executed and notarized, it will need to be recorded with the U.S. Patent and Trademark Office. A cover sheet is required, and the language that should be contained on the cover sheet is included in the Information section of this package.
q Laws vary from time to time and from state to state. These forms are not intended to be and are not a substitute for legal advice. These forms should only be a starting point for you and should not be used or signed before first consulting with an attorney to ensure that it addresses your particular situation. An attorney should be consulted before negotiating any document with another party.
q The purchase and use of these forms is subject to the "Disclaimers and Terms Use" found at www.findlegalforms.com.
General Information
Patent Assignment Agreement
A patent is a legal device that protects an inventor and his invention. The patent prohibits other persons or entities from using or profiting from that invention for a specific period of time, during which the inventor has the exclusive right to exploit the invention.
In order to qualify for a patent, the invention must be a new and useful process, machine, manufacture, or composition of matter (or any new and useful improvement thereof). Further, the material to be patented must be novel and non-obvious.
In addition to having the rights to transfer one's interest in patent, inventors also have the ability to transfer their rights in the patent application itself. When the application is validly assigned and recorded with the U.S. Patent and Trademark Office (USPTO), the patent will be issued to the assignee upon approval of the application.
Recordation with the USPTO also serves to protect the assignee against good faith purchasers who may attempt to take ownership of the patent subsequent to the assignee. Agreements submitted for recordation may need to be accompanied by a cover sheet, which must include the following information (reproduced from CFR §3.31):
1. The name of the party conveying the interest;
2. The name and address of the party receiving the interest;
3. A description of the interest conveyed or transaction to be recorded;
4. Identification of the interests involved:
a. For trademark assignments and trademark name changes: Each trademark registration number and each trademark application number, if known, against which the U.S. Patent and Trademark Office (USPTO) is to record the document. If the trademark application number is not known, a copy of the application or a reproduction of the trademark must be submitted, along with an estimate of the date that the USPTO received the application; or
b. For any other document affecting title to a trademark or patent application, registration or patent: Each trademark or patent application number or each trademark registration number or patent against which the document is to be recorded, or an indication that the document is filed together with a patent application;
5. The name and address of the party to whom correspondence concerning the request to record the document should be mailed;
6. The date the document was executed;
7.
The signature of the party submitting the document. For an assignment document or name change filed electronically, the person who signs the cover sheet must either;
a. Place a symbol comprised of letters, numbers, and/or punctuation marks between forward slash marks submission (e.g. /Thomas O'Malley III/) in the signature block on the electronic submission; or
b. Sign the cover sheet using some other form of electronic signature specified by the Director.
For more information about recording your patent application assignment or general information about U.S. patent law, visit the
USPTO website
.
Step-by-Step Instructions
Patent Assignment Agreement
Introduction: Enter the date that the agreement is being entered into. Fill in the name of the "Assignor" (person assigning the patent) and the "Assignee" (the person that is receiving the assignment). Fill in the business address of each party.
Enter a brief description of the invention that has been patented, and fill in the US Patent Number, and the US Patent Application Number.
The agreement mentions in "consideration of mutual promises, etc." This clause is necessary because in order to have a valid legal agreement, there must be consideration. Legal consideration is the exchange of something of value between the parties.
1. Assignor agrees to assign all rights and title to the Patent. The Assignor also requests that the assignment is recorded with the Commissioner of Patents.
2. Payment: Enter the amount of money that the Assignee will pay for the assignment of this patent (consideration).
3. Assignor represents that they have legal authority to make this assignment, and has not assigned it to anyone else.
Assignor agrees to take any other actions necessary to accomplish this assignment.
Enter the State that this agreement is being entered into.
Signing a document in counterparts can occur where the signing parties are in different geographical locations. An agreement can be faxed for signature, while another agreement is signed in a different location. As long as the agreements are identical, both documents constitute a completed, signed agreement.
Severability means that if any part of this agreement is found unenforceable for any reason, it does not affect the other provisions of this agreement.
Enter the address of each party should notice need to be given regarding this agreement.
Headings are for clarity and do not directly affect the terms of this agreement.
This agreement is the complete agreement between the parties. Any other prior agreements or understandings are no longer in effect.
Signature Block: Both parties should sign this document in the presence of a Notary. The Notary will complete the bottom portion. The Assignee should retain the original document as it will need to be recorded with the US Patent and Trademark Office.
DISCLAIMER:
FindLegalForms, Inc. ("FLF") is not a law firm and does not provide legal advice. The use of these materials is not a substitute for legal advice. Only an attorney can provide legal advice. An attorney should be consulted for all serious legal matters. No Attorney-Client relationship is created by use of these materials.
THESE MATERIALS ARE PROVIDED "AS-IS." FLF DOES NOT GIVE ANY EXPRESS OR IMPLIED WARRANTIES OF MERCHANTABILITY, SUITABILITY OR COMPLETENESS FOR ANY OF THE MATERIALS FOR YOUR PARTICULAR NEEDS. THE MATERIALS ARE USED AT YOUR OWN RISK. IN NO EVENT WILL: I) FLF, ITS AGENTS, PARTNERS, OR AFFILIATES; OR II) THE PROVIDERS, AUTHORS OR PUBLISHERS OF ITS MATERIALS, BE RESPONSIBLE OR LIABLE FOR ANY DIRECT, INDIRECT, INCIDENTAL, SPECIAL, EXEMPLARY, OR CONSEQUENTIAL DAMAGES (INCLUDING, BUT NOT LIMITED TO, PROCUREMENT OF SUBSTITUTE GOODS OR SERVICES; LOSS OF USE, DATE OR PROFITS; OR BUSINESS INTERRUPTION) HOWEVER USED AND ON ANY THEORY OF LIABILITY, WHETHER IN CONTRACT, STRICT LIABILITY, OR TORT (INCLUDING NEGLIGENCE OR OTHERWISE) ARISING IN ANY WAY OUT OF THE USE OF THESE MATERIALS.
Patent Assignment Agreement
THIS AGREEMENT is made this day of , 20 , by and between ("Assignor"), whose business address is and ("Assignee", and collectively, the "Parties"), whose business address is .
WHEREAS, Licensor is has invented (Brief description of invention) (the "Invention"), and has been granted United States Letters Patent for said invention, Patent No. (the "Patent"), granted on the patent application filed with the United States Patent and Trademark Office, Patent Application Number (the "Patent Application").
WHEREAS, Assignee wishes to acquire all right, title and interest in the Patent, and Assignor wishes to sell its interest in the Patent to Assignee.
NOW THEREFORE, in consideration of the mutual promises, covenants, warranties, and other good and valuable consideration set forth herein, the Parties agree as follows:
1. Assignment. Assignor hereby assigns to Assignee, and its successors, representatives and assigns, all right, title and interest in the Patent including all reexaminations, extensions and reissues thereof. Assignor hereby requests the Commissioner of Patents of the United States to record this assignment of all right, title and interest in the Patent to Assignee.
2. Payment. In consideration of the assignment of the Patent pursuant to this Agreement, and of the promises and covenants contained herein, Assignee shall pay to Assignor a fee in the amount of $ , payable as follows: .
3. Assignor's Representations and Warranties. Assignor hereby represents and warrants that it has the legal right and authority to execute this Agreement, and to validly assign the entire interest in the Patent to Assignee. Assignor further represents and warrants that it has not executed any other agreement that would conflict with the terms of this Agreement, nor shall it execute any such agreement in the future.
4. Further Actions. Assignor hereby agrees to execute any further agreements and to take any further actions necessary to aid Assignee in perfecting its interest in the Patent and in enforcing any and all protections or privileges deriving from the Patent.
5. Governing Law. This Agreement shall be construed in accordance with, and governed in all respects by, the laws of the State of ___________________, without regard to conflicts of law principles.
6. Counterparts. This Agreement may be executed in several counterparts, each of which shall constitute an original and all of which, when taken together, shall constitute one agreement.
7. Severability. If any part or parts of this Agreement shall be held unenforceable for any reason, the remainder of this Agreement shall continue in full force and effect. If any provision of this Agreement is deemed invalid or unenforceable by any court of competent jurisdiction, and if limiting such provision would make the provision valid, then such provision shall be deemed to be construed as so limited.
8. Notice. Any notice required or otherwise given pursuant to this Agreement shall be in writing and mailed certified return receipt requested, postage prepaid, or delivered by overnight delivery service, addressed as follows:
If to Assignor:
If to Assignee:
9. Headings. The headings for section herein are for convenience only and shall not affect the meaning of the provisions of this Agreement.
10. Entire Agreement. This Agreement constitutes the entire agreement between Assignor and Assignee, and supersedes any prior understanding or representation of any kind preceding the date of this Agreement. There are no other promises, conditions, understandings or other agreements, whether oral or written, relating to the subject matter of this Agreement.
IN WITNESS WHEREOF, the parties have caused this Agreement to be executed the day and year first above written.
ASSIGNOR




Signature

Print Name

ASSIGNEE




Signature

Print Name
State of )
)
County of __________________________ ) ss
I, the undersigned, a Notary Public in and for said County, in the State aforesaid, DO HEREBY CERTIFY THAT ______________________________________________________________ personally known to me to be the same person whose name is subscribed to the foregoing instrument, appeared before me this day in person, and acknowledged that ________________ signed, sealed and delivered the said instrument as his/her/their free and voluntary act, for the uses and purposes therein set forth.
Given under my hand and notarial seal, this __________ day of ____________, 20____.
_______________________________
Signature of Notary Public
(Seal)
_______________________________
Printed Name of Notary
My commission expires on ______________________________, 20____.
You've found your form, but will you need others? If there are other related forms you may need in the future, it may be beneficial to look at our combo packages. On average, customers who purchase a combo package save 40% on the related forms they need. Take a look at the combo packages below to see if one is right for you.

Patent License Agreements & Assignments Combo Package
Get 5 forms for just $39.95

Save 37%!
Popular Our very popular Patent License Agreement and Assignment forms together in a convenient packet

Intellectual Property Assignments Combo
Get 5 forms for just $39.95

Save 41%!
This Intellectual Property Assignment Combo Package is designed for all states. This combo package is available for immediate download.
Customer Reviews
Average Rating:
Reviews: 2
---




Thank you for your excellent services. My legal documment worked out fine. I was able to edit the form to my needs.
---




Found it to be very useful in organizing my thoughts in relation to a potential patent assignment, and liked the way in which it could be modified to suit particular needs and circumstances.
---
Looking for something else?