Promissory Note - Balloon Payment
Installment Promissory Note with Final Balloon Payment.
File types included
Microsoft Word
Adobe PDF
WordPerfect
Rich Text Format
Compatible with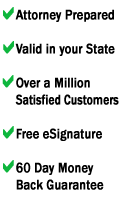 For Immediate Download
$19.95
Add to Cart
Free eSignature included
with every order
Please select a state
Attorney prepared
Our forms are kept up-to-date and accurate by our lawyers
Unlike other sites, every document on FindLegalForms.com is prepared by an attorney, so you can be sure that you are getting a form that is accurate and valid in your state.
Valid in your state
Our forms are guaranteed
to be valid in your state
Our team works tirelessly to keep our products current. As the laws change in your state, so do our forms.
Over 3,500,000
satisfied customers
In over 10 years of creating and selling legal forms, our focus has never changed: providing our customers high quality legal products, low prices and an experience that takes some confusion out of the law.
Free eSignature
Sign your form online, free with any form purchase
We now provide a free Electronic Signature Service to all of our visitors. There are no hidden charges or subscription fees, it's just plain free.
60-Days Money Back
Try our forms with no risk
If you are unhappy with your form purchase for any reason at all, contact us within 60 days and we will refund 100% of your money back.
Installment Promissory Note with Final Balloon Payment - When a person or entity ("LenderâŁ) loans money to another person or entity ("BorrowerâŁ), the loan is typically formalized with a promissory note. A promissory note will set forth, among other things, the repayment schedule, the interest rate, and defaults.

The Installment Promissory Note with Final Balloon Payment requires equal monthly payments (which include Principal and interest) with a final balloon payment (a final large payment that will include all of the remaining principal and interest).

This form can be used in all states.

This package contains: (1) Instructions & Checklist for Installment Promissory Note with Final Balloon Payment; (2) Information for Installment Promissory Note with Final Balloon Payment; and (3) Installment Promissory Note with Final Balloon Payment.

Dimensions
Designed for Letter Size (8.5" x 11")
Editable
Yes (.doc, .wpd and .rtf)
Usage
Unlimited number of prints
This is the content of the form and is provided for your convenience. It is not necessarily what the actual form looks like and does not include the information, instructions and other materials that come with the form you would purchase. An actual sample can also be viewed by clicking on the "Sample Form" near the top left of this page.
Installment Promissory Note
with Final Balloon Payment
This Packet Includes:
1. Instructions & Checklist
2. General Information
3. Installment Promissory Note with Final Balloon Payment
Instructions & Checklist
Installment Promissory Note with Final Balloon Payment
The Borrower must sign and date the Promissory Note. The signature doesn't normally need to be witnessed or notarized.
The Lender should keep the original Promissory Note containing the original signature of the Borrower. There should only be one original Promissory Note with the original signature.
The Borrower should keep a copy of the Promissory Note.
When the Borrower's obligation under the Promissory Note is satisfied (i.e. the Promissory Note is paid off), the Lender should write "Cancelled", "Satisfied in Full" or "Paid in Full" on the front face of the original Promissory Note and should then sign and date it. The original Promissory Note should then be given back to the Borrower.
Laws vary from time to time and from state to state. It may be a good idea to have a lawyer review the completed Promissory Note before the Borrower signs it.
These forms are not intended and are not a substitute for legal advice. These forms should only be a starting point for you and should not be used without consulting with an attorney first.
The purchase and use of these forms, is subject to the Disclaimers and Terms of Use found at www.findlegalforms.com
General Information
Installment Promissory Note with Final Balloon Payment
A Promissory Note creates an obligation for a Borrower to repay a loan back to a Lender together with a certain amount of interest.
Whenever a person lends money to another person, it is generally a good idea to have some document memorializing the transaction. The document should identify the parties, indicate the amount borrowed, the time for repayment, the rate of interest, conditions of default and any other necessary terms.
Just like any contract, a Promissory Note can help the Lender enforce repayment terms and can be useful in any effort necessary to collect the amount lent.
There are different types of Promissory Notes and countless different ways to structure a Promissory Note. Some Promissory Notes require a payment of the borrowed amount ("Principal") plus interest at once, while others require periodic payments of interest, followed by a lump sum payment of the amount borrowed.
This particular Installment Promissory Note requires equal monthly payments (which include Principal and interest) with a final balloon payment (a final large payment that will include all of the remaining principal and interest).
Please note that this information is not intended as and is not a substitute for legal advice
DISCLAIMER:
FindLegalForms, Inc. ("FLF") is not a law firm and does not provide legal advice. The use of these materials is not a substitute for legal advice. Only an attorney can provide legal advice. An attorney should be consulted for all serious legal matters. No Attorney-Client relationship is created by use of these materials.
THESE MATERIALS ARE PROVIDED "AS-IS." FLF DOES NOT GIVE ANY EXPRESS OR IMPLIED WARRANTIES OF MERCHANTABILITY, SUITABILITY OR COMPLETENESS FOR ANY OF THE MATERIALS FOR YOUR PARTICULAR NEEDS. THE MATERIALS ARE USED AT YOUR OWN RISK. IN NO EVENT WILL: I) FLF, ITS AGENTS, PARTNERS, OR AFFILIATES; OR II) THE PROVIDERS, AUTHORS OR PUBLISHERS OF ITS MATERIALS, BE RESPONSIBLE OR LIABLE FOR ANY DIRECT, INDIRECT, INCIDENTAL, SPECIAL, EXEMPLARY, OR CONSEQUENTIAL DAMAGES (INCLUDING, BUT NOT LIMITED TO, PROCUREMENT OF SUBSTITUTE GOODS OR SERVICES; LOSS OF USE, DATE OR PROFITS; OR BUSINESS INTERRUPTION) HOWEVER USED AND ON ANY THEORY OF LIABILITY, WHETHER IN CONTRACT, STRICT LIABILITY, OR TORT (INCLUDING NEGLIGENCE OR OTHERWISE) ARISING IN ANY WAY OUT OF THE USE OF THESE MATERIALS.
Promissory Note
FOR VALUE RECEIVED, the undersigned, _______________________________ (Borrower), maintaining an address at _______________________________ (Borrower's Address) promises to pay to the order of ________________________________ (Lender), whose address is ______________________________________ (Lender's Address), the principal sum of $_____________ (Principal), together with interest of _____% (Interest Rate) per year thereon from the date herein.
The unpaid Principal and accrued interest shall be paid in monthly installments of $_______ each, with the first payment due on __________________, and the same amount due on the same day of each month thereafter for the next ____ consecutive months. The remaining balance with the accrued but unpaid interest shall be fully paid on or before ___________, 20__.
All or any part of the Principal may be prepaid at any time and from time to time without penalty. Payments shall be applied first to accrued interest and the balance to the Principal.
In the event of any default by the Borrower in the payment of Principal or interest after demand is made, the unpaid balance of the Principal of this promissory note shall, at the option of the holder, become immediately due and payable. Any amount due at the time of default shall accrue interest until payment at the rate of fifteen percent (15%) per year or the highest rate permitted by law, whichever is less.
Upon default in making payment within 7 days of demand, Borrower agrees to pay all reasonable legal fees and costs of collection to the extent permitted by law.
Borrower and all other persons who may become liable for the payment hereof severally waive demand, presentment, protest, notice of dishonor or nonpayment, notice of protest, and any and all lack of diligence or delays in collection, which may occur.
All payments hereunder shall be made to such address as may from time to time be designated by any holder and must be made in United States funds.
Borrower and all other parties to this note, whether as endorsers, guarantors or sureties, agree to remain fully bound until this note shall be paid in full and waive demand, presentment and protest and all notices hereto. Borrower further agrees to remain bound by this note notwithstanding any extension, modification, waiver, or other indulgence, failure, discharge or release of any obligation hereunder.
The holder's failure to exercise any right or option hereunder does not constitute a waiver of any future right or option.
No modification to this document or indulgence by any holder hereof shall be binding unless in writing.
If any provision of this Note is deemed unenforceable, in whole or in part, for any reason, the remaining provisions shall still remain in full force and effect.
This note shall take effect as a sealed instrument and is made and executed under, and is in all respects governed by, the laws of: of the State of _____________________________.
_________________________________
(Signature of Borrower)
You've found your form, but will you need others? If there are other related forms you may need in the future, it may be beneficial to look at our combo packages. On average, customers who purchase a combo package save 40% on the related forms they need. Take a look at the combo packages below to see if one is right for you.

Promissory Notes Combo Package
Get 11 forms for just $39.95

Save 78%!
Looking for something else?