Letter of Recommendation for Academic Scholarship
for Your State
This Letter of Recommendation for Academic Scholarship packages contains various letters which will recommend a deserving student for a scholarship. All letters can be adapted and modified to fit your unique needs and situation.
For Immediate Download
$2.99
Add to Cart
Free eSignature included
with every order
Please select a state
File types included
Microsoft Word
Adobe PDF
WordPerfect
Rich Text Format
Compatible with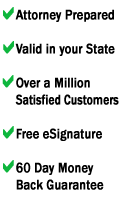 For Immediate Download
$2.99
Add to Cart
Free eSignature included
with every order
Please select a state
Attorney prepared
Our forms are kept up-to-date and accurate by our lawyers
Unlike other sites, every document on FindLegalForms.com is prepared by an attorney, so you can be sure that you are getting a form that is accurate and valid in your state.
Valid in your state
Our forms are guaranteed
to be valid in your state
Our team works tirelessly to keep our products current. As the laws change in your state, so do our forms.
Over 3,500,000
satisfied customers
In over 10 years of creating and selling legal forms, our focus has never changed: providing our customers high quality legal products, low prices and an experience that takes some confusion out of the law.
Free eSignature
Sign your form online, free with any form purchase
We now provide a free Electronic Signature Service to all of our visitors. There are no hidden charges or subscription fees, it's just plain free.
60-Days Money Back
Try our forms with no risk
If you are unhappy with your form purchase for any reason at all, contact us within 60 days and we will refund 100% of your money back.
This Letter of Recommendation for Academic Scholarship will recommend a deserving student for an academic scholarship. This package contains varying types of recommendation letters, including a detailed recommendation about academic and outside achievements to a brief one which sets out the student's academic record. It is imperative that a scholarship recommendation letter be compelling and well-written. A written Letter of Recommendation for Academic Scholarship will ensure that the student's qualifications are taken into consideration when awarding a scholarship. All of the letters can easily be modified to fit your unique situation.
This Letter of Recommendation for Academic Scholarship package contains:
Recommendation Letters: Various letters which articulate why the student deserves a scholarship, including details about scholastic and extracurricular activities in which the student excelled.
Protect your rights by using our attorney-prepared forms.
This attorney-prepared packet contains:
General Instructions
Letter of Recommendation for Academic Scholarship
State Law Compliance:
This form complies with the laws of all states
Dimensions
Designed for Letter Size (8.5" x 11")
Editable
Yes (.doc, .wpd and .rtf)
Usage
Unlimited number of prints
This is the content of the form and is provided for your convenience. It is not necessarily what the actual form looks like and does not include the information, instructions and other materials that come with the form you would purchase. An actual sample can also be viewed by clicking on the "Sample Form" near the top left of this page.
Information & Instructions
Recommendation for Scholarship – Letter
This kit is designed to assist you in drafting a letter of recommendation for a scholarship applicant. The kit includes the following:
1. General Guidelines for Composing a Letter of Recommendation;
2. Two Sample Letters of Recommendation; and
3. Letter of Recommendation - Template
The purchase and use of this form is subject to the "Terms and Conditions" found at
www.FindLegalForms.com
GUIDELINES FOR COMPOSING A LETTER OF RECOMMENDATION
1. Should You Write the Letter? You've been asked to write a letter of recommendation. The first thing you should decide is whether or not you should write the letter.
• Do you know the candidate well enough to write a letter? Writing a letter for someone that you barely know can be quite difficult because you have little experience with him/her to draw upon for your evaluation.
• Can you give the candidate an enthusiastic and strong recommendation? If you can't, it may be better to decline. Lukewarm letters of recommendation can be very harmful to an applicant's chances, and exceedingly negative reviews may end up reflecting poorly upon you, the writer, even moreso than your subject. It's better just to be honest with the candidate in advance.
2. Gathering Information. Once you've decided to write the letter, you should gather the information you'll need to actually compose it. Make a list for yourself of the candidate's attributes, positive experiences you've had with the candidate, short anecdotes that exemplify the candidate's character, etc. Don't be afraid to ask the candidate to provide you with a resume or any other information that you think may be helpful in writing the letter.
3. Writing the Letter. A letter of recommendation is generally made up of four parts:
• Purpose of the Letter – The first paragraph of the letter will serve to inform your reader of the purpose of the letter.
"I am writing to recommend Sally Taylor for the Elkins Scholarship for dedication to community service."
• Experience with the Candidate – The next part of the letter will inform your reader of i] how you know the candidate [including the length of your relationship]; ii] the specific instances where you have instructed, worked beside or supervised the candidate; and iii] how well the candidate performed the various projects, lessons, or tasks. This section will generally be one to two paragraphs in length.
"I have been Sally's English teacher for two years. In this time, Sally has been one of my strongest students. On the many projects I have assigned, Sally has repeatedly met or exceeded my expectations ..."
• Personal Attributes of the Candidate – The next part of the letter will usually include a description of the candidate's character or personal attributes. Whereas the previous section dealt with concrete instances where the candidate excelled, this section allows you to discuss the candidate's character in a more subjective way.
"Sally is a creative thinker. You know that when you assign her a project, she will not only complete it, she will have completed it in a way you never considered."
• Conclusion- This is the last paragraph of your letter and will quickly summarize why you are recommending the candidate [usually one or two sentences]. In this paragraph you can also include your contact information in case the scholarship committee would like to follow up with you. If you would prefer not to receive a phone call, give them your email.
4. Delivering the Letter. The scholarship program will typically give the candidate instructions on how the letter of recommendation is to be delivered to them. Many programs will require that you mail the letter the letter directly to them. They may, however, request that the letters of recommendation accompany all of the other application materials. It is best to place the letter in a sealed envelope and then deliver it to the candidate. If you'd like to also give the candidate a copy of the letter for their review, you're free to do so.
Sample Letter of Recommendation #1
August 20, 2005
Grace Leigh
215 Gimbel Road
Topeka, KS
Kansas University
Admissions Department
KU Visitor Center, 1502 Iowa
Lawrence, KS 66045
Dear Sirs:
I am writing to recommend Stephanie Turner for the Pace Scholarship for Creative Writing.
Stephanie is a student in my 12th grade honors English class, and from early in our first semester together she has proven herself to be incredibly mature both as a writer and as a human being. It goes without saying that Stephanie's creative writing stands head and shoulders above that of her classmates, displaying a wisdom and insight rare for someone her age. I consistently find myself both entertained and challenged by her work. A short story she wrote this semester stands out in my mind, about a mother of three who learns that her own father was a war criminal during World War II. Her ability to empathize with her characters and see the world through a point of view that is entirely foreign to her own continues to astonish me.
But what is most impressive about Stephanie is her maturity as a human being. Several months ago, our class undertook an activity in which each student was paired with a child from an English class at an elementary school in the inner city. The activity was to last a week, with each of my students working on a short story with their assigned child. The activity came and went, and was a success. It was almost two months later that I learned that Stephanie had continued to stay in touch with her assigned child, trading stories, helping her with her schoolwork. What's more, I found out through a friend of Stephanie's. She didn't do it for credit; she didn't do it to impress anyone. She just wanted to help. That's the kind of person you get with Stephanie.
I wholeheartedly recommend Stephanie for the Pace Scholarship. I cannot imagine you will find a more qualified or worthy candidate.
Regards,
Grace Leigh
Sample Letter of Recommendation #2
October 19, 2005
Donald Robinson
1528 Chestnut Street
Richmond, VA 23218
Office of Undergraduate Admissions
University of North Carolina at Chapel Hill
CB #2200, Jackson Hall
Chapel Hill, NC 27599-2200
To Whom It May Concern:
This letter is in endorsement of Ted Buchman's application to receive the President's Scholarship for achievement in the field of leadership.
I spent last year as Ted's trigonometry teacher, and have come to know him as an extremely outgoing, charismatic, and genuine young man. It was no surprise to me that he was elected Student Council President by his classmates last spring; he is genuinely a pleasure to be around, and his enthusiasm for school and for life in general is infectious. But Ted is more than just a good heart. He is also one of the most determined, courageous students I have ever encountered.
During the first few months that Ted was in my class, it was clear that he was having a difficult time understanding the subject matter. It simply did not click for him conceptually. Many students get frustrated in this situation; a few poor quiz grades leave them unable or uninterested in engaging the material. But Ted confronted the material head-on; coming in for extra sessions after school, putting in the time at home to teach himself how to think in a different way. By the end of the first semester, he had raised his test grades to a respectable level. By the mid-point of the second semester, he was consistently scoring among the top few students in my class. Because I know how difficult this process can be, I am all the more astonished by how Ted simply refused to let this challenge get the better of him.
I have no doubt that Ted will be successful in any endeavor he undertakes, and he would be a very worthy recipient of your scholarship. Please feel free to contact me at
drobinson737@teachers.biz
if you need any additional information.
Regards,
Donald Robinson
Letter of Recommendation - Template
[Date]
[Return Address Goes Here]
[Recipient Address Goes Here]
[Salutation [greeting] Goes Here]
I am writing to recommend [name of candidate] for the [name of scholarship] .
[Name of candidate] was a student of mine at [name of school] , and proved himself/herself to be a bright, capable, and hard-working individual. [Briefly describe a specific experience or piece of work with the candidate that illustrates his/her abilities] .
In my opinion, [name of candidate] exemplifies the standards and qualities that your committee is surely looking for, and would be a worthy recipient. He/she has my full endorsement.
Regards,
[Signature]
[Printed name]
Letter of Recommendation - Template 2
[Date]
[Return Address Goes Here]
[Recipient Address Goes Here]
[Salutation [greeting] Goes Here]
I was recently asked by [name] to compose a letter recommending [him/her] as a candidate for the [scholarship name]. It is with great pleasure that I am writing to you to offer you my highest possible recommendation.
[first name] has proven to be an excellent student, and a great human being. [further description of applicant]
If you require any additional information, please feel free to contact me at [phone number]. Otherwise, please accept my recommendation of [first name] as an excellent candidate for the [scholarship name].
Thank you.
[Closing Goes Here]
[Signature]
[Printed name]
Letter of Recommendation - Template 3
[Date]
[Return Address Goes Here]
[Recipient Address Goes Here]
[Salutation [greeting] Goes Here]
This letter is in reference to the graduate studies application of [name]. [He/She] was a student of mine at [school name] from [period of time], and graduated in [graduation month and year] with a Bachelor's Degree in [major].
During [his/her] time of study with me, [first name] proved to be an exceptional student with a keen mind and a willingness to put forth the effort to learn. [additional information]. It is my opinion that [He/She] would be a wonderful addition to the [university name] graduate program.
[first name] has my full endorsement as a prospective graduate student. [He/She] would be a valuable asset to your institution.
Thank you for your time.
[Closing Salutation]
[Signature]
[Printed name]
You've found your form, but will you need others? If there are other related forms you may need in the future, it may be beneficial to look at our combo packages. On average, customers who purchase a combo package save 40% on the related forms they need. Take a look at the combo packages below to see if one is right for you.

Letters of Recommendation Forms Combo Packages
Get 3 forms for just $4.99

Save 44%!
Save Money by getting our popular Letters of Recommendation together in one convenient packet
Looking for something else?