Release & Settlement Agreement (General Debt)
for Your State
This Release and Settlement Agreement for General Debt is used when settling a debt for a credit card or automobile loan. This agreement sets out the specifics of the settlement including any payment arrangements and creditor's agreement on how to report the debt to the credit agencies.
For Immediate Download
$7.99
Add to Cart
Free eSignature included
with every order
Please select a state
File types included
Microsoft Word
Adobe PDF
WordPerfect
Rich Text Format
Compatible with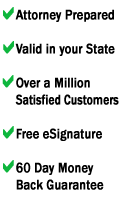 For Immediate Download
$7.99
Add to Cart
Free eSignature included
with every order
Please select a state
Attorney prepared
Our forms are kept up-to-date and accurate by our lawyers
Unlike other sites, every document on FindLegalForms.com is prepared by an attorney, so you can be sure that you are getting a form that is accurate and valid in your state.
Valid in your state
Our forms are guaranteed
to be valid in your state
Our team works tirelessly to keep our products current. As the laws change in your state, so do our forms.
Over 3,500,000
satisfied customers
In over 10 years of creating and selling legal forms, our focus has never changed: providing our customers high quality legal products, low prices and an experience that takes some confusion out of the law.
Free eSignature
Sign your form online, free with any form purchase
We now provide a free Electronic Signature Service to all of our visitors. There are no hidden charges or subscription fees, it's just plain free.
60-Days Money Back
Try our forms with no risk
If you are unhappy with your form purchase for any reason at all, contact us within 60 days and we will refund 100% of your money back.
This Release and Settlement Agreement for General Debt is to settle debts such as a credit card or automobile loan. This agreement sets out the specifics regarding the debt including the account number, the balance which creditor disputes and the terms of the debt settlement, including any payment schedule. This agreement also sets forth that the creditor agrees to report the debt as "paid in full" to all credit reporting agencies. It is imperative that this type of settlement agreement be clearly set forth in writing. A written Release and Settlement Agreement for General Debt will prove invaluable in the event there are disagreements or misunderstandings between the parties as to any settlement terms.
This Release and Settlement Agreement (General Debt) contains the following provisions:
Parties: Sets forth the name of the original creditor, its agent and the debtor;
Account Details: Sets out the details regarding the debtor's account including the account number and the balance due which creditor is disputing;
Settlement: Sets forth the amount debtor agrees to pay to creditor and the payment schedule if necessary;
Acceptance of Settlement: Sets forth that creditor agrees to accept the settlement as full and final satisfaction of the debt;
Credit Reporting: The creditor agrees to report the account as "paid in full" to all credit agencies;
Signatures: This agreement must be signed by the debtor and either the creditor and/or its agent.
Protect Yourself and Your Rights by using this accurate and up-to-date form.
This attorney-prepared package includes:
General Instructions and Checklist
Information
Release and Settlement Agreement (General Debt)
State Law Compliance:
This form complies with the laws of all states
Dimensions
Designed for Letter Size (8.5" x 11")
Editable
Yes (.doc, .wpd and .rtf)
Usage
Unlimited number of prints
This is the content of the form and is provided for your convenience. It is not necessarily what the actual form looks like and does not include the information, instructions and other materials that come with the form you would purchase. An actual sample can also be viewed by clicking on the "Sample Form" near the top left of this page.
Release and Settlement Agreement
(General Debt)
This Packet Includes:
1. General Instructions & Checklist
2. Information
3. Release and Settlement Agreement
(General Debt)
General Instructions & Checklist
Release And Settlement Agreement
(General Debt)
The Creditor and Debtor should read the Agreement carefully.
Both parties must sign the Agreement. Fill in the blanks for addresses, account information, amount settled upon, and the actual amount owed. The Original Creditor is the original person or entity that the Debtor owes, and the Agent is the collection person or agency hired by the original creditor, which is the typical scenario. Generally, there are at least two originals, signed by both parties so that each party can retain an Agreement with actual ink signatures.
This form contains the language that is necessary to settle a debt for a lower amount than is due and includes language that will improve Debtor's credit reporting once this matter is resolved. This frequently happens when a Creditor is willing to settle a Debtor's outstanding debt, usually because of long periods of non-payment. This form includes provision 5, which is specific to California law and should be removed for all other states.
Laws regarding this Agreement may vary from state to state. This form is not intended as a substitute for legal advice. This form should only be considered a template and, unless you are an attorney, you should not use it before first consulting with an attorney to ensure that it addresses your particular situation. An attorney should be consulted before negotiating any document with another party.
The purchase and use of this form is subject to the "Disclaimers and Terms of Use" found at findlegalforms.com.
Information
Release And Settlement Agreement
(General Debt)
General debts (i.e., credit card, automobile loans, etc.) are a fact of life that most people deal with at one time or another. Creditors are always looking to resolve debts that seem to be hopeless and they do a cost benefit analysis on what reduced amount is worth settling the debt since some money is better than nothing.
This is a comprehensive settlement agreement that can be used once the settlement dollars and payment schedule are determined so that the settlement is properly documented and can be used to straighten out any problems regarding this matter in the future (i.e., debtor's credit discrepancies). By sending the credit bureau this executed agreement you will be able to quickly update the line item regarding the particular matter, resulting in improved credit.
No agreement can cover every situation and it is advised that if the person using this form is not an attorney, then they should consult an attorney first to tailor this agreement to fit the situation before using.
DISCLAIMER:
FindLegalForms, Inc. ("FLF") is not a law firm and does not provide legal advice. The use of these materials is not a substitute for legal advice. Only an attorney can provide legal advice. An attorney should be consulted for all serious legal matters. No Attorney-Client relationship is created by use of these materials.
THESE MATERIALS ARE PROVIDED "AS-IS." FLF DOES NOT GIVE ANY EXPRESS OR IMPLIED WARRANTIES OF MERCHANTABILITY, SUITABILITY OR COMPLETENESS FOR ANY OF THE MATERIALS FOR YOUR PARTICULAR NEEDS. THE MATERIALS ARE USED AT YOUR OWN RISK. IN NO EVENT WILL: I) FLF, ITS AGENTS, PARTNERS, OR AFFILIATES; OR II) THE PROVIDERS, AUTHORS OR PUBLISHERS OF ITS MATERIALS, BE RESPONSIBLE OR LIABLE FOR ANY DIRECT, INDIRECT, INCIDENTAL, SPECIAL, EXEMPLARY, OR CONSEQUENTIAL DAMAGES (INCLUDING, BUT NOT LIMITED TO, PROCUREMENT OF SUBSTITUTE GOODS OR SERVICES; LOSS OF USE, DATE OR PROFITS; OR BUSINESS INTERRUPTION) HOWEVER USED AND ON ANY THEORY OF LIABILITY, WHETHER IN CONTRACT, STRICT LIABILITY, OR TORT (INCLUDING NEGLIGENCE OR OTHERWISE) ARISING IN ANY WAY OUT OF THE USE OF THESE MATERIALS.
RELEASE AND SETTLEMENT AGREEMENT
This RELEASE AND SETTLEMENT agreement ("Agreement"), is made on this ___day of _____________, by and between _______________________ ("Original Creditor") whose address is: ____________________________________, through its authorized agent, _______________________________ ("Agent") whose address is: ________________________________________________(Original Creditor and Agent may sometimes be referred to hereafter collectively as the "Creditor"), and ____________________whose address is: _____________________________________ (hereafter referred to as the "Debtor").
WHEREAS, the Original Creditor owns and maintains an account in the name of the Debtor, identified by account number _________________(the "Account"); and
WHEREAS, the Creditor asserts that the balance due on the Account is __________________________________ ($_________), which Creditor hereby disputes; and
WHEREAS, the Creditor warrants and represents that it has the exclusive legal right, power, and authority to grant this Release and enter into this Agreement, with the Creditor being authorized to release and settle the Account; and
WHEREAS, it is the intention of the parties to fully and completely settle,
compromise and conclude any and all disputes, differences, claims, demands, and causes of action between the parties existing as of the date of this Agreement, whether known or unknown, all as more specifically set forth herein.
NOW, THEREFORE, upon the mutual promises and covenants herein contained, the parties hereto agree as follows:
1. The Debtor agrees to pay the Creditor the sum of ______________________ ($___________) (the "Settlement Payment"), payable in the following manner (the "Settlement Payment Schedule"):
i. A money order made payable to the Creditor for ____________ ($______) within five (5) business days after receipt of a partially executed copy of this Agreement by mail;
ii. A money order made payable to the Creditor for ______________ ($__________) by _____________.
2. The Creditor agrees to accept the Settlement Payment and the Settlement Payment Schedule as full and final satisfaction of the Account.
3. The Creditor does hereby generally release and forever discharge the Debtor, Debtor's successors and assigns ("Released Parties") of and from any and all manner of claims, debts, costs, contracts, liens, accounts, demands, actions, suits, causes of actions, obligations, expenses, attorney's fees, damages, judgments, orders and liabilities of every kind and nature, known or unknown, suspected or unsuspected, fixed or contingent, in law or in equity, arising out of or in any way connected with or related to the Account that the Creditor, its assigns and successors now have up to the date of this Agreement, or at anytime hereafter may have, against the Released Parties with regard to the Account.
4. The parties acknowledge that the disputed amount of the Account
serves as adequate consideration to support a valid accord and satisfaction, and that it is the parties intention that this Agreement shall be effective as a full and final accord and satisfaction between parties, constituting full settlement of all claims of every nature to date in connection with the Account.
5. Each of the parties hereto expressly and voluntarily waive any and
all rights and benefits conferred upon them by the provisions of Section 1542 of the Civil Code of California, which provides as follows:
"A general release does not extend to claims which the creditor does not know or suspect to exist in his favor at the time of executing the release, which if known to him must have materially affected his settlement with the debtor."
6. The Creditor agrees to report the Account in connection with the Debtor as "Paid in Full" to all credit bureaus, and will refrain from reporting any and all negative credit information on inquiries into the Debtor's past, present, or future matters concerning the Account as of this Agreement's execution date.
7. This Release and Agreement sets forth the entire understanding
between the parties, and cannot be changed, modified or canceled except by an instrument signed by the party sought to be bound. Any controversy arising under this Agreement and the rights and obligations established herein shall be governed by and construed in accordance with the laws of the State of California.
8. Agent's signing of this Agreement as the agent or licensee of, or on
behalf of Original Creditor, warrants and represents that Agent is an authorized signatory of Original Creditor and has apprised Original Creditor of the terms of this Agreement and is authorized and empowered by Original Creditor to enter into this Agreement on its behalf, thereby binding Original Creditor to all of this Agreement's terms and conditions. This warranty and representation is of the essence and is a material inducement to the Debtor to enter into this Agreement.
IN WITNESS WHEREOF, the parties have executed this agreement the date and year above set forth.
"Debtor"
BY:__________________________
AGREED & ACCEPTED
"Creditor"
Creditor
BY:_________________________________
An Authorized Signatory
You've found your form, but will you need others? If there are other related forms you may need in the future, it may be beneficial to look at our combo packages. On average, customers who purchase a combo package save 40% on the related forms they need. Take a look at the combo packages below to see if one is right for you.

Credit Repair Forms Combo Package
Get 13 forms for just $39.95

Save 52%!
Popular Our very popular credit forms together in a convenient packet.
Customer Reviews
Average Rating:
Reviews: 1
---





Excellent letter setup and very easy to read . This site has it all . Thanks you.
---
Looking for something else?