Service Agreement (Fitness Training and Services)
Used by a gym or studio where fitness classes or training will be performed. It includes information about the client, how much the services will cost and rules the client must abide by while training.
For Immediate Download
$19.95
Add to Cart
Free eSignature included
with every order
Please select a state
File types included
Microsoft Word
Adobe PDF
WordPerfect
Rich Text Format
Compatible with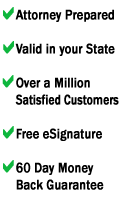 For Immediate Download
$19.95
Add to Cart
Free eSignature included
with every order
Please select a state
Attorney prepared
Our forms are kept up-to-date and accurate by our lawyers
Unlike other sites, every document on FindLegalForms.com is prepared by an attorney, so you can be sure that you are getting a form that is accurate and valid in your state.
Valid in your state
Our forms are guaranteed
to be valid in your state
Our team works tirelessly to keep our products current. As the laws change in your state, so do our forms.
Over 3,500,000
satisfied customers
In over 10 years of creating and selling legal forms, our focus has never changed: providing our customers high quality legal products, low prices and an experience that takes some confusion out of the law.
Free eSignature
Sign your form online, free with any form purchase
We now provide a free Electronic Signature Service to all of our visitors. There are no hidden charges or subscription fees, it's just plain free.
60-Days Money Back
Try our forms with no risk
If you are unhappy with your form purchase for any reason at all, contact us within 60 days and we will refund 100% of your money back.
This Fitness Training and Services Agreement is an agreement between a gym or studio and a client. This agreement sets forth the specific terms between the parties regarding fitness classes (such as yoga or Pilates) or fitness training. It is crucial that the specific terms of this business relationship be memorialized in writing. Having a written agreement will prove invaluable in the event of injuries or accidents, misunderstandings or disagreements.
Among others, this Fitness Training and Services Agreement contains the following provisions:
Client Information: Name and pertinent information of the client, including health and illness information;
Training Sessions: Sets forth the date and times of the training sessions;
Services and Payment Information: The services the gym or studio will perform and the payment provisions;
Rules: The rules the client agrees to abide by while on the gym or studio premises.
Protect Yourself, your Rights and your Property by using our professionally prepared up-to-date forms.
This attorney-prepared packet includes:
General Information
Instructions and Checklist
Fitness Training and Services Agreement
State Law Compliance:
This form complies with the laws of all states
Dimensions
Designed for Letter Size (8.5" x 11")
Editable
Yes (.doc, .wpd and .rtf)
Usage
Unlimited number of prints
This is the content of the form and is provided for your convenience. It is not necessarily what the actual form looks like and does not include the information, instructions and other materials that come with the form you would purchase. An actual sample can also be viewed by clicking on the "Sample Form" near the top left of this page.
Fitness Training and
Services Agreement
This Agreement is made and entered into this _______ day of _________________, 20___, by and between ____________________ of __________________________________ (the
"Client
") and ______________________ of ___________________________________ _______(the
"Studio
").
In consideration of the mutual promises exchanged herein and other good and valuable consideration, the parties agree as follows:
1. CLIENT INFORMATION
Name: ___________________________________
Address: _________________________________
____________________________________
Primary Phone Number: _____________________
Secondary phone number: ____________________
Email Address: _____________________________
Health Information & History
Indicate any diseases, conditions or illnesses you have had or currently have that may affect your participation:
____________________________________________________________________________________________________________________________________________________________
____________________________________________________________________________________________________________________________________________________________
2. TRAINING SESSIONS
Training Session Start Date: _____________________
Training Session End Date: _____________________
Number of Sessions: __________________________
Client commits to training session with Studio on:
Monday ( ) Tuesday ( ) Wednesday ( ) Thursday ( ) Friday ( ) Saturday ( ) Sunday ( )
3. SERVICES
Studio has developed a proprietary exercise program that includes a unique organization of strenuous exercise routines and that these routines have been embodied in the training sessions. The training sessions will begin at a mutually convenient, agreed-upon time and shall be subject to the Studio policies. An instructor will be provided by the Studio to conduct the training sessions in the Studio venue. One or more substitute instructors will be provided by the Studio to fill in for any instructor who cannot attend a session.
4. PACKAGES & PAYMENTS
Subject to payment of Fees, Client will receive the Services as outlined in the Training Packages (see attached Exhibit A). Studio reserves the right from time to time to increase or otherwise modify this initial fee in its sole discretion.
All training sessions must be paid for in advance in accordance with the Training Packages selected.
5. CANCELLATIONS & RESCHEDULE
To avoid the loss of the entire training session, the session must be canceled or rescheduled _____________ hours prior to scheduled appointment time. If client fails to cancel or reschedule, a training session will not be refunded or applied to any future training sessions, but
shall be forfeited by the Studio
.
In addition, if a trainer needs to reschedule, the trainer will provide 12 hours notice as well, at no cost to the client.
6. RULES
Client agrees to abide by the following rules.
a) Not serve nor bring alcoholic beverages onto
Studio
premises.
b) Maintain premises in good condition.
c) Not hinder foot or vehicle traffic on premises nor block any fire exits.
d) Restrict use of fitness room to aerobics, stretching exercises, yoga etc.
e) Not allow unauthorized persons to accompany Client, use premises or equipment at any time.
f) Not allow minors to accompany Client or use premises or equipment at any time.
g) Turn off lights, motorized equipment, and close and lock all doors and windows at end of each use period.
7. ADDITIONAL SESSIONS
Client and Studio may mutually agree to conduct additional sessions at mutually convenient times and locations, to be billed to Client at Studio
'
s then current service rates. Client may upgrade the Training Package selected at any time and the Fees associated with such upgraded Training Package will be adjusted accordingly.
8. SAFETY
Studio has made all efforts to ensure
Client
'
s
safety during any and all training sessions under this Agreement. As with any training session, Client will be involved in physical activities as part of the exercise program. Client agrees that it has no disabilities or physical conditions that would limit Client to participate in any exercise program. Client agrees to assume full responsibility for these risks and agree to release Studio, for any liability.
9. EQUIPMENT MALFUNCTION
Studio is not liable for any technical issues or equipment malfunction. In the event of any technical issue or malfunction, the Client will be issued a full refund for any services not performed. Studio is not responsible for any client expenses and associated with the scheduled services.
10. PROMOTIONAL RIGHTS
As part of this Agreement, and for no additional consideration or agreement, Client hereby consents to Studio use of clients name, image and likeness for promotional or commercial purposes, including photographs and video tapes arising out of client
'
s participation in the services. Client hereby assigns all right, title and interest client may have in or to any and all media in which client
'
s name or likeness might be used by Studio. Client agrees not to make any claim of a violation of client
'
s rights of publicity or privacy as a result of Studio exercise of its rights hereunder.
11. TERMINATION
Client acknowledges and agrees that Studio has the right to terminate this relationship at anytime and for any reason, with no obligation due to Client beyond a refund of payments made for any unused sessions.
12. ACKNOWLEDGEMENT OF RISKS
Client understands that exercise programs of Studio involve regimes of highly strenuous athletic and physical fitness activities and recognize that participation in such strenuous activities inherently involve health and injury risks, which can be very serious, to include death. Client understands and knowingly accepts these risks.
13. RELEASE
By signing this agreement, Client hereby irrevocably and unconditionally fully releases and forever discharges the Studio from any and all claims, actions or other proceedings of every kind and nature for any loss, injury, illness, death, damage and/or liability whatsoever of every nature and kind, in law or in equity, whether now known, anticipated or otherwise, which any Client had, has or may have against the Studio, directly or indirectly, arising out of, resulting from, or in any way associated with any personal training or fitness activity.
14. INDEMNIFICATION
In consideration of Studio
'
s acceptance of client
'
s request to participate in the services, Client hereby indemnifies, releases and forever discharges Studio and any representatives from any liability, claims, losses, costs, or expenses, and waives the right to pursue legal action against Studio arising directly or indirectly from Client
'
s participation in the services, including claims or damages resulting from death, personal injury, partial or permanent disability or property damage, medical or economic losses, including attorney
'
s fees, whether caused in whole or in part from the services or any instruction or training associated with the services and whether based upon the breach of any express or implied warranty, negligence or under any other legal theory. This release shall be binding upon Client
'
s heirs, assignees, successors and personal representative.
15. WARRANTY
Client hereby acknowledges that Studio makes no warranties of any kind, express or implied, and does not guarantee individual results. Client, not Studio, is personally responsible for the achievement of individual performance goals.
16. COMPLIANCE WITH LAWS
Studio, in the performance of this Agreement, shall comply with all applicable federal, state or local laws and ordinances, including regulations for licensing, certification and operation of facilities, programs and accreditation, and licensing of individuals etc.
17. ASSIGNMENT/SUBCONTRACTING
Neither party shall not assign this Agreement or any portion of this Agreement without the written consent of the other, and it is further agreed that said consent must be sought in writing by giving written notice not less than thirty (30) days prior to the date of any proposed assignment.
18. NOTICE
Any notice or communication to be given by one party to the other under this Agreement must be in writing; and if given by registered or certified mail, such notice or communication shall be deemed to have been given and received when a registered or certified letter containing such notice or communication, properly addressed, with postage prepaid, is deposited in the United States mail, but if given otherwise than by registered or certified mail, it shall be deemed to have been given when received by the party to whom it is addressed. Such notices or communications shall be delivered or sent to the addresses each party specifies in writing upon execution of this Agreement.
19. JURISDICTION AND VENUE
This Agreement has been and shall be construed as having been made and delivered within the State of _____________, and it is agreed by each party hereto that this Agreement shall be governed by laws of the State of _________________, both as to interpretation and performance. Any action of law, suit in equity, or judicial proceeding for the enforcement of this Agreement or any provisions thereof shall be ins
tituted and maintained only in
any of the courts of competent jurisdiction in ___________________.
20. SEVERABILITY
If, for any reason, any part, term or provision of this Agreement is held by a court of competent jurisdiction to be illegal, void or unenforceable, the validity of the remaining provisions shall not be affected, and the rights and obligations of the parties shall be construed and enforced as if the Agreement did not contain the particular provision held to be invalid.
21. ENTIRE AGREEMENT
The parties agree that this Agreement is the complete expression of the terms hereto and any oral representations or understandings not incorporated herein are excluded. Further, any modification of this Agreement shall be in writing and signed by both parties. Failure to comply with any of the provisions stated herein shall constitute material breach of contract and cause for termination. Both parties recognize time is of the essence in the performance of the provisions of this Agreement.
IN WITNESS WHEREOF the parties hereto have caused this Agreement to be executed the day and year first hereinabove written.
By:
________________________
by:
________________________
________________________
________________________
(Type or print name of signer)
(Type or print name of signer)
________________________
________________________
(Type or print title of signer)
(Date)
________________________
(Date)
__________________
EXHIBIT A
Looking for something else?