Service Agreement (Information Technology)
Agreement between a business owner or client and an individual who will perform IT services. It sets out the specific services to be rendered, performance standards and that the IT professional is considered an independent contractor.
For Immediate Download
$19.95
Add to Cart
Free eSignature included
with every order
Please select a state
File types included
Microsoft Word
Adobe PDF
WordPerfect
Rich Text Format
Compatible with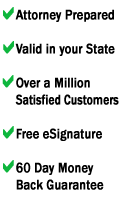 For Immediate Download
$19.95
Add to Cart
Free eSignature included
with every order
Please select a state
Attorney prepared
Our forms are kept up-to-date and accurate by our lawyers
Unlike other sites, every document on FindLegalForms.com is prepared by an attorney, so you can be sure that you are getting a form that is accurate and valid in your state.
Valid in your state
Our forms are guaranteed
to be valid in your state
Our team works tirelessly to keep our products current. As the laws change in your state, so do our forms.
Over 3,500,000
satisfied customers
In over 10 years of creating and selling legal forms, our focus has never changed: providing our customers high quality legal products, low prices and an experience that takes some confusion out of the law.
Free eSignature
Sign your form online, free with any form purchase
We now provide a free Electronic Signature Service to all of our visitors. There are no hidden charges or subscription fees, it's just plain free.
60-Days Money Back
Try our forms with no risk
If you are unhappy with your form purchase for any reason at all, contact us within 60 days and we will refund 100% of your money back.
This Information Technology Services Agreement is between a business owner and/or client and an individual who will perform information technology services. It is crucial that the specific terms of this type of arrangement be memorialized in writing. Having a written Information Technology Services Agreement will prove invaluable in the event of disagreements or litigation.
Among others, these important provisions are included in this agreement:
Parties to the Agreement: This provision contains the identity and names of the parties entering into the agreement;
Services: Sets out the specific services to be performed;
Performance Standards: Sets forth the standards for the rendered services;
Reports: Sets out the timeframe for delivery of reports detailing performance activities;
Ownership: Any work contributed by the contractor will be considered a "work for hireâ?Ł and company shall be the sole and exclusive owner of any copyrights in that work.
Protect Yourself, Your Rights and Your Business by using our professionally prepared up-to-date forms.
This attorney-prepared packet includes:
General Information
Instructions and Checklist
Information Technology Services Agreement for use in all states
State Law Compliance:
This form complies with the laws of all states
Dimensions
Designed for Letter Size (8.5" x 11")
Editable
Yes (.doc, .wpd and .rtf)
Usage
Unlimited number of prints
This is the content of the form and is provided for your convenience. It is not necessarily what the actual form looks like and does not include the information, instructions and other materials that come with the form you would purchase. An actual sample can also be viewed by clicking on the "Sample Form" near the top left of this page.
Information Technology
Services Agreement
This INFORMATION TECHNOLOGY SERVICE AGREEMENT (this
"Agreement
") is made and entered into as of this _____________ day of _________________, 20_____ (the
"Effective Date
"), by and between ___________________________ having an address at ____________________________________ (the
"Contractor
"), and ___________________________ having an address at _____________________ _______________ (the
"Company
"). The Contractor and Company are referred to individually as
"Party
" and collectively as the
"Parties.
"
WHEREAS, Company desires to obtain from Contractor, and Contractor desires to provide to Company, certain information technology services, subject to the terms and conditions of, this Agreement.
NOW, THEREFORE, in consideration of the mutual covenants herein and for good and valuable consideration, receipt of which is hereby acknowledged, the Parties agree as follows:
1. SERVICES
For the term of this Agreement and subject to the terms and conditions hereunder, Contractor will provide to Company, and Company will obtain from Contractor the Information Technology Services as described on the attached Exhibit A (Scope of Work) (the
"Services
"). The Contractor shall also provide to Company any additional services as requested by the Company and upon terms as mutually agreed upon.
2. PERFORMANCE STANDARDS
Contractor shall perform the Services hereunder and deliver the Deliverables (as defined below) in accordance with the highest standard of care, skill and diligence as provided by a competent professional in performance of similar Services, and the Deliverables shall be of good quality and free from all faults and defects. In the event if the Services are found to be erroneous or defective, Contractor shall re-perform the Services at no additional charges.
3. MUTUAL COOPERATION
Company and Contractor shall provide mutual cooperation and assistance as reasonably requested by the other Party. Such cooperation and assistance shall include providing to Contractor in a timely manner answers to questions, information, technical consultation, and, acceptances.
4. REPORTS
The Contractor will furnish to Company a monthly/quarterly detailing performance of activities, deliverables or milestones achieved, progress made in the project plan, support effort, any reported problem and resolution to the problem, and any other information as Company may reasonably request. Contractor shall provide the Company with any such information as may be reasonably requested by the Company from time to time to verify the Contractor's performance of Services
5. INSPECTION OF RECORDS
For the term of this Agreement and for a period of three (3) years after termination or expiration of this Agreement, the Contractor shall maintain all records, documents, communications, notes and other written materials or electronic media, files or communications relating to the delivery of Services or Deliverables hereunder. The Company or any duly authorized agent of the Company may audit, inspect, examine, excerpt, copy and/or transcribe Contractor's records during the term of this Agreement and for a period of three (3) years following termination of this Agreement.
6. PRICING & PAYMENTS
Company will pay Contractor a fee in the amount as set forth on the attached Scope of Work. The prices may be changed upon mutual agreement of the Parties. Company agrees to reimburse Contractor for any pre-approved expenses incurred by Contractor in connection with, and only to the extent necessary for, performance of Services. In the event if the Company chooses to obtain any additional services Company will pay Contractor at the rates set forth in attached Scope of Work.
7. DELIVERABLES
In accordance with the delivery schedule mentioned on the attached Scope of Work, Contractor shall deliver to Company the data, documents and deliverables (
"Deliverables
"). Company reserves the right to inspect the Services and the Deliverables during the term of this Agreement. If any of the Services or Deliverables does not conform to Company
'
s requirements, Company may require the Contractor to promptly re-perform the Services or provide the Deliverables again in conformity with requirements of the Company at no additional cost to the Company. In the event if any defects in the quality or standard of Services and Deliverables cannot be corrected by re-performance, the Company may terminate this Agreement or equitably reduce the payment due to the Contractor to reflect the reduced value of the Services or the Deliverables.
Upon completion of performance of Services hereunder, the Company shall within thirty (30) days from the date of receipt of notice of completion, provide either notice of acceptance or notice of rejection of the Deliverables.
8. OWNERSHIP
All Services, Deliverables and other materials developed by the Contractor for the Company pursuant to this Agreement shall be owned by and shall be the exclusive property of the Company. The Services and Deliverables shall be considered to be a
"WORK MADE FOR HIRE
" as that term is defined for copyright and other purposes. Contractor hereby assigns all copyrights, patents, service marks and trademarks of all software, documentation, and other products and materials developed pursuant to this Agreement finally and irrevocably to the Company, and Contractor agrees to execute a
ny and all documents necessary
to accomplish such assignment and to register any patent, service or trade mark, or copyright arising from the Services performed pursuant to this Agreement.
9. CONFIDENTIALITY OBLIGATIONS
Contractor agrees that it will hold in strict confidence and shall not disclose any confidential information of the Company to any third party and to use the confidential information of the Company for no purpose other than the purposes expressly permitted by this Agreement. Contractor shall only permit access to the Company
'
s confidential information to those of its employees having a need to know. Contractor shall maintain the confidentiality and prevent accidental or other loss or disclosure of any confidential information of the Company with at least the same degree of care as it uses to protect its own confidential information but in no event with less than reasonable care.
Contractor
'
s obligations of confidentiality under this agreement shall not apply to information (i) in the public domain, (ii) was known to the Contractor prior to the time of disclosure, (iii) is independently developed by the Contractor prior to receiving such confidential information without reference to any confidential information, (iv) is required to be disclosed pursuant to a judicial order, a requirement of a governmental agency or by operation of law, provided that Contractor gives the Company a written notice of any such requirement immediately after learning of any such requirement, and takes all reasonable measures to avoid or limit disclosure under such requirements and to obtain confidential treatment or a protective order and has allowed Company to participate in the proceeding. Upon written request by the Company, the Contractor shall promptly return all documents and other tangible materials representing the Company
'
s confidential information and all copies thereof. The obligations under this clause shall survive termination of the agreement
10. DISCLAIMER & LIMITATIONS OF LIABILITY
EXCEPT AS OTHERWISE EXPRESSLY PROVIDED UNDER THIS AGREEMENT, THE SERVICES PROVIDED ARE PROVIDED
"AS IS.
" EXCEPT AS OTHERWISE EXPRESSLY PROVIDED, NEITHER PARTY MAKES ANY REPRESENTATIONS OR WARRANTIES UNDER THIS AGREEMENT, AND EACH PARTY DISCLAIMS ANY AND ALL OTHER REPRESENTATIONS OR WARRANTIES, EXPRESS OR IMPLIED, INCLUDING WARRANTIES OF MERCHANTABILITY, FITNESS FOR A PARTICULAR PURPOSE, TITLE, AND NON-INFRINGEMENT.
IN NO EVENT SHALL EITHER PARTY BE LIABLE FOR ANY LOSS OF PROFIT, INDIRECT, INCIDENTAL, SPECIAL, PUNITIVE, OR CONSEQUENTIAL DAMAGES ARISING OUT OF OR RELATING TO THIS AGREEMENT, EVEN IF ADVISED OF THE POSSIBILITY OF SUCH DAMAGES OCCURRING.
IN NO EVENT WILL THE AGGREGATE LIABILITY OF EITHER PARTY UNDER THIS AGREEMENT EXCEED AN AMOUNT EQUAL TO THREE TIMES THE AGGREGATE MONTHLY COMPENSATION PAYABLE BY THE COMPANY TO CONTRACTOR.
11. WARRANTIES
Contractor warrants that:
(a) The Services and the Deliverables provided under this Agreement shall meet the specifications mentioned in the attached Statement of Work
(b) There are no pending or threatened suits, claims, or actions of any type with respect to the Services or Deliverables to be provided under this Agreement
(c) The Services and Deliverables hereunder shall be free and clear of any liens, encumbrances, or claims arising by or through Contractor or any party related to Contractor.
(d) Contractor shall comply with Company
'
s policies, procedures, requirements, and restrictions with respect to providing of Services hereunder.
(e) Contractor shall strictly comply with the descriptions, specifications and standards as set forth in the attached Statement of Work.
(f) Contractor shall perform the Services hereunder in a workmanlike manner, subject to the supervision and instructions provided by the Company, and that all work performed pursuant to this contract shall be performed in a manner consistent with that level of care and skill ordinarily exercised by other professionals providing similar services under similar circumstances.
(g) The Services and the Deliverables hereunder shall not be in violation of any applicable law, rule or regulation and Contractor shall be responsible to obtain all permits and licenses required under applicable rules and regulations.
(h) The Services shall not violate or in any way infringe upon the rights of third parties, including proprietary information and non-disclosure rights, or any intellectual property rights of third parties.
12. REMEDIES
In the event if the Contractor is under default of any of the warranties or is in breach of any terms of this Agreement, the Company in addition to any other remedies provided in this Agreement, and without limiting any other remedies otherwise available under law or in equity, the Company may:
(a) Suspend Contractor's Services either wholly or a part thereof without any adjustment-in price/cost or schedule. Further the Company shall not be liable to Contractor for costs incurred by the Contractor after such suspension and Contractor shall promptly cease performing Services hereunder.
(b) Withhold all or any part of the payments due Contractor until the necessary Services or corrections of the Services are satisfactorily completed.
(c) Deny payment for those Services which have not been provided or if performed would be of no value to the Company.
(d) Terminate this Agreement for default by providing the Contractor notice of any defect, deficiency or default and provide Contractor with thirty (30) days, to correct or cure the claim of a defect or deficiency.
The above remedies are cumulative and the Company, in its sole discretion may exercise any or all of the remedies hereunder either individually or simultaneously.
13. INDEMNIFICATION
Contractor hereby agrees that it will defend, at its own expense, any claim or suit brought against Company by third parties arising from or related to any act or omission of Contractor. Contractor further agrees to indemnify Company against any award of damages and costs (including reasonable attorneys
'
fees) made against Company arising from or related to any act or omission of Contractor. Company shall give the Contractor a prompt written notice of all claims, providing reasonable cooperation in their investigation and defense, and permitting Contractor to defend Company at Contractor
'
s expense with legal counsel of Contractor
'
s choice. However, Contractor will not be required to defend or indemnify Company with respect to losses or expenses caused by Company
'
s own negligence or willful misconduct.
14. TERM AND TERMINATION
This Agreement shall commence on the Effective Date and will continue for a period of ___________ years following the Effective Date unless earlier terminated as provided herein.
If Contractor refuses or fails to perform any of the terms or obligations contained in this Agreement, the Company shall notify Contractor in writing of such non-performance or breach. If Contractor fails to promptly correct such delay or non-performance within the time specified, the Company, at its option may terminate this Agreement.
In the event of termination, all finished or unfinished Deliverables and other materials prepared by Contractor, or materials of the Company in the possession of Contractor shall be returned immediately to Company.
15. NOTICES
All notices, correspondence, writings, statements or other communication required or permitted to be given hereunder by either of the parties to the other of them shall be given, made or communicated, as the case may be, by personally delivering the same, by telex, telegram or electronic facsimile transfer, or by registered or certified mail, first-class, postage prepaid, return receipt requested, addressed to the recipient as follows:
_____________________________________
_____________________________________
_____________________________________
_____________________________________
_____________________________________
_____________________________________
Both parties reserve the right to change the address of service at any time, with notice in writing to the receiving party.
16. GOVERNING LAW & JURISDICTION
All issues relating to this Advertising will be governed by the laws of the state of _____________. Any action relating to the Advertising must be brought in the state of __________________, and the parties hereby consent to the jurisdiction of such courts.
The prevailing party in such proceeding shall be entitled to receive its reasonable attorneys
'
fees, expert witness fees, and out-of-pocket costs incurred in connection with such proceedings, in addition to any other relief to which it may be entitled.
17. FORCE MAJEURE
Neither Contractor nor the Company shall be liable to the other for any delay in, or failure of performance of, any covenant or promise contained in this contract, nor shall any delay or failure constitute default or give rise to any liability for damages if, and only to the extent that, such delay or failure is caused by force majeure. Force Majeure shall means acts of God; acts of the public enemy; acts of terrorism; public health/safety emergency acts of the State or any governmental entity in its sovereign capacity; fires; floods, epidemics; quarantine restrictions; strikes or other labor disputes; freight embargoes; or unusually severe weather.
18. ASSIGNMENT
No Party to this Agreement shall be permitted to assign any of its rights or delegate any of its obligations under this Agreement without the prior written consent of the other Party except that (i) Company may assign all rights and obligations to any affiliate (ii) Contractor may, assign all rights and obligations to any affiliate and (iii) any Party may assign all rights and obligations to any person who acquires, directly or indirectly, all or any substantial portion of the assets or securities of such Party provided that no such assignment shall relieve the assigning party from its obligations hereunder.
19. ENTIRE AGREEMENT & AMENDMENT
This Agreement constitutes the entire agreement between the Parties pertaining to the subject matter hereof and supersedes all prior agreements, understandings, negotiations and discussions, whether oral or written, of the Parties. No supplement, modification or waiver of this Agreement shall be binding unless executed in writing by the Party to be bound thereby. No waiver of any of the provisions of this Agreement shall be deemed or shall constitute a waiver of any other provision hereof, nor shall such waiver constitute a continuing waiver unless otherwise expressly provided.
20. SEVERABILITY
In the event that any one or more of the provisions contained in this Agreement or in any other instrument referred to herein, is, for any reason, held to be invalid, illegal or unenforceable in any respect, such invalidity, illegality or unenforceability shall not affect any other provision of this Agreement or any other such instrument and the invalid, illegal or unenforceable provision shall be deemed modified so as to be valid, legal and enforceable to the maximum extent allowed under applicable law.
21. SUCCESSORS & ASSIGNS
This Agreement will be binding upon the Parties hereto and their respective permitted assigns and successors in interest and will inure solely to the benefit of such Parties and their respective permitted assigns and successors in interest, and no other Person.
22. RELATIONSHIP
Nothing in this Agreement shall be deemed or construed as creating a joint venture or partnership between the Parties. Neither Party is by virtue of this Agreement authorized as an agent, employee, or legal representative of the other Party, and the relationship of the Parties is, and at all times will continue to be, that of independent contractors
23. COUNTERPARTS
This Agreement may be executed in one or more counterparts, each of which will be deemed to be an original but all of which will constitute one and the same agreement.
IN WITNESS WHEREOF, the parties have executed this agreement the day and year as first above written
_____________________________________
Address: _____________________________
_____________________________________
_____________________________________
______________________________________
Address: ______________________________
______________________________________
______________________________________
EXHIBIT A
Statement of Work
Looking for something else?