Submission Release
for Your State
This Submission Release is used when submitting an original screenplay for evaluation. Countless screenplays are submitted to producers and this release is designed to narrow the parameters under which infringement can be claimed. This form is for use in all states and available for immediate download.
For Immediate Download
$15.95
Add to Cart
Free eSignature included
with every order
Please select a state
File types included
Microsoft Word
Adobe PDF
WordPerfect
Rich Text Format
Compatible with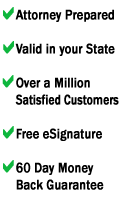 For Immediate Download
$15.95
Add to Cart
Free eSignature included
with every order
Please select a state
Attorney prepared
Our forms are kept up-to-date and accurate by our lawyers
Unlike other sites, every document on FindLegalForms.com is prepared by an attorney, so you can be sure that you are getting a form that is accurate and valid in your state.
Valid in your state
Our forms are guaranteed
to be valid in your state
Our team works tirelessly to keep our products current. As the laws change in your state, so do our forms.
Over 3,500,000
satisfied customers
In over 10 years of creating and selling legal forms, our focus has never changed: providing our customers high quality legal products, low prices and an experience that takes some confusion out of the law.
Free eSignature
Sign your form online, free with any form purchase
We now provide a free Electronic Signature Service to all of our visitors. There are no hidden charges or subscription fees, it's just plain free.
60-Days Money Back
Try our forms with no risk
If you are unhappy with your form purchase for any reason at all, contact us within 60 days and we will refund 100% of your money back.
This Submission Release is for use when submitting an original screenplay for evaluation. This release sets forth that the material has been copyrighted and registered with the Writers Guild of America. The release specifically sets out that no relationship is established between the parties and submitter has the rights to submit the material to others for their reading and evaluation. It is important that a Submission Agreement accompany any screenplay or material sent for evaluation as it narrows the parameters under which an infringement claim can be made. Having a written Submission Release will prove valuable in the event a matter proceeds to arbitration.
This Submission Release contains the following provisions:
Submitted Material: Sets out the name of the person to whom the material is submitted and the WGA and copyright registration numbers;
Submission to Others: The submitter retains the rights to submit the material to others for evaluation purposes;
Warranties: The submitter warrants that he is the original author of the material or has employed other writers on a "work for hire" basis and owns the rights to those works;
Use of Material: If the material is used, the author will be paid an amount customarily paid for similar material;
Disputes: Disputes regarding the submitted material will be settled according to the rules of the American Arbitration Association.
Protect Your Rights and Your Property by using our professionally prepared forms.
This attorney-prepared packet contains:
General Information
Submission Release
State Law Compliance:
This form complies with the laws of all states
Dimensions
Designed for Letter Size (8.5" x 11")
Editable
Yes (.doc, .wpd and .rtf)
Usage
Unlimited number of prints
This is the content of the form and is provided for your convenience. It is not necessarily what the actual form looks like and does not include the information, instructions and other materials that come with the form you would purchase. An actual sample can also be viewed by clicking on the "Sample Form" near the top left of this page.
I am submitting the enclosed material (
"said material
") to you: _________________, an original screenplay. WGA REGISTRATION NO._________________. Copyright Registration No._________________.
The material is submitted on the following conditions:
1. I acknowledge that because of your position in the entertain
ment industry you receive numerous unsolicited submissions of ideas, formats, stories, suggestions and the like and that many such submissions received by you are similar to or identical to those developed by you or your employees or otherwise available to you. I agree that I will not be entitled to any compensation because of the use by you of any such similar or identical mate
rial.
2. I further understand that you would refuse to accept and evaluate said material in the absence of my acceptance of each and all of the provisions of this agreement. I shall retain all rights to submit this or similar material to persons other than you. I acknowledge that no fiduciary or confidential relationship now exists between you and me, and I further acknowledge that no such relationships are established between you and me by reason of this agreement or by reason of my submission to you of said material.
3. I request that you read and evaluate said material with a view to deciding whether you will undertake to acquire it.
4. I represent and warrant that I am the author of said material, having acquired said material as the employer-for-hire of all writers thereof; that I am the present and sole owner of all right, title and interest in and to said material; that I have the exclusive, unconditional right and authority to submit and/or convey said material to you upon the terms and conditions set forth herein; that no third party is entitled to any payment or other consideration as a condition of the exploitation of said material.
5. I agree to indemnify you from and against any and all claims, expenses, losses, or liabilities (including, without limitation, reasonable attorneys' fees and punitive damages) that may be asserted against you or incurred by you at any time in connection with said material, or any use thereof, including without limita
tion those arising from any breach of the warranties and promises given by me herein.
6. You may use without any obligation or payment to me any of said material which is not protectable as literary property under the laws of plagiarism, or which a third person would be free to use if the material had not been submitted to him or had not been the subject of any agreement with him, or which is in the public domain. Any of said material which, in accordance with the pre
ceding sentence, you are entitled to use without obligation to me is hereinafter referred to as
"unprotected material.
" If all or any part of said material does not fall in the category of unpro
tected material it is hereinafter referred to as
"protected material.
"
7. You agree that if you use or cause to be used any protected material provided it has not been obtained from, or independently created by, another source, you will pay or cause to be paid to me an amount which is comparable to the compensation customarily paid for similar material.
8. I agree to give you written notice by registered mail of any claim arising in connection with said material or arising in connection with this agreement, within 60 calendar days after I acquire knowledge of such claim, or of your breach or failure to perform the provisions of this agreement, or if it be sooner, within 60 calendar days after I acquire knowledge of facts sufficient to put me on notice of any such claim, or breach or failure to perform; my failure to so give you written notice will be deemed an irrevocable waiver of any rights I might otherwise have with respect to such claim, breach or failure to perform. You shall have 60 calendar days after receipt of said notice to attempt to cure any alleged breach or failure to perform prior to the time that I may file a Demand for Arbitration.
9. In the event of any dispute concerning said material or con
cerning any claim of any kind or nature arising in connection with said material or arising in connection with this agreement, such dispute will be submitted to binding arbitration. Each party hereby waives any and all rights and benefits which he or it may otherwise have or be entitled to under the laws of the State of _________________ to litigate any such dispute in court, it being the intention of the parties to arbitrate all such disputes. Either party may commence arbitration proceedings by giving the other party written notice thereof by registered mail and proceeding thereafter in accordance with the rules and procedures of the American Arbitration Association. The arbitration shall be conducted in the County of _________________, State of _________________, and shall be governed by and subject to the laws of the State of _________________ and the then prevailing rules of the American Arbitra
tion Association. The arbitrators' award shall be final and binding and a judgment upon the award may be enforced by any court of competent jurisdiction.
10. I have retained at least one copy of said material, and I release you from any and all liability for loss or other damage to the copies of said material submitted to you hereunder.
11. Either party to this agreement may assign or license its or their rights hereunder, but such assignment or license shall not relieve such party of its or their obligations hereunder. This agreement shall inure to the benefit of the parties hereto and their heirs, successors, representatives, assigns and licensees, and any such heir, successor, representative, assign or licensee shall be deemed a third party beneficiary under this agreement.
12. I hereby acknowledge and agree that there are no prior or contemporaneous oral agreements in effect between you and me pertaining to said material, or pertaining to any material (in
cluding, but not limited to, agreements pertaining to the submis
sion by me of any ideas, formats, plots, characters, or the like). I further agree that no other obligations exist or shall exist or be deemed to exist unless and until a formal written agreement has been prepared and entered into by both you and me, and then your and my rights and obligations shall be only such as are expressed in said formal written agreement.
13. I understand that whenever the word "you" or "your" is used above, it refers to (1) you, (2) any company affiliated with you by way of common stock ownership or otherwise, (3) your subsidi
aries, (4) subsidiaries of such affiliated companies, (5) any firm, person or corporation to whom you are leasing production facilities, (6) clients of any subsidiary or affiliated company of yours, and (7) the officers, agents, servants, employees, stockholders, clients, successors and assigns of you, and of all such person, corporations referred to in (1) through (6) hereof. If said material is submitted by more than one person, the word "I" shall be deemed changed to "we," and this agreement will be binding jointly and severally upon all the persons so submitting said material.
14. Should any provision or part of any provision be void or unenforceable, such provision or part thereof shall be deemed omitted, and this agreement with such provision or part thereof omitted shall remain in full force and effect.
15. This agreement shall be governed by the laws of the state of _________________ applicable to agreements executed and to be fully performed therein.
16. I have read and understand this agreement and no oral repre
sentations of any kind have been made to me and this agreement states our entire understanding with reference to the subject matter hereof. Any modification or waiver of any of the provi
sions of this agreement must be in writing and signed by both of us.
__________________
______________
Tel. _________________
___________
______________________
_________
_______________________________
STATE OF ____________________)
COUNTY
OF__________________
)
On the ______day of _______________, 20___, before me personally came ____________________________to me known and known to be the individual described in and who executed the foregoing instru
ment, and he did duly acknowledge to me that he executed the same.
__________________
__________________________
You've found your form, but will you need others? If there are other related forms you may need in the future, it may be beneficial to look at our combo packages. On average, customers who purchase a combo package save 40% on the related forms they need. Take a look at the combo packages below to see if one is right for you.

Motion Picture Producer Combo Package
Get 40 forms for just $99.95

Save 87%!
Best Value! This kit includes a comprehensive library of forms for film producers.

Screenwriter Combo Kit
Get 8 forms for just $39.95

Save 68%!
This combo kit includes a number of forms for screenwriters. Significant savings off the retail price!
Customer Reviews
Average Rating:
Reviews: 1
---




---
Looking for something else?