Synchronization, Performance, Master Use and Mechanical License
for Your State
This License is used by a film producer to obtain the rights to a song or album for use in the soundtrack of the motion picture. It contains the relevant terms of the arrangement including the payment of royalties. This Synchronization, Performing, Master Use and Mechanical License is available for immediate download.
File types included
Microsoft Word
Adobe PDF
WordPerfect
Rich Text Format
Compatible with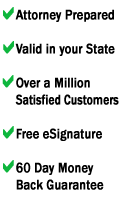 For Immediate Download
$19.95
Add to Cart
Free eSignature included
with every order
Please select a state
Attorney prepared
Our forms are kept up-to-date and accurate by our lawyers
Unlike other sites, every document on FindLegalForms.com is prepared by an attorney, so you can be sure that you are getting a form that is accurate and valid in your state.
Valid in your state
Our forms are guaranteed
to be valid in your state
Our team works tirelessly to keep our products current. As the laws change in your state, so do our forms.
Over 3,500,000
satisfied customers
In over 10 years of creating and selling legal forms, our focus has never changed: providing our customers high quality legal products, low prices and an experience that takes some confusion out of the law.
Free eSignature
Sign your form online, free with any form purchase
We now provide a free Electronic Signature Service to all of our visitors. There are no hidden charges or subscription fees, it's just plain free.
60-Days Money Back
Try our forms with no risk
If you are unhappy with your form purchase for any reason at all, contact us within 60 days and we will refund 100% of your money back.
This Synchronization, Performing, Master Use and Mechanical License is for use by a film (movie) producer to obtain the rights to a song or album to use for the soundtrack of a film. Unlike a master use license agreement, the agreement grants the producer far greater rights to the song or composition. These rights include rights to perform, display, and re-record but also requires that the grantor (the artist or owner of the musical rights) actually possess all rights to the song, album or composition, including the underlying rights to the composition, the performance and the recording itself. The grantor can be paid a flat fee and/or royalty. A written License will prove valuable in the event of misunderstandings or disagreements between the parties.
This Synchronization, Performing, Master Use and Mechanical License includes the following provisions:
Parties: The names of the licensor and licensee;
Grant of Rights: Sets forth the specific rights granted to licensee regarding the song or album;
Name and Likeness: Licensee has the right to use licensorís name and likeness to promote the soundtrack or motion picture;
Compensation: Compensation paid to licensor after initial commercial release of the picture;
Royalties: Payment of basic royalty fees if recording is embodied in an album or other media;
Screen Credit: Screen credit will be given if recording is contained in the motion picture;
Signatures: Both licensor and licensee must sign the license.
Protect your Rights and Property by using our professionally prepared up-to-date forms.
This attorney-prepared packet contains:
General Information
Synchronization, Performing, Master Use and Mechanical License
State Law Compliance:
This form complies with the laws of all states
Dimensions
Designed for Letter Size (8.5" x 11")
Editable
Yes (.doc, .wpd and .rtf)
Usage
Unlimited number of prints
This is the content of the form and is provided for your convenience. It is not necessarily what the actual form looks like and does not include the information, instructions and other materials that come with the form you would purchase. An actual sample can also be viewed by clicking on the "Sample Form" near the top left of this page.
SYNCHRONIZATION/PERFORMING/MASTER USE
AND MECHANICAL LICENSE
THIS SYNCHRONIZATION/PERFORMING/MASTER USE AND MECHANICAL LICENSE is made and entered into as of _________________, by and between _________________ (
"Licensor
") at _________________ and _________________ (
"Licensee
"), at _________________. The parties hereby agree as follows:
1.
GRANT OF RIGHTS
: Licensor hereby irrevocably grants to Licensee the non-exclusive right to include in the photoplay tentatively entitled
"_________________
" (the
"Film
") and in promoting, advertising and publicizing of the Film that certain musical compositions written and owned by Licensor (the
"Compositions
") and the recording of an instrumental and vocal performance thereof owned by Licensor (the
"Recording
"). This license shall continue in perpetuity and be effective for any and all media, whether now known or hereafter devised, throughout the universe. The license shall include, but shall not be limited to, the following:
a.
Use of the compositions, and any recording and any performance thereof, in synchronized or timed relation to the Film and any remake or remakes thereof for exploitation in any and all media now known or hereafter devised (including, but not limited to, audio-visual devices), including the recording and distribution of the Film on videocassette, videodisc, by television (including cable, pay-TV, and broadcast T.V.), electronic publishing rights, theatrical and non-theatrical exhibition, and in advertisements in-context and out-of-context, trailers,
"music videos
" and other promotional and ancillary uses of the Film or such other audio-visual work.
b.
Universe
wide use of the compositions, any recording and any performance thereof, on a soundtrack album including CD
'
s and tapes (
"Album
") and to manufacture, sell, distribute and advertise copies of the Album embodying the Compositions and Recordings by any methods and in any configurations now known or hereafter devised; for the release of same under any trademarks, trade names or label; to perform the Compositions and Recordings publicly; and to commit to public performance thereof by radio and/or television, or by any other media now known or hereafter devised, and to permit any other person, corporation or other entity to do any or all of the foregoing. Licensor shall have the right to release the Recording as a so-called single (
"Single
").
c.
Right to make, import and export copies of the Composition and Recording in the Film.
2.
NAME AND LIKENESS
: Licensor hereby grants to Licensee the irre
vocable universewide right, in perpetuity, to use and permit others to use Licensor's name, voice, approved photograph, likeness and biographical material concerning Licensor in connec
tion with the Film, Album and any phonograph records derived therefrom and any promotions and advertisements thereof. Any photograph, likenesses or biographical material submitted or furnished by Licensor to Licensee shall be deemed approved, and, promptly following the execution of this Agreement, Licensor shall submit to Licensee a reasonable assortment of approved photographs, likenesses and biographical materials for use by Licensee in connection herewith. All such materials submitted by Licensee to Licensor for approval (which approval shall not be unreasonably withheld) shall be deemed given in the event Licensor fails to submit written objections thereto within five (5) days after the applicable photographs, likenesses and/or bio
graphical materials have been submitted to Licensor for approval.
3.
RE-RECORDING
: Licensee shall have the right to re-record, edit, mix and re-mix, dub and re-dub the Recording in Licensee's sole discretion, and nothing contained herein shall be construed to obligate Licensee to employ Licensor in connection with same.
(a)
Provided Licensor fully performs all material obligations under this Agreement, and in full considera
tion of all rights granted herein, Licensee shall pay or cause to be paid to Licensor, within thirty (30) days of the initial commercial release of the Film, the sum of $_________________.
(b)
It is specifically understood and agreed that the sums set forth in this Clause 4 and the record royalties set forth in Clause 5 below shall constitute payment in full to Licensor, and to all persons or entities deriving or claiming rights through either Licensor.
(a)
With respect to the exploitation of the Recording if em
bodied on the Album or other phonograph records derived therefrom, Licensee shall pay to Licensor a basic royalty at the rate of _________________ (_________________%) percent (the
"Basic Album Rate
") of the suggested retail list price (
"SRLP
") in respect of net sales of Albums sold through normal retail channels in the United States in the form of black vinyl discs, cassettes, CD and any other configuration, pro-rated by multiplying the applicable royalty rate by a fraction, the nu
merator of which is the number one (1), and the denominator of which is the total number of master recordings, including the Recording, contained on the Album (the
"Licensor Fraction
").
(b)
The royalty payable to Licensor hereunder for singles, budget records, foreign record sales and other sales of records or exploitations of the Master shall be reduced and pro-rated in the same proportion that the basic United States Album rate payable to Licensee in respect of the Album (the
"Basic Distributor Rate
") is reduced or pro-rated pursuant to Licensee's agreement with the applicable Distributor, provided that with respect to such sales of records or exploitations of the Master for which Licensee receives a royalty which is computed as a flat fee or as a percentage of the Distributor's net receipts from such use, Licensor's royalty hereunder in respect of such sale or use shall be equal to the amount of Licensee's flat fee or net receipts, multiplied by the product of the following:
---------------------- X Licensor Fraction
(c)
Except as otherwise provided in this Agreement, Licensor's royalties hereunder shall be computed, determined, calculated and paid to Licensor on the same basis (e.g., packaging deductions, free goods, reserves, definition of suggested retail list price, percentage of sales, discounts, returns policy, taxes, etc.) and at the same times as royalties are paid to Licensee by the appli
cable Distributor.
(d)
Notwithstanding anything to the contrary contained in this Agreement, (i) Licensor shall not be entitled to receive any record royalties at all with respect to records sold prior to the recoupment of all Recording Costs for the Album, if any, and Conversion Costs from the royalties otherwise payable to Licensor hereunder; and (ii) follow
ing such recoupment Licensor's royalties shall be credited to Licensor's account hereunder solely in respect of records thereaft
er sold which embody the Recording. The term "Recording Costs" shall mean all direct costs incurred by Licensee in the course of producing and recording any master recordings, including the Recording embodied on the Album and including, without limitation, the cost of studio time, musician fees, union payments, instrument rentals, producer's fees and advances and the costs of tape, editing, mixing, re-mixing and mastering and other similar costs customarily regarded as recording costs in the phonograph record industry. The term "Conversion Costs" shall mean all direct costs incurred in connection with the conversion of the Recording from use in the Film to use in the Album including, without limitation, new-use, re-use, re-mixing, and re-editing costs and all other costs which are now or hereafter recognized as conversion costs in the phono
graph record and motion picture industries.
(e)
Licensor shall be deemed to have consented to all royalty statements and all other accounts rendered by Licensee, unless specific objection in writing, stating the basis thereof, is given by Licensor to Licensee within one (1) year from the date such statement is rendered. During this one (1) year period, Licensor may, at its expense, but not more than once annually, audit the books and records of Licensee, solely in connection with royalties payable to Licensor pursuant to this Agreement, provided such audit is conducted by a reputable certified public accountant, during business hours and upon reasonable written notice. Licensor shall be foreclosed from maintaining any action, claim or proceeding against Licensee in any forum or tribunal with respect to any statement or accounting rendered hereunder unless such action, claim or proceeding is commenced against Licensee in a court of competent jurisdiction within one (1) year after the date on which Licensee receives Licensor's written objection.
(f)
Licensor shall account to Licensee upon a semiannual basis within 90 days of June 30 and December 31. Licensor shall have the right to rely upon Distributor's accounting and statements.
(g)
Licensor shall be entitled to inspect such books and records of Licensee relating to
the Album during regular business hours and shall be entitled to audit such books and records of Licensee relating to the Album upon
reasonable
notice to Licensee and provided that not more one (1) audit is conducted every calendar year and further provided that such audit shall last not more than thirty (30) consecutive
business days once begun and does not interfere with Licensees normal operations. Within Thirty (30) days of the completion of the audit, Licensor will furnish Licensee with a copy of said audit. All audit expenses shall be borne by the Licensor.
(a)
If the Recording and/or Composition is contained in the Film, Licensee shall accord Licensor a credit in substantially the following form in the end titles of release prints of the Film approximately adja
cent to the titles of the Compositions and Recordings:
"WRITTEN BY _________________
"
"PERFORMED BY _________________
"
The type, size, shape, color, placement, duration and all other characteristics of the credit shall be at Licensee's sole and absolute discretion. Without limiting the generality of the foregoing, such credit may be shared with and/or adjacent to credits relating to other contributors to the Recording and/or the Compositions.
(b) No casual or inadvertent failure by Licensee or any failure by a third party to comply with the provisions of this Clause 6 shall constitute a breach of this Agreement.
7.
WARRANTIES
: Licensor, on its own and on Licensor's behalf, hereby warrants and represents that:
(a)
it has the full right, power and authority to enter into this Agreement and to grant all rights granted herein, that it is not under nor will it be under, any disability, restriction or prohibition with respect to its rights to fully perform in accordance with the terms and conditions of this Agreement and that there shall be no liens, claims or other interests which may interfere with, impair or be in derogation of the rights granted herein;
(b)
the Album shall be freely available for use by Licensee, the Single(s) and other phonograph records derived therefrom and in the Film in any and all media (whether now known or hereafter devised) in which the Film is to be distributed (and in any and all publicizing, promoting and advertising therefor), throughout the universe including, without limitation, in theaters, free and pay television, in home video devices, and in radio, television and theatrical trailers, with
out further payment by Licensee, except as set forth herein;
(c)
any party who may be entitled to Licensor's exclusive recording services shall have given a written waiver of such rights in connection with Licensee's exploitation of the Recording as herein provided;
(d)
Licensee shall not be required to make any payments of any nature for, or in connection with, the acquisition, exercise or exploitation of rights by Licensee pursuant to this Agreement except as specifically provided in this Agreement;
(e)
Neither the Recording, nor the Compositions nor any other material supplied by Licensor will violate or infringe upon any common law or statutory right of any person, firm or corporation including, without limitation, contractual rights, copyrights, and rights of privacy.
(f)
Licensor owns or controls 100% of the Recording and the Composition.
8.
INDEMNITY
: Licensor hereby agrees to indemnify Licensee, Licensee's successors, Licensee
'
s, distributors, sub-distributors and assigns, and the respective officers, directors, agents and employees of each of the foregoing, from and against any damages, liabilities, costs and expenses, including reasonable attorneys' fees actually incurred, arising out of or in any way connected with any claim, demand or action inconsistent with this Agree
ment or any warranty, representation or agreement made by Licensor herein.
9.
REMEDIES FOR BREACH
: Licensor's rights and remedies in the event of a breach or alleged breach of this Agreement by Licensee shall be limited to an action at law for damages, if any, and in no event shall Licensor be entitled by reason of any such breach or alleged breach to enjoin, re
strain, or to seek to enjoin or restrain, the distribution or other exploitation of the Film, Album, Single, or other work which may embody the Recording and Licensee shall not have the right to rescind this Agreement. This Agreement shall not be deemed to give any right or remedy to any third party whatsoever unless the right or remedy is specifically granted by the parties hereto in writing to the third party. Licensor shall execute any further documents necessary to fully effectuate the intent and purposes of this Agreement.
10.
ASSIGNMENT
: Licensee shall have the right, at Licensee's election, to assign any of Licensee's rights hereunder, in whole or in part, to any person, firm or corporation including, without limitation, any distributor or subdistributor of the Film, Album or other phonograph records derived therefrom, or other work which may embody the Master. Licensor shall not assign rights without Licensee's prior written consent and any attempted assign
ment without such consent shall be void and shall transfer no rights to the purported assignee.
11.
ENTIRE AGREEMENT
: This Agreement sets forth the entire understanding of the parties thereto relating to the subject matter hereof and supersedes all prior agreements, whether oral or written, pertaining thereto. No modification, amendment, or waiver of this Agreement or any of the terms or provisions hereof shall be binding upon Licensor or Licensee unless confirmed by a written instrument signed by authorized officers of both Licensor and Licensee. No waiver by Licensor or Licensee of any terms or provisions of this Agreement or of any default hereunder shall affect their respective rights thereafter to enforce such term or provision or to exercise any right or remedy upon any other default, whether or not similar.
12.
RIGHT TO CURE
: No failure by Licensee to perform any of Licensee's obligations hereunder shall be deemed a breach hereof, unless Licensor gives Licensee written notice of such failure and Licensee fails to cure such nonperformance within thirty (30) days after Licensee's receipt of such notice.
13.
NOTICES
: All notices hereunder shall be sent certified mail, return receipt requested, or delivered by hand to the applicable address set forth below; unless and until written notice, via registered mail, to the contrary is received by the applicable party.
If to Licensee: _________________, with courtesy copies to: _________________.
If to Licensor: _________________, with courtesy copies to: _________________.
Notwithstanding the foregoing, all accounting statements and payments may be sent by regular mail. Except as required by law, the date of mailing of such notice shall be deemed the date upon which such notice was given or sent.
14.
APPLICABLE LAW
: This Agreement has been entered into in the State of _________________, and its validity, construction, interpreta
tion and legal effect shall be governed by the laws of the State of _________________ applicable to contracts entered into and performed entirely within the State of _________________.
15.
ARBITRATION
: Any controversy or claim arising out of or relating to this Agreement or any breach thereof shall be settled by arbitration in accordance with the Rules of the American Arbitra
tion Association. The parties select expedited arbitration using one arbitrator as the sole forum for the resolution of any dispute between them. The venue for arbitration shall be _________________. The arbitrator may make any interim order, decision, determinations, or award he deems necessary to preserve the status quo until he is able to render a final order, deci
sion, determination or award. The determination of the arbitrator in such proceeding shall be final, binding and non-appealable. Judgment upon the award rendered by the arbitrator may be entered in any court having jurisdiction thereof. The prevailing party shall be entitled to reimbursement for costs and reasonable attorney's fees.
IN WITNESS WHEREOF, the parties hereto have executed this Agree
ment as of the year and date first above written.
You've found your form, but will you need others? If there are other related forms you may need in the future, it may be beneficial to look at our combo packages. On average, customers who purchase a combo package save 40% on the related forms they need. Take a look at the combo packages below to see if one is right for you.

Motion Picture Producer Combo Package
Get 40 forms for just $99.95

Save 87%!
Best Value! This kit includes a comprehensive library of forms for film producers.
Customer Reviews
Average Rating:
Reviews: 1
---





Smooth transition....thanks
---
Looking for something else?