Trademark Cease & Desist Letter
for Your State
This Trademark Cease and Desist Letter effectively demands that infringement of a registered trademark be ceased. This letter sets out specifics regarding trademark ownership and how the mark is being infringed.
For Immediate Download
$7.99
Add to Cart
Free eSignature included
with every order
Please select a state
File types included
Microsoft Word
Adobe PDF
WordPerfect
Rich Text Format
Compatible with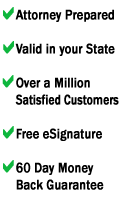 For Immediate Download
$7.99
Add to Cart
Free eSignature included
with every order
Please select a state
Attorney prepared
Our forms are kept up-to-date and accurate by our lawyers
Unlike other sites, every document on FindLegalForms.com is prepared by an attorney, so you can be sure that you are getting a form that is accurate and valid in your state.
Valid in your state
Our forms are guaranteed
to be valid in your state
Our team works tirelessly to keep our products current. As the laws change in your state, so do our forms.
Over 3,500,000
satisfied customers
In over 10 years of creating and selling legal forms, our focus has never changed: providing our customers high quality legal products, low prices and an experience that takes some confusion out of the law.
Free eSignature
Sign your form online, free with any form purchase
We now provide a free Electronic Signature Service to all of our visitors. There are no hidden charges or subscription fees, it's just plain free.
60-Days Money Back
Try our forms with no risk
If you are unhappy with your form purchase for any reason at all, contact us within 60 days and we will refund 100% of your money back.
This Trademark Cease and Desist Letter effectively demands that an individual or entity cease use of a registered trademark (and url, if applicable). This letter sets out the name of the trademark, its registration number and encloses a copy of the registration certificate. It also sets out detailed specifics of the infringement and demands that infringement immediately cease. A written Trademark Cease and Desist Letter will serve as official notification of a trademark infringement and will prove invaluable in the event the matter proceeds to litigation.
This Trademark Cease and Desist Letter includes the following:
Parties: Names of the registered owner of the trademark and the party who is infringing the trademark;
Trademark Information: Sets forth the title of the registered trademark, its registration number and url information;
Infringement: Sets forth detailed information about the infringement, including detailed specifics on how the mark is being infringed;
Cease and Desist: Sets forth a demand that all infringement activities be ceased immediately or further action will be taken.
Protect your rights and your property by using our attorney-prepared forms.
This attorney-prepared packet contains:
Instructions and Checklist
General Information
Trademark Cease and Desist Letter
State Law Compliance:
This form complies with the laws of all states
Dimensions
Designed for Letter Size (8.5" x 11")
Editable
Yes (.doc, .wpd and .rtf)
Usage
Unlimited number of prints
This is the content of the form and is provided for your convenience. It is not necessarily what the actual form looks like and does not include the information, instructions and other materials that come with the form you would purchase. An actual sample can also be viewed by clicking on the "Sample Form" near the top left of this page.
Trademark Infringement Cease & Desist Letter
(URL/Web Address)
This Packet Includes:
1. Instructions & Checklist
2. General Information
3. Trademark Infringement – Cease & Desist Letter (URL/Web Address)
Instructions & Checklist
Trademark Infringement – Cease & Desist Letter
(URL/Web Address)
Italicized instructions have been included on this form to assist you in completing it and should be removed before printing.
This form is not intended and is not a substitute for legal advice. This form should only be a starting point for you and should not be used without first consulting with an attorney. An attorney should be consulted before negotiating any document with another party.
The purchase and use of this form is subject to the "Terms and Conditions" found at www.findlegalforms.com
General Information
Trademark Infringement – Cease & Desist Letter
(URL/Web Address)
Trademark infringement is an increasingly common occurrence on the internet, and you must be vigilant if you intend to maintain the rights in your mark.
This letter is designed to help you in situations where your trademark is being infringed through the use of a web address/URL/domain name. For example, if you own the trademark "Purple People Eaters Sneakers" and someone is operating or attempting to sell the domain name "purplepeopleeaterssneakers.com," it is quite likely that this will be considered a trademark infringement and a possible violation of the Trademark Cyberpiracy Prevention Act.
This letter communicates your rights and ownership of the trademark and demands that the offending party immediately cease their use or operation of the offending URL.
DISCLAIMER:
FindLegalForms, Inc. ("FLF") is not a law firm and does not provide legal advice. The use of these materials is not a substitute for legal advice. Only an attorney can provide legal advice. An attorney should be consulted for all serious legal matters. No Attorney-Client relationship is created by use of these materials.
THESE MATERIALS ARE PROVIDED "AS-IS." FLF DOES NOT GIVE ANY EXPRESS OR IMPLIED WARRANTIES OF MERCHANTABILITY, SUITABILITY OR COMPLETENESS FOR ANY OF THE MATERIALS FOR YOUR PARTICULAR NEEDS. THE MATERIALS ARE USED AT YOUR OWN RISK. IN NO EVENT WILL: I) FLF, ITS AGENTS, PARTNERS, OR AFFILIATES; OR II) THE PROVIDERS, AUTHORS OR PUBLISHERS OF ITS MATERIALS, BE RESPONSIBLE OR LIABLE FOR ANY DIRECT, INDIRECT, INCIDENTAL, SPECIAL, EXEMPLARY, OR CONSEQUENTIAL DAMAGES (INCLUDING, BUT NOT LIMITED TO, PROCUREMENT OF SUBSTITUTE GOODS OR SERVICES; LOSS OF USE, DATE OR PROFITS; OR BUSINESS INTERRUPTION) HOWEVER USED AND ON ANY THEORY OF LIABILITY, WHETHER IN CONTRACT, STRICT LIABILITY, OR TORT (INCLUDING NEGLIGENCE OR OTHERWISE) ARISING IN ANY WAY OUT OF THE USE OF THESE MATERIALS.
[YOUR COMPANY LETTERHEAD]
Date
(Insert Name of Recipient)
(Insert Address of Recipient)
Re: Trademark Infringement
To Whom It May Concern (insert name of recipient if available):
I am the __(insert your position)__ of __(insert your company name)___. We are the owner of the registered trademark ___(insert trademark)___, __(insert registration number), and the URL (insert URL if applicable). For your reference we have attached a copy of the Registration Certificate to this letter.
It has recently come to our attention that your company is (describe what the offending company is doing. E.g. attempting to sell the URL __________ which is deceptively close to our own; operating the URL __________________ which is confusing similar to our own, etc.).
We assume that you may have been unaware of our use and ownership of the mark "_______________." For the past ________ years, however, our company has spent considerable sums building the reputation of the __(insert trademark name) mark. Due to our longstanding use, marketing and promotion efforts, the ______________ mark has become well known; thus it is an asset of substantial value to us. Your (sale / operation) of the URL _____________ may violate the Trademark CyberPiracy Prevention Act. Furthermore, the similarity between our URLs is likely to cause confusion between our companies and constitutes trademark infringement in violation of the federal trademark and dilution laws.
As such, we therefore demand that you: i) cease your attempts to (sell/operate) the (insert the offending URL address) URL; ii) provide us with prompt written assurance that you will cease and desist from further unauthorized uses of the _____________ mark within _______ days. Because the (insert offending domain name address) URL is of no use to you, it should be transferred to us. [We also demand that you provide us with information concerning the extent of your uses of the _______________ mark to assess more precisely the extent of the damage done. –this may be used in more extreme situations]
Thank you for your prompt attention to this matter. We certainly would like to resolve this situation amicably, but we are willing to exercise our rights to their fullest extent if necessary.
We look forward to hearing from you by _________________________, 20__. You may contact me at ___________________ or via email at __________________________ .
Very truly yours,
(Insert Your Name)
(Insert your position)
You've found your form, but will you need others? If there are other related forms you may need in the future, it may be beneficial to look at our combo packages. On average, customers who purchase a combo package save 40% on the related forms they need. Take a look at the combo packages below to see if one is right for you.

Intellectual Property Letter Forms Combo Packages
Get 3 forms for just $12.50

Save 50%!
Save Money by getting our popular Intellectual Property Letter forms together in one convenient packet

Trademark Tradename Combo Packages
Get 4 forms for just $39.95

Save 41%!
This Trademark Tradename Combo Package is designed for use in all states. This combo package is available for immediate download.
Looking for something else?