Artist/Music Producer Agreement
for Your State
This Artist/Music Producer Agreement sets out the terms of an arrangement between a music artist and a producer or production company. This agreement sets out the commitments of both parties and the compensation and royalties payable to the music artist.
File types included
Microsoft Word
Adobe PDF
WordPerfect
Rich Text Format
Compatible with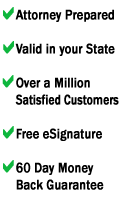 For Immediate Download
$19.95
Add to Cart
Free eSignature included
with every order
Please select a state
Attorney prepared
Our forms are kept up-to-date and accurate by our lawyers
Unlike other sites, every document on FindLegalForms.com is prepared by an attorney, so you can be sure that you are getting a form that is accurate and valid in your state.
Valid in your state
Our forms are guaranteed
to be valid in your state
Our team works tirelessly to keep our products current. As the laws change in your state, so do our forms.
Over 3,500,000
satisfied customers
In over 10 years of creating and selling legal forms, our focus has never changed: providing our customers high quality legal products, low prices and an experience that takes some confusion out of the law.
Free eSignature
Sign your form online, free with any form purchase
We now provide a free Electronic Signature Service to all of our visitors. There are no hidden charges or subscription fees, it's just plain free.
60-Days Money Back
Try our forms with no risk
If you are unhappy with your form purchase for any reason at all, contact us within 60 days and we will refund 100% of your money back.
This Artist/Music Producer Agreement is between a music artist and a producer or record company who will promote and market the artist's music. This agreement sets out the specific commitments and services the artist will render, recording procedures and the compensation paid to artist for the recordings. In addition, it also sets out the rights of the recording company and how royalties are calculated and paid to artist. It is imperative that this business deal be clearly set out in writing rather than via an oral agreement. A written Artist/Music Producer Agreement will prove invaluable in the event there are disagreements or misunderstandings between the artist and the producer.
This Artist/Music Producer Agreement contains the following provisions:
Parties: Names of the producer/record company and music artist;
Term: Sets out the effective date and term of the agreement;
Commitments: Spells out the commitments of both producer and artist including song production and writing of original songs for production;
Production Costs: Producer will be responsible for all production costs;
Assignment/License: Artist grants producer a license to use his name and likeness for promotion and advertising purposes and all copyright and intellectual property rights in the recordings;
Royalties: Spells out a structure under which royalties will be paid to both parties;
Signatures: Both artist and producer must sign this agreement.
Protect your rights and your property by purchasing this attorney-prepared form.
This attorney-prepared package includes:
General Information
Instructions and Checklist
Artist/Music Producer Agreement
State Law Compliance:
This form complies with the laws of all states
Dimensions
Designed for Letter Size (8.5" x 11")
Editable
Yes (.doc, .wpd and .rtf)
Usage
Unlimited number of prints
This is the content of the form and is provided for your convenience. It is not necessarily what the actual form looks like and does not include the information, instructions and other materials that come with the form you would purchase. An actual sample can also be viewed by clicking on the "Sample Form" near the top left of this page.
Artist/Music Producer Agreement
This Packet Includes:
1. General Information
2. Instructions and Checklist
3. Artist/Music Producer Agreement
General Information
Artist/Music Producer Agreement
This Artist/Music Producer Agreement is between a music artist and a producer or recording company who will promote and market artist's music. This agreement sets out the artist's specific commitments and services, recording procedure and compensation to be paid to artist. It also sets out a structure for the payment of any royalties and rights of the recording company.
It is important that this business arrangement be clearly set forth in writing. A written Artist/Music Producer Agreement will prove valuable in the event there are disagreements, misunderstandings or litigation between the parties.
Instructions and Checklist
Artist/Music Producer Agreement
The parties should read the document carefully.
Insert all requested information in the spaces provided on the form.
Read the "Commitment" and "Artist Covenants" provisions carefully. If the wording of these covenants are ambiguous, set forth examples to remove as much ambiguity as possible.
Read the "Royalties" provision carefully. If the royalties structure is complicated, set forth detailed examples. Any disagreements which arise will likely focus on this provision.
This form contains the basic terms and language that should be included in similar agreements.
This agreement must be signed by both the artist and the producer.
The parties should retain either an original or copy of the signed promissory note.
All legal documents should be kept in a safe location such as a fireproof safe or safe deposit box.
DISCLAIMER:
FindLegalForms, Inc. ("FLF") is not a law firm and does not provide legal advice. The use of these materials is not a substitute for legal advice. Only an attorney can provide legal advice. An attorney should be consulted for all serious legal matters. No Attorney-Client relationship is created by use of these materials.
THESE MATERIALS ARE PROVIDED "AS-IS." FLF DOES NOT GIVE ANY EXPRESS OR IMPLIED WARRANTIES OF MERCHANTABILITY, SUITABILITY OR COMPLETENESS FOR ANY OF THE MATERIALS FOR YOUR PARTICULAR NEEDS. THE MATERIALS ARE USED AT YOUR OWN RISK. IN NO EVENT WILL: I) FLF, ITS AGENTS, PARTNERS, OR AFFILIATES; OR II) THE PROVIDERS, AUTHORS OR PUBLISHERS OF ITS MATERIALS, BE RESPONSIBLE OR LIABLE FOR ANY DIRECT, INDIRECT, INCIDENTAL, SPECIAL, EXEMPLARY, OR CONSEQUENTIAL DAMAGES (INCLUDING, BUT NOT LIMITED TO, PROCUREMENT OF SUBSTITUTE GOODS OR SERVICES; LOSS OF USE, DATE OR PROFITS; OR BUSINESS INTERRUPTION) HOWEVER USED AND ON ANY THEORY OF LIABILITY, WHETHER IN CONTRACT, STRICT LIABILITY, OR TORT (INCLUDING NEGLIGENCE OR OTHERWISE) ARISING IN ANY WAY OUT OF THE USE OF THESE MATERIALS.
ARTIST MUSIC PRODUCER AGREEMENT
THIS ARTIST MUSIC PRODUCER AGREEMENT is entered into and made effective on this the _____ day of _______________, _____ (Year) by and between:
PARTIES:
1. _____________________, a company registered in accordance with the laws of _________ having its registered office at ____________________________ and represented by its ________________ (Hereinafter referred to as the Producer) which expression shall unless it be repugnant to the context or meaning thereof be deemed to mean and include all persons deriving title under the Producer.
AND
2. ____________________________, an individual, residing at __________________ having Social Security Number ____________________ (hereinafter referred to as Artist).
RECITALS: (Please change the recitals in accordance with your needs)
A. WHEREAS, the Producer is involved in the business of recording and record distribution in the music industry;
B. WHEREAS, the Artist is an individual who has proven his/ her talents in the music industry;
C. WHEREAS, the Producer has expressed his desire to hire services of the "Artist" for the purpose of Recording the Musical Compositions ( herein after referred to as the "Composition") or ____________________________________ which is more specifically described in Schedule A of this Agreement and the Artist has accepted the offer so made by the Producer.
NOW THEREFORE, in consideration of the mutual promises contained herein, and other valuable consideration, the receipt and sufficiency of which is hereby acknowledged, and for the reasons set forth and in consideration of the covenants and promises of the parties hereto, parties agree as follows:
1. INTERPRETATIONS
Unless the context of this Agreement otherwise requires:
1.1 The headings of the clauses to this Agreement are for convenience only and shall be ignored in construing this Agreement;
1.2 The singular includes the plural and vice versa;
1.3 References to a party or the parties are references to either the Artist or the Producer or both, as deemed appropriate.
1.4 References to other agreements and documents shall be deemed to be references to such agreements and documents as amended, replaced, substituted, assigned, novated, supplemented or otherwise modified from time to time; and the words 'include" and "including" shall be deemed to be qualified by a reference to "without limitation."
2. EFFECTIVE DATE & TERM OF THIS AGREEMENT
2.1 The effective date of this Agreement shall be _____ of __________, 20___ and all rights and obligations of the parties hereunder shall be effective as of that date.
2.2 This Agreement is valid and shall remain in full force and effect for a term of ____________ (Days/Months/Years) starting from the effective date till _____________________ unless terminated prior to such date by either of the parties in accordance with the Clause on termination as specified herein.
3. COMMITMENT
3.1 The Producer agrees to produce a Master Recording which consists of songs written and sung by the Artist.
3.2 The resulting record shall contain _______________________ (insert the record specifications, record length etc).
3.3 Producer hereby engages the Artist to render his services for and during the period of this Agreement.
3.4 The services so to be rendered by the Artist are :
3.4.1 To write and compose ________________________ original selections,
3.4.2 To assist with all of the duties pertaining to the work of a composer and
3.4.3 To do such other things which further facilitate in the production of the record;
3.4.4 _______________________________________________________________
4. ARTIST COVENANTS
4.1 Artist hereby accepts and agrees that he shall during the term of this agreement perform the services as required by Producer;
4.2 Artist agrees to cooperate with the Producer in good faith and contribute in the process of production of the Record;
4.3 Artist further agrees to render such services for and as requested by Producer to the best of his ability;
4.4 Artist agrees that he/she shall promptly and faithfully comply with all requirements, directions, requests, rules, and regulations made by Producer, and that he shall perform and render such services alone whenever and wherever Producer may request or deem necessary or convenient.
4.5 Artist may not engage or employ any person or incur any expense on Producer's account without Producer's prior approval.
4.6 The Artist agrees to appear at one or more performances of the Record in order to promote the distribution of the Recording.
4.7 Producer shall schedule and arrange such performances, but Artist shall have the right of prior approval of the location, date and time of each such performance. Producer shall be responsible for travel, hotel and meal expenses so incurred by the Artist in attending each such performance.
4.8 Artist shall be paid ___________________ of the net revenues received by Producer for such performances. Such compensation shall be received by Artist within _____ days from Producer's receipt thereof.
4.9 Artist further agrees to act in accordance with the terms specified herein.
5. PRODUCTION COSTS
It is hereby agreed that the:
5.1 Producer shall be responsible for all costs incurred in the production of the Recording;
5.2 Producer may recover such receipted expenses from gross income obtained from the sale of the Record.
6. RECORDING SESSIONS
6.1 The Producer is vested with the right to schedule and arrange the Recording sessions.
6.2 The Producer shall inform the date and the time of such Recording sessions to the Artist _________ days prior to the scheduled session.
6.3 The Artist shall acknowledge the receipt of such information within _______ days of receiving such information.
7. ASSIGNMENT & LICENSE
7.1 Artist hereby licenses in perpetuity to the Producer absolutely, without limitation, free and clear of any and all claims for royalty or other compensation, except as may be specifically set forth herein, the rights in and to all of the work that Artist writes, conceives, composes, or produces hereunder.
7.2 On completion of the Recording, it is agreed that the Artist shall assign to the Producer all of his/her rights, title, and interest with regard to songs, artist's performance of the songs in the Recording, title of the Recording.
7.3 The rights so granted are with regard to the distribution and for commercial exploitation in the territory of _________________________________.
7.4 It is further agreed upon that the Artist hereby grants the Producer the License to use his/her images and the name________________________ for the purposes of marketing and for distribution and promotion of the Record.
7.5 Producer, its successors, assigns, and licensees, own all rights, whether legal or equitable, personal or proprietary, at common law or statutory, including all rights of copyright and all rights to renew copyright which may now or in the future subsist in the Record.
7.6 Producer has the right to produce, cut, edit, add to, subtract from, arrange, rearrange, and revise in any manner the Record and the material composed, submitted, or interpolated by Artist hereunder.
7.7 Artist hereby waives any and all the moral rights of authors.
7.8 Any and all rights in this Agreement granted to Producer inure not only to its benefit but also to the benefit of all persons, firms, and corporations who may hereafter acquire from Producer any right to distribute, transmit, exhibit, or exploit the product of Producer or who may hereafter acquire any rights to the services of Artist hereunder.
8. ROYALTIES
8.1 Producer intends to contract with a record distribution company for distribution of the Recording.
8.2 Producer shall be entitled to receive royalties or licensing fees as a result of such contract.
8.3 Royalties shall include any compensation received by Producer, or promised to the Producer, which directly or indirectly results from the use, exploitation or existence of the Recording, or any reproduction applied to satisfy costs incurred and paid by the Producer towards such recording.
8.4 The remainder of such Royalties, shall be allocated and distributed between the Producer and Artist, in the following proportion:
8.4.1 __________________________________ ( %) Percent to the Producer.
8.4.2 __________________________________ ( %) Percent to Artist.
8.5 Royalties due to the Artist hereunder shall be delivered by the Producer to Artist within ________________ working days from the Producer's receipt thereof.
9. BOOKS OF RECORDS
9.1 It is agreed herein that for the term of this agreement the Artist has the right to inspect the books of accounts and other similar accounts so maintained at the Producer's Principal Office.
9.2 In this regard the Artist is to give a notice of _________ days prior to going to the Producer's office for inspection of the books.
9.3 Such books and records shall include, but shall not be limited to, any documents or records which evidence the receipt or disbursements of Royalties.
10. NON-COMPETITION
The Artist hereby agrees that he/she shall not detrimentally interfere with the efforts of the Producer to distribute the Recording through one or more distribution companies or enter into any contract inconsistent with the rights of distribution assigned to the Producer hereunder. Artist shall not contact any such potential distribution company except through the offices of the Producer.
11. TERMINATION
11.1 Producer may terminate this Agreement and refuse to pay any compensation hereunder for the following reasons:
11.1.1 Mental, physical, or other disability incapacitating Artist from fully performing the terms hereof or complying with each and all of the obligations to be performed by Artist hereunder , in the event that any such condition continues for a period of _____ ( days / weeks) during the term hereof;
11.1.2 If the production or distribution of the Record by the Producer during the term of this Agreement is materially hampered, interrupted, or interfered with by reason of fire, strike, lockouts, unavoidable accidents, ordinance or law, the issuance of any executive or judicial order, or by any other cause not within the control of Producer, in the event that any of such conditions continue for a period of ______ (days / weeks).
11.1.3 Artist's failure, refusal, or neglect to perform any of the required services hereunder to the full limit of his ability as, when, and wherever reasonably instructed and directed by Producer and in the manner herein provided.
11.2 Artist may also terminate this employment agreement due to the occurrence of events specified in Clause 11.1.2, provided that such conditions exist for a period of ____ (days/weeks). The Artist is to notify the Producer in writing regarding the expiration of the above stated period and of his/her desire to terminate.
11.3 , Notwithstanding anything to the contrary contained herein, it is agreed that if this Agreement is terminated by Producer pursuant to any of the provisions of Clause 11.1 hereof, Artist is only entitled to the compensation then accrued to Artist by Producer to the date of such termination, but Producer is not relieved from the obligation to pay any royalties accruing to Artist hereunder, subject to Producer's rights at law for damages in the event of a failure, refusal, or neglect of Artist. Producer is nevertheless entitled to all rights granted or agreed to be granted to Producer by Artist hereunder in and to the work done and performed by Artist to the date of such termination.
12. ASSIGNMENT
Prior to completion of the Recording, the rights and obligations of the Producer and that of the Artist, existing hereunder are personal and unique, and shall not be assigned without the prior written consent of the Other Party. Subsequent to the completion of the Recording, the Producer may assign its rights and obligations existing hereunder with or without the consent of Artist. Any purported or attempted assignment or other transfer or delegation in violation of this Section shall be null and void.
13. RELATIONSHIP BETWEEN PARTIES
Each party is an independent contractor of the other party. Nothing herein will constitute a Partnership between or joint venture by the Parties, or constitute either Party the agent of the other.
14. NOTICE
Any notice to be given by one Party to the other under, or in connection with this Agreement shall be in writing, signed by or on behalf of the Party giving it, and addressed to the recipient at the address or facsimile number set out below or to such other address or facsimile number as that Party may notify to the other Party:
To the Artist:
Address: (Mention full name and address) _____________________________________
Attention: _______________________________________________________________
Facsimile no: ____________________________________________________________
To the Producer:
Address: (Mention full name and address) _____________________________________
Attention: _______________________________________________________________
Facsimile no: ____________________________________________________________
15. AMENDMENTS OR MODIFICATION
No modification of or amendment to this Agreement will be effective unless in writing signed by authorized representatives of both Parties.
16. NO WAIVERS
The rights and remedies of the Parties to this Agreement are cumulative and not alternative. No waiver of any rights is to be charged against any Party unless such waiver is in writing signed by an authorized representative of the Party so charged. Neither the failure nor any delay by any Party in exercising any right, power, or privilege under this Agreement will operate as a waiver of such right, power, or privilege, and no single or partial exercise of any such right, power, or privilege will preclude any other or further exercise of such right, power, or privilege or the exercise of any other right, power, or privilege.
17. SEVERABILITY
If any provision of this Agreement is held invalid or unenforceable by any court of competent jurisdiction, the other provisions of this Agreement will remain in full force and effect, and, if legally permitted, such offending provision will be replaced with an enforceable provision that as nearly as possible effects the Party's intent.
18. EXECUTION IN COUNTERPARTS
This Agreement may be executed in counterparts (which may be exchanged by facsimile), each of which will be deemed an original, but all of which together will constitute the same Agreement.
19. GOVERNING LAW AND FORUM
The validity, construction, interpretation of this Agreement shall be governed by and construed in accordance with the laws of the State of ___________, without regard to principles of conflicts of law.
The Parties hereby consent and agree to the exclusive jurisdiction of the state and federal courts located in ___________________ for all suits, actions or proceedings directly or indirectly arising out of or relating to this Agreement, and waive any and all objections to such courts, including but not limited to objections based on improper venue or inconvenient forum, and each Party hereby irrevocably submits to the jurisdiction of such courts in any suits, actions or proceedings arising out of or relating to this Agreement.
20. ENTIRE AGREEMENT
This Agreement and the Schedule A constitutes the entire Agreement between the parties with respect to the subject matter contained herein, superseding all previous Agreement pertaining to such subject matter, and may be modified only by an amendment executed in writing by the authorized officers of both parties hereto. All prior agreements, representations, warranties, statements, negotiations, understandings and undertakings are superseded hereby. Both parties hereto represent that they have read this Agreement, understand it, agree to be bound by all terms and conditions stated herein, and acknowledge receipt of a signed, true and exact copy of this Agreement.
IN WITNESS WHEREOF , the parties have executed this Agreement under seal as of the day and year first written above.
ARTIST PRODUCER
____________________________ ______________________________
Name: _________________________ Name: _______________________
Title:___________________________ Title:_________________________
Date:___________________________ Date:_________________________
_________________________________ ______________________________
(Witness) (Witness)
SCHEDULE A
SPECIFICATIONS ON MUSICAL COMPOSITIONS
Number of compositions:
Length of each composition:
Customer Reviews
Average Rating:
Reviews: 1
---





Smooth transition....thanks
---
Looking for something else?