Asset Purchase Agreement
for Your State
This Asset Purchase Agreement is between a seller and a purchaser who wishes to purchase seller's business and its assets. This agreement sets out the specific terms of the agreement including the assets to be purchased, the closing date and purchase price. This form is for use in all states and is available for immediate download.
For Immediate Download
$12.95
Add to Cart
Free eSignature included
with every order
Please select a state
File types included
Microsoft Word
Adobe PDF
WordPerfect
Rich Text Format
Compatible with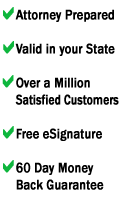 For Immediate Download
$12.95
Add to Cart
Free eSignature included
with every order
Please select a state
Attorney prepared
Our forms are kept up-to-date and accurate by our lawyers
Unlike other sites, every document on FindLegalForms.com is prepared by an attorney, so you can be sure that you are getting a form that is accurate and valid in your state.
Valid in your state
Our forms are guaranteed
to be valid in your state
Our team works tirelessly to keep our products current. As the laws change in your state, so do our forms.
Over 3,500,000
satisfied customers
In over 10 years of creating and selling legal forms, our focus has never changed: providing our customers high quality legal products, low prices and an experience that takes some confusion out of the law.
Free eSignature
Sign your form online, free with any form purchase
We now provide a free Electronic Signature Service to all of our visitors. There are no hidden charges or subscription fees, it's just plain free.
60-Days Money Back
Try our forms with no risk
If you are unhappy with your form purchase for any reason at all, contact us within 60 days and we will refund 100% of your money back.
This Asset Purchase Agreement is between a purchaser and a seller of a business and its assets. This agreement sets out the specifics of the partiesí arrangement including the assets being sold and any assets which are excluded, the condition of the purchased assets and the total purchase price. It also includes the date of closing and sellerís promise to maintain the business activities through the closing date. It is crucial that this type of business arrangement be set out in writing and not left to oral representations. A well-written Asset Purchase Agreement will be important in the event there are misunderstandings or disagreements between the seller and purchaser.
This Asset Purchase Agreement includes the following provisions:
Parties: Sets out the names of the seller and purchaser of the business assets;
Assets: Sets forth the assets to be purchased and that the assets are free of liens and encumbrances;
Excluded Assets: Sets forth any assets which are not being purchased;
Liabilities: Sets forth the specific liabilities and debts of seller which purchaser agrees to assume;
Purchase Price: The total purchase price to be paid to seller at closing;
Condition of Assets: The current condition of all assets being purchased;
Closing Date/Conditions: The date, time and location of the closing and any conditions which must be met prior to closing;
Delivery: Sets out how the purchaser will take possession of the assets including delivery location and time;
Signatures: The seller and purchaser must sign the agreement;
Schedules: This agreement contains schedules which set out approvals, commitments, employees and contractors, suppliers and customers of the business.
Protect yourself, your rights and your business by using our attorney-prepared forms.
This attorney-prepared packet contains:
Instructions and Checklist
General Information
Asset Purchase Agreement
State Law Compliance:
This form complies with the laws of all states
Dimensions
Designed for Letter Size (8.5" x 11")
Editable
Yes (.doc, .wpd and .rtf)
Usage
Unlimited number of prints
This is the content of the form and is provided for your convenience. It is not necessarily what the actual form looks like and does not include the information, instructions and other materials that come with the form you would purchase. An actual sample can also be viewed by clicking on the "Sample Form" near the top left of this page.
Asset Purchase Agreement
THIS AGREEMENT (the
"Agreement) is made as of the
day of
, 20
, by and between
, a
(entity type, if applicable, and state of incorporation/registration/formation, i.e., a Delaware corporation))
(the
"Purchaser
"), and
, a
(entity type, if applicable, and state of incorporation/ registration/formation)
(the
"Seller,
" and collectively, the
"Parties
").
WHEREAS, Purchaser desires to purchase Seller
'
s business, and Seller desires to sell Seller
'
s business to Purchaser;
NOW THEREFORE BE IT RESOLVED, in consideration of the mutual covenants, promises, warranties and other good and valuable consideration set forth herein, the Parties agree as follows:
1. Assets. Upon the closing of this Agreement (the
"Closing
"), Seller shall sell, transfer, and convey, and Purchaser shall purchase, all of Seller
'
s right, title and interest in the assets listed below (the
"Assets
"), free and clear of any liens, encumbrances or liabilities.
The Assets shall consist of the following:
_______________________
_.
2. Excluded Assets. The following items (the
"Excluded Assets
") will not be purchased by Purchaser or sold by Seller:
.
3. Liabilities. Purchaser shall assume the following liabilities, debts, or other of Seller (the
"Assumed Liabilities
") upon the Closing, and hereby agrees that it shall become responsible for the payment or other discharge of the Assumed Liabilities.
The Assumed Liabilities shall consist of:
.
Purchaser shall not assume, nor shall it be responsible for the payment or discharge of, any liability or debt of Seller other than the Assumed Liabilities.
4. Purchase Price. The total amount to be paid for the purchase of the Assets shall be $
(the
"Purchase Price
"). The Purchase Price shall be paid in full to Seller at Closing.
5. Condition of Assets. The Assets are currently in the following condition:
.
Seller warrants that the Assets shall be delivered to Purchaser pursuant to Section 10 below in substantially the same condition as set forth in this Section 5.
6. Seller
'
s Representations and Warranties. Seller represents and warrants as follows:
a.
Seller has clear and marketable title to all of the Assets, and there are no liens, liabilities or encumbrances attached to or ot
herwise encumbering the Assets
or will Seller take any action that will result in the encumbering of any Asset prior to Closing.
b.
Seller has the legal authority and power to sell the Assets to Purchaser, and no consent is required from any other person or entity to authorize the sale of the Assets.
c.
Seller is not involved in any dispute with any taxing authority, nor is Seller deficient in any tax payments owed by Seller to any taxing authority.
d.
There is no litigation, arbitration, or other legal proceeding currently ongoing, pending, or threatened against Seller, nor does Seller have any reason to believe that any such proceeding will be brought or threatened in the future.
e.
Seller has all permits, licenses, rights, registrations, and other approvals (the
"Approvals
") necessary to operate Seller
'
s business as it is currently operated. All Approvals are current and in full effect, and Seller is in compliance with the terms and conditions imposed by all such Approvals. All Approvals are listed on Schedule A.
f.
Seller
'
s business is currently in material compliance with all laws, rules, regulations and ordinances to which it is subject.
7. Seller
'
s Business Activities through Closing. Seller promises and hereby agrees to maintain its current business activities, including all ongoing relationships with customers, clients, suppliers, contractors, or other related parties, until the Closing is completed. Seller further promises that it shall continue to operate its business in the ordinary course, and shall make no sale of assets prior to the completion of the Closing other than those within the ordinary course of business, save for the asset sale pursuant to this Agreement.
8. Closing. The Closing shall take place at
(location)
, at
(date and time)
(the
"Closing Date
"), unless the Parties agree to another location, date and/or time in writing.
9. Conditions to Closing. Prior to the Closing, the following conditions must be met
(Insert any conditions that must be met; be sure to mention which Party is responsible for taking care of each condition. Delete any unused provisions, and renumber conditions beginning with Subsection (a))
:
10. Delivery. Purchaser shall take possession of the Assets according to the following terms:
(specify delivery location, times, and other specific terms)
.
11. Indemnification. Seller shall indemnify Purchaser and hold harmless Purchaser from any claim, damage, lawsuit, action, complaint, or other costs arising out of any breach of Seller
'
s warranties set forth in Section 6 above, or of any other representation or warranty contained within this Agreement.
12. Contracts. Seller warrants that, except for those items listed on Schedule B, Seller is not a party to any contract, lease, agreement, or other commitment relating to Seller
'
s business or to the Assets with a total value of more than $
per
(month/quarter/year)
. Seller further warrants that, except where noted on Schedule B, none of the commitments listed on Schedule B requires that any consent be given by any person or entity to assign such commitment to Purchaser pursuant to the sale of the Assets under this Agreement, nor shall the sale of the Assets create a default under any commitment listed on Schedule B.
13. Seller Disclosure Lists. Seller shall attach to this Agreement the following lists as Schedules C through E:
a.
On Schedule C, Seller shall provide a true, correct and complete list of all of Seller
'
s current employees and contractors.
b.
On Schedule D, Seller shall provide a true, correct and complete list of all suppliers for which Seller has purchased at least $
worth of goods and/or services during
(time period)
.
c.
On Schedule E, Seller shall provide a true, correct and complete list of all customers that have purchased at least $
worth of goods and/or services from Seller during
(time period)
.
14. Risk of Loss or Damage. Seller assumes the risk of any loss of or damage to the Assets from the date of this Agreement through the Closing Date. After the Closing, the risk of loss shall be borne by the Purchaser thereafter.
15. Further Actions. Seller agrees to execute any further documents and to perform any further actions necessary to perfect Purchaser
'
s ownership of all right, title and interest to the Assets.
16. Assignment. Neither Party may assign their respective rights or obligations under this Agreement without prior written consent from the other Party.
17. Governing Law. This Agreement shall be construed in accordance with, and governed in all respects by, the laws of the State of ___________________, without regard to conflicts of law principles.
18. Counterparts.
This Agreement may be executed in several counterparts, each of which shall constitute an original and all of which, when taken together, shall constitute one agreement.
19. Severability.
If any part or parts of this Agreement shall be held unenforceable for any reason, the remainder of this Agreement shall continue in full force and effect. If any provision of this Agreement is deemed invalid or unenforceable by any court of competent jurisdiction, and if limiting such provision would make the provision valid, then such provision shall be deemed to be construed as so limited.
20. Notice. Any notice required or otherwise given pursuant to this Agreement shall be in writing and mailed certified return receipt requested, postage prepaid, or delivered by overnight delivery service, addressed as follows:
21. Headings. The headings for section herein are for convenience only and shall not affect the meaning of the provisions of this Agreement.
22. Entire Agreement.
This Agreement constitutes the entire agreement between Seller and Purchaser, and supersedes any prior understanding or representation of any kind preceding the date of this Agreement. There are no other promises, conditions, understandings or other agreements, whether oral or written, relating to the subject matter of this Agreement.
IN WITNESS WHEREOF, the parties have caused this Agreement to be executed the day and year first above written.
| | |
| --- | --- |
| SELLER | PURCHASER |
Approvals
Commitments
Employees and Contractors
Suppliers
Customers
You've found your form, but will you need others? If there are other related forms you may need in the future, it may be beneficial to look at our combo packages. On average, customers who purchase a combo package save 40% on the related forms they need. Take a look at the combo packages below to see if one is right for you.

Asset Purchase Combo Package
Get 6 forms for just $39.95

Save 65%!
Asset Purchase Combo Package for use in all states.

Sale of Business Combo
Get 8 forms for just $39.95

Save 69%!
This Sale of Business Combo Package contains all our popular related forms.
Customer Reviews
Average Rating:
Reviews: 1
---





I sold the equipment and good will from my small business for a small amount of money and titn's wasnt overly complicated legal advice to cost me a lot of money, so I followed the guidelines for my state tax department and the IRS and downloaded this form. It worked perfectly in theis circumstance and the purchaser agreed. No lawyer or accountant was needed saving us both lots of money.
---
Looking for something else?