Employee Termination Kit
for Your State
This Employee Termination Kit is for use by an employer when it is necessary to terminate an employee. This kit contains general guidelines and should be tailored to meet your company's needs. This form is for use in all states.
For Immediate Download
$19.95
Add to Cart
Free eSignature included
with every order
Please select a state
File types included
Microsoft Word
Adobe PDF
WordPerfect
Rich Text Format
Compatible with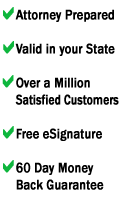 For Immediate Download
$19.95
Add to Cart
Free eSignature included
with every order
Please select a state
Attorney prepared
Our forms are kept up-to-date and accurate by our lawyers
Unlike other sites, every document on FindLegalForms.com is prepared by an attorney, so you can be sure that you are getting a form that is accurate and valid in your state.
Valid in your state
Our forms are guaranteed
to be valid in your state
Our team works tirelessly to keep our products current. As the laws change in your state, so do our forms.
Over 3,500,000
satisfied customers
In over 10 years of creating and selling legal forms, our focus has never changed: providing our customers high quality legal products, low prices and an experience that takes some confusion out of the law.
Free eSignature
Sign your form online, free with any form purchase
We now provide a free Electronic Signature Service to all of our visitors. There are no hidden charges or subscription fees, it's just plain free.
60-Days Money Back
Try our forms with no risk
If you are unhappy with your form purchase for any reason at all, contact us within 60 days and we will refund 100% of your money back.
This Employee Termination Kit contains guidelines for use by an employer when it is necessary to terminate an employee. It is imperative that an employer be thoughtful, lawful and deliberate during this process. If an employee is not terminated according to both federal and state law guidelines, the employee could bring litigation against the employer. The general guidelines contained within this kit do not cover all applicable federal and state laws and must be tailored to meet your specific company's needs.
This Employee Termination Kit contains the following:
Guidelines for Employers: These guidelines include topics such as being consistent and non-discriminatory in your conduct towards your employees, an employer must have a grievance procedure in place, deal with employee complaints in a timely manner, document all employee infractions or violations of company policy, maintain employee files in a timely and efficient manner and conduct managerial training on a regular basis;
Talking Points: Sets out a detailed list of talking points with departing employees including the specific reason for termination and any severance package details;
Release: A general release to be signed by both employer and employee after the exit interview. This release is not state specific and an employer should review applicable state law before having an employee sign it;
Employee Exit Interview Checklist: This checklist includes company items which should be returned (laptop, cell phone, company credit card);
Exit Interview: Sets out the specifics of the exit interview including the name of employee, date of interview, last employment date, who conducted the interview and reasons why employee is leaving the company;
Acknowledgment: An optional Acknowledgment to be signed by terminated employee (if applicable).
Protect Yourself and Your Rights by purchasing our attorney-prepared forms.
This attorney-prepared packet contains:
General Information
Employee Termination Kit
State Law Compliance:
This form complies with the laws of all states
Dimensions
Designed for Letter Size (8.5" x 11")
Editable
Yes (.doc, .wpd and .rtf)
Usage
Unlimited number of prints
This is the content of the form and is provided for your convenience. It is not necessarily what the actual form looks like and does not include the information, instructions and other materials that come with the form you would purchase. An actual sample can also be viewed by clicking on the "Sample Form" near the top left of this page.
This packet
will
provide an employer clear guidelines regarding terminating an employee. Litigation arising out of termination of employment is pervasive. The more thoughtful, lawful, and deliberate your termination process, the better you protect yourself in case a dispute arises and the bet
ter your chances for avoiding
disputes altogether.
While the information enclosed herein focuses on the steps and documents helpful in terminating an employee, it is important to remember that a company and all of its managers must adhere to lawful and professional conduct at all times. To that end, also included here are general guidelines for employers. Combined, this packet can provide a useful starting point for the complicated issues involving termination of employment.
This packet includes the following:
1) General Guidelines for Employers;
2) Talking points for termination;
4) Exit Interview Checklist;
6) Employee Acknowledgement Form
Please note
that this packet is not meant to be exhaustive and
does not
cover all applicable and federal state laws. These are merely samples that
must be tailored
to individual employers, employees and applicable state and federal law. Additionally, we
strongly recommend
a thorough employee handbook for each company to distribute to each employee.
No Attorney-Client relationship is created by use of these materials. FindLegalForms, Inc. does not provide legal advice. The purchase and use of these materials is subject to the "Disclaimers and Terms of Use" found at findlegalforms.com.
These materials are provided "AS-IS." We do not give any express or implied warranties of merchantability, suitability or completeness for any of the materials for your particular needs.
GUIDELINES FOR EMPLOYERS:
•
BE CONSISTENT AND NON-DISCRIMANATORY IN YOUR CONDUCT TOWARDS YOUR EMPLOYEES
You must be consistent and non-discriminatory in your treatment of all employees. Comply with all applicable state and federal law, all the time, every day. This also means you can not apply some rules to some employees and not to others; no matter what the relationship the employee has to the managers or President, all rules must be applied equally.
•
PUBLIC GRIEVANCE PROCEDURE AND POLICY
You should have a grievance policy/complaint policy prepared and incorporated into your employee handbook, so that employees know exactly where to go if and when they have any complaints. This is important both to promote a good work environment, and also to protect the Company if and when a complaint arises. It is important that your employees know that they have a place to go within the Company to address their complaints or grievances.
You should treat complaints very seriously, and launch an investigation when appropriate. In some cases, it may be advisable to go to an outside agency to conduct the investigation or facilitate fact-finding. This is the Company
'
s opportunity to address problems and to resolve conflicts before it reaches the stage of litigation.
You should document infractions or violations of company policy so that you have such in case a dispute arises later over what has occurred. Ideally, these documents should be discussed with employee, reviewed, and then signed by both employee and superior, prior to being put in their personnel file.
•
MAINTAIN FILES IN THEIR ENTIRETY FOR REQUIRED TIME
There are many different requirements which govern the length of time employee and Company files must be kept. Some vary in length from 1 year to 5 years or more in some cases. Stay current on the applicable laws and keep a separate and safe place for your files.
You MUST keep up-to-date on applicable state and federal laws, staying current with appropriate required postings and information that must be distributed upon termination of employment.
You, the company, its supervisors, and managers should always maintain a professional and confidential manner with your employees in discussing their conduct, job performance, reviews, complaints, or violations.
Managers and supervisors should review materials and, where possible, attend courses which instruct in proper managerial conduct and responsibilities. In any case, employers MUST instruct their managers and supervisors that complaints, even if not brought by employees through proper channels, should still be brought to the Company's attention. Remember that a Company be held liable for the actions of its managers in the course of business. This can result in extremely expensive litigation, even if you ultimately prevail. Of course, you should always instruct your managers on the basics
—
the Company
'
s sexual harassment policy, personnel files, grievance policy, etc.
When termination of an employee becomes necessary, for a myriad of reason, the following are some guidelines and sample forms which can be used. However, all of the following must also take into account the specific details of each termination.
TALKING POINTS FOR MEETING WITH DEPARTING EMPLOYEES
THESE ARE SUGGESTIONS
—
IF NECESSARY, INSERT APPROPRIATE DETAILS FOR INDIVIDUAL EMPLOYEES [for example, if employee has already had work product issues or been the subject of some warnings; also, severance information will obviously vary]
MANAGERS SHOULD REHEARSE AND BE COMFORTABLE WITH THESE TALKING POINTS
—
DO NOT READ FROM SCRIPTS. REMEMBER TO ALWAYS BE PROFESSIONAL, COURTEOUS, AND CONSISTENT.
You should convey the following points to the departing employee in this order:
•
We called this meeting to discuss important information regarding changes taking place in the Company
•
We are in the process of reorganizing and staffing in an appropriate manner to accelerate business development
•
We regret that as part of this reorganization the decision has been made to eliminate your job/ position in the Company. This decision to end your employment is effective as of today.
•
We realize this is a tough message to hear, and the decision was difficult.
•
We have some critical information to discuss with you. Please do not hesitate to ask questions if you do not understand anything we are saying.
•
The Company will be providing you with a package which includes severance benefits. Our Severance Plan will include ____________ all contingent upon your signing a release of claims.
•
Thank you for your contributions to the Company. We assure these decisions were difficult. We wish you the best in your future endeavors. Now you will need to see [HR names] to take care of your paperwork, after which we will escort you to your office to remove your personal items that you need immediately. If you need more time to remove your property, we can arrange a time for you to do so over the weekend.
You should schedule meeting times and location and adhere to this schedule
After the meetings have ended, each employee will be escorted to his/her workspace to collect immediately needed personal items. The employees should not be left alone on Company premises.
Equipment, keys or other Company property will be collected from the employees.
Encourage employees to direct all other questions they may have now or after they have reviewed the packet to the HR Director via telephone or email.
This release is NOT state specific. You must carefully review applicable state law. For example, the state of
California
requires that
California
Civil Code section 1542 be expressly inserted in any release, settlement agreement, etc. Additionally, this release SHOULD
NOT
be used for terminations of employees OVER 40 years of age, for multiple related terminations or reductions in force, or if an action has already been initiated by the employee either in the Courts or with a state or Federal agency.
This General Release Agreement (referred to herein as
"Release
") is entered into by and between___________________, an individual (hereinafter the
"Employee
") and __________________________ (hereinafter the
"Company
"), all of whom are collectively referred to as
"the Parties to this Agreement.
" This Agreement is effective immediately upon the date this Release is signed by the Release.
The Company has terminated the employment relationship between the Employee and the Company. The Company desires to provide the Employee with severance pay but is willing to do so only if the Employee provides the Company with this Release so that the Company is assured that the severance pay satisfies the Employee
'
s expectations. Each of the terms, provisions, promises, covenants, obligations and agreements set forth herein constitute material consideration for this Release, and absent the same, neither Employee nor the Company would have executed this Release.
Based upon the information in the above Recital and the statements, promises, and agreements contained below, the parties hereby agree as follows:
1. The Company promises, within 10 days of the effective date of this Release, to provide the Employee with the following severance package:
a)
The Company will pay the Employee a lump sum payment in the gross amount of ____________ dollars ($ ___). This payment will be subjected to all legally required payroll withholdings.
b)
Insert additional terms here, if applicable--make sure you review all applicable state and federal requirements regarding benefits, etc.
2.
This Release shall not be considered nor construed as an admission of any liability by any Party to the Release, and the parties hereto specifically disclaim any liability to any other party.
3.
The Employee releases and forever discharges the Company and each of its employees, officers, directors, shareholders, agents, predecessors and successors in interest, parents, subsidiaries, attorneys, and assigns (
"Company Affiliates
"), from any and all claims, demands, obligations, and/or liabilities which arise out of or relate to any action by the Company or the Company Affiliates or omission to act by the Company or Company Affiliates occurring on or before the date this Release is signed by the Employee.
3.
This Release includes, but is not limited to, release of any and all claims arising out of the Employee
'
s employment with the Company and the termination of that employment. This includes a release of any rights or claims the Employee may have under the Age Discrimination in Employment Act, 29 U.S.C. sections 621, et seq., (as amended by the Older Worker
'
s Benefit Protection Act, 29 U.S.C. section 626(f)), which prohibits age discrimination in employment, Title VII of the Civil Rights Act of 1964, 42 U.S.C. sections 2000, et seq., which prohibits discrimination in employment based on race, color, national origin, religion, or sex, the Equal Pay Act, which prohibits paying men and women unequal pay for equal work, the Americans with Disabilities Act (42 U.S.C. sections 12101, et seq.), which prohibits discrimination against the disabled, the Employee Retirement Income Security Act (
"ERISA
"), 29 U.S.C. sections 1001, et seq., INSERT APPROPRIATE STATE LAW HERE [for example, in California: the California Fair Employment and Housing Act (
"FEHA
"), Government Code sections 12940, et seq., the Fair Labor Standards Act, 29 U.S.C. sections 201 et seq., (as amended), INSERT APPROPRIATE STATE LAW HERE or any other federal, state, or local laws or regulations relating to terms and conditions of employment. This also includes a release by the Employee of any claims for wrongful discharge, fraud, misrepresentation, intentional and negligent infliction of emotional distress, harassment, and any claims that the Company or any Company Affiliate has dealt with the Employee unfairly or in bad faith.
5.
The Employee promises never to file a lawsuit, claim, or charge with any court or government agency asserting any claims that are released by this Release.
6.
This Release does not waive any rights or claims the Employee might have arising after the date the Employee signs this Release.
7.
The Employee acknowledges that his/her employment with the Company ceased on or before the date this Release is signed by the Employee.
8.
The Employee promises and states that the Employee has not given or sold any claim discussed in this Release to anyone and that the Employee has not filed a lawsuit, claim, or charge with any court or government agency asserting any claims that are released by this Release.
9.
The Employee promises and states that he/she has returned to the Company all property belonging to the Company or authored by or concerning Company (other than the Employee
'
s personal copies of his/her payroll and benefits records), including, but not limited to, keys, passes, credit cards, computer hardware and software, papers, manuals, records, drawing and documents.
10.
The Employee promises and agrees that he/she will not, except upon written authorization from the Company or as required by law, disclose any confidential or proprietary information belonging to or concerning the Company, and/or Company Affiliates, vendors, or customers, including without limitation, financial data, business and marketing plans, budgets, personnel information, product designs and specifications, research and development plans and budgets, technical drawings and specifications, manufacturing methods, technical knowledge or know-how or other trade secrets. The Employee acknowledges and reaffirms in its entirety the [insert title of proprietary information agreement if one exists] executed upon commencement of his/her employment, a copy of which is attached to this Release.
11.
The Employee promises to hold the provisions of this Release in the strictest confidence. The Employee may disclose this Release, in confidence as may be necessary to enforce the terms of this agreement or as otherwise required by law, to his attorneys, accountants, auditors, tax preparers and financial advisors. Otherwise, the employee agrees not to publicize or disclose its terms to anyone, in any manner. In particular, but without limitation, the Employee agrees not to discuss the terms of this Release with former or current employees, clients, suppliers, subcontractors or other business contacts of the Company.
12.
Employee agrees to refrain from any defamation, libel, slander, or disparagement of the Company or Company affiliates or interference with the contracts and relationships of the Company.
13.
This Released is to be governed by
INSERT
STATE
law.
14.
Any payments and benefits provided under this Release which are taxable under the laws of the
United States
and the State of ____________ will be subject to all required withholdings and court ordered wage assignments and/or garnishments.
15.
If any portion of this Release is found to be unenforceable, then both Employee and Company desire that all other portions can be separated from it or appropriately limited in scope and shall remain fully valid and enforceable.
16.
Except as prohibited by law, any legal dispute between the Employee and the Company and/or Company affiliates, arising out of the Employee
'
s employment or termination of employment of this Release (a
"Dispute
") will be resolved binding arbitration in INSERT COUNTY, under the Arbitration Rules set forth in INSERT STATE CODE SECTION GOVERNING ARBITRATION and pursuant to INSERT STATE law. THE PARTIES UNDERSTAND THAT BY AGREEING TO ARBITRATE DISPUTES THEY ARE WAIVING ANY RIGHT THEY MIGHT OTHERWISE HAVE TO A JURY TRIAL. This arbitration provision is not intended to modify or limit the substantive rights or the remedies available to the parties, including the right to seek interim relief, such as injunction or attachment, through judicial process, which shall not be deemed a waiver of the right to demand and obtain arbitration.
17.
This Release is intended by the parties to be their final agreement. The statements, promises and agreements in this Release may not be contradicted by any prior understandings, agreements, promises, or statements. The Employee states and promises that in signing this Release he/she has not relied on any statements or promises made by the Company, other than the promises contained within this Release. Any changes to this Release must be in writing and signed by both parties.
18.
Except when prohibited by law, if the Employee breaks any of the promises or agreements made in this release, or if any of the representations or statements made by the Employee in this Release are discovered to be untrue, the Company may stop providing the severance benefits described in paragraph 1 of this agreement, and the Employee will return to the company all severance payments which have been made up to that date.
19.
In signing this Release, the Employee intends to bind himself/herself and his/her heirs, administrators, executors, personal representatives and assigns.
20.
The Employee is advised to consult with an attorney before signing this Release.
21.
The Employee represents and warrants that the Employee has full power to enter into this Release, and that the Employee is fully empowered to enter into this Release.
22.
The Employee represents and warrants that the Employee has read and understands all of the provisions of this Release; that the Employee has agreed to the foregoing releases, covenants, and other provisions, has had the opportunity to confer with counsel if the Employee so chooses, and that the Employee understands the terms of this Release and voluntarily accepts them.
In order to bind the parties to this Release, the parties, or their duly authorized representatives have signed their names below.
Employer:
_____________________
Employee: _____________________
EMPLOYER EXIT INTERVIEW CHECKLIST
•
Returned keys, cards, and equipment:
[include further items as applicable]
•
Return of all Company trade secrets, inventions, proprietary rights and confidential proprietary information, including, without limitation, technical documents, specifications, marketing and financial plans, personnel information, procedure manuals, etc. and return all other Company property.
[where applicable, include a list here of proprietary information list of materials and/or documents]
•
If applicable, signed employee
"Acknowledgment
". [see attached example]
•
Employee Leaving: [insert name, title, department]
•
Date of Exit Interview: [insert full date and time]
•
Last Date of Employment: [insert last date
—
consistent with other Company documents]
•
Exit Interview Conducted By: [name, title, department]
•
Reasons for leaving the Company: [include lines here for departing employee
'
s various reasons for leaving Company]
•
Any other comments: [ask if there are questions
—
if there are any of significance, note them here as well as reference to proper department when applicable]
•
Contact Information: [insert mailing address, email, phone number(s), etc.]
•
Exit Interview Conducted By: [signature]
It may be advisable to add a list of protected/proprietary information during the exit interview which sets out certain protected items which the employee is specifically acknowledging as proprietary information. Be sure to add that the list is not exhaustive and that proprietary information is not limited to items set forth in list.
If applicable, include this acknowledgement:
1.
On ___________________, at the commencement of my employment with ______________ (the
"Company
"), I signed an Offer Letter which reflected the terms of my employment with the Company as well as a Proprietary Information Agreement
" [titles of these documents may vary, remove if not applicable]. I have re-read both of these documents and acknowledge that I have acquired knowledge of or had access to trade secrets, inventions, proprietary rights and confidential and proprietary information of the Company during my employment.
2.
I have been expressly advised and fully understand that my obligations with respect to proprietary information continues in full force and effect notwithstanding the termination of my employment. I will continue to hold in the strictest confidence and will not use, publish, disclose, impart or permit others to use, publish, disclose or impart any proprietary information.
3.
I have delivered to the Company all Company property, including documents and materials of any kind relating to my work for the Company and agree to promptly deliver any such property which may hereafter be in my control or possession.
4.
I do not have in my possession, nor have I failed to return any document, discs, or other materials containing or disclosing any of the Company
'
s proprietary information, or copies of the foregoing, or other Company property.
5.
I am fully aware of the critical trade secret status of information and activity surrounding the Company
'
s development, marketing, and employment strategies and have actively participated in efforts to protect these activities for the Company.
Customer Reviews
Average Rating:
Reviews: 3
---



A good 'basic' form that can be expanded.
---





---




This was the exact format I was looking for. I inserted some changes using Word Perfect and the final form came out perfect. It's easy once you get a good form to build from. Thanks
---
Looking for something else?