Employment Severance Agreement
for Your State
This Severance Agreement details the mutual agreement between employer and employee when employee's relationship with employer is terminated. This agreement sets out the continuing obligations of employer including those involving health insurance coverage. This Severance Agreement is available for immediate download and is for use in all states.
For Immediate Download
$19.95
Add to Cart
Free eSignature included
with every order
Please select a state
File types included
Microsoft Word
Adobe PDF
WordPerfect
Rich Text Format
Compatible with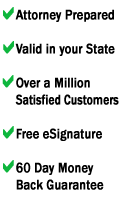 For Immediate Download
$19.95
Add to Cart
Free eSignature included
with every order
Please select a state
Attorney prepared
Our forms are kept up-to-date and accurate by our lawyers
Unlike other sites, every document on FindLegalForms.com is prepared by an attorney, so you can be sure that you are getting a form that is accurate and valid in your state.
Valid in your state
Our forms are guaranteed
to be valid in your state
Our team works tirelessly to keep our products current. As the laws change in your state, so do our forms.
Over 3,500,000
satisfied customers
In over 10 years of creating and selling legal forms, our focus has never changed: providing our customers high quality legal products, low prices and an experience that takes some confusion out of the law.
Free eSignature
Sign your form online, free with any form purchase
We now provide a free Electronic Signature Service to all of our visitors. There are no hidden charges or subscription fees, it's just plain free.
60-Days Money Back
Try our forms with no risk
If you are unhappy with your form purchase for any reason at all, contact us within 60 days and we will refund 100% of your money back.
A Severance Agreement details the mutual agreement between an employer and employee in which employee's relationship with employer is severed. This agreement sets out the specific terms of the agreement including the date of termination, obligations the company agrees to fulfill and any severance bonus employee will receive. It also sets out the specifics regarding continuing insurance coverage and employee's waiver of any claims against the company. It is imperative that a Severance Agreement is set out in writing rather than by oral representation. A well-written Severance Agreement will prove invaluable in the event there are misunderstandings between the parties regarding the termination of employment.
This Severance Agreement contains the following important provisions:
Parties: Sets out the names of the employer and employee, type of entity and date of agreement;
Termination Date: Specific date of termination of employment;
Existing Company Obligations: Detailed obligations of company including payment of salary, reimbursement of expenses and accrued vacation and sick time;
Employee Obligations: Existing obligations of employee including return of all company property (cell phone, computer, software, computer files and confidential information) which are set out in detail on a schedule to this agreement;
Severance Bonus/Health Insurance: Amount of any severance bonus due employee and eligibility of continuing health benefits;
Release/Waiver of Claims: Employee releases company from all claims and causes of action and waives any rights or claims under the Age Discrimination in Employment Act;
Non-Solicitation: Employee agrees not to solicit any company employee for at least one year from the date of this agreement;
Confidentiality: Neither employer nor employee will disclose any terms or conditions set out under this Severance Agreement except to those specifically listed, i.e., spouse or attorney;
Signatures: Both employer and employee must sign and date this Severance Agreement.
Protect Yourself, Your Rights and Your Business by using our attorney prepared up-to-date forms.
This attorney-prepared packet contains:
General Information
Step-by-Step Instructions
Severance Agreement
State Law Compliance:
This form complies with the laws of all states
Dimensions
Designed for Letter Size (8.5" x 11")
Editable
Yes (.doc, .wpd and .rtf)
Usage
Unlimited number of prints
This is the content of the form and is provided for your convenience. It is not necessarily what the actual form looks like and does not include the information, instructions and other materials that come with the form you would purchase. An actual sample can also be viewed by clicking on the "Sample Form" near the top left of this page.
Severance Agreement - Kit
Severance Agreement – Kit
Information
This kit provides tools and guidelines for drafting an employee's severance agreement.
A severance agreement is an agreement between an employer and an employee, detailing the terms under which the employee's relationship with the employer will be terminated. The employer usually pays the employee a certain amount of money in the form of a severance bonus, in exchange for which the employee makes certain promises to the employer. The most important of these promises is generally a release of claims, preventing the employee from bringing a lawsuit against the employer after termination. Other promises include non-solicitation and non-disparagement provisions.
Additionally, severance agreements will generally set forth the pre-existing obligations of the employer and the employee. These provisions are intended to clarify obligations that exist independent of the severance package, and thus do not constitute consideration for the severance agreement itself, or for the promises and covenants contained in the agreement. Such obligations include the employer's responsibility to pay employee's wages up until the termination date, and the employee's responsibility to return all property in his possession that belong to the employer.
This kit includes a sample form of a severance agreement, along with general instructions that will help you to understand each provision of the agreement so that you can make revisions as necessary to meet your specific circumstances.
Please note that this form is intended to assist you in understanding and preparing a basic severance agreement document, but that you are advised to consult a competent employment law attorney before either signing any such agreement or before offering it to an employee for his/her signature.
Disclaimer:
No Attorney-Client relationship is created by use of these materials. FindLegalForms, Inc. does not provide legal advice. The purchase and use of these materials is subject to the "Disclaimers and Terms of Use" found at findlegalforms.com.
These materials are provided "AS-IS." We do not give any express or implied warranties of merchantability, suitability or completeness for any of the materials for your particular needs. The materials are used at your own risk. In no event will: i) FindLegalForms, Inc, its agents, partners, or affiliates, or ii) the providers, authors or publishers of the forms, be responsible or liable for any direct, indirect, incidental, special, exemplary, or consequential damages (including, but not limited to, procurement of substitute goods or services; loss of use, data, or profits; or business interruption) however caused and on any theory of liability, whether in contract, strict liability, or tort (including negligence or otherwise) arising in any way out of the use of these materials. An attorney should be consulted for all serious legal matters.
Instructions for Severance Agreement
There are a wide variety of issues that a Severance Agreement can address. Below is a general overview of the significance and meaning of the clauses included in this kit's sample Severance Agreement form. This form addresses a few of the more common issues that can arise in the context of an employee termination/resignation. If your situation requires treatment of more complex issues, you should consult a competent attorney who can assist you in drafting a suitable agreement.
Existing Company Obligations
In the context of an employee's severance, the employer generally has certain obligations that are owed to the employee regardless of severance terms. For example, the employee is generally entitled to be paid his salary or wages up until the date of termination. Such obligations are not dependent upon the employee's execution of a severance agreement and thus, does not constitute consideration for any promises the employee would make to the employer in such an agreement. More examples of these kinds of obligations are payment for accrued vacation or sick days, and reimbursement for unreimbursed business expenses.
Existing Employee Obligations
The employee generally will also have pre-existing obligations in the context of severance. The employer will want to be assured that the employee has wound up all affairs relating to his/her employment, and has returned all of the employer's property.
Severance Bonuses
Severance payments are payments or conferral of privileges or bonuses for which the employee is not otherwise entitled. They are given to the employee in exchange for the employee's execution of the severance agreement, and for his acceptance of the promises and covenants contained in that agreement.
Health Insurance
In most cases, employees are entitled to continue their health insurance coverage under federal COBRA laws. This extension can be anywhere up to 36 months. In some cases, an employer will pay for the employee's COBRA-extended health insurance premiums for a set period of time, or until the employee finds a new job and is enrolled in a new health insurance plan.
Release
One of the primary promises that an employee is expected to make in exchange for a severance payment is a release of claims. This release will prevent the employee from filing any sort of lawsuit, employment-related or otherwise, against the employer, for causes arising out of the employee's employment.
It is important to note that the laws of your state may require additional language in order to ensure that the employee's release is knowing and valid. You are advised to have a competent employment law attorney in your state review this agreement prior to signing it.
Waiver of ADEA Claims
The Age Discrimination in Employment Act (ADEA) prohibits discrimination against individuals 40 years of age or older in the employment context. In order for an employee to
validly release any claim that he or she might have in the future against the employer, there is very specific language that must be included in the release. The Equal Employment Opportunity Commission has issued guidelines for this language, and any substantial deviation from it may result in a reviewing court ruling the waiver unenforceable.
Exit Incentives and Group Terminations
In the context of a waiver of claims under the ADEA, additional language may be required where one or more employees are being are resigning pursuant to an exit incentive program, or where multiple employees are being terminated as a class.
First, the section must state the eligibility requirements for such an exit incentive, or the criteria used to dismiss the class of employees. Second, it must state the job titles and ages of all employees that were subject to exit incentives or termination. Lastly, this section must state the ages of all employees who are in the same position or organizational unit within the company, but who were not terminated, or who were not eligible for any exit incentives.
You are advised to have a competent attorney review any severance agreement prior before you sign it or offer it to an employee for the employee's signature in any case, but especially if one or more of the employees using the agreement is 40 or older, and thus protected under the ADEA.
Mutual Non-Disparagement
Generally, both the employer and the employer will agree to some form of non-disparagement provision. In exchange for the mutual promises and benefits, the parties guarantee each other that they will not defame or disparage the other in the future.
Non-Solicitation
Another promise expected of an employee is a non-solicitation covenant. This kind of provision prohibits a terminated or resigning employee from taking any of the employers customers, clients, or other employees with him when he leaves.
Loans (Optional, Not Included Below)
If the employee has any loans that he/she owes to the company at the time of termination, a severance agreement can be a useful way of addressing such an issue. In some cases, the company will forgive all or a portion of the debt. In other cases, the severance agreement will spell out repayment terms for the payment of the debt owed to the company. These types of provisions are generally highly fact specific, and require specific drafting to the circumstances of your situation.
Severance Agreement
for
(Employee)
This Severance Agreement (the "Agreement") is made as of the day of , 20 , by and between , a (State of Incorporation) (Entity type; i.e., corporation, LLC, etc) , (the "Company") and (the "Employee," and collectively, the "Parties").
WHEREAS, Company and Employee have determined that is in their mutual best interests that Employee's employment relationship with Company be severed;
NOW, THEREFORE, for and in consideration of the mutual covenants herein contained and other good and valuable consideration, the Parties hereby agree as follows:
1. Termination Date. The Parties agree that as of , 20 (the "Termination Date"), the employment relationship between Employee and Company will be terminated.
2. Existing Company Obligations. Company is responsible for fulfilling the following obligations. These obligations are owed to Employee, and are in no way contingent upon Employee's execution (or lack thereof) of this Agreement.
a. Salary. Company will pay to Employee his regular salary up until the Termination Date. If the Termination Date falls before the end of Employee's scheduled pay period, then Employee shall be paid a pro rata amount compensating him for the percentage of the pay period completed prior to the Termination Date.
b. Expenses. Company will reimburse Employee for any unreimbursed business expenses. Employee has notified Company in writing of all expenses for which he is entitled to, but has not yet received, reimbursement. The list of such unreimbursed expenses is attached below as Schedule A.
c. Accrued vacation time and sick time. Company will compensate Employee for all accrued vacation time and unused sick days, pursuant to Company's policy.
3. Existing Employee Obligations. Employee represents and warrants that he has returned to Company any and all of Company's tangible or intangible property that has been in his possession. This includes, but is not limited to, any cell phone, pager, computer or computer accessory, software, computer files, paper files, customer information, product or service data, and confidential Company information, data, correspondence, or work-product. To the extent that Employee still has possession of, or has not returned to Company, any Company property, that property is listed below in Schedule B. Property listed on Schedule B will be returned to Company within 7 days of the date of this Agreement, unless otherwise noted on Schedule B.
4. Severance Bonus. In consideration of Employee's service to Company, and of the promises made by Employee in this Agreement, Company will pay to Employee the sum of Dollars ($ ), subject to standard payroll deductions and tax withholdings (the "Severance Bonus"). The Severance Bonus will be paid to Employee in full within 7 days of the execution of this Agreement.
5. Health Insurance. Employee will be eligible to continue receiving health insurance benefits pursuant to federal COBRA law, or, if applicable, state insurance laws, and by Company's current health insurance policy. Employee will receive from Company further information regarding COBRA rights. Employee will be responsible for all premiums to be paid under any COBRA extension of Employee's health insurance benefits.
6. Release. Employee hereby releases Company, its officers, employees, directors, independent contractors, agents, representatives, consultants, affiliates, subsidiaries, permitted assigns, and all other associated persons or entities from all claims, causes of action, suits, damages, or other complaints now and at any time in the future arising out of or relating to in any way, whether directly or indirectly, Employee's employment with, resignation from, or termination by Company.
NOTE THAT BY AGREEING TO THIS PROVISION, EMPLOYEE WILL NOT BE ABLE TO SUE COMPANY FOR CAUSES ARISING OUT OF HIS/HER EMPLOYMENT RELATIONSHIP.
7. Waiver of ADEA Claims. Employee hereby knowingly and voluntarily waives and releases any rights or claims he may have under the Age Discrimination in Employment Act of 1967. The Parties agree that this waiver and release is does not apply to any rights that may arise under the ADEA after the Effective Date of this Agreement. Employee acknowledges that the consideration given for this waiver and release was given by Company in addition to any wages, benefits, bonuses, or other things of value to which Employee would otherwise have been entitled. Further, Employee acknowledges that he has been advised here in writing as follows:
a. Employee has been advised to consult with an attorney before signing this Agreement
b. Employee has had at least 21 days to consider this Agreement before signing it. If \Employee signed this Agreement within 21 days of the date that the Agreement was offered to Employee, then Employee's choice not to wait for the full 21-day period to expire was made knowingly and voluntarily, and was in no way induced by Company by means of intimidation, fraud, duress, or any other threat to withdraw the terms offered under this Agreement.
c. Employee has 7 days from the date this Agreement is signed during which he may revoke the Agreement. The Parties acknowledge that under no circumstances shall Employee have less than 7 days to revoke the Agreement.
8. Mutual Non-Disparagement. To the extent permitted by law, Employee acknowledges and agrees that, as a condition for Company's payment of the Severance Bonus, and of the promises made by Company in this Agreement, Employee shall not make any false, disparaging or derogatory statements to anyone, including but not limited to any media outlet, industry group, financial institution, current or former employee, consultant, client or customer of Company, regarding Company or any of its directors, officers, employees, agents, affiliates, consultants or representatives or about Company's business affairs and financial condition, any statements that disparage any person, product, service, finances, financial condition, capability or any other aspect of Company's business, and will not engage in any conduct which is intended to harm professionally or personally the reputation of Company (including its officers, directors, and employees). Company agrees to instruct its officers, directors and employees that have knowledge of this Agreement not to make any false, disparaging or derogatory statements to anyone, including but not limited to any media outlet, industry group, or current or future employee about Employee; about Employee's employment with Company; or about Employee's separation from Company.
9. Non-Solicitation. Employee covenants that for a period of 1 year from the date of this Agreement, he will not solicit any employee, officer, director, or independent contractor to leave Company's employ in order to perform services in any way similar to those performed for Company for any other person or entity.
10. Confidentiality. Except as required by law, neither Employee nor Company will disclose any term or condition set forth in this Agreement to any other person, except that Employee may discuss said terms and conditions with (Insert exceptions to confidentiality, i.e., Employee's spouse, attorney, accountant, etc.) .
11. Governing Law. This Agreement shall be construed in accordance with, and governed in all respects by, the laws of the State of ___________________, without regard to conflicts of law principles.
12. Counterparts. This Agreement may be executed in several counterparts, each of which shall constitute an original and all of which, when taken together, shall constitute one agreement.
13. Assignment. Neither Company nor Employee may assign its respective rights or obligations under this Agreement without prior written consent from Company and Employee, except that such rights and obligations may be assigned without such prior written consent if the assignment is in connection with a sale or transfer of control of Company.
14. Severability. If any part or parts of this Agreement shall be held unenforceable for any reason, the remainder of this Agreement shall continue in full force and effect. If any provision of this Agreement is deemed invalid or unenforceable by any court of competent jurisdiction, and if limiting such provision would make the provision valid, then such provision shall be deemed to be construed as so limited.
15. Notice. Any notice required or otherwise given pursuant to this Agreement shall be in writing and mailed certified return receipt requested, postage prepaid, or delivered by overnight delivery service, addressed as follows:
If to the Company:
If to the Employee:
16. Headings. The headings for section herein are for convenience only and shall not affect the meaning of the provisions of this Agreement.
17. Entire Agreement. This Agreement constitutes the entire agreement between Company and Employee, and supersedes any prior understanding or representation of any kind preceding the date of this Agreement. There are no other promises, conditions, understandings or other agreements, whether oral or written, relating to the subject matter of this Agreement.
Employee: ____________________ Employer: ____________________
(Name) (Company Name)
Signature: ____________________ Signature: ____________________
(Employee Signature) (Employer Signature)
Position: ____________________
Date: ____________________ Date: ____________________
Schedule A
Unreimbursed Business Expenses
Schedule B
Company Property Not et Returned to the Company
Customer Reviews
Average Rating:
Reviews: 3
---



A good 'basic' form that can be expanded.
---





---




This was the exact format I was looking for. I inserted some changes using Word Perfect and the final form came out perfect. It's easy once you get a good form to build from. Thanks
---
Looking for something else?