Exclusive Agent and Musician Agreement
for Your State
This Exclusive Agent and Musician Agreement is between a musician or musical group and an exclusive agent for representation, bookings and performances. This agreement sets out the specific terms of the arrangement and can be easily tailored for your situation.
For Immediate Download
$19.95
Add to Cart
Free eSignature included
with every order
Please select a state
File types included
Microsoft Word
Adobe PDF
WordPerfect
Rich Text Format
Compatible with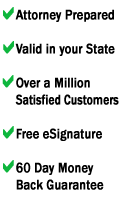 For Immediate Download
$19.95
Add to Cart
Free eSignature included
with every order
Please select a state
Attorney prepared
Our forms are kept up-to-date and accurate by our lawyers
Unlike other sites, every document on FindLegalForms.com is prepared by an attorney, so you can be sure that you are getting a form that is accurate and valid in your state.
Valid in your state
Our forms are guaranteed
to be valid in your state
Our team works tirelessly to keep our products current. As the laws change in your state, so do our forms.
Over 3,500,000
satisfied customers
In over 10 years of creating and selling legal forms, our focus has never changed: providing our customers high quality legal products, low prices and an experience that takes some confusion out of the law.
Free eSignature
Sign your form online, free with any form purchase
We now provide a free Electronic Signature Service to all of our visitors. There are no hidden charges or subscription fees, it's just plain free.
60-Days Money Back
Try our forms with no risk
If you are unhappy with your form purchase for any reason at all, contact us within 60 days and we will refund 100% of your money back.
This Exclusive Agent and Musician Agreement is between a musical artist (or musical group) and an agent who will act as the exclusive agent for booking, appearances and management. This agreement effectively sets out the terms of the arrangement, including the duration and scope of the agreement. It also spells out the agent's specific duties and rights and how much the agent will be paid. It is imperative that this type of agreement be clearly spelled out in writing. A written Exclusive Agent and Musician Agreement will prove invaluable in the event there are disagreements, misunderstandings or miscommunication between the parties about their business arrangement.
This Exclusive Agent and Musician Agreement contains the following provisions:
Parties: Sets out the name and address of both the agent and the musical artist;
Duration: Sets forth the effective date, term of the agreement and if the agreement automatically renews;
Scope: Musician employs agent to act as their exclusive booking agent, representative and manager with respect to the artist's musical endeavors;
Duties of Agent: Sets forth in detail the duties of the agent including assistance in obtaining bookings, representation regarding contracts and maintenance of all records;
Rights of Agent: Sets forth all rights the agent enjoys under this agreement including the right to provide services to others and the rights to use musicians' name, likeness and voice for advertising and publicity;
Compensation: Sets forth the commission structure under which the agent will be paid;
Signatures: Agent and musician must both sign this agreement.
Protect Yourself and Your Rights by purchasing this attorney-prepared form.
This attorney-prepared package includes:
General Information
Instructions and Checklist
Exclusive Agent and Musician Agreement
State Law Compliance:
This form complies with the laws of all states
Dimensions
Designed for Letter Size (8.5" x 11")
Editable
Yes (.doc, .wpd and .rtf)
Usage
Unlimited number of prints
This is the content of the form and is provided for your convenience. It is not necessarily what the actual form looks like and does not include the information, instructions and other materials that come with the form you would purchase. An actual sample can also be viewed by clicking on the "Sample Form" near the top left of this page.
Exclusive Agent and Musician Agreement
This EXCLUSIVE AGENT AND MUSICIAN AGREEMENT
(
"Agreement
") is made and entered into on _______ day of ___________ 20__ (
"Effective Date
"), by and between:
[Insert Agent Name]
, of
[insert address]
, (hereinafter referred to as
"Agent
");
[Insert Artist name]
, of
[insert address]
, (hereinafter referred to as
"Musician(s)
");
Agent and Musician shall be referred to collectively as the
"Parties
" or individually as a
"Party,
" as the case may be.
Recitals:
A.
WHEREAS
,
The Parties wish to enter into this Agreement for the provision of services of music and/or entertainment and booking and management services relating to it as described below, upon the terms and conditions set forth herein;
B.
NOW, THEREFORE
, in consideration of the mutual premises and covenants set forth herein,
the sufficiency of which is hereby acknowledged severally by the Parties, the Parties agree as follows:
Agreement:
This Agreement shall remain in effect from the Effective Date specified above up
to 1 year. After the initial 1-
year term, this Agreement shall automatically renew for consecutive annual renewal terms, unless cancelled by either Party on 30 days
'
written notice prior to the renewal term.
Musician(s) hereby employs Agent and Agent hereby accepts employment to act as Musician
'
s exclusive booking agent, manager and representative throughout [specify the territory] with respect to Musician
'
s services, live appearances and endeavors as a performer.
Agent agrees to use commercial reasonable efforts to perform the following duties:
a)
assist Musician in obtaining, obtain offers of, and represent Musician in negotiating such engagements to advance Musician
'
s professional career; advise, guide and counsel Musician with respect to those engagements; reasonably promote and publicize Musician
'
s name and talents and those engagements procured by Agent; carry on business correspondence on Musician
'
s behalf relating to Musician
'
s professional performance career; cooperate with duly constituted and authorized representatives of Musician in the performance of such duties;
b)
Agent will maintain office, staff and facilities reasonably adequate to enable performance of these services. Musician is familiar with Agent
'
s present office, staff and facilities and acknowledges these as reasonably adequate;
c)
Agent will not accept any engagements for Musician without Musician
'
s prior approval which will not be unreasonably withheld or delayed;
d)
Agent shall maintain such records as may be required by the State of ________________
[insert State]
pursuant to any laws governing this industry or agreement.
a)
Agent may provide similar services to others and may engage in other business and ventures.
b)
Musician will promptly deliver to Agent all communications, written or oral, received by or for Musician relating to the services and performances of Musician.
c)
Musician will not engage any other person, firm or corporation to perform Agent
'
s services hereunder (except a personal manager) without Agent
'
s written consent, or perform or appear professionally or offer to do so, except through Agent.
d)
Upon the employment of a personal manager, Musician shall promptly provide a written notice to Agent including the contact details of the manager.
e)
Agent may publicize the fact that he or she is the exclusive booking agent and representative for Musician.
f)
Agent shall have the right to use or to approve and permit others to use Musician
'
s name, likeness, voice, photograph, sound effect, caricature, literary, artistic and musical materials for advertising or publicity relating to Musician's services and appearances (without cost or expense to Musician, unless Musician shall otherwise agree in writing).
g)
If the Musician violates any of the terms of this Agreement, Agent
'
s exclusive right and remedy shall be the receipt from Musician of the commissions specified in this Agreement, but only if Musician receives money or other consideration on which such commissions are payable hereunder [except as provided in paragraph 5 (c)].
5.
Compensation Of Agent:
a)
For the rendition of services by Agent hereunder, Musician agrees to pay to Agent the following commissions on the gross moneys directly or indirectly received by Musician for each engagement:
[Specify commission].
b)
Commissions shall become due and payable to Agent within
[insert number of days]
following the receipt thereof by Musician after completion of engagement. In the event Musician fails to pay any commissions when due, Agent may, at his or her discretion, refuse to obtain further engagements for Musician until said commissions are paid.
c)
No commissions shall be payable on any engagement if Musician is not paid for such engagement, and only if non-payment is not as a result of Musician's misconduct. If non-payment for all or part of engagement is due to Musician
'
s fault, the full commission for the contract price will be paid to Agent. This is in addition to Agent
'
s right to seek and recover damages to compensate for actual expenses incurred as the direct result of the cancellation of an engagement when such cancellation was the result of the intentional misconduct of the Musician.
Musician shall not employ during the term of this Agreement any other person or entity to act for Musician in the capacity in which Musician has engaged Agent hereunder.
7.
Governing Law and Jurisdiction
:
This Agreement shall be governed by and construed in accordance with the laws of _____________
[insert]
, without reference to its conflict of law rules. Venue for resolution of disputes arising under this Agreement shall be proper in the state and federal courts located in _________________
[insert]
and
the Parties consent to the jurisdiction of those courts.
Neither Party shall assign this Agreement or any part of its rights hereunder without the prior written consent of the other Party.
All notices to either Party hereunder and payments hereunder shall be sent to the address specified in the signature block or such other address as either Party may indicate by at least ten (10) days prior written notice to the other Party.
All terms expressed in the singular shall also mean the plural and all terms implying gender shall mean either gender.
IN WITNESS WHEREOF
, the Parties have executed this Agreement as of the Effective Date.
Customer Reviews
Average Rating:
Reviews: 1
---





Smooth transition....thanks
---
Looking for something else?