Horseback Riding Lessons Contract and Liability Release
for Your State
This Horseback Riding Lessons Contract and Liability Release is for use by a company who rents horses and provides horseback riding lessons. This contract sets out the relevant terms including the price of the lessons and student's indemnification of the company in the event of accident or injury.
File types included
Microsoft Word
Adobe PDF
WordPerfect
Rich Text Format
Compatible with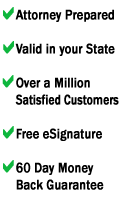 For Immediate Download
$19.95
Add to Cart
Free eSignature included
with every order
Please select a state
Attorney prepared
Our forms are kept up-to-date and accurate by our lawyers
Unlike other sites, every document on FindLegalForms.com is prepared by an attorney, so you can be sure that you are getting a form that is accurate and valid in your state.
Valid in your state
Our forms are guaranteed
to be valid in your state
Our team works tirelessly to keep our products current. As the laws change in your state, so do our forms.
Over 3,500,000
satisfied customers
In over 10 years of creating and selling legal forms, our focus has never changed: providing our customers high quality legal products, low prices and an experience that takes some confusion out of the law.
Free eSignature
Sign your form online, free with any form purchase
We now provide a free Electronic Signature Service to all of our visitors. There are no hidden charges or subscription fees, it's just plain free.
60-Days Money Back
Try our forms with no risk
If you are unhappy with your form purchase for any reason at all, contact us within 60 days and we will refund 100% of your money back.
This Horseback Riding Lessons Contract and Liability Release is between a client/student and a company who rents horses and provides horseback riding lessons. This contract sets out the name of the student, his/her relevant contact information and horseback riding lesson style and dates, times and prices of the lessons. It also sets forth the inherent risks associated with horseback riding and that the student agrees to indemnify the company against any injuries or accidents which may occur. It is crucial that this contract and liability release be clearly set forth in writing. A written Horseback Riding Lessons Contract and Liability Release will prove invaluable in the event the student suffers an accident or injury while horseback riding.
This Horseback Riding Lessons Contract and Liability Release contains the following:
Parties: The name and address of the company and name, phone number, address and birth date of the student participating in the lessons;
Lessons: Company agrees to provide rental of a horse and related equipment and horseback riding lessons if the student agrees to all provisions of the contract;
Release/Waiver/Indemnification: Student agrees to indemnify and release and waive all claims against the company for any accidents or injuries suffered while taking horseback riding lessons;
Terms and Conditions: Detailed list of terms and conditions the student agrees to abide by including nature of stable horses, prohibited activities, unsafe use and equipment such as protective headgear;
Signature: The student/rider must sign the contact. If the student is under 18, a signature of a parent or guardian is required.
Protect yourself, your rights and your company by using our attorney-prepared forms.
This attorney-prepared packet contains:
Information
Horseback Riding Lessons Contract and Liability Release
State Law Compliance:
This form complies with the laws of all states
Dimensions
Designed for Letter Size (8.5" x 11")
Editable
Yes (.doc, .wpd and .rtf)
Usage
Unlimited number of prints
This is the content of the form and is provided for your convenience. It is not necessarily what the actual form looks like and does not include the information, instructions and other materials that come with the form you would purchase. An actual sample can also be viewed by clicking on the "Sample Form" near the top left of this page.
Horseback Riding Lessons Contract
and Liability Release
This Packet Includes:
1. Information
2. Horseback Riding Lessons Contract and Liability Release
General Information
HORSEBACK RIDING LESSONS CONTRACT
AND LIABILITY RELEASE
A Horseback Riding Lessons Contract and Liability Release is an agreement between an owner of a company providing lessons and horses and a student/client. This Agreement can be used for one-time or on-going lessons. This type of agreement is helpful because it provides the terms and conditions of the arrangement as well as a release of liability. How much do the lessons cost? How often are the lessons conducted? What style of horseback riding will be taught? These are all questions that will be answered in the agreement.
Service relationships are governed by both federal and state law. Many of the state laws differ dramatically; therefore, the client and the company/individual performing the services should become familiar with the laws of their specific state and federal government before using this type of arrangement.
DISCLAIMER:
FindLegalForms, Inc. ("FLF") is not a law firm and does not provide legal advice. The use of these materials is not a substitute for legal advice. Only an attorney can provide legal advice. An attorney should be consulted for all serious legal matters. No Attorney-Client relationship is created by use of these materials.
THESE MATERIALS ARE PROVIDED "AS-IS." FLF DOES NOT GIVE ANY EXPRESS OR IMPLIED WARRANTIES OF MERCHANTABILITY, SUITABILITY OR COMPLETENESS FOR ANY OF THE MATERIALS FOR YOUR PARTICULAR NEEDS. THE MATERIALS ARE USED AT YOUR OWN RISK. IN NO EVENT WILL: I) FLF, ITS AGENTS, PARTNERS, OR AFFILIATES; OR II) THE PROVIDERS, AUTHORS OR PUBLISHERS OF ITS MATERIALS, BE RESPONSIBLE OR LIABLE FOR ANY DIRECT, INDIRECT, INCIDENTAL, SPECIAL, EXEMPLARY, OR CONSEQUENTIAL DAMAGES (INCLUDING, BUT NOT LIMITED TO, PROCUREMENT OF SUBSTITUTE GOODS OR SERVICES; LOSS OF USE, DATE OR PROFITS; OR BUSINESS INTERRUPTION) HOWEVER USED AND ON ANY THEORY OF LIABILITY, WHETHER IN CONTRACT, STRICT LIABILITY, OR TORT (INCLUDING NEGLIGENCE OR OTHERWISE) ARISING IN ANY WAY OUT OF THE USE OF THESE MATERIALS.
HORSEBACK RIDING LESSONS CONTRACT
AND LIABILITY RELEASE
[Company Name]

[Company Address]




LESSON CONTRACT AND LIABILITY RELEASE
| | | | |
| --- | --- | --- | --- |
| Rider's Name | | Rider's Phone | |
| | | | |
| --- | --- | --- | --- |
| Rider'sBirth Date | | Rider's Email | |
| | |
| --- | --- |
| Name of Instructor | Dates and Times of Lessons |
Company agrees to rent a horse, equipment and instructor to Rider for purposes of horseback riding lessons, upon the condition that Rider agrees to all terms and conditions set forth below (including the release of claims) and evidences that agreement with his/her signature below.
READ THE FOLLOWING SECTIONS fully and carefully prior to signing. This is a legally valid and binding obligation to release COMPANY from all known and unknown obligations, AND TO INDEMNIFY COMPANY AGAINST CLAIMS BROUGHT AGAINST IT BASED UPON YOUR USE OF THE horse. This instrument affects important legal rights.
Release and Waiver of Claims.
For valuable consideration, the receipt and sufficiency of which are hereby acknowledged Rider does hereby remise, release, and forever discharge Company, Company's agents, servants, successors, heirs, executors, administrators and personal representatives, of and from all, and all manner of, actions, causes of action, suits, proceedings, debts, dues, contracts, judgments, damages, claims, and demands whatsoever in law or equity, which Rider ever had, now has, or which Rider's heirs, executors, administrators or personal representatives hereafter can, shall, or may have for or by reason of any matter, cause, or thing whatsoever arising out of this Agreement; out of the use (misuse, or abuse) of the horse, or in any way arising out of the rental relationship between Rider and Company.
Indemnification
For good and valuable consideration, the receipt and sufficiency of which are hereby acknowledged, Rider hereby expressly agrees to indemnify and hold harmless Company, Company's agents, servants, successors, heirs, executors, administrators and personal representatives against all suits, actions, claims, demands, or damages that arise out of Rider's use, misuse or abuse of the Horse
Terms and Conditions
1. Assumption of Risk. Rider acknowledges that the Sport Activity of Horseback Riding includes inherent dangers, including the risk of bodily injury and/or death. Rider assumes and accepts all risks associated with the use of the Horse. _________
Rider Initials
2. Nature of Stable Horses. I understand that these horses have been chosen for their calm dispositions and sound basic training and a rigid safety program is followed. Yet no horse is completely safe. If a Rider falls from horse to ground, it would generally be a distance of around 4 feet, and an impact may result in injury to the rider. Despite its training, when a horse is frightened or provoked, it may take actions such as stopping short, changing direction at will, shifting its weight, bucking, rearing, kicking, biting or running from danger.
3. Acceptable Use. Rider agrees and acknowledges that he/she will be the sole rider of the Horse, and will use the Horse in a careful, safe and conscientious manner. Rider shall at all times observe and adhere to any rules and guidelines posted by Company, and any applicable laws or regulations.
4. Prohibited Activities. Rider shall not violate any of the following rules and regulations during his/her operation of the Horse:
.
• There is no smoking while on the Horse.
• There are no alcoholic beverages permitted while riding the Horse.
5. Unsafe Use. If at any time Company determines that Rider has engaged in an unsafe or hazardous use of the Horse, Company may immediately terminate the rental. Upon notification of termination, Rider must return the Horse to the designated return area immediately. If the Rider is terminated for unsafe or hazardous use, Rider will not be refunded his/her security deposit. Company shall determine, in its sole discretion, whether any behavior or activity is "unsafe or hazardous."
6. Protective Headgear Offering I, for myself or on behalf of my child, have been offered protective headgear by Company and understand that the wearing of such during this activity may prevent or reduce severity of head injuries, and may even prevent death which could occur as a result of a fall or other occurrence.
Protective Headgear Offering Acceptance
I/we accept the offered protective headgear.
__________
Rider's Initials Protective Headgear Offering Refusal
I/we refuse the offered protective headgear .and will provide own. I accept full responsibility for my/our safety. __________
Rider's Initials
7. Equipment Each horse is wearing a saddle. I understand that saddle girths (saddle fasteners around the horse's belly) may loosen during a ride. Upon noticing any loosening, rider should alert nearest guide as quickly as possible so action can be taken to avoid slippage of saddle and a potential fall from animal.
I/We the undersigned, have read and understand the foregoing agreement, warnings, release and assumption of risk.
_______________________________ Signature of Rider if 18 or over
_________________________________
Print Name of Rider_______________________________
Signature of Parent (if Rider is under the age of 18)
_________________________________
Print Name of Parent
_______________________________Date
Looking for something else?