Indemnity Agreement Forms
Indemnity Agreement for use in all states.
File types included
Microsoft Word
Adobe PDF
WordPerfect
Rich Text Format
Compatible with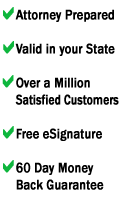 For Immediate Download
$19.95
Add to Cart
Free eSignature included
with every order
Please select a state
Attorney prepared
Our forms are kept up-to-date and accurate by our lawyers
Unlike other sites, every document on FindLegalForms.com is prepared by an attorney, so you can be sure that you are getting a form that is accurate and valid in your state.
Valid in your state
Our forms are guaranteed
to be valid in your state
Our team works tirelessly to keep our products current. As the laws change in your state, so do our forms.
Over 3,500,000
satisfied customers
In over 10 years of creating and selling legal forms, our focus has never changed: providing our customers high quality legal products, low prices and an experience that takes some confusion out of the law.
Free eSignature
Sign your form online, free with any form purchase
We now provide a free Electronic Signature Service to all of our visitors. There are no hidden charges or subscription fees, it's just plain free.
60-Days Money Back
Try our forms with no risk
If you are unhappy with your form purchase for any reason at all, contact us within 60 days and we will refund 100% of your money back.
An indemnity agreement entered between two parties requires one party to protect another party against anticipated losses, claims, or lawsuits that may occur in the future. As an example, Party A would like hire Party B to construct a playground, but Party B is reluctant due to the possibility of suffering future liability because of such an enterprise. In this situation, Party A may select to indemnify Party B against any future claims and lawsuits that may originate due to Party B's performance in the agreement.
This Indemnity Agreements is designed to protect Party B and helps Party A to have Party B participate in the contract. This document will record this understanding between the parties and will also lay out the various basic terms of the indemnification (e.g. indemnification procedures, notice, etc.)
These are some of the following important provisions of the Indemnity Agreement:
Indemnification: Identifies the certain action that is being indemnified from any future claims and lawsuits;
Procedures for Indemnification: Enumerates the indemnification procedures;

Severability: If any part of the agreement is determined to be unenforceable, the remaining provisions will stay enforceable to the extent allowed;
Binding Effect: All parties involved in the agreement will be bound to the terms of the agreement.
Protect Yourself, Your Rights, and Your Property, with our up-to-date forms.
This attorney-prepared packet includes:
Instructions and Checklist for the Indemnity Agreement;
Information about the Indemnity Agreement; and
The Indemnity Agreement (the "Agreement")
State Law Compliant:
This legal document is designed for use in your state.
Dimensions
Designed for Letter Size (8.5" x 11")
Editable
Yes (.doc, .wpd and .rtf)
Usage
Unlimited number of prints
This is the content of the form and is provided for your convenience. It is not necessarily what the actual form looks like and does not include the information, instructions and other materials that come with the form you would purchase. An actual sample can also be viewed by clicking on the "Sample Form" near the top left of this page.
Indemnity Agreement
This Packet Includes:
1. Instructions and Checklist
2. General Information
3. Step-by-Step Instructions
4.
Indemnity Agreement
Instructions and Checklist
Indemnity Agreement
Read the Agreement carefully.
Insert all requested information in the spaces provided on the form.
Bracketed and italicized instructions are included on the form to help guide you. Please erase these instructions before printing the final version of your agreement.
Both the Indemnifier and the Indemnitee must sign the Agreement.
This form contains the basic terms and language that should be included in similar agreements.
Laws vary from time to time and from state to state. This form is not intended and is not a substitute for legal advice. This form should only be a starting point for you and should not be used or signed before first consulting with an attorney to ensure that it addresses your particular situation. An attorney should be consulted before negotiating any document with another party.
The purchase and use of this form is subject to the "Disclaimers and Terms of Use" found at www.findlegalforms.com
General Information
Indemnity Agreement
An Indemnity Agreement is an agreement whereby one party agrees to protect another party against certain future losses or claims. Indemnity Agreements will memorialize this understanding and will also set out some of the basic terms of the indemnification (e.g. indemnification procedures, notice, etc.). These agreements are also commonly called Hold Harmless Agreements, and are commonly found in insurance transactions, leases, certain joint venture transactions, strategic partnerships and easements (arrangements where one party seeks to use another's property). There are situations where an Indeminity or Hold Harmless Agreements would not apply, because it would violate public policy. Exempting a common carrier from all liability would be unenforceable as a violation of public policy for instance.
Those who are beneficiaries under these agreements should be aware that the presence of this agreement is not a blanket protection from liability. There are exemptions from Indemnity Agreements even where a third party is involved. Generally, Indemnification Agreements would not be enforceable in the face of acts of willful injury, fraud, gross negligence and avoidance of the law.
When enforcing an indemnity agreement, courts will look to the intention of the parties. In the past, courts have examined liability when the indemnifying party suffers damage due to the negligence of the Indemitee. In order to shift this responsibility, the courts adopted a "clear and unequivocal test." To be enforceable, the language had to expressly state the intent of the Indemnitor to indemnify the Indemnitee against the consequences of the Indemnitee's negligent actions.
This interpretation has evolved in recent years however. Now the courts have adopted an "express negligence doctrine." The courts look to the document to determine if the indemnification language is "conspicuous" and puts the parties on "fair notice." The court reasoned that the contracting party should be given fair notice that under the agreement and through no fault of their own and award of damages may be assessed against them.
States may have different laws relating to indemnifications, so you should become familiar with the laws of your state before entering into this type of agreement. In addition, before using the form you should always consult with your attorney to ensure that it addresses your specific situation.
Step-by-Step Instructions
Indemnity Agreement
Introduction. Parties should fill in the date, and names of the Indemnifier and Indemnitee. The Indemnifier would be the party that will be held accountable for any future losses of claims.
1. Indemnification. In order to have a valid agreement, consideration must be present. Consideration is considered something of value that is exchanged between the parties. Parties acknowledge that consideration has been exchanged. The Indemnifier will fill in the circumstances where the Indemnifier will not hold the Indemintee liable. To avoid any later confusion, the more specific the description the better.
2. Indemnification Procedures.
A. If the Indemnitee receives notice of a possible claim they will promptly give notice to the Indemnifier.
B. Indemnifier will assume the defense of any claim against the Indemnitee, and give legal notice of such, to the Indemnities. The Indemnitee has the right to approve legal counsel chosen by Indemnifier. After counsel has been obtained and approved, Indemnifier will not be liable to the Indemnitee for any legal fees for counsel obtained by Indemitee.
C. If Indemnitee has received payment (like an insurance payment) towards any amount indemnifiable under this agreement, the Indemnifier will not longer be liable under this agreement.
3. Severability. If any part of this agreement is found unenforceable for any reason, it does not affect the other provisions of this agreement.
4. Binding Effect. This agreement will be binding on the parties and their heirs, assigns, legal representatives, successors and assigns.
5. Entire Agreement. This agreement is the full agreement of the parties. No prior understanding between the parties will be considered valid.
6. Governing Law. Fill in the state that the parties are doing business in.
7. Notice. Fill in the mailing address of both parties.
8. Waiver. If any party fails to enforce a particular provision of this agreement, it does not constitute a waiver to enforce every provision of this agreement in the future.
Signature Block: Both parties need to sign the agreement. It's a good idea to sign the document in duplicate so each party has an original copy for their files.
DISCLAIMER:
FindLegalForms, Inc. ("FLF") is not a law firm and does not provide legal advice. The use of these materials is not a substitute for legal advice. Only an attorney can provide legal advice. An attorney should be consulted for all serious legal matters. No Attorney-Client relationship is created by use of these materials.
THESE MATERIALS ARE PROVIDED "AS-IS." FLF DOES NOT GIVE ANY EXPRESS OR IMPLIED WARRANTIES OF MERCHANTABILITY, SUITABILITY OR COMPLETENESS FOR ANY OF THE MATERIALS FOR YOUR PARTICULAR NEEDS. THE MATERIALS ARE USED AT YOUR OWN RISK. IN NO EVENT WILL: I) FLF, ITS AGENTS, PARTNERS, OR AFFILIATES; OR II) THE PROVIDERS, AUTHORS OR PUBLISHERS OF ITS MATERIALS, BE RESPONSIBLE OR LIABLE FOR ANY DIRECT, INDIRECT, INCIDENTAL, SPECIAL, EXEMPLARY, OR CONSEQUENTIAL DAMAGES (INCLUDING, BUT NOT LIMITED TO, PROCUREMENT OF SUBSTITUTE GOODS OR SERVICES; LOSS OF USE, DATE OR PROFITS; OR BUSINESS INTERRUPTION) HOWEVER USED AND ON ANY THEORY OF LIABILITY, WHETHER IN CONTRACT, STRICT LIABILITY, OR TORT (INCLUDING NEGLIGENCE OR OTHERWISE) ARISING IN ANY WAY OUT OF THE USE OF THESE MATERIALS.
INDEMNITY AGREEMENT
This Indemnity Agreement (this "Agreement") is entered into as of ______________________, 20___ by and between ________________________________________ ("Indemnifier") and _____________________ ________________________________________ ("Indemnitee").
Indemnifier and Indemnitee may collectively be referred to as the "Parties."
1. INDEMNIFICATION: For good and valuable consideration, the receipt and sufficiency of which are hereby acknowledged, Indemnifier hereby expressly agrees to indemnify and hold harmless Indemnitee, its successors or assigns against all suits, actions, claims, demands, or damages that arise from the following: ______________________________________________________________________________
______________________________________________________________________________________________________________________________________________________________________________________________________________________________________________________________________________________________________________________________________________________________________________________________________ [insert a description of the activity or contract that the Indemnitee is being indemnified for. Be specific or the indemnification may be too broad.]
2. INDEMNIFICATION PROCEDURES:
A. Notice. In the event that Indemnitee receives notice of any asserted or impeding claim where Indemnitee believes indemnification would be sought under this Agreement, Indemnitee shall promptly give notice to Indemnifier of the claim.
B. Option to Defend. In the event Indemnifier shall be obligated to indemnify Indemnitee under this Agreement, Indemnifier shall be entitled to assume the defense of any such claim, with counsel approved by the Indemnitee (which approval shall not be unreasonably withheld) upon the delivery to Indemnitee of written notice of its election to do so. After delivery of such notice, approval of such counsel by Indemnitee and the retention of such counsel by Indemnifier, Indemnifier will not be liable to Indemnitee under this Agreement for any fees of counsel subsequently incurred by Indemnitee with respect to the same claim; however, Indemnitee shall have the right to employ its own counsel in any such claim at its own expense.
C. Duplication of Payments. Indemnifier shall not be liable under this Agreement if Indemnitee has otherwise actually received payment (e.g. under any insurance policy, etc.) of the amounts otherwise indemnifiable under this Agreement.
3. SEVERABILITY: If any part or parts of this Agreement shall be held unenforceable for any reason, the remainder of this Agreement shall continue in full force and effect. If any provision of this Agreement is deemed invalid or unenforceable by any court of competent jurisdiction, and if limiting such provision would make the provision valid, then such provision shall be deemed to be construed as so limited.
4. BINDING EFFECT: The covenants and conditions contained in this Agreement shall apply to and bind the parties and the heirs, legal representatives, successors and permitted assigns of the Parties.
5. ENTIRE AGREEMENT: This Agreement constitutes the entire agreement between the Parties and supersedes any prior understanding or representation of any kind preceding the date of this Agreement. There are no other promises, conditions, understandings or other agreements, whether oral or written, relating to the subject matter of this Agreement. This Agreement may be modified in writing and must be signed by both the Indemnifier and Indemnitee.
6. GOVERNING LAW: This Agreement shall be governed by and construed in accordance with the laws of the State of ___________________________________.
7. NOTICE: Any notice required or otherwise given pursuant to this Agreement shall be in writing and mailed certified return receipt requested, postage prepaid, or delivered by overnight delivery service:
a. If to Indemnifier:
__________________________________________________
__________________________________________________
__________________________________________________
b. If to Indemnitee:
__________________________________________________
__________________________________________________
__________________________________________________
8. WAIVER: The failure of either party to enforce any provisions of this Agreement shall not be deemed a waiver or limitation of that party's right to subsequently enforce and compel strict compliance with every provision of this Agreement.
IN WITNESS WHEREOF, the parties have caused this Agreement to be executed the day and year first above written.
INDEMNIFIER: INDEMNITEE:
___________________________________ _________________________________
___________________________________ _________________________________
(Name) (Name)
___________________________________ _________________________________
(Position) (Position)
Customer Reviews
Average Rating:
Reviews: 2
---





The forms were excellent and fit the needs of all parties.
---





Everything was very clear and easy to navigate. Price very reasonable! I'll use these services again. Thanks FindLegalForms!
---
Looking for something else?