Outsourcing Service Agreement
for Your State
This Outsourcing Service Agreement is used when a company hires another to perform customer service or data center duties. This agreement sets out the specialized services to be performed and fees for those services.
For Immediate Download
$19.95
Add to Cart
Free eSignature included
with every order
Please select a state
File types included
Microsoft Word
Adobe PDF
WordPerfect
Rich Text Format
Compatible with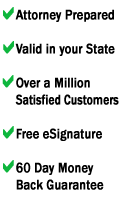 For Immediate Download
$19.95
Add to Cart
Free eSignature included
with every order
Please select a state
Attorney prepared
Our forms are kept up-to-date and accurate by our lawyers
Unlike other sites, every document on FindLegalForms.com is prepared by an attorney, so you can be sure that you are getting a form that is accurate and valid in your state.
Valid in your state
Our forms are guaranteed
to be valid in your state
Our team works tirelessly to keep our products current. As the laws change in your state, so do our forms.
Over 3,500,000
satisfied customers
In over 10 years of creating and selling legal forms, our focus has never changed: providing our customers high quality legal products, low prices and an experience that takes some confusion out of the law.
Free eSignature
Sign your form online, free with any form purchase
We now provide a free Electronic Signature Service to all of our visitors. There are no hidden charges or subscription fees, it's just plain free.
60-Days Money Back
Try our forms with no risk
If you are unhappy with your form purchase for any reason at all, contact us within 60 days and we will refund 100% of your money back.
This Outsourcing Service Agreement is between a vendor and a company who will hire the vendor to perform operational management and data center services for the company's customers. This agreement sets forth specifications of the work (including office support, sales/customer support and business development advice). It also sets forth the monthly service fees to be paid to vendor and that these fees will be calculated on a monthly basis.
This agreement also contains provisions regarding the disclosure of proprietary information, term of the agreement, reasons for termination and that vendor has control over hiring of all employees. It also sets out that vendor (and its employees) are considered as independent contractors and not employees of the company.
This Outsourcing Service Agreement contains the following provisions:
Parties: Sets forth the name of the vendor and the company who will hire vendor to perform outsourced services;
Work Specifications: Sets forth work to be performed including back office support, management responsibilities of vendor, sales/customer support and technical and strategic functions;
Fees: Vendor will be paid a monthly service fee of a specific amount, which are due and payable thirty days after receipt of vendor's invoice;
Records: Both parties will maintain records of all activities which are subject to revenues, payments, fees and commissions and will permit a reputable certified public accountant firm to have access during normal business hours;
Proprietary Information: Both parties agree that all rights in proprietary information will remain the exclusive property of the disclosing party;
Employees: Vendor may, but is not obligated, to hire employees presently employed by the company;
Employment Status: Vendor is considered an independent contractor and not an employee of the company;
Signature: Both parties must sign this document in the presence of a notary public. /li>
Protect your rights and your company by using our attorney-prepared forms.
This attorney-prepared packet contains:
General Information
Instructions and Checklist
Outsourcing Service Agreement
State Law Compliance:
This form complies with the laws of all states
Dimensions
Designed for Letter Size (8.5" x 11")
Editable
Yes (.doc, .wpd and .rtf)
Usage
Unlimited number of prints
This is the content of the form and is provided for your convenience. It is not necessarily what the actual form looks like and does not include the information, instructions and other materials that come with the form you would purchase. An actual sample can also be viewed by clicking on the "Sample Form" near the top left of this page.
Outsourcing Service Agreement
THIS AGREEMENT is made and entered into as of ______ ("Effective Date") by and between ______ ("Vendor"), a[n] ______ [entity of vendor] having an office and place of business at ______, ______, ______ ______ and ______ ("Company"), a[n] ______ [entity of company] having an office and place of business at ______, ______, ______ ______.
WHEREAS, Company desires to hire Vendor to perform outsourced management services and Vendor desires to be hired by Company to perform such services regarding the operational management (the "Services") for the Company's customers using a defined set of Company data centers listed on Exhibit A (attached hereto and made a part hereof by reference), collectively known as the "Data Centers," as an independent contractor according to the terms and conditions set forth herein.
NOW THEREFORE, in consideration of the terms and conditions set forth below and other good and valuable consideration, the receipt and sufficiency of which is hereby acknowledged, the parties agree as follows:
1. Specifications of Work
(a)
The parties agree that the general scope and results of the Services to be completed by Vendor shall be developed by Company and by Vendor and consist primarily of the day
to
day management and support of the Data Centers including, but not limited to:
(1)
Back office support: customer billing; customer collections; financial reporting and analytical support; and certain insurance coverages.
(2)
Vendor management: negotiating vendor contracts; making vendor and operating and real estate lease payments; and provisioning certain vendor services.
(3)
Sales and customer support: providing customer support; executing new sales and renewals or Company services; and reselling Company services bundled with other services and products to new customers.
(4)
Technical operations: facility management; security services; and on
going facilities maintenance and repair as required by Company but not its landlords.
(5)
Strategic functions: strategy planning, capital investment advice, business and corporate development advice.
(b)
Vendor shall perform the Services in a workmanlike fashion and in a manner that is compliant with: (1) Company service level agreements with its Data Center customers; (2) vendor contracts; (3) operating lease and real estate covenants for each Data Center; (4) state or federal government laws, regulations and/or filing requirements related to the Data Centers. Unless otherwise requested by Company, Vendor shall prepare and deliver to Company monthly reports/invoices regarding any Services ongoing or performed during each month of the term of this Agreement.
(c)
Company agrees that it will not directly or indirectly, during the term of this Agreement, solicit or utilize the services of any other vendor or contractor for the Services to be provided by Vendor.
(d)
The parties acknowledge and agree that from time to time during the term of this Agreement there may be additional services required by the Company. The specifications and pricing of these services will be mutually agreed upon and confirmed via written instrument (i.e., Statement of Work) which is signed by an authorized representative of each party before such services are delivered. The parties acknowledge and agree that such written instrument shall be subject to the terms and conditions of this Agreement unless specific modifications to this Agreement are made to the contrary in such Statement of Work.
(e)
Beginning on the Effective Date, if a Company customer desires to renew its agreement with Company without adding new or additional services and/or products ("Renewal Contract"), Vendor shall act as the exclusive reseller for Company for such renewal of existing Company customer contracts.
(f)
Vendor shall have the exclusive right to sell Vendor applications and other management services to Company Data Center customers.
(g)
The parties agree that regarding the collection and deposit of money from customers Vendor shall maintain a separate Company bank account and act only as an independent contractor on behalf of Company.
2. Fees
(a)
In consideration of furnishing the Services described herein, Company shall, on the first day of each month beginning on the Effective Date, pay to Vendor a Monthly Service Fee of $______ subject to the adjustments pursuant to Section 2(c) in this Agreement.
(b)
All Monthly Service Fees shall be payable within thirty (30) days of receipt of invoice. All Monthly Service Fees not paid within thirty (30) days shall be subject to a monthly service charge of 1.5% of the unpaid balance.
(c)
The Monthly Service Fee is based on Vendor's actual costs for providing the Services and includes a predetermined margin of ______% which shall be adjusted according to the Margin Plan (as defined below). Within forty
five (45) days of the Effective Date, the parties shall mutually agree on a sliding scale mechanism under which the ______% predetermined margin set forth above shall be adjusted upward or downward based on utilization rates (as well as other factors which may be agreed to by the parties) which actually are occurring in the Data Centers (the "Margin Plan"). The Margin Plan shall be amended quarterly as necessary and included in the Budget (as defined below). Vendor's actual costs for providing the Services shall be calculated monthly and the Monthly Service Fee adjusted up or down accordingly. Adjustments will be reflected in the next monthly invoice for Services. Vendor shall prepare a budget quarterly (the "Budget") including the resources, costs and other expenses it expects to incur in providing the Services for the upcoming quarter. Company shall review and promptly approve the Budget; in the event there are any disputes regarding the Budget, the parties shall meet and in good faith negotiate a reconciliation of the Budget.
(d)
Each party shall maintain records of all activities subject to revenues, payments, fees, commissions and costs pursuant to this Agreement. Each party shall permit a reputable independent certified public accounting firm designated by the other party to have access, at a mutually agreed upon time during normal business hours, to the records and books of account which relate solely to this Agreement for the purpose of determining whether the appropriate fees and commissions have been paid. Such audits may not be required more often than once every year; provided, however, that either party may audit the other within six (6) months of any audit in which a discrepancy of five percent (5%) or greater is discovered. If a discrepancy is discovered, the party in whose favor the error was made will promptly pay the amount of the error to the other. The party requesting the audit will pay the cost of the audit, provided that if a discrepancy is discovered of five percent (5%) or greater in favor of the party requesting the audit, then the audited party will be required to pay the reasonable costs of the audit.
3. Limitation of Liability
(a)
Vendor's and Company's entire liability and exclusive remedy in any cause of action based on contract, tort or otherwise in connection with any Services furnished pursuant to this Agreement including its Exhibits shall be limited to the total fees paid by Company to Vendor. No action, regardless of form, arising out of this Agreement may be brought by either party more than one (1) year after the occurrence of the event giving rise to such cause of action.
(b)
EXCEPT WITH RESPECT TO AMOUNTS PAYABLE ARISING OUT OF CLAIMS BASED UPON WILLFUL, MALICIOUS OR GROSSLY NEGLIGENT CONDUCT OF THE LIABLE PARTY, NEITHER VENDOR NOR ANYONE ELSE WHO HAS BEEN INVOLVED IN THE CREATION, PRODUCTION, OR DELIVERY OF THE SERVICES SHALL IN ANY EVENT WHATSOEVER BE LIABLE FOR ANY INDIRECT, CONSEQUENTIAL, PUNITIVE OR INCIDENTAL DAMAGES IN EXCESS OF THE TOTAL PRICE PAID BY COMPANY TO VENDOR (INCLUDING DAMAGES FOR LOSS OF BUSINESS PROFITS, BUSINESS INTERRUPTION, LOSS OF BUSINESS INFORMATION, AND THE LIKE) ARISING OUT OF THE USE OF OR INABILITY TO USE THE SERVICES EVEN IF COMPANY HAS BEEN ADVISED OF THE POSSIBILITY OF SUCH DAMAGES.
4. Proprietary Information
(a)
For purposes of this Agreement, the term "Proprietary Information" shall mean all of the information, data and software furnished by one party to the other, whether in oral, written, graphic or machine
readable form, which may include but not be limited to, code, software tool specifications, functions and features, integration and shared data block specifications, financial statements, corporate and stock information, file layouts, marketing strategies, business, product or acquisition plans, current business relationships or strategies and customer lists. "Proprietary Information " shall not include information which: (1) is or becomes available to the general public through no fault of either party; (2) is independently developed by non
disclosing party; (3) is rightfully received by the non
disclosing party from a third party without a duty of confidentiality; or (4) is required to be disclosed by court order or operation of law. Before disclosing any Proprietary Information under court order or operation of law, the non
disclosing party shall provide the disclosing party reasonable notice and the opportunity to object to or limit such disclosure.
(b)
Each party acknowledges that, in and as a result of visit(s) to the other party's facilities and/or discussions with a party's officers and employees, a party shall or may be making use of or acquiring Proprietary Information. As a material inducement to disclose such Proprietary Information, each party covenants and agrees that it shall not, except with the prior written consent of the other party, at any time directly by itself or indirectly through any agent or employee: (1) copy, modify, disclose, divulge, reveal, report, publish or transfer to any person or entity, for any purpose whatsoever, any Proprietary Information or (2) use Proprietary Information for any purpose other than in connection with the consummation of the Services. Failure to mark any of the Proprietary Information as confidential, protected or Proprietary Information shall not affect its status as part of the Proprietary Information under the terms of this Agreement.
(c)
Each party covenants and agrees that all right, title and interest in any Proprietary Information shall be and shall remain the exclusive property of the disclosing party.
5. Return of Materials
Upon termination of the activities for Company or the termination of this Agreement, each party will promptly deliver to the other all copies and embodiments, in whatever form, of Proprietary Information and all other materials containing any Proprietary Information which is in such party's possession or control, no matter where such material is located.
6. Ownership Rights
Except as expressly set forth on any Statement of Work, all right, title and interest in and to all products, services and materials provided to Company by Vendor under this Agreement shall be and remain the property of Vendor exclusively. Company shall have no right, title or interest in or to any products, services or materials except as expressly set forth in this Agreement. Vendor shall retain all rights and title to any and all capital improvements and intellectual property it utilizes or contributes to the Data Centers or as part of the Services.
7. Term and Termination
(a)
This Agreement shall commence on the Effective Date and continue in full force and effect for [spelled number of years] (______) years, and the term of this Agreement may, upon mutual agreement by the parties, be extended for additional one (1) year periods, unless terminated as provided herein.
(b)
If either party materially defaults (the "Defaulting Party") in the performance of its obligations under this Agreement, and if such default is not cured within ninety (90) days after written notice is given to the Defaulting Party specifying the default, then the other party (the "Aggrieved Party") may, by giving written notice to the Defaulting Party, terminate this Agreement as of the date specified in the notice of termination.
(c)
Each party, insofar as it becomes a Defaulting Party, agrees that, upon receipt of any notice of default, it will immediately commence all commercially reasonable efforts to cure the specified default and to commit the resources necessary at the Defaulting Party's expense to accomplish such cure as promptly as is reasonably possible.
(d)
Upon any termination of this Agreement, Vendor will assist and comply with Company's reasonable directions to cause the orderly transition and migration of the Services to Company or a third
party contractor to whom Company chooses to transfer the Services.
8. Employees
Vendor may, but shall not be obligated to, hire as employees of Vendor the current Company employees listed in Exhibit B. As part of the Services, regardless of whether such employees are hired by Vendor, as of the Effective Date, Vendor shall have management control of such employees; but, unless hired by Vendor, Company shall remain the employee's employer for all purposes, including, but not limited to, payroll, taxes, insurance and benefits. Company agrees to reasonably assist Vendor in the hiring of any of the employees pursuant to this Section.
9. Taxes
Vendor shall be paid its compensation without any deductions made whatsoever for state or federal taxes of any kind. Vendor agrees to pay all applicable federal and/or state taxes and all local excise, sales, use, or other taxes which arise as a result of the services performed by Vendor or any employee of Vendor under this Agreement.
10. Independent Contractor Status
It is expressly agreed and understood between Company and Vendor that Vendor (and any person employed by Vendor) is performing the Services hereunder as an independent contractor and is neither the employee nor the agent of or on behalf of Company.
11. No Waiver or Modification
This Agreement may not be changed or terminated orally, and no change, termination or attempted waiver of any of the provisions hereof shall be binding unless in writing and signed by both parties.
12. Continuation
Neither party shall sell, transfer, assign or subcontract any right or obligation hereunder without the prior written consent of the other party. Any act in derogation of the foregoing shall be null and void.
13. Severability
Should any provision hereof be deemed, for any reason whatsoever, to be invalid or inoperative, such provision shall be deemed severable and shall not affect the force and validity of other provisions of this Agreement.
14. Governing Law and Exclusive Jurisdiction
This Agreement shall be deemed to be made and entered into pursuant to the internal laws of the State of ______, and for all purposes, this Agreement shall be construed and interpreted in accordance with and be governed by the law of the State of ______.
15. Force Majeure
Neither Vendor nor Company shall be held responsible for any delay or failure in performance under this Agreement arising out of causes beyond its control, or without its fault or negligence. Such causes may include, but are not limited to, fires, terrorist acts, strikes, embargoes, shortages of supplies of raw materials, or components or finished goods, acts of God, acts of regulatory agencies or national disasters.
16. Counterparts
This Agreement may be executed in any number of counterparts.
17. Entire Agreement
The provisions herein constitute the entire agreement between the parties and supersede all prior agreements, oral or written, and all other communications between the parties, including any and all supplier or distribution agreements. No term or condition contained in any document provided by one party to the other party pursuant to this Agreement shall be deemed to amend, modify, or supersede or take precedence over the terms and conditions contained herein.
18. Insurance
Vendor will place Company and all affiliates designated by Company which are primarily related to the Data Centers under Vendor's umbrella insurance plan.
19. Right of First Refusal
In the event Company desires to sell any of the Data Centers or its collection business to a third party, Company shall deliver a written notice to Vendor stating the price, terms, and conditions of the proposed sale and the identity of the proposed transferee (a "Sale Notice"). Within a reasonable time period not to exceed fourteen (14) days after receipt of a Sale Notice by Vendor, Vendor shall have the right, but not the obligation, to purchase such Data Center or its collection business so offered at the price and on the terms and conditions stated in the Sale Notice.
20. Compliance
Company represents and warrants to Vendor that, as of the Effective Date, the operations of the Data Centers and the provision of services to its customers is compliant with: (a) Company service level agreements with its Data Center customers; (b) its vendor contracts; (c) the operating lease and real estate covenants for each Data Center; and (d) state or federal government laws, regulations and/or filing requirements related to the Data Centers.
21. Assignment/Change of Control
Neither party may, without the prior written consent of the other party, assign this Agreement, in whole or in part, either voluntarily or by operation of law, and any attempt to assign this Agreement in violation of this Section shall be a default of the Agreement pursuant to Section 7(b) above and such assignment shall be null and void. In the event the majority owner of a party becomes less than a 50% owner and/or the majority owner's equity position drops below 35% of said party, such events shall be deemed assignments for purposes hereof ("Change of Control Events"). An owner of a party which has a Change of Control Event shall have thirty (30) days from the date of the Change of Control Event to declare such event an assignment, or such event is waived as an assignment.
IN WITNESS WHEREOF, the Parties acknowledge that each has fully read and understood this Agreement, and, intending to be legally bound thereby, executed this Agreement on the date set forth above.
COMPANY:
VENDOR:
Looking for something else?