Personal Appearance Contract
for Your State
This Personal Appearance Contract is between a venue and a celebrity or artist who will make a personal appearance at the venue location. It sets out the specific terms including the dates and times of the appearances.
For Immediate Download
$8.99
Add to Cart
Free eSignature included
with every order
Please select a state
File types included
Microsoft Word
Adobe PDF
WordPerfect
Rich Text Format
Compatible with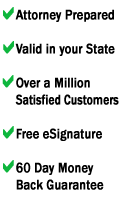 For Immediate Download
$8.99
Add to Cart
Free eSignature included
with every order
Please select a state
Attorney prepared
Our forms are kept up-to-date and accurate by our lawyers
Unlike other sites, every document on FindLegalForms.com is prepared by an attorney, so you can be sure that you are getting a form that is accurate and valid in your state.
Valid in your state
Our forms are guaranteed
to be valid in your state
Our team works tirelessly to keep our products current. As the laws change in your state, so do our forms.
Over 3,500,000
satisfied customers
In over 10 years of creating and selling legal forms, our focus has never changed: providing our customers high quality legal products, low prices and an experience that takes some confusion out of the law.
Free eSignature
Sign your form online, free with any form purchase
We now provide a free Electronic Signature Service to all of our visitors. There are no hidden charges or subscription fees, it's just plain free.
60-Days Money Back
Try our forms with no risk
If you are unhappy with your form purchase for any reason at all, contact us within 60 days and we will refund 100% of your money back.
This Personal Appearance Contract is between a venue (such as a theater, concert hall or retail store) and an artist or celebrity who will make a personal appearance at that location. This contract sets out the specifics of the appearance including the dates and times, length of the appearance and how much the artist will be paid. It also sets out who will be responsible for any expenses including travel and transport accommodations. It is imperative that the specifics regarding this appearance be clearly set out in writing. A written Personal Appearance Contract will be invaluable in the event there are disagreements or litigation regarding the personal appearance.
This Personal Appearance Contract includes the following provisions:
Parties: Names of the artist and the venue where artist or celebrity will appear;
Terms and Conditions: Sets out the place and date(s) of the engagement, number of shows, the time and length of the appearance and information regarding sound checks;
Agreed Upon Price: Specifies the amount of any deposit, amount due when contract is signed and when the total balance is due;
Expenses: Expenses which will be paid by venue including airfare, hotel and travel accommodations;
Promotion/Advertising: Both artist and venue will be responsible for the promotion of the personal appearance and artist or celebrity agrees to allow venue to use his or her name and likeness for promotional purposes;
Signatures: Both artist and a representative of the venue must sign this contract.
Protect your rights and your property by purchasing this attorney-prepared form.
This attorney-prepared package includes:
General Information
Instructions and Checklist
Personal Appearance Contract
State Law Compliance:
This form complies with the laws of all states
Dimensions
Designed for Letter Size (8.5" x 11")
Editable
Yes (.doc, .wpd and .rtf)
Usage
Unlimited number of prints
This is the content of the form and is provided for your convenience. It is not necessarily what the actual form looks like and does not include the information, instructions and other materials that come with the form you would purchase. An actual sample can also be viewed by clicking on the "Sample Form" near the top left of this page.
Personal Appearance Contract
THIS AGREEMENT made this the ____ day of ________20___, by and between
ABC
(hereinafter referred to as "
Artist
"), and ______________ representing ____________ (hereinafter referred to as
"
Venue
").
IN CONSIDERATION
of the mutual promises herein contained, and for other good valuable consideration, the parties hereto agree as follows:
1.
The Venue hereby engages the Artist to perform upon all the terms and conditions herein set forth, including those attached, hereof, entitled "Additional Terms and Conditions", and including those contained in any Rider attached hereto by Artist, which is hereby made part of the contract.
A.
PLACE(S) OF ENGAGEMENT:
_______________________________________________________________________
B.
DATE(S) OF ENGAGEMENT:
_______________________________________________________________________
_______________________________________________________________________
_______________________________________________________________________
E.
LENGTH OF EACH SHOW/INTERMISSION:
________________________________________________________________________
________________________________________________________________________
2.
FULL PRICE AGREED UPON:
_______________________________________________________________________
A.
A deposit of $_______________ shall be paid by Venue to ___________, the Artist's representative, in the name of
ABC
, upon signing contract than $ ___________ and a further balance due in cash prior to show. All Deposits shall be paid in the form of cash, cashier's check, money order, or wire transfer.
B.
The balance due hereunder shall be paid to Artist Representative by Venue immediately
prior
to performance, by
cash only
.
C.
Earned percentages, overages, and/or bonuses, if applicable, are to be paid
cash only
, immediately following the last show.
3.
This agreement shall not be effective until signed by both parties and until all deposits are received in accordance with the foregoing.
VENUE SHALL FURNISH AT ITS SOLE EXPENSE THE FOLLOWING:
A.
Transportation: ____________________________________________________
B.
Airline Tickets: ____________________________________________________
C.
Hotel Accommodations: _____________________________________________
D.
Limousine/Transportation Accommodations:_____________________________
E.
Meals:____________________________________________________________
F.
Refreshments: Buyer shall provide each member of ABC with reasonable amounts of free water and soda during the Performance.
G.
____________Tickets to the Performance
4.
Venue agrees to furnish at its own expense on the date and at the time of each performance herein all that is reasonable and necessary for the proper presentation of each performance, including, but not limited to, a suitable theater, hall, or auditorium with a public address system in good working conditions, and shall meet all Rider requirements, if applicable. Venue, at its own expense, will obtain all necessary licenses of Artist's use of music, and shall pay all amusement taxes, if required. Venue agrees to procure for Artist, at Venue's expense, any and all necessary permits licenses required in connection with the engagement (s).
5.
Both Artist and Venue shall be responsible for promotion of the Performance. Artist shall provide Venue with a media kit and camera-ready copies of Artist
'
s promotional materials that include promotional pictures, poster, press releases, website information and testimonials as well as a CD with web-ready graphics and sound bytes. Artist shall promote the performance on Artist
'
s website and other marketing means available to them including but not limited to notifying local media. Venue agrees to provide Artist with an Email list, if available, so that Artist may do an email blast to Venue
'
s clients to promote the performance. If Venue requires additional posters, postcards, etc. other than what is provided in the Artist
'
s media kit; Venue agrees to pay Artist any reasonable fee, if required.
6.
Artist shall have the sole and exclusive control over the production, presentation, and performance of the entertainment unit in connection with each engagement hereunder, including the sole right to designate and change the performing personnel (other than the featured Artist). Artist shall have the right (but not the obligation) to designate a representative who shall have sole authority in mixing and controlling all sound equipment during Artist's performance and during each rehearsal.
7.
Venue shall first apply any and all receipts derived from the entertainment presentation to the payments required hereunder. Venue agrees to use his best efforts to promote and advertise each engagement.
8.
In the event the payment to Artist shall be based in whole or in part on receipts of the performance (s) hereunder, Venue agrees to deliver to artist Representative a certified statement of the gross receipts of each performance. Artist shall have the right to have a representative present in the box office at all times and such representative shall have access to box office records of Venue relating to gross receipts of Artist
'
s engagements only.
9.
Artist agrees that Venue may use Artist name, pictures, photographs, and other likenesses in connection with advertising and publicizing the engagements (s) hereunder, but use shall not be used without prior approval of Artist. Venue's right to use Artist's name and period beginning with the execution of this agreement and, termination upon the date of cancellation of engagement (s) or upon completion thereof.
10.
Artist shall have the exclusive right to sell records, photographs, program and other type of merchandise on the premises of the place of performance without any participation in the proceeds by Venue, subject, however to concessionaire's requirements, if any.
11.
No portion of any performance hereunder may be recorded, filmed taped, or reproduced in any form whatsoever unless Artist's prior written consent is obtained. No interviews will be arranged without Artist's prior approval.
12.
Artist's obligations hereunder are subject to detention or prevention by sickness, inability to perform, accident, failure or delay of means of transportation, Acts of God, riots, strikes, labor difficulties, epidemics, any act of any public authority or any other cause, similar or dissimilar, beyond Artist's control. In the event of illness, strike, Act of God, governmental regulation of other force major occurrence, Artist is unable or is prevented from performing the engagement any part thereof, Venue shall be obligated and liable to Artist for such proportionate amount of payment provided for herein as may be due hereunder for any performance (s) which Artist may have rendered up to the time of the inability to perform by reason of such illness or force major occurrence.
13.
Notwithstanding anything contained herein, inclement weather shall not be deemed to be a force major occurrence, and the Venue shall remain liable for payment of the full contract price even if the performance (s) called for herein is prevented by such weather conditions. Artist shall have the sole right to determine in good faith whether any such weather conditions shall render the performance (s) impossible, hazardous or unsafe.
14.
Both parties agree that either may cancel the engagement hereunder for any reason without liability by giving the other written notice thereof at least thirty (30) days prior to the commencement date of the engagement hereunder.
15.
Nothing in this agreement shall require the commission of any act top law or to any rules or regulations of any union, guild or similar body having jurisdiction over the services and personnel to be furnished by Artist to Venue hereunder and wherever there is any conflict between any provision of this agreement and any law, rule or regulation, such law, rule or regulation shall prevail and this agreement shall be curtailed, modified, or limited only to the extent necessary to eliminate such conflict.
16.
Each of the terms and conditions hereof is of the essence of this agreement and necessary for Artist's full performance hereunder. Those obligations of Venue which are to be performed hereunder prior to any performance of Artist are conditions precedent which must be performed in full by Venue (unless waived in writing by Artist) before Artist is required to perform hereunder. In the event Venue fails to make promptly, at the times provided herein, any payment due Artist hereunder, or cancels or postpones any engagement hereunder for any reason (except for a force major occurrence as set forth in paragraph 14 above) without artist's prior written consent, Venue shall be deemed to have substantially and materially breached this agreement, relieving Artist, of all obligations hereunder. In the event of any material breach by Venue, in addition to any other rights or remedies Artist may have, all deposits in artist's possession shall be retained by Artist for Artist's won account and benefit.
17.
All notices required hereunder shall be given in writing at the addresses set forth above. This agreement may not be changed; modified party may assign this agreement. This agreement shall be constructed in accordance with the laws of this State of Ohio. Nothing contained in this agreement shall be construed to constitute the parties as a partnership or joint venture, and Artist shall not be liable in whole or in part of any obligation that may be incurred by Venue in carrying out any of the provisions hereof, or otherwise. The person executing this agreement on Venue's behalf hereby warrant his authority to do so, and such person hereby personally assumes liability for Venue's obligations hereunder.
IN WITNESS WHEREOF
, the parties have hereunto set hands and seals as of the day and year first above written.
I have read and agree to all terms as written in this Agreement.
VENUE
By: _______________________________________
For: _______________________________________
Date: ______________________________________
ABC
By: _______________________________________
For: _______________________________________
Date: ______________________________________
Looking for something else?