Service Agreement (Chauffeur)
for Your State
This Chauffeur Services Agreement is between a client and a company who provides chauffeur or driver services. It sets out the relevant terms including reservation and cancellation policies and method of payment for the chauffeur services.
For Immediate Download
$19.95
Add to Cart
Free eSignature included
with every order
Please select a state
File types included
Microsoft Word
Adobe PDF
WordPerfect
Rich Text Format
Compatible with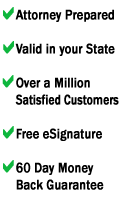 For Immediate Download
$19.95
Add to Cart
Free eSignature included
with every order
Please select a state
Attorney prepared
Our forms are kept up-to-date and accurate by our lawyers
Unlike other sites, every document on FindLegalForms.com is prepared by an attorney, so you can be sure that you are getting a form that is accurate and valid in your state.
Valid in your state
Our forms are guaranteed
to be valid in your state
Our team works tirelessly to keep our products current. As the laws change in your state, so do our forms.
Over 3,500,000
satisfied customers
In over 10 years of creating and selling legal forms, our focus has never changed: providing our customers high quality legal products, low prices and an experience that takes some confusion out of the law.
Free eSignature
Sign your form online, free with any form purchase
We now provide a free Electronic Signature Service to all of our visitors. There are no hidden charges or subscription fees, it's just plain free.
60-Days Money Back
Try our forms with no risk
If you are unhappy with your form purchase for any reason at all, contact us within 60 days and we will refund 100% of your money back.
This Chauffeur Services Agreement is between a customer and a company who provides chauffeur services. This agreement sets out the terms of the arrangement including reservation and confirmation procedures, cancellation policy and terms of payment. It also sets forth the specific warranties made by both the company and the customer. It is important that this agreement be clearly set out in writing rather than via oral agreement. A written Chauffeur Services Agreement will prove valuable in the event there are disagreements or misunderstandings between the customer and the company offering chauffeur services.
This Chauffeur Services Agreement includes the following:
Recitals: Customer has employed the chauffeur to provide vehicle transportation and the driver possesses all state required qualifications to operate the vehicle in a safe and competent manner;
Services: Sets forth the scope of services provided including reservation and cancellation policies;
Payment: Customer will be charged upon completion of services and no refunds will be issued;
Customer Representations: Customer represents and warrants that the vehicle is safe for road use, that the number of passengers will not exceed the number of seat belts in the vehicle and indemnifies the company for any loss or damage, except for death or personal injury resulting from company's negligence;
Company Representations: Company represents and warrants that all services will be performed using reasonable care and sets forth any exclusions to these representations;
Signatures: Both customer and chauffeur company must sign and date this agreement.
Protect yourself and your rights by purchasing this attorney-prepared form.
This attorney-prepared package includes:
General Information
Instructions and Checklist
Chauffeur Services Agreement
State Law Compliance:
This form complies with the laws of all states
Dimensions
Designed for Letter Size (8.5" x 11")
Editable
Yes (.doc, .wpd and .rtf)
Usage
Unlimited number of prints
This is the content of the form and is provided for your convenience. It is not necessarily what the actual form looks like and does not include the information, instructions and other materials that come with the form you would purchase. An actual sample can also be viewed by clicking on the "Sample Form" near the top left of this page.
Chauffeur Services Agreement
THIS AGREEMENT ("Agreem
ent") is entered into this __
day of ___
________
___, 20__ by and between:
and XYZ,
a Chauffeur Services Company (the
"Company
").
RECITALS:
A.
Company is in the business of providing vehicle transportation services to the public;
B.
Company has employed a Chauffeur to this effect and the Chauffeur possesses the required State's driver's license and the necessary knowledge, skill, and experience to operate Company
'
s assigned Vehicle in a safe, competent, and efficient manner; and
C.
Customer is desirous of hiring the Chauffeur
'
s services (
"Services
"); and
D.
Company is willing to provide the Services to the Customer on the terms and conditions stated in this Agreement.
AGREEMENT:
1.1.1
The reservation is an offer by Customer to acquire the Services from the Company subject to this Agreement.
1.2
This Agreement applies to the exclusion of any other terms or subject to which the reservation is made or purported to be made by the Customer. No variation to these terms is binding unless ag
reed in writing between authoriz
ed representatives of the Customer and the Company.
1.3
All reservations must be confirmed in writing using the Company
'
s reservation form and signed by
the authoriz
ed signatory of the Customer.
1.4
The reservation will lapse unless accepted by the Company in writing within a reasonable time (in any case within ___ hours).
1.5
All reservations must be made at least 24 hours prior to any pick-up time.
1.6
Any extra requests or alterations to the reservation not made at the time of the reservation with be charged at additional costs.
1.7
Company has a 12 hour cancellation policy. Any cancellation or changes to the Customer
'
s reservation made within twelve hours of scheduled Service will result in a minimum charge of $_
________
_
being billed to Customer
'
s credit card. Any phone reservation charges will be billed to Customer credit card. If Customer cancels without notice and Chauffeur is dispatched to Customers
'
location a charge of $_
_____
__ will be billed to Customers
'
credit card.
Customer
'
s credit card will be charged upon completion of service. Customer represents to company that all information is true and accurate to best of the customers
'
knowledge. There are no refunds and all sales are final.
3. Representations and Warranties by the Customer:
3.1
Customer agrees that while Company is providing Services, the number of occupants in the Vehicle will not exceed the number of safety/seat belts available for use in the Vehicle, and that each occupant who chooses not to use such seat belt does so at their own risk.
3.2
Customer further represents and warrants that the Vehicle is free from any mechanical or structural defects that would make the vehicle anything less than road safe, is lawfully licensed and insured (see below), and has all necessary fluids and fuel necessary for the duration of the Service. Any additional alterations or addition of fluids and fuel will be furnished by Customer at Customer
'
s expense.
3.3
Customer agrees to indemnify the Company in respect of any claims for loss, damage, injury or expense by any third party arising directly or indirectly from Customer
'
s use of the Services or making them available to a third party, except for death or personal injury to the extent that it results from Company
'
s negligence.
4.
Warranties and Liabilities of the Company:
4.1
The Company warrant that the Services will be performed using reasonable care and skill.
4.2
Company
'
s liability to Customer in respect of death or personal injury resulting from Company
'
s negligence shall be unlimited.
4.3
Except the liability specified under 4.2, Company
'
s total liability to the Customer shall not exceed the lesser of the amount or the money actually received from the Customer for the Services in respect of which a claim has been made;
4.4
In any case, Company shall have no liability to the Customer for any punitive, indirect, special or consequential loss, damage, costs
or expenses including any labo
r, or the hiring of a replacement vehicle.
4.5
The exclusions and limitations of liability set out in this Agreement exclude and limit all of Company
'
s liability to the Customer for all matters arising in connection with this Agreement whether in contract, tort (including negligence), for breach of statutory duty or otherwise.
Neither party shall be liable for any delay or failure to meet its obligations under this Agreement (other than a payment obligation) due to any cause outside its reasonable control such as act of God, etc., (a "force majeure" situation), which it must notify to the other party as soon as possible.
6.1
The Company may subcontract, assign or transfer the obligations or rights under this Agreement to a competent third party or to any associated company whether in whole or in part. The Customer may not assign or transfer any of the Customer
'
s rights or obligations without our written consent.
6.2
This Agreement sets out the entire understanding of the parties with respect to their subject matter and replace any prior agreements or understandings or representations (unless fraudulent), whether written or oral.
6.3
In case any provision of this Agreement shall in any respect be declared invalid, illegal or unenforceable, such invalidity, illegality or unenforceability shall not affect any other term or condition of this Agreement, and this Agreement shall be interpreted as though such illegal, unenforceable or invalid term or condition was not a part hereof.
6.4
No waiver of any breach of this Agreement shall be considered a waiver of any subsequent breach of the same or any other provision.
6.5
This Agreement shall be governed and construed as per the
l
aws of __
_________
___, without reference to its choice of law rules.
CHAUFFEUR
COMPANY
CUSTOMER
____________________________________
___________________________________
Date: _______________________________
Date: ______________________________
Looking for something else?