Service Agreement (Yoga Instructor/Yoga Studio)
for Your State
This Service Agreement is between a yoga instructor and a studio who wants to hire the instructor to teach classes. This form sets out the relevant terms including dates and times of classes, number of students per class and the fee the instructor will be paid.
For Immediate Download
$19.95
Add to Cart
Free eSignature included
with every order
Please select a state
File types included
Microsoft Word
Adobe PDF
WordPerfect
Rich Text Format
Compatible with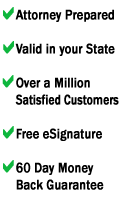 For Immediate Download
$19.95
Add to Cart
Free eSignature included
with every order
Please select a state
Attorney prepared
Our forms are kept up-to-date and accurate by our lawyers
Unlike other sites, every document on FindLegalForms.com is prepared by an attorney, so you can be sure that you are getting a form that is accurate and valid in your state.
Valid in your state
Our forms are guaranteed
to be valid in your state
Our team works tirelessly to keep our products current. As the laws change in your state, so do our forms.
Over 3,500,000
satisfied customers
In over 10 years of creating and selling legal forms, our focus has never changed: providing our customers high quality legal products, low prices and an experience that takes some confusion out of the law.
Free eSignature
Sign your form online, free with any form purchase
We now provide a free Electronic Signature Service to all of our visitors. There are no hidden charges or subscription fees, it's just plain free.
60-Days Money Back
Try our forms with no risk
If you are unhappy with your form purchase for any reason at all, contact us within 60 days and we will refund 100% of your money back.
This Yoga Instructor/Yoga Studio Services Agreement is between a yoga instructor and a studio who desires to engage the instructor to teach yoga. This agreement sets out the specific details of the arrangement including the dates and times of the classes, duration of each class and maximum number of participants. It also includes the fee paid to the yoga instructor and that the instructor will grant a non-exclusive license to the studio for use of the yoga instructor's name and likeness on any advertising or marketing campaigns. It is imperative that this agreement be clearly set forth in writing and not via an oral agreement. A written Yoga Instructor/Yoga Studio Services Agreement will prove invaluable in the event of disagreements or misunderstandings between the parties surrounding the instructor's employment.
This Yoga Instructor/Yoga Studio Services Agreement includes:
Parties: Name of the yoga instructor and the yoga studio;
Class Information: The dates and times on which the yoga classes will be held, the duration of each class and the maximum number of participants who may attend;
Payment: Sets forth the amount the instructor will be paid for each class;
License: The instructor grants the studio a non-exclusive license to use his or her likeness for marketing and promotional purposes;
Relationship: Yoga instructor is considered an independent contractor and not an employee of the studio;
Signatures: Both yoga instructor and the studio must sign and date this agreement.
Protect yourself and your rights by purchasing this attorney-prepared form.
This attorney-prepared package includes:
General Information
Instructions and Checklist
Yoga Instructor/Yoga Studio Services Agreement
State Law Compliance:
This form complies with the laws of all states
Dimensions
Designed for Letter Size (8.5" x 11")
Editable
Yes (.doc, .wpd and .rtf)
Usage
Unlimited number of prints
This is the content of the form and is provided for your convenience. It is not necessarily what the actual form looks like and does not include the information, instructions and other materials that come with the form you would purchase. An actual sample can also be viewed by clicking on the "Sample Form" near the top left of this page.
Yoga Instructor/Yoga Studio
Services Agreement
THIS AGREEMENT
(the
"Agreement
") made effective as of the _____ day of ______________, _______ (the
"Effective Date
") is entered into by and between a Company, (The
"Company
") and ________
_________
________ (The
"Instructor
").
A.
The Instructor is a skilled and professionally trained yoga teacher holding a certified degree in yoga.
B.
The Company desires to engage the services of the Instructor to teach yoga at the yoga studio.
C.
The Instructor accepts the Company
'
s offer to teach yoga on the terms and conditions mentioned herein.
NOW THEREFORE, the parties agree as follows:
1.
Appointment: The Company hereby appoints the Instructor as a full time yoga teacher to take yoga classes at the yoga studio located at ______, during ___ days in a week, between _____ a.m. to ______p.m.; provided however that the yoga class time may be changed by the Company upon prior intimation, but in no event shall the class time be earlier than _____ a.m. or later than ____ p.m.]
2.
Duration and
Number of P
articipants: The yoga class shall be approximately ___ minutes in length and shall have no more than _______
participants. The training material of the yoga class shall be solely decided by the Instructor.
3.
Payment T
erms: The Company shall be obligated to pay the Instructor an amount of _______ as the Instructor
'
s fees for teaching the yoga classes. The Instructor agrees that the said amount shall constitute the full and complete compensation for teaching the yoga classes and the Company will not withhold any amounts for payment of taxes from such fees paid to Instructor hereunder. Any and all sums subject to deductions, if any, required to
be withheld and/or paid under any applicable state, federal or municipal laws shall be Instructor's sole responsibility.
4.
License
G
rant: Instructor hereby grants to the Company a non-exclusive license to use Instructor
'
s name, image and likeness in connection with the marketing and promotion of
the yoga classes.
5.
Termination. Either party may terminate this Agreement upon 60 days
'
prior
written notice with or without cause. Upon such termination, this Agreement will
become null and void and neither party shall have any further obligation to other party hereunder.
6.
Representations and Warranties. Instructor hereby represents and warrants to the Company as follows:
a.
Instructor has the full power and legal right to enter into this Agreement and to perform it in accordance with its terms without violating the rights of others or any applicable law and Instructor has not and shall not become a party to any other agreement of any kind which conflicts with this Agreement.
b.
Instructor shall teach the yoga class in a professional manner and in a manner consistent with the way Instructor teaches yoga classes at Instructor
'
s Studio.
7.
Relationship of Parties. Nothing contained herein shall be construed to create an employer-employee partnership or joint venture relationship between the Company and Instructor. Instructor is an independent contractor and not an employee of the Company or any of its affiliates.
8.
Indemnification. Instructor shall indemnify and hold the Company and its officers, directors, owners, representatives and agents harmless from any and all damages, claims and expenses arising out of or resulting from any claims asserted by any taxing authority as a result of or in connection with the payments mentioned under section 3 above.
9.
Confidentiality. Instructor shall not disclose the terms and
provisions of this Agreement to any third party without the prior written consent of the Company.
a.
Entire Agreement. This Agreement constitutes the entire agreement
between the parties with respect to the subject matter hereof, and supersede any prior
understanding or representation of any kind preceding the date of this Agreement with respect to said subject matter hereof. There are no other promises, conditions, understandings or other agreements, whether oral or written, relating to the subject matter
of this Agreement. This Agreement shall not be modified, waived or rescinded unless in writing signed by both parties.
b.
Governing Law. This Agreement shall be construed and interpreted under
the laws of the State of ______________, without reference to its choice of rules.
c.
Severability. If any term or condition of this Agreement is held to be unenforceable, the court making that determination shall modify that term or condition to the extent necessary to make it enforceable. The invalidity or unenforceability of any term or condition of this Agreement shall not affect the remaining terms and conditions of this Agreement, all of which shall continue in full force and effect.
d.
Assignment. Instructor may not assign its obligations hereunder without the prior written consent of the Company, which shall not be unreasonably withheld. This Agreement shall inure to the benefit of the parties successors and permitted assigns.
e.
Counterparts. This Agreement may be executed in several counterparts, each of which shall constitute an original and all of which, when taken together, shall constitute one agreement.
IN WITNESS WHEREOF,
the parties have caused this Agreement to be executed as of the date first above written.
_______________________________________
____________________________________
YOGA STUDIO
YOGA INSTRUCTOR
DATE: ________________________________
DATE: _____________________________
Looking for something else?