Talent Agency Agreement
for Your State
This Talent Agency Agreement is between a performer and a talent agency who agrees to represent and promote the performer. This form specifies the fee the performer will pay to agency and how bookings will be handled. This agreement can be easily tailored to fit your unique needs.
File types included
Microsoft Word
Adobe PDF
WordPerfect
Rich Text Format
Compatible with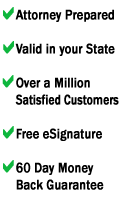 For Immediate Download
$7.99
Add to Cart
Free eSignature included
with every order
Please select a state
Attorney prepared
Our forms are kept up-to-date and accurate by our lawyers
Unlike other sites, every document on FindLegalForms.com is prepared by an attorney, so you can be sure that you are getting a form that is accurate and valid in your state.
Valid in your state
Our forms are guaranteed
to be valid in your state
Our team works tirelessly to keep our products current. As the laws change in your state, so do our forms.
Over 3,500,000
satisfied customers
In over 10 years of creating and selling legal forms, our focus has never changed: providing our customers high quality legal products, low prices and an experience that takes some confusion out of the law.
Free eSignature
Sign your form online, free with any form purchase
We now provide a free Electronic Signature Service to all of our visitors. There are no hidden charges or subscription fees, it's just plain free.
60-Days Money Back
Try our forms with no risk
If you are unhappy with your form purchase for any reason at all, contact us within 60 days and we will refund 100% of your money back.
This Talent Agency Agreement is between a performer and a talent agency who agrees to represent and promote the performer in exchange for an agreed upon fee. This agreement contains the specific terms of the arrangement including the fee performer will pay to agency and how talent bookings will be handled. It also sets out the agency's rights to negotiate fees and bookings on behalf of the performer. It is imperative that this agreement be clearly set out in writing rather than via oral agreement. A written Talent Agency Agreement will prove invaluable in the event there are disagreements or misunderstandings between the performer and the talent agency.
This Talent Agency Agreement includes the following provisions:
Parties: Identities of the talent agency and the performer;
Services: Description of the services the talent agency will render including consulting, advising and promotion of performer;
Fee: Detailed information regarding the fee to be paid to talent agency, including union and non-union assignment fees;
Independent Contractor: Performer is considered an independent contractor and not an employee of the talent agency;
Signatures: A representative of the talent agency and the performer must sign this agreement (if the performer is a minor, a parent or legal guardian must sign on the child's behalf).
Protect your rights and your property by purchasing this attorney-prepared form.
This attorney-prepared package includes:
General Information
Instructions and Checklist
Talent Agency Agreement
State Law Compliance:
This form complies with the laws of all states
Dimensions
Designed for Letter Size (8.5" x 11")
Editable
Yes (.doc, .wpd and .rtf)
Usage
Unlimited number of prints
This is the content of the form and is provided for your convenience. It is not necessarily what the actual form looks like and does not include the information, instructions and other materials that come with the form you would purchase. An actual sample can also be viewed by clicking on the "Sample Form" near the top left of this page.
Talent Agency Agreement
This agreement is made and entered into this ______ day of ____________, 20____, between ABC (herein referred to as
"Agenc
y or Agent
") and ____________________
_______________
(herein referred to a
"Talent
"). Subject to representation of Talent and other good and valuable consideration, the parties agree as follows:
1.
Talent desires to develop or continue an acting, entertainment, and/or modeling career and wishes to engage the Agent as representative, consultant, advisor and promoter. Agent is hereby appointed as the Talent
'
s agent in this region to exercise reasonable efforts to seek and negotiate employment services in print advertising, television, radio, film, entertainment, promotional activities and similar fields in furtherance of the Talent
'
s occupation and career. This is a non-exclusive agreement. Meaning talent may be represented by other agencies in the area. Write in any limitations to regions Agency is to represent Talent.
2.
All non-union Talent and all union Talent doing non-union jurisdiction work shall pay to the Agent a commission of 20% of the Talent
'
s Gross Amount from all work booked through the agency in advertising, print, television, radio, art, entertainment, promotional activities and similar fields.
That is 20% of the amount negotiated for the Talent specifically.
The A
gent, not the Talent, will invoice the Employer of Talent for all work performed by the Talent. The Talent grants permission to the Agency to receive the gross compensation from the employer and to deduct the Agency
'
s compensation directly from the Talent
'
s gross compensation. Talent understands payment will normally be made within 10 working days after the Agency has been paid and the check/payment has cleared the bank. If the Agency is unable to collect Talent
'
s compensation from the Employer of Talent, neither Talent nor Agency will be compensated. If Talent
'
s compensation is not paid in full, Talent will receive Talent
'
s gross monies, less Agency
'
s commission on amount collected.
a.
Talent should also note that it is a standard industr
y practice for agency to charge
clients engaging talent for non-union on-camera work and print work a commission. Both talent and client are receiving a service from agency and being charged a fee for said service.
3.
If a job is a SAG, AFTRA or Equity job the Talent agrees to pay the Agency commission of 10% of the Talent
'
s gross (Pre-taxes) for all SAG or AFTRA jobs and all residuals resulting from said jobs that Agency is entitled to __________ according to SAG & AFTRA agreements. Monies payable to the Agency shall be payable immediately upon receipt of such compensation.
4.
When a paymaster is involved, Talent will receive a W-2 form from the paymaster. A paymaster is a company hired by the signator to pay Talent for AFTRA, Equity or SAG jurisdiction work pursuant to AFTRA or SAG regulations which withholds taxes from gross pay. When Talent is paid by paymaster he/she is considered an employee of the paymaster. When a paymaster is not involved, Talent working under SAG, AFTRA or Equity jurisdiction will receive a W-2 form directly from the signator.
5.
Nothing in this contract shall be construed in such a manner as to violate any SAG, AFTRA or Equity contract.
6.
Talent is an independent contractor and is not the Agency
'
s employee. Talent
is responsible for paying their own Federal, State and Local taxes. The Agency is not responsible for any worker
'
s compensation insurance benefits for the Talent. Talent will receive a 1099 Form (Miscellaneous Income Statement) for monies paid to Talent exceeding $
_______
per year, or current IRS requirements.
7.
The Agency shall not be liable for any injuries or damages sustained by the Talent or caused by others during the course of performing any work negotiated during the term of this agreement.
8.
Commission on fees and residuals shall be due Agency for as long a period as Talent continues to receive monies or other considerations from jobs initiated during the term specified herein, including monies or other considerations received by Talent under the extended term of said jobs, resulting from the exercise of an option or options given an employer under said jobs, extending the term of said jobs, whether such options be exercised prior to or after the expiration of the term specified herein. So long as agent receives commissions from Talent, the Agency shall be obligated to service Talent & perform the obligations of this contract with respect to the services of the Talent on which such commissions are based.
9.
All fees and residuals as well as further communication from any contracts made by the Agent for the Talent during the term of this agreement shall be booked through the Agency for a period of three years from the date of last c
ontract made with said clients.
10.
Talent agrees not to take direct bookings from Clients in which ABC has originated the contact or work.
11.
Agent has the right to negotiate and renegotiate any fees with the client on behalf of the Talent.
12.
Talent will keep Agency informed of all changes of address, email and phone numbers.
13.
All Talent will keep Agency informed of all physical changes, i
.e.,
sizes, height, weight, teeth, tans, hair length, hair color, tattoos, pregnancy,
etc. All children and teens must have their statistics updated every six months. Children from 0-3 should have updated photos every 6 months. Children 4-16 should have updated photos every year to year and a half. Young children do not need to have
"professional photographs
" Agency will instruct how to put together a photo sheet. All child photos should have child
'
s name, date of birth, date of photo and agency contact information.
14.
Talent understands and agrees not to give out home phone numbers or addresses to the Client without the express consent of the Agency.
15.
Talent agrees not to discuss rates on the set with or in front of other Talent.
16.
Talent understands that Talent does not take friends or family on bookings, castings, or interviews. With children, only one adult should accompany them.
17.
If Talent is late or fails to appear at a booking the Talent is liable and responsible for all other Talent fees, and production costs for the time the production had to wait on the Talent. If talent realize they will be late or not able to appear they must notify the Agency immediately.
18.
Talent understands that if Talent is uncooperative or unprepared, Talent may expect to receive a reduction in pay from the Client.
19.
Talent is not required to accept any booking which Talent believes may not be in the Talent
'
s best interest.
20.
Talent understands that a voucher must be filled out and signed by the Client in order to be paid. Voucher must arrive in Agency office within 5 days of the booking.
21.
Talent understands that they must call in to the Agency at the completion of booking to report to the Agency the hours and how the job went.
22.
Agency is authorized to use Talent
'
s name, likeness and qualifications to publicize Talent in connection with representation of Talent.
23.
Talent will keep the Agency supplied with current promotional materials (including, but not limited to, Pictures & Resumes, Composite Cards, Demo Reels, Portfolios, etc.) at the Talent
'
s expense. ABC will choose
the photographs to be utilized in the promotion of the talent. All marketing materials must have ABC
'
s contact information on them. No materials will be accepted with home phone number or other Agency
'
s information on them. Talent is to supply agency with appropriate materials within 6 weeks of signing with the agency. If not talent will be released from the agency.
24.
For Talent
'
s protection, Agent requests that all contracts to be signed are sent to
the
Agency for review and negotiation before signing, as well as for the Agency
'
s records, logging dates, payments, usages and renewals.
25.
Talent understands that signing with the Agency does not guarantee bookings, auditions or go-sees.
26.
The term of this agreement is one year. Renewal of the contract will occur on an Annual basis, based on both party
'
s interest. Commissions on all fees and residuals from work procured or auditioned for during the term of this contract shall remain due the Agency.
27.
Should talent desire representation in a major market and the agency through direct contacts significantly assists talent in securing representation in a major market the following applies. Talent agrees to pay agency 5% commission on all work booked with major market agency or management firm for a period of 2 years from date signed with major market agency or management firm. Agency will remain talent
'
s representative in the
_______________________
markets during that period.
"
28.
At such time as talent or agency chooses to terminate
representation, talent has 30 days to pick up any promotional materials kept at the agency. If talent does not pick up said promotional material the agency will dispose of said materials.
29.
Talent will not hold agency financially responsible for any disposed of materials.
30.
Talent warrants that he/she has fully read and understands the terms within this agreement. And has entered into this agreement freely and with such knowledge And adv
ice he/she deems necessary. He/s
he indicates they are of legal age to enter into such agreement. (If Talent is child, parent or legal guardian signature Is required.) No representations or warranties other than those expressly made Herein have been made by the Agency.
__________________________ ______________________________
__________________________ ______________________________
Sign for ABC
Sign for Talent Name
___________________________
______________________________
Parent or Legal Guardian
Social Security Number
Customer Reviews
Average Rating:
Reviews: 1
---




---
Looking for something else?