Talent Agreement
for Your State
This Talent Agreement is between a performer and a production company who desires to hire performer for a specific role. This form sets out the specifics including the role to be played and the compensation the performer will be paid.
File types included
Microsoft Word
Adobe PDF
WordPerfect
Rich Text Format
Compatible with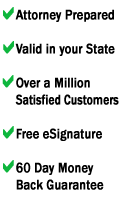 For Immediate Download
$5.99
Add to Cart
Free eSignature included
with every order
Please select a state
Attorney prepared
Our forms are kept up-to-date and accurate by our lawyers
Unlike other sites, every document on FindLegalForms.com is prepared by an attorney, so you can be sure that you are getting a form that is accurate and valid in your state.
Valid in your state
Our forms are guaranteed
to be valid in your state
Our team works tirelessly to keep our products current. As the laws change in your state, so do our forms.
Over 3,500,000
satisfied customers
In over 10 years of creating and selling legal forms, our focus has never changed: providing our customers high quality legal products, low prices and an experience that takes some confusion out of the law.
Free eSignature
Sign your form online, free with any form purchase
We now provide a free Electronic Signature Service to all of our visitors. There are no hidden charges or subscription fees, it's just plain free.
60-Days Money Back
Try our forms with no risk
If you are unhappy with your form purchase for any reason at all, contact us within 60 days and we will refund 100% of your money back.
This Talent Agreement is between a performer/talent and a production company who wants to hire the performer for a role in a motion picture. This agreement sets out the specific terms of the arrangement including the role the performer will play, term of the agreement and the compensation the performer will be paid. It also contains provisions regarding the company's rights to use performer's name and likeness for promotional and advertising purposes. The terms of this type of business arrangement should always be clearly spelled out in writing. A written Talent Agreement will prove invaluable in the event there are disagreements, misunderstandings or litigation between the parties.
This Talent Agreement contains the following provisions:
Parties: Names of both the production company and the performer (also known as "talent");
Motion Picture Role: Title of the motion picture and the role the performer will play;
Term: The exact dates of the agreement (also referred to as production period);
Compensation: The compensation to be paid to performer and under what conditions it will be paid;
Rights and Obligations: Detailed list of the rights and obligations of both the production company and performer, including call times, on call and rehearsal times;
Likeness: Performer grants production company the rights to use his or her name, likeness and biographical information for advertising and promotion of the motion picture;
Signatures: A representative of the production company and the performer/talent must sign this agreement.
Protect your rights and your property by purchasing this attorney-prepared form.
This attorney-prepared package includes:
General Information
Instructions and Checklist
Talent Agreement
State Law Compliance:
This form complies with the laws of all states
Dimensions
Designed for Letter Size (8.5" x 11")
Editable
Yes (.doc, .wpd and .rtf)
Usage
Unlimited number of prints
This is the content of the form and is provided for your convenience. It is not necessarily what the actual form looks like and does not include the information, instructions and other materials that come with the form you would purchase. An actual sample can also be viewed by clicking on the "Sample Form" near the top left of this page.
Talent Agreement
THIS AGREEMENT made t
his ________ day of ___________________, 20
__
by and between ___________________________________________
(hereinafter referred to as
"Company
"
)
and ____________
_______________________
___________ (hereinafter referred to as
"Talent
").
RECITALS:
A.
Company is in the business of developing, producing and marketing motion pictures. Company
'
s first full-length feature film, __
_____________
___, was in production from _______________. Talent auditioned, was cast, and accepted a role as a character in _______
______________
______.
B.
Company is investing considerable time and energy and has and will continue to incur substantial financial responsibilities related to the production, exhibition, distribution, marketing and sale of _
_____
___. Company anticipates that its efforts will result in widespread notoriety for __
_________
__. Talent has, and is willing to, continue to invest considerable time and energy towards the successful production of ___
_____
___.
I. TERM
A.
This Agreement is in effect from at least _____________ to ______________ (hereinafter referred to as the
"Production Period).
1.
Talent agrees to be available to Company for filming that takes place after the Production Period for purposes of completing production (hereinafter referred to as
"pick-up shots
") and for promotional appearances.
a. If and when Talent becomes unavailable to Company for pick-up shots and/or promotional appearances, Talent must notify Company, in writing, certified, return receipt requested, at least fifteen (15) days prior to the time that Talent is to become unavailable.
II. COMPENSATION
A.
It is agreed that Talent will receive no compensation at the time of the signing of this Agreement and the delivery of services.
1. It is understood that Company is not guaranteed to realize profits from this production, exhibition, distribution, rental, lease or sale of ________. Should Company realize profits which exceed the cost of production and distribution, however, Talent shall be compensated in an amount not to exceed _________ ($____).
III. RIGHTS AND OBLIGATIONS
A.
Company shall provide Talent with updated scheduling information and production materials.
B.
Talent shall be present, prompt and prepared at
"call times
" , all times while
"on call
" and for meetings/rehearsals as specified by or agreed to by the Production Manager, Director or their designee(s).
1.
Talent understands that great financial burdens may be borne by Company as a result of Talent
'
s failure to be present, prompt and prepared as required.
2.
Talent understands that incapacity, death or impossibility are the only acceptable justifications for failure to meet their obligations under this Agreement.
3.
Talent shall notify Company immediately upon the occurrence of incapacity or impossibility, or as soon as possible thereafter.
IV. UNIQUENESS
A.
It is understood that Talent has been selected to play the character assigned due to Talent
'
s uniqueness, hence, his/her performance cannot be substituted by another.
1.
Talent shall be liable for damages caused by their failures to perform the role designated by Director and accepted by Talent under this Agreement.
V. LIKENESS
A. Talent grants to Company the right to use his/her name, likeness, voice and biographical information for production, promotional, publicity and advertising purposes.
1. Talent understands that all materials subject to this section are the property of Company.
2.
If applicable, Talent
'
s screen credit shall read as follows:___________________.
VI. JURISDICTION
A.
This Agreement is entered into and is to be governed and construed under the laws of the State of ________. The courts of the State of __________ shall have exclusive jurisdiction over any claims arising out of this Agreement.
VII. ENTIRETY
A.
This is the entire understanding of the parties. This Agreement shall not be amended, in part or in full, in any way except by a writing signed by the parties to this Agreement and specifically referring hereto.
_____________________________
_____________________________
Talent
Social Security Number
_____________________________
___________________________________________________
Full Address and area code phone number(s)
__________________________________________________
Customer Reviews
Average Rating:
Reviews: 1
---




---
Looking for something else?