Employment Agreement - Long Form
Specifically designed for use between an employer and employee, setting forth the terms of the employment relationship, including salary, duties, benefits and more.
File types included
Microsoft Word
Adobe PDF
WordPerfect
Rich Text Format
Compatible with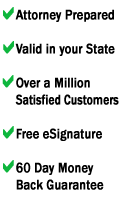 For Immediate Download
$19.95
Add to Cart
Free eSignature included
with every order
Please select a state
Attorney prepared
Our forms are kept up-to-date and accurate by our lawyers
Unlike other sites, every document on FindLegalForms.com is prepared by an attorney, so you can be sure that you are getting a form that is accurate and valid in your state.
Valid in your state
Our forms are guaranteed
to be valid in your state
Our team works tirelessly to keep our products current. As the laws change in your state, so do our forms.
Over 3,500,000
satisfied customers
In over 10 years of creating and selling legal forms, our focus has never changed: providing our customers high quality legal products, low prices and an experience that takes some confusion out of the law.
Free eSignature
Sign your form online, free with any form purchase
We now provide a free Electronic Signature Service to all of our visitors. There are no hidden charges or subscription fees, it's just plain free.
60-Days Money Back
Try our forms with no risk
If you are unhappy with your form purchase for any reason at all, contact us within 60 days and we will refund 100% of your money back.
An employment agreement is an agreement between an employer and an employee which provides the terms and conditions of the employment relationship.

The employment agreement serves a number of beneficial purposes. First, it provides the employee with the basic conditions of his/her employment. For example, among other things, the employment agreement will state basic duties, salary, and benefits. Second, the employment agreement protects the employer. It will clarify the employer's expectations for the employee and grounds for termination. This package also includes step-by-step instructions that walk you through each provision to help you fully understand the terms of your agreement.

This form can be used in all states.

This packet includes:
(1) Instructions and Checklist for the Employment Agreement
(2) Information about the Employment Agreement
(3) Step-by-Step Instructions for filling out the form
(4) Employment Agreement- Long Form

Among others, this form includes the following provisions:
Employment
Employee Compensation/Benefits
Expenses
Conflicting Employment
Non-Compete Agreement
Non-Solicitation of Employees
Inventions
Dimensions
Designed for Letter Size (8.5" x 11")
Editable
Yes (.doc, .wpd and .rtf)
Usage
Unlimited number of prints
This is the content of the form and is provided for your convenience. It is not necessarily what the actual form looks like and does not include the information, instructions and other materials that come with the form you would purchase. An actual sample can also be viewed by clicking on the "Sample Form" near the top left of this page.
Employment Agreement – Long Form
This Employment Agreement (the
"Agreement
") is made effective as of _____________
_, ___
by and between _________________________________________ (the
"Employer
") and _______________________________________ (the
"Employee
") (collectively referred to as the
"Parties
").
The Parties agree as follows:
1. EMPLOYMENT:
Employer shall employ Employee in the position of ___________________________________. Employee
'
s duties shall include: ___________________________________________________
__________
______________
___ ________________________________________________________________________________________________________________________________________
____________
________
and other duties as may be assigned by Employer from time to time.
The Parties agree that this position is
"at-will
" and can be terminated by Employee or Employer at any time.
2.
Employee Compensation/Benefits:
For services provided, Employer will pay Employee an annual/monthly (circle one) salary of $____________, paid in accordance with Employer
'
s annual payroll procedures.
Employee will accrue vacation/paid-time-off (circle one) at a rate of __________________ hours per month. Vacation approval will be handled in accordance with the normal practices of Employer.
Employee will also receive the following additional benefits:
________________________________________________________________________________________________________________________________________________________________________________________________________________________________________________________________________________________________
________________________
(write
"none
" if there are no additional benefits).
3. EXPENSES:
Employer will reimburse Employee for reasonable benefits incurred by Employee in the performance of his duties. Reimbursement will be handled in accordance with Employer
'
s normal practices and policies.
4. CONFLICTING EMPLOYMENT:
Employee agrees that during the time of his employment with Employer, he/she will not accept nor will he/she engage in employment, consulting or other business activity directly related to the business of the Employer.
5. CONFIDENTIALITY:
Employee acknowledges that he/she may have access to the Employer
'
s confidential and proprietary information. Such confidential information may include, without limitation: i) business and financial information, ii) business methods and practices, iii) technologies and technological strategies, iv) marketing strategies and other such information as the Employer may designate as confidential (
"Confidential Information
"). Employee agrees to not disclose to any other person (unless required by law) or use for personal gain any Confidential Information at any time during or after the termination of employment, unless Employer grants express, written consent of such a disclosure. In addition, Employee will use his/her best efforts to prevent any such disclosure. Confidential information will not include information that is in the public domain, unless such information falls into public domain through Employee
'
s unauthorized actions.
6. NON-COMPETE AGREEMENT:
Following the termination of employment, Employee agrees not to engage in any business similar to or in competition with the business of the Employer in the geographical area for a period of __________________ (e.g. six months) within a radius of ______________ miles of Employer
'
s home address. For purposes of this agreement, engaging
"in any business similar to, or in competition with the business of Employer
" shall include, without limitation: (i) engaging in such a business as an owner, partner or agent; (ii) taking employment with a third party engaged in such business either as an employee, contractor or consultant; or (iii) soliciting customers for the benefit of a third party engaged in such business.
7. NON-SOLICITATION OF EMPLOYEES:
Employee agrees that for a period of ______________ (e.g. six months) following the termination of his/her employment, Employee will not induce, recruit or solicit any of the Employer
'
s employees to terminate their employment or enter into another employment arrangement with a third party.
8. INVENTIONS:
A. Disclosure:
During the course of his/her employment, Employee agrees to promptly give full written disclosure to Employer of all inventions, discoveries, improvements, developments and innovations, conceived in whole or in part by Employee, directly or indirectly that: (i) result from work performed on behalf of Employer, (ii) relate in any manner to Employer
'
s business or (iii) result from the use of Employer
'
s materials, time, resources, employees or facilities (collectively the
"Inventions
").
B. Assignment/Assistance:
Employee hereby assigns all right, title, and interest to the Inventions to Employer, its successors and assigns. Furthermore, with respect to the Inventions, during the course of his/her employment and after its termination, Employee agrees to: (i) assist Employer in obtaining copyrights, patents, or any other intellectual rights; (ii) provide all pertinent information and data to Employer, (iii) execute all applications, assignments and other instruments as required by Employer; and (iv) at Employer
'
s request and expense, assist in the defense and prosecution of its intellectual rights in the Inventions.
9. OTHER RULES AND POLICIES:
Employee agrees to abide by any other rules, policies or procedures as communicated by Employer that are generally applicable to employees of Employer.
10. TERMINATION:
This is an
"at-will
" employment relationship and may be terminated by either Employer or Employee at any time (except for terminations that would be in violation of federal or state law).
11. RETURN OF PROPERTY:
Upon termination of employment, Employee will return to Employer all drawings, documents, and other tangible manifestations of Confidential Information (and all copies and reproductions thereof). In addition, Employee will return any other property belonging to Employer including without limitation: computers, office supplies, money and documents.
12. CONTINUING OBLIGATIONS:
Notwithstanding the termination of Employee for any reason, the provisions of paragraph 5, 6, 7 and 8 of this Agreement will continue in full force and effect following such termination.
13. BINDING EFFECT:
The covenants and conditions contained in the Agreement shall apply to and bind the Parties and the heirs, legal representatives, successors and permitted assigns of the Parties.
14. CUMULATIVE RIGHTS:
The Parties
'
rights under this Agreement are cumulative, and shall not be construed as exclusive of each other unless otherwise required by law.
15. WAIVER:
The failure of either party to enforce any provisions of this Agreement shall not be deemed a waiver or limitation of that party's right to subsequently enforce and compel strict compliance with every provision of this Agreement.
16. SEVERABILITY:
If any part or parts of this Agreement shall be held unenforceable for any reason, the remainder of this Agreement shall continue in full force and effect. If any provision of this Agreement is deemed invalid or unenforceable by any statute, ordinance or court of competent jurisdiction, and if limiting such provision would make the provision valid, then such provision shall be deemed to be construed as so limited.
17. ENTIRE AGREEMENT:
This Agreement constitutes the entire agreement between the Parties and supersedes any prior understanding or representation of any kind preceding the date of this Agreement. There are no other promises, conditions, understandings or other agreements, whether oral or written, relating to the subject matter of this Agreement. This Agreement may be modified in writing and must be signed by both Employee and Employer.
18. NOTICE:
Any notice required or otherwise given pursuant to this Agreement shall be in writing and mailed certified return receipt requested, postage prepaid, or delivered by overnight delivery service, addressed as follows:
________________________________
________________________________
________________________________
________________________________
________________________________
________________________________
Either party may change such addresses from time to time by providing notice as set forth above.
19. GOVERNING LAW:
This Agreement shall be governed by and construed in accordance with the laws of the State of _______________________________.
IN WITNESS WHEREOF, the parties have caused this Agreement to be executed the day and year first above written.
EMPLOYER:
___________________________________________________
__________________________________
__________________________________
EMPLOYEE:
____________________________________________________
___________________________________
You've found your form, but will you need others? If there are other related forms you may need in the future, it may be beneficial to look at our combo packages. On average, customers who purchase a combo package save 40% on the related forms they need. Take a look at the combo packages below to see if one is right for you.

New Hire Forms Combo Package
Get 8 forms for just $39.95

Save 62%!

Premier Employment Forms Combo Packages
Get 13 forms for just $39.95

Save 70%!

New Hire Forms Combo Package
Get 8 forms for just $39.95

Save 62%!

Premier Employment Forms Combo Packages
Get 13 forms for just $39.95

Save 70%!
Looking for something else?