Independent Contractor Agreement
For use when hiring a contractor to provide specific services. This agreement sets forth the detailed terms including scope and duration of the project and that the independent contractor is not eligible for employer benefits.
File types included
Microsoft Word
Adobe PDF
Rich Text Format
Compatible with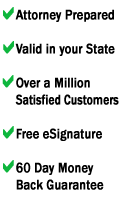 For Immediate Download
$12.95
Add to Cart
Free eSignature included
with every order
Please select a state
Attorney prepared
Our forms are kept up-to-date and accurate by our lawyers
Unlike other sites, every document on FindLegalForms.com is prepared by an attorney, so you can be sure that you are getting a form that is accurate and valid in your state.
Valid in your state
Our forms are guaranteed
to be valid in your state
Our team works tirelessly to keep our products current. As the laws change in your state, so do our forms.
Over 3,500,000
satisfied customers
In over 10 years of creating and selling legal forms, our focus has never changed: providing our customers high quality legal products, low prices and an experience that takes some confusion out of the law.
Free eSignature
Sign your form online, free with any form purchase
We now provide a free Electronic Signature Service to all of our visitors. There are no hidden charges or subscription fees, it's just plain free.
60-Days Money Back
Try our forms with no risk
If you are unhappy with your form purchase for any reason at all, contact us within 60 days and we will refund 100% of your money back.
An Independent Contractor Agreement is a contract entered between an individual or any type of a business entity (referred to as an Independent Contractor) to provide services to another individual or business entity. The Independent Contractor is not considered an employee and is not entitled to the usual benefits that apply to employees.
This legal document is designed to specify the terms and conditions by which the Independent Contractor will perform services. The Independent Contractor Agreement is useful since it documents the basic terms, scope of the work and the compensation that the Independent Contractor will receive for performing in accordance to the agreement. Furthermore, the company or individual that is hiring the Independent Contractor is also protected by confirming that an employer/employee relationship has not been established and specifying any causes for ending the relationship.
This packet also contains simple step-by-step instructions that will guide you through each provision to help you completely understand the terms and conditions of this Independent Contractor Agreement.
The following important clauses are included in this Independent Contractor Agreement:
Parties: Identifies the Contractor and the company or individual to the employment relationship;
Services: Identifies the scope of the work that the Independent Contractor will provide;
Term: Lays out the duration of the agreement;
Consideration: The sum the Independent Contractor will receive for his services;
Costs: Expenses that the Independent Contractor will not be responsible for;
Status: Explains that the Independent contractor is not considered an employee and will not receive any applicable employee benefits;
Termination: Conditions that allow the agreement to be terminated;
Confidentiality: Unless the company provides written permission, or the contractor is mandated by law, the contractor will not reveal any confidential knowledge obtained during or after the period of the agreement;
Protect your Rights and Property, by using our professionally prepared up-to-date forms.
This lawyer prepared packet includes:

Step by step guide and checklist for the Independent Contractor Agreement;
Important facts regarding this legal agreement;
Easy to understand Instructions for completing the document;
Independent Contractor Agreement.

State Law Compliant: This form is designed for use in your state.
Dimensions
Designed for Letter Size (8.5" x 11")
Editable
Yes (.doc, .wpd and .rtf)
Usage
Unlimited number of prints
This is the content of the form and is provided for your convenience. It is not necessarily what the actual form looks like and does not include the information, instructions and other materials that come with the form you would purchase. An actual sample can also be viewed by clicking on the "Sample Form" near the top left of this page.
Independent Contractor Agreement
This Packet Includes:
1. General Instructions and Checklist
2. Information
3. Step-by-Step Instructions
4. Independent Contractor Agreement
Instructions and Checklist
Independent Contractor Agreement
q The Company should review the Agreement to ensure that it does not contain any provisions that are inconsistent with its existing rules or policies (e.g. the company employment manual).
q A representative of the Company must sign the Agreement.
q The Independent Contractor must sign the Agreement.
q The Agreement should be signed at the beginning of the term of service.
q Generally both the Company and the Independent Contractor each retain an original signed Agreement; therefore, at least two original copies of the Agreement should be executed (i.e. signed).
q This form should not be used if the Independent Contractor is considered an employee of the Company.
q Laws vary from time to time and from state to state. These forms are not intended to be and are not a substitute for legal advice. These forms should only be a starting point for you and should not be used or signed before first consulting with an attorney to ensure that it addresses your particular situation. An attorney should be consulted before negotiating any document with another party.
q The purchase and use of these forms is subject to the "Disclaimers and Terms of Use" found at findlegalforms.com.
General Information
Independent Contractor Agreement
An Independent Contractor Agreement is an agreement between a company and an independent contractor (not an employee) that provides the terms and conditions by which the independent contractor will provide services to the company. An independent contractor, by definition, is someone who earns money from their own independent business rather than being reliant on an employer to earn a living.
The Independent Contractor Agreement serves a number of beneficial purposes. It provides the independent contractor with the basic conditions, project parameters and terms of payment for his/her service to the company. The Independent Contractor Agreement can also protect the company by, among other things, clarifying the company's expectations for the independent contractor, reaffirming that an employer/employee relationship is not created and laying out reasons for termination of the relationship.
It is important to take care to keep the independent contractor relationship clearly defined by both parties for tax purposes. This is accomplished not only by an Independent Contractor Agreement, but by the conduct of the parties. Common law rules state that the IRS looks at certain standards to determine whether the employment relationship is truly independent. The three most important tests are; behavioral (does the company control the worker?), financial (are business aspects of the worker's job controlled by the payer?), and the type of relationship (written contracts, employee benefits). Remember that if a dispute ever arises and it is taken to court, the court will look at the nature of the relationship as whole, not just the Independent Contractor Agreement. So it is important to keep the boundaries between the parties clearly defined at every opportunity.
Advantages for the Employer
From the Employer's perspective there are many advantages to employing independent contractors as opposed to regular employees. The most direct result is that using independent contractors will save you money. Although independent contractor's pay may be slightly higher initially, the employer will not need to pay a number of expenses such as employer provided benefits, social security, state unemployment insurance, and worker's compensation.
The employer will also enjoy greater flexibility. Independent contractors are often hired for a specific purpose. Once the job is completed they can move on. There are no lingering issues due to the termination of the relationship or the legal entanglements that often come with terminating a salaried employee.
Employing independent contractors reduces your exposure to legal actions as well. With regular employees, business owners are held to comply with a myriad of state and federal labor laws. This is not the case when dealing with an independent contractor, while although subject to many state and federal laws the number and extent of the burden is greatly reduced. This minimizes legal exposure for the employer and cuts down on time and expense dealing with compliance state and federal regulations.
Advantages for the Independent Contractor
There are many advantages to working as an independent contractor. One of the most obvious of course is that you are able to be your own boss. You can negotiate your own terms of employment, such as pay and duration of the job.
Generally, independent contractors are paid more for the same job as an employee. By some estimates, independent contractors make from 20%-40% more per hour than employees performing the same work. Employers can pay more to independent contractors because they are not obligated to pay costs associated with employees such as social security, unemployment insurance and workers compensation.
There are tax advantages to being an independent contractor as well. Because independent contractors do not have taxes taken out of their checks when they are initially paid, they can hold onto their money longer. Rather than paying taxes with each paycheck, contractors pay their taxes in quarterly installments. There are also a lot of tax deductions available to independent contractors. The IRS allows deductions for business expenses that are "reasonable and ordinarily incurred." These allowable deductions can include things like travel, office expenses, meals, equipment and insurance.
Most states will enforce this type of agreement. It is best, however, if the independent contractor signs the Independent Contractor Agreement at the beginning of his/her service term, then it becomes a condition of his/her engagement with the company.
Employment relationships are governed by both federal and state law. Many of the state laws differ dramatically, therefore the company and the independent contractor should become familiar with the laws of their specific state and the federal government before entering into this type of arrangement. In addition, before using the form you should always consult with your attorney to ensure that it addresses you specific situation.
Step by Step Instructions
Independent Contractor Agreement
The following instructions will walk you through each provision to help you fully understand the terms of you're agreement.
Introduction: Fill in the month, day and year that the agreement is being entered into. It is wise to have this document dated at the onset of the employment relationship. It then becomes a condition of the contractor's service with the company. Enter the full name of the Company and the Contractor (the "Parties").
Section 1: Services. Fill in the services to be performed by the Contractor. This portion should be carefully spelled out to avoid any confusion down the road. It is important to fill out the services, but not how he/she should perform the work. This is important so as to maintain the independent contractor status of the Contractor. Fill in the minimum hours per week that the Company expects the Contractor to work.
Section 2: Term. State the beginning and end date of the Agreement. The beginning date should be the date the Agreement is being entered into in Section 1.
Section 3: Compensation. Fill in the amount that will be paid to the Contractor, and when (monthly, weekly, etc.) that the payment will be made.
Section 4: Expenses. The Agreement should make it clear what expenses will be covered by the Contractor and by the Company. Such expenses could include things like travel, meals and equipment.
Section 5: Independent Contractor. This statement re-affirms that the Contractor is not an employee of the Company and as such is not entitled to any benefits that would normally be given to employees.
Section 6: Confidentiality. This clause provides a definition for confidential information and prohibits the Employee from disclosing that information. This is a standard provision in an Independent Contractor Agreement. Review the provision and if you feel that more protection is necessary, it is possible to enter into a stand alone Non-Disclosure Agreement.
Section 7: Rules and Other Policies. This section states that the Contractor will be obligated to abide any other rules or policies as communicated by the Company.
Section 8: Termination. This type of termination clause is fairly standard to Independent Contractor Agreements. This clause gives both parties the right to terminate the Agreement if there is a breach in the Agreement and the breach is not remedied within five days after written notice has been given. Further, the Company can terminate the Agreement due to death, disability or illness of the Contractor. The Contractor may terminate the contract in the event that the Company goes bankrupt.
Section 9: Return of Property. Upon the termination of the business relationship the Employee will be required to return all business materials belonging to the Company. This may seem obvious, but without this provision, it is possible for the Company to lose valuable inventory.
Section 10: Continuing Obligations. When the employment relationship is terminated, the provisions of section 6 will continue.
Section 11: Binding Effect. The terms of this Agreement will bind the parties, heirs, legal representatives, successors and assigns.
Section 12: Cumulative Rights. This clause states that all the provisions work together as a cohesive agreement. One provision cannot be separated from the other.
Section 13: Waiver. Failing to enforce a particular provision of an agreement could be interpreted as waiver by conduct. In other words, failure to enforce a provision could be interpreted as giving up the right to enforce the provision in the future. This provision protects against this, stating that failure to enforce a provision does not prevent a party from enforcing the provision in the future.
Section 14: Severability. This severability clause serves to preserve the agreement should a portion of it ever be invalidated by the court. Without this clause, a finding that one provision is unenforceable would invalidate the entire agreement.
Section 15: Entire Agreement. This agreement is considered the complete agreement between the parties. Any prior agreements are invalid. If either party chooses to modify this agreement in any way, the modification must be put in writing.
Section 16: Notice. Any notice to either party must be in writing and mailed to the addresses that you will fill in here. When sending legal notice to the other party, always keep a copy of what is being sent.
Section 17: Governing Law. This is the state whose laws you wish to be used to interpret the agreement. Generally, this will be the state where you are doing business or employed.
Signature Blocks: Each party should sign and date two original agreements. Each party should retain an original for their reference.
DISCLAIMER:
FindLegalForms, Inc. ("FLF") is not a law firm and does not provide legal advice. The use of these materials is not a substitute for legal advice. Only an attorney can provide legal advice. An attorney should be consulted for all serious legal matters. No Attorney-Client relationship is created by use of these materials.
THESE MATERIALS ARE PROVIDED "AS-IS." FLF DOES NOT GIVE ANY EXPRESS OR IMPLIED WARRANTIES OF MERCHANTABILITY, SUITABILITY OR COMPLETENESS FOR ANY OF THE MATERIALS FOR YOUR PARTICULAR NEEDS. THE MATERIALS ARE USED AT YOUR OWN RISK. IN NO EVENT WILL: I) FLF, ITS AGENTS, PARTNERS, OR AFFILIATES; OR II) THE PROVIDERS, AUTHORS OR PUBLISHERS OF ITS MATERIALS, BE RESPONSIBLE OR LIABLE FOR ANY DIRECT, INDIRECT, INCIDENTAL, SPECIAL, EXEMPLARY, OR CONSEQUENTIAL DAMAGES (INCLUDING, BUT NOT LIMITED TO, PROCUREMENT OF SUBSTITUTE GOODS OR SERVICES; LOSS OF USE, DATE OR PROFITS; OR BUSINESS INTERRUPTION) HOWEVER USED AND ON ANY THEORY OF LIABILITY, WHETHER IN CONTRACT, STRICT LIABILITY, OR TORT (INCLUDING NEGLIGENCE OR OTHERWISE) ARISING IN ANY WAY OUT OF THE USE OF THESE MATERIALS.
Independent Contractor Agreement
This Independent Contractor Agreement (the "Agreement") is made and entered on _____________________________________________, ___________, by and between _____________________________________________________ (the "Company") and _____________________________________________________ ("Contractor") (collectively referred to as the "Parties").
The Parties agree as follows:
1. SERVICES: The Company shall engage Contractor to provide the following services:
________________________________________________________________________
________________________________________________________________________
________________________________________________________________________
Contractor will determine the method, details, and means of performing the Services; however, Contractor agrees to devote a minimum of ________ hours per week to performing the services described above.
2. TERM: Contractor shall provide services to the Company pursuant to this Agreement for a term beginning on _______________________ and ending on _________________________________ (the "Agreement Term").
3. Compensation: For services provided, the Company will pay Contractor ______________________. Payment shall be made _____________________ (e.g. monthly, biweekly or at the completion of the project).
4. EXPENSES: Contractor shall bear all expenses incurred in the performance of this Agreement except ___________________________________________.
5. INDEPENDENT CONTRACTOR. Contractor is an independent contractor and not an employee of the Company, and, unless otherwise stated in this Agreement, is not entitled to any of the benefits normally provided to the employees of the Company.
6. CONFIDENTIALITY: Contractor acknowledges that he/she may have access to the Company's confidential and proprietary information. Such confidential information may include, without limitation: i) business and financial information, ii) business methods and practices, iii) technologies and technological strategies, iv) marketing strategies and v) other such information as the Company may designate as confidential ("Confidential Information"). Contractor agrees to not disclose to any other person (unless required by law) or use for personal gain any Confidential Information at any time during or after the Agreement Term, unless the Company grants express, written consent of such a disclosure. In addition, Contractor will use his/her best efforts to prevent any such disclosure. Confidential information will not include information that is in the public domain, unless such information falls into public domain through Contractor's unauthorized actions.
7. OTHER RULES AND POLICIES: Contractor agrees to abide by any other rules, policies and procedures as communicated by the Company.
8. TERMINATION: This Agreement may be terminated early for the following reasons:
• By the Company
(i) If Contractor fails to perform his/her duties or materially breaches any obligation in the Agreement, and the failure or breach is not corrected within five days of receiving written notice from the Company; or
(ii) If Contractor is unable to provide the services in this Agreement due to illness, death or disability.
• By the Contractor
(i) If the Company materially breaches any obligation in the Agreement and such breach is not corrected within five days of receiving written notice from the Contractor; or
(ii) If the Company files for bankruptcy.
9. RETURN OF PROPERTY: Upon termination of services, Contractor will promptly return to the Company all drawings, documents and other tangible manifestations of Confidential Information (and all copies and reproductions thereof). In addition, Contractor will return any other property belonging to the Company including without limitation: computers, office supplies, money and documents.
10. CONTINUING OBLIGATIONS: Notwithstanding the termination of this Agreement for any reason, the provisions of paragraph 6 of this Agreement will continue in full force and effect following such termination.
11. BINDING EFFECT: The covenants and conditions contained in the Agreement shall apply to and bind the Parties and the heirs, legal representatives, successors and permitted assigns of the Parties.
12. CUMULATIVE RIGHTS: The Parties' rights under this Agreement are cumulative, and shall not be construed as exclusive of each other unless otherwise required by law.
13. WAIVER: The failure of either party to enforce any provisions of this Agreement shall not be deemed a waiver or limitation of that party's right to subsequently enforce and compel strict compliance with every provision of this Agreement.
14. SEVERABILITY: If any part or parts of this Agreement shall be held unenforceable for any reason, the remainder of this Agreement shall continue in full force and effect. If any provision of this Agreement is deemed invalid or unenforceable by any court of competent jurisdiction, and if limiting such provision would make the provision valid, then such provision shall be deemed to be construed as so limited.
15. ENTIRE AGREEMENT: This Agreement constitutes the entire agreement between the Parties and supersedes any prior understanding or representation of any kind preceding the date of this Agreement. There are no other promises, conditions, understandings or other agreements, whether oral or written, relating to the subject matter of this Agreement. This Agreement may be modified in writing and must be signed by both the Company and Contractor.
16. NOTICE: Any notice required or otherwise given pursuant to this Agreement shall be in writing and mailed certified return receipt requested, postage prepaid, or delivered by overnight delivery service, addressed as follows:
The Company:
________________________________
________________________________
________________________________
Contractor:
________________________________
________________________________
________________________________
Either party may change such addresses from time to time by providing notice as set forth above.
17. GOVERNING LAW: This Agreement shall be governed by and construed in accordance with the laws of the State of _______________________________.
[The remainder of this page intentionally left blank.]
IN WITNESS WHEREOF, the parties have caused this Agreement to be executed the day and year first written above.
THE COMPANY:
___________________________________________________
(Signature)
___________________________________________________
(Name – Please Print)
___________________________________________________
(Position)
CONTRACTOR:
___________________________________________________
(Signature)
___________________________________________________
(Name – Please Print)
You've found your form, but will you need others? If there are other related forms you may need in the future, it may be beneficial to look at our combo packages. On average, customers who purchase a combo package save 40% on the related forms they need. Take a look at the combo packages below to see if one is right for you.

Premier Employment Forms Combo Packages
Get 13 forms for just $39.95

Save 70%!
Customer Reviews
Average Rating:
Reviews: 8
---





It fit perfectly in our wheel house. It did exactly what we wanted it to do. Thank you
---





I was under pressure to find a legal form ASAP and get it filled out. I had to get help from the support team to get the form sent to me, as my computer is old and I was having trouble downloading it. The service team was real resposive and helped me get the job done. Thank you greatly, YJ
---





I found exactly what I needed, the price was great, and the service was excellent!
---





Awesome sales contract! It was perfect for the type of business relationship I have as an independent sales rep. Thank you, Jeremy "Judge" Honor
---





The document was very user and I'll use Find Legal Forms again in the future.
---
View More