Finders Agreement
for Your State
This Finder Agreement sets forth the arrangement between a producer and a finder who will obtain financing for a motion picture. Terms such as the roles of the parties and compensation are set out in the agreement. This form is designed for use in all states and is available for immediate download.
For Immediate Download
$19.95
Add to Cart
Free eSignature included
with every order
Please select a state
File types included
Microsoft Word
Adobe PDF
WordPerfect
Rich Text Format
Compatible with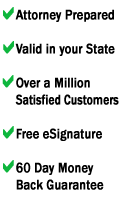 For Immediate Download
$19.95
Add to Cart
Free eSignature included
with every order
Please select a state
Attorney prepared
Our forms are kept up-to-date and accurate by our lawyers
Unlike other sites, every document on FindLegalForms.com is prepared by an attorney, so you can be sure that you are getting a form that is accurate and valid in your state.
Valid in your state
Our forms are guaranteed
to be valid in your state
Our team works tirelessly to keep our products current. As the laws change in your state, so do our forms.
Over 3,500,000
satisfied customers
In over 10 years of creating and selling legal forms, our focus has never changed: providing our customers high quality legal products, low prices and an experience that takes some confusion out of the law.
Free eSignature
Sign your form online, free with any form purchase
We now provide a free Electronic Signature Service to all of our visitors. There are no hidden charges or subscription fees, it's just plain free.
60-Days Money Back
Try our forms with no risk
If you are unhappy with your form purchase for any reason at all, contact us within 60 days and we will refund 100% of your money back.
This Finder Agreement is designed for the entertainment industry. This agreement effectively sets forth the arrangement between a finder and producer with respect to financing and distribution of a motion picture. Terms such as compensation, obligations, relationship of parties and representations and warranties are clearly set out within the agreement. It is crucial that this type of business agreement be in writing. A well-written Finder Agreement will be valuable if the parties have disagreements or misunderstandings about the intent of the arrangement.
This Finder Agreement contains the following provisions:
Parties: Identifies the finder and producer;
Roles: The specific roles of the parties and the title of the motion picture;
Services: Finder will put forth all efforts to introduce producer to parties interested in financing, investing or lending money for the picture;
Compensation: Compensation paid to finder in terms of percentage of financing obtained;
Sale of Securities: Finder agrees not to sell or offer securities related to financing of the picture;
Relationship: Finder is considered an independent contractor;
Arbitration: Controversies or claims arising from this agreement will be resolved through binding arbitration;
Signatures: Finder and producer must both sign the agreement.
Protect Yourself and Your Rights by using our attorney-prepared forms.
This attorney-prepared packet contains:
General Information
Finder Agreement
State Law Compliance:
This form complies with the laws of all states
Dimensions
Designed for Letter Size (8.5" x 11")
Editable
Yes (.doc, .wpd and .rtf)
Usage
Unlimited number of prints
This is the content of the form and is provided for your convenience. It is not necessarily what the actual form looks like and does not include the information, instructions and other materials that come with the form you would purchase. An actual sample can also be viewed by clicking on the "Sample Form" near the top left of this page.
FINDER AGREEMENT
THIS AGREEMENT, made and entered into as of _________________, by and between _________________ (
"Finder
") and _________________ (
"Producer
") with respect to the following facts:
A. Producer owns, controls or otherwise has the right to produce a screenplay tentatively entitled _________________ (
"Picture
") written by _________________.
B. Finder is a company engaged in financing and distribution activities in the motion picture business.
C. The parties want to enter an agreement whereby Finder would be encouraged to introduce Producer to third parties (herein collec
tively referred to as the
"Financier
" or
"Financiers
"), who may be interested in lending for, investing in, or in any other way financing all or a portion of development, production and/or distribution of the Picture.
WHEREFORE, for good and valuable consideration, the parties agree as follows:
1. SERVICES; TERM: Commencing on the date hereof, and continuing until the earlier of (a) termination by either party of this Agreement, or (b) the concluding of an agreement between Producer (or any designee, assignee, transferee, or other successor-in-interest of Producer in or to the Screenplay and/or Picture, collectively referred to hereinafter as
"Producer
") and a Finan
cier, Finder shall use its best efforts to introduce Producer to parties who may be interested in financing, investing or lending money with respect to the production of the Picture or otherwise in becoming a Financier. The foregoing period of time is herein
after referred to as the
"Term.
"
2. COMPENSATION: If at any time during the Term or any time thereafter, Producer enters into any agreement with any Financier to invest in, lend for, or finance production and/or distribution of the Picture, then Finder shall receive an amount equal to five percent of the amount of any funds, credits or other considera
tion paid or lent by Financiers to Producer and used by Producer in the development and Production of the Picture, provided, that the amounts paid to Finder shall not exceed a total of $_________________. Moreover, if Finder obtains ninety percent (90%) or more of the total financing needed to produce the Picture, _________________
shall receive
"Executive Producer
" credits. Finder shall receive his/her Commission when Producer has the right to use the amounts provided by financier(s).
3. NO OBLIGATION: Nothing in this agreement shall obligate Pro
ducer to enter into an agreement with any Financiers.
4. NO
SALE
OF SECURITIES: Finder agrees not to sell or offer to sell securities related to investing in the development and/or production of the Picture. Finder agrees to indemnify and hold Producer harmless from all damage and expense (including reasona
ble attorneys' fees) upon a breach or claim of breach of this provision.
5. RELATIONSHIP OF THE PARTIES: Finder is an independent contrac
tor and shall not act as an employee, agent or broker of Produc
er.
6. FINDER'S REPRESENTATIONS AND WARRANTIES:
Finder represents and warrants to Producer that the following statements as true and correct in all respects:
A. Finder is in the business of arranging financing and interna
tional distribution of motion pictures, has substantial experi
ence in said business, is not insolvent or in any danger of insolvency or bankruptcy, and is not in dissolution proceedings.
B. Finder represents and warrants to Producer that it has the full and complete authority to enter into this agreement, and that there is no outstanding claims or litigation pending against Finder.
If Finder breaches any of its warranties and representations, or otherwise breaches this agreement, Producer, in addition to its other equitable and legal remedies, may rescind this agreement and recover any reasonable amounts expended by Producer in de
veloping or exploiting this property with Finder, and reasonable attorney fees. Finder shall at all times indemnify and hold Producer, its licensees, assignees, officers, employees and agents harmless against and from any and all claims, damages, liabilities cost and expenses, including reasonable attorney fees arising out of any breach or alleged breach by Finder of any of representation, warranty or other provision hereof.
7. ADDITIONAL DOCUMENTS: Finder agrees to execute, acknowledge and deliver to Producer and to procure the execution, acknowledgment and delivery to Producer of any additional documents or instruments which Producer may reasonably require to fully effec
tuate and carry out the intent and purposes of this agreement.
8. ARBITRATION: Any controversy or claim arising out of or relat
ing to this Agreement or the validity, construction or perfor
mance of this Agreement or the breach thereof, shall be resolved by arbitration according to the rules and procedures of the American Arbitration Association, as they may be amended. Such rules and procedures are incorporated herein and made a part of this Agreement by reference. The parties agree that they will abide by and perform any award rendered in any such arbitration and that any court having jurisdiction may issue a judgment based upon the award. Moreover, the prevailing party shall be entitled to reimbursement of reasonable attorney fees and costs.
9. ASSIGNMENT: Finder shall not have the right to assign this agreement or any part hereof.
10. SECTION HEADINGS: The headings of paragraphs, sections and other subdivisions of this agreement are for convenient reference only. They shall not be used in any way to govern, limit, modi
fy, construe this agreement or any part or provision thereof or otherwise be given any legal effect.
11. ENTIRE AGREEMENT: This agreement contains the full and complete understanding and agreement between the parties with respect to the within subject matter, and supersedes all other agreements between the parties whether written or oral relating thereto, and may not be modified or amended except by written instrument executed by both of the parties hereto. This agree
ment shall in all respects be subject to the laws of the State of _________________ applicable to agreements executed and wholly performed within such State.
_______________________________
_______________________________
You've found your form, but will you need others? If there are other related forms you may need in the future, it may be beneficial to look at our combo packages. On average, customers who purchase a combo package save 40% on the related forms they need. Take a look at the combo packages below to see if one is right for you.

Motion Picture Producer Combo Package
Get 40 forms for just $99.95

Save 87%!
Best Value! This kit includes a comprehensive library of forms for film producers.
Looking for something else?