Patent License Agreement
for Your State
This Patent License Agreement is between a patent owner and a party who will use the patent for a specified purpose. This license agreement does not assign or change ownership in the patent. This form is for use in all states and is available for immediate download.
For Immediate Download
$19.95
Add to Cart
Free eSignature included
with every order
Please select a state
File types included
Microsoft Word
Adobe PDF
WordPerfect
Rich Text Format
Compatible with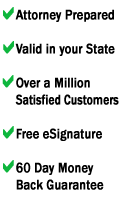 For Immediate Download
$19.95
Add to Cart
Free eSignature included
with every order
Please select a state
Attorney prepared
Our forms are kept up-to-date and accurate by our lawyers
Unlike other sites, every document on FindLegalForms.com is prepared by an attorney, so you can be sure that you are getting a form that is accurate and valid in your state.
Valid in your state
Our forms are guaranteed
to be valid in your state
Our team works tirelessly to keep our products current. As the laws change in your state, so do our forms.
Over 3,500,000
satisfied customers
In over 10 years of creating and selling legal forms, our focus has never changed: providing our customers high quality legal products, low prices and an experience that takes some confusion out of the law.
Free eSignature
Sign your form online, free with any form purchase
We now provide a free Electronic Signature Service to all of our visitors. There are no hidden charges or subscription fees, it's just plain free.
60-Days Money Back
Try our forms with no risk
If you are unhappy with your form purchase for any reason at all, contact us within 60 days and we will refund 100% of your money back.
A patent owner will often grant a license to another for use of the patent. A patent license is not an assignment and ownership of the patent does not change. This Patent License Agreement is between the owner of the patent (the "Licensor") and the party to whom a license is granted (the "Licensee"). This agreement sets out the specific terms of the license including the intended use of the patent, whether the license is exclusive or nonexclusive and term of the license agreement. It also sets out any royalty fees Licensor will pay to Licensee and the rights to sublicense the patent. It is important that this license agreement be memorialized in writing. A written Patent License Agreement will be invaluable in the event there are disagreements or misunderstandings between the parties.
This Patent License Agreement contains the following provisions:
Parties: Sets out the identities of the Licensor and Licensee;
Patent: A brief description of the invention and patent number;
Intended Use: Brief description of Licensee's intended use of the patent;
Grant of License: Sets out the specific uses for which Licensee will grant the license and whether it is exclusive or non-exclusive;
License Term: The specific term of the license and rights under which the Licensor can terminate the license;
Payments: Sets out the details of royalty payments Licensee will pay to Licensor for use of the patent including the submission of written quarterly reports;
Sublicense/Assignment: Licensee has the right to sublicense under this agreement but does not have the rights to assign its duties under this agreement without Licensor's prior written approval;
Signatures: Both parties must sign the agreement.
Protect your Rights and Property by using our professionally-prepared up-to-date forms.
This attorney-prepared packet contains:
General Instructions
General Information
Step-by-Step Instructions
Patent License Agreement
State Law Compliance:
This form complies with the laws of all states
Dimensions
Designed for Letter Size (8.5" x 11")
Editable
Yes (.doc, .wpd and .rtf)
Usage
Unlimited number of prints
This is the content of the form and is provided for your convenience. It is not necessarily what the actual form looks like and does not include the information, instructions and other materials that come with the form you would purchase. An actual sample can also be viewed by clicking on the "Sample Form" near the top left of this page.
Patent License Agreement
This Packet Includes:
1. General Instructions
2. General Information
3. Step-by-Step Instructions
4. Patent License Agreement
General Instructions
Patent License Agreement
This kit includes information and tools that will assist you in drafting a patent license agreement, licensing the use of a United States patent.
A patent is a legal device that protects inventors, prohibiting other persons from producing or profiting from their inventions for a defined period of time. While the patent owner holds certain exclusive rights to make and market the invention, the owner is entitled to transfer those rights to another party either completely, by way of an assignment, or for a limited time, duration or scope, by way of a license.
Included in this kit is a sample form for drafting a patent license agreement, along with general instructions explaining the significance and operation of each provision in the agreement.
NOTE: This kit is designed to be used as a guide for drafting your own agreement. You are advised to have a competent patent attorney review any patent license agreement before you sign it.
General Information
Patent License Agreement
A patent is a legal device that protects an inventor and his invention. The patent prohibits other persons from using or profiting from that invention for a specific period of time, during which the inventor has the exclusive right to exploit the invention.
In order to qualify for a patent, the invention must be a new and useful process, machine, manufacture, or composition of matter (or any new and useful improvement thereof). Further, the material to be patented must be novel and non-obvious.
The owner or registrant of a patent has the right under U.S. patent law to license the use of the patent to other persons. Patent licenses are not assignments, and they do not transfer ownership of the patent. Instead, they act as agreements on the part of the owner not to prevent the licensee from exploiting the patent.
Patent assignments may be registered with the U.S. Patent and Trademark Office (USPTO), the patent will be issued to the assignee upon approval of the application. However, whereas patent assignments enjoy a host of benefits and protections by virtue of being recorded, patent licenses enjoy only limited benefits. The primary benefit of recording your patent license in the USPTO is that it creates a public record, giving subsequent purchasers of the patent constructive knowledge of the existence of an outstanding licensee.
It is worth noting that recordation also renders the patent license agreement becomes a public document. It may therefore not be in your interests to record such a license if the agreement granting the license contains confidential information you would not want to become available for public consumption.
If you do choose to record your patent license with the USPTO, you may need to accompany your submitted license agreement with a cover sheer, which must include the following information (reproduced from CFR §3.31):
1. The name of the party conveying the interest;
2. The name and address of the party receiving the interest;
3. A description of the interest conveyed or transaction to be recorded;
4.
Identification of the interests involved:
a. For trademark assignments and trademark name changes: Each trademark registration number and each trademark application number, if known, against which the U.S. Patent and Trademark Office (USPTO) is to record the document. If the trademark application number is not known, a copy of the application or a reproduction of the trademark must be submitted, along with an estimate of the date that the USPTO received the application; or
b. For any other document affecting title to a trademark or patent application, registration or patent: Each trademark or patent application number or each trademark registration number or patent against which the document is to be recorded, or an indication that the document is filed together with a patent application;
5. The name and address of the party to whom correspondence concerning the request to record the document should be mailed;
6. The date the document was executed;
7. The signature of the party submitting the document. For an assignment document or name change filed electronically, the person who signs the cover sheet must either;
a. Place a symbol comprised of letters, numbers, and/or punctuation marks between forward slash marks submission (e.g. /Thomas O'Malley III/) in the signature block on the electronic submission; or
b. Sign the cover sheet using some other form of electronic signature specified by the Director.
For more information about recording your patent license agreement or general information about U.S. patent law, visit the
USPTO website
.
Step-by-Step Instructions
Patent License Agreement
Patent License Agreements can be extremely complex. The sample agreement included in this kit is a basic agreement, addressing the key elements of licensing a patent, and receiving royalty payments in return for that license. If your situation requires treatment of more complex issues, you should consult a competent attorney who can assist you in drafting a suitable agreement.
Grant of License
The license granted in this type of agreement spells out the kinds of rights that the licensee will be able to enjoy. You may grant the licensee the right to use the patent for any purpose whatsoever. Or you may place limitations upon the licensee's use of the patent, i.e., restricting the exploitation of the patent to certain particular commercial uses, or to specific geographic areas. Make sure you describe any limitations upon licensee's permitted uses in detail, thus clearly establishing the scope and boundaries of the license.
Term
The term of the license agreement, and of the license granted therein, is generally either for a fixed period of years or for the full life of the licensor's patent. Patents generally have a life of either 17 or 20 years, depending upon when they were filed with the U.S. Patent & Trademark Office. Patents filed after June 8, 1995 have a term of 20 years from the earliest claimed filing date.
Payments
There are a number of different ways of calculating royalty payments. In some cases, a royalty is a flat amount paid based on the number of units sold by the licensee. In other cases, a royalty is computed as a percentage of the sales revenue received by the licensee in the sale of licensed products.
The simplest method of calculating the royalty as a percentage of total sales is to select a percentage of gross sales revenues from all sales of the licensed products. However, in many instances, a licensee will be given the right to deduct certain expenses from gross sales revenue before a royalty percentage is applied. For example, will the royalty be a percentage of the total gross sales received by licensee? Or will certain expenses be deducted from gross sales before the percentage is taken, i.e., the amount of products returned by customers, expenses incurred in advertising the product, etc. It is important in
this provision to define clearly the method by which royalty payments will be calculated.
Licensor's Representations and Warranties
The most basic representation that a licensor will generally be expected to make is that it has the ownership interest in the patent that it claims to have, and that it therefore has the right to grant the license in the first place. The terms of the sample agreement below state that the licensor will guarantee theses basic representations by indemnifying the licensee against any damages that the licensee might suffer due to the failure of the licensor to live up to those representations.
DISCLAIMER:
FindLegalForms, Inc. ("FLF") is not a law firm and does not provide legal advice. The use of these materials is not a substitute for legal advice. Only an attorney can provide legal advice. An attorney should be consulted for all serious legal matters. No Attorney-Client relationship is created by use of these materials.
THESE MATERIALS ARE PROVIDED "AS-IS." FLF DOES NOT GIVE ANY EXPRESS OR IMPLIED WARRANTIES OF MERCHANTABILITY, SUITABILITY OR COMPLETENESS FOR ANY OF THE MATERIALS FOR YOUR PARTICULAR NEEDS. THE MATERIALS ARE USED AT YOUR OWN RISK. IN NO EVENT WILL: I) FLF, ITS AGENTS, PARTNERS, OR AFFILIATES; OR II) THE PROVIDERS, AUTHORS OR PUBLISHERS OF ITS MATERIALS, BE RESPONSIBLE OR LIABLE FOR ANY DIRECT, INDIRECT, INCIDENTAL, SPECIAL, EXEMPLARY, OR CONSEQUENTIAL DAMAGES (INCLUDING, BUT NOT LIMITED TO, PROCUREMENT OF SUBSTITUTE GOODS OR SERVICES; LOSS OF USE, DATE OR PROFITS; OR BUSINESS INTERRUPTION) HOWEVER USED AND ON ANY THEORY OF LIABILITY, WHETHER IN CONTRACT, STRICT LIABILITY, OR TORT (INCLUDING NEGLIGENCE OR OTHERWISE) ARISING IN ANY WAY OUT OF THE USE OF THESE MATERIALS.
Patent License Agreement
THIS AGREEMENT is made this day of , 20 , by and between ("Licensor") and ("Licensee", and collectively, the "Parties").
WHEREAS, Licensor has invented (Brief description of invention) (the "Invention"), and has been granted United States Letters Patent for said invention, Patent No. (the "Patent"), granted on the patent application filed with the United States Patent and Trademark Office, Patent Application Number (the "Patent Application").
AND WHEREAS, Licensor wishes to permit Licensee to use the Patent in the preparation of (Brief description of Licensee's intended use of Patent) (the "Work"), under the terms set forth in this Agreement;
NOW THEREFORE, in consideration of the mutual promises, covenants, warranties, and other good and valuable consideration set forth herein, the Parties agree as follows:
1. Grant of License. Licensor hereby grants to Licensee a license to use the Patent in the following manner (the "License"): .
The License shall be ? exclusive ? nonexclusive.
Licensor shall remain the sole owner of the Patent. Licensee shall enjoy only the rights set forth above, and nothing in this Agreement shall entitle Licensee to make any claim to ownership of the Patent. Licensee may not make any other use of the Patent nor practice under the Patent in any manner other than those authorized above without prior written approval from Licensor.
2. Term.
a. The term of this Agreement shall begin on the date written above and shall continue in full force and effect for a period of years (the "Term"), unless terminated earlier pursuant to this the terms of this Section 2.
b. Should any one or more of the following enumerated events occur, Licensor shall have the right to terminate this Agreement:
i. Licensee does not sell units of a product based upon or comprising the Patent (a "Licensed Product") within 12 months of the date of this Agreement.
ii. Licensee ceases to sell any Licensed Product for any period of 12 consecutive months.
iii. Licensee materially breaches a material provision, term, or condition under this Agreement, including.
iv. Licensee sells all or substantially all of its assets, or experiences a Change in Control. For the purposes of this Agreement, Change in Control shall mean a sale or other transfer of equity in the Licensee, resulting in a new person or entity becoming the controlling equity holder of the Licensee.
c. In order to terminate this Agreement pursuant to Subsection (b) above, Licensor must provide written notice to Licensee or to Licensee's successor in interest within 30 days of the date of termination stating Licensor's intent to terminate and the intended date of termination.
d. In the event that this Agreement is terminated pursuant to this Section 3, Licensee shall cease using the Patent in the course of Licensee's business as soon as is commercially feasible. Licensee may sell any units of the Work that are on hand after termination of this Agreement, but shall not produce any further units.
e. At the end of the Term, or upon any termination of this Agreement, all rights and privileges granted in the Patent pursuant to the License shall revert to Licensor, and shall be the sole property of Licensor.
3. Payments.
a. Licensee shall pay to Licensor a royalty of:
per unit of the Licensed Product sold.
% of the gross sales of all Licensed Products sold.
Additional details: .
(Include any considerations, deductions, or other formulae that will be used to determine the definition of "gross sales" for the purposes of this section.)
b. Licensee shall pay to Licensor an advance against the royalties discussed in Subsection (a) above, in the amount of $ . This advance shall be paid in full to Licensor within 7 days of the execution of this Agreement.
c. Licensee shall submit to Licensor written quarterly reports (the "Quarterly Reports") at the end of each quarter of the calendar year (March 31; June 30; September 30; December 31) stating the number of units of the Licensed Product sold for the then-ending quarter, and the corresponding amount owed to Licensor as royalty payments for that quarter (the "Quarterly Royalty Payment"). Quarterly Reports must be received by Licensor no more than 7 days after the end of each quarter. Payment of each Quarterly Royalty Payment must be paid to Licensor in full within 30 days of the end of each quarter. Failure to submit Quarterly Reports or to make Quarterly Royalty Payments within the time allotted above shall be considered to be a material breach of this Agreement.
d. Licensor shall be given access by Licensee to Licensee's records, wherever and whenever commercially reasonable, in order to audit Licensee's stated sales records, and to confirm that all royalty payments are properly stated and accounted for. If it is determined that any Quarterly Royalty Payment has been deficient, Licensee shall have 14 days to pay Licensor the deficient amount. Failure to pay deficient royalty amounts within the time allotted above shall be considered to be a material breach of this Agreement.
e. In the event that this Agreement expires or is terminated pursuant to the terms and conditions under Section 2 above, Licensee shall remain obligated to pay to Licensor any royalties due to Licensor for each unit of the Work sold, whether those units were sold before or after the termination of this Agreement.
4. Licensor's Representations and Warranties.
a. Licensor represents and warrants that it is the sole and exclusive owner of the Patent, and owns all right, title and interest in the Patent.
b. Licensor represents and warrants that it has the legal authority to grant Licensee the License, and that no other person or entity is required to give its consent for the License to be valid.
c. (if License is exclusive) Licensor represents and warrants that Licensor has not licensed the Patent to any person or entity other than Licensee, nor will it license the Patent to any person or entity other than Licensee for the duration of this Agreement.
5. Licensor's Indemnification. Licensor agrees to indemnify and hold harmless Licensee for any claims, suits, damages, actions, or other costs arising out any breach of Licensor's warranties set forth in Section 4 above.
6. Licensee's Obligations. Licensee shall not take any action, nor omit to take any action, that it has reason to believe will adversely affect the value or integrity of the Patent. This shall include producing Licensed Products of a poor or dangerous quality.
7. Licensee's Indemnification. Licensee agrees to indemnify and hold harmless Licensor for any claims, suits, damages, actions, or other costs (including reasonable attorneys' fees) arising out of any claimed infringement by Licensee of any patent, copyright, trademark, or other intellectual property of any third party, where such claimed infringement arises out of Licensee's use, development, or other exploitation of the Patent.
8. Infringement. Licensee shall be responsible, at its sole expense, to defend the Patent against infringement by any third party. Any recovery made as a result of such a defense may be retained by Licensee. If Licensee has knowledge of an infringement of the Patent, Licensee shall have 6 months in which to file a suit to defend the Patent. If Licensee fails to file a suit in that time period, than Licensor shall have the right to defend the Patent at its own expense. If Licensor defends the Patent due to Licensee's failure to file suit as set forth above, Licensor shall have the right to retain any recovery made against a third party for infringement. Regardless of which Party defends the Patent, both Parties hereby agree to cooperate in any such defense, and to grant the Party defending the Patent access to any records, materials, personnel, or other resources relevant to the defense of the Patent, unless such access would not be commercially feasible.
9. Sublicense. (mark the applicable provision)
? Licensee shall have the right to sublicense this Agreement. Licensee shall be responsible for all operations and obligations of any sublicensee of this Agreement. Licensee must submit written notification of the execution of any new sublicense agreement, or of any material alteration of an existing sublicense agreement, to Licensor within 30 days of such execution or alteration.
? Licensee may not sublicense this Agreement without prior written approval of Licensor.
10. Assignment. Licensee may not assign its rights, duties or obligations under this Agreement without the prior written approval of Licensor. Licensee may, however, assign this Agreement without Licensor's prior written approval if such transfer is to a purchaser of all or substantially all of Licensee's assets, or to a purchaser or other transferee of a controlling equity interest in Licensee. Licensor shall have the right to transfer its interest in this Agreement and in the Patent without the consent of Licensee. Licensor must notify Licensee in writing in the event of that Licensor assigns all or a material part of this Agreement (the "Licensor's Notice of Assignment"). The Licensor's Notice of Assignment must be sent to Licensee within 30 days of such assignment.
11. Governing Law. This Agreement shall be construed in accordance with, and governed in all respects by, the laws of the State of ___________________, without regard to conflicts of law principles.
12. Counterparts. This Agreement may be executed in several counterparts, each of which shall constitute an original and all of which, when taken together, shall constitute one agreement.
13. Severability. If any part or parts of this Agreement shall be held unenforceable for any reason, the remainder of this Agreement shall continue in full force and effect. If any provision of this Agreement is deemed invalid or unenforceable by any court of competent jurisdiction, and if limiting such provision would make the provision valid, then such provision shall be deemed to be construed as so limited.
14. Notice. Any notice required or otherwise given pursuant to this Agreement shall be in writing and mailed certified return receipt requested, postage prepaid, or delivered by overnight delivery service, addressed as follows:
If to Licensor:
If to Licensee:
15. Headings. The headings for section herein are for convenience only and shall not affect the meaning of the provisions of this Agreement.
16. Entire Agreement. This Agreement constitutes the entire agreement between Licensor and Licensee, and supersedes any prior understanding or representation of any kind preceding the date of this Agreement. There are no other promises, conditions, understandings or other agreements, whether oral or written, relating to the subject matter of this Agreement.
IN WITNESS WHEREOF, the parties have caused this Agreement to be executed the day and year first above written.
LICENSOR




Signature

Print Name

LICENSEE




Signature

Print Name
You've found your form, but will you need others? If there are other related forms you may need in the future, it may be beneficial to look at our combo packages. On average, customers who purchase a combo package save 40% on the related forms they need. Take a look at the combo packages below to see if one is right for you.

Patent License Agreements & Assignments Combo Package
Get 5 forms for just $39.95

Save 37%!
Popular Our very popular Patent License Agreement and Assignment forms together in a convenient packet
Looking for something else?