Rewrite Employment Agreement
for Your State
This Rewrite Employment Agreement is between a producer and a writer who will rewrite a screenplay for a motion picture. This agreement specifically sets out that writer is employed on a "work for hire" basis and it is important the agreement be in writing. This form is for use in all states and available for immediate download.
For Immediate Download
$19.95
Add to Cart
Free eSignature included
with every order
Please select a state
File types included
Microsoft Word
Adobe PDF
WordPerfect
Rich Text Format
Compatible with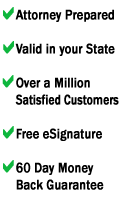 For Immediate Download
$19.95
Add to Cart
Free eSignature included
with every order
Please select a state
Attorney prepared
Our forms are kept up-to-date and accurate by our lawyers
Unlike other sites, every document on FindLegalForms.com is prepared by an attorney, so you can be sure that you are getting a form that is accurate and valid in your state.
Valid in your state
Our forms are guaranteed
to be valid in your state
Our team works tirelessly to keep our products current. As the laws change in your state, so do our forms.
Over 3,500,000
satisfied customers
In over 10 years of creating and selling legal forms, our focus has never changed: providing our customers high quality legal products, low prices and an experience that takes some confusion out of the law.
Free eSignature
Sign your form online, free with any form purchase
We now provide a free Electronic Signature Service to all of our visitors. There are no hidden charges or subscription fees, it's just plain free.
60-Days Money Back
Try our forms with no risk
If you are unhappy with your form purchase for any reason at all, contact us within 60 days and we will refund 100% of your money back.
This Rewrite Employment Agreement is between a producer and a writer who will rewrite a screenplay for a motion picture. This agreement sets forth the specific terms of the employment arrangement including compensation, production bonus, participation in profits and screen credit. It is important that this type of business agreement be memorialized in writing. A well-written Rewrite Employment Agreement will prove invaluable in the event the producer and writer have future disagreements or misunderstandings.
This Rewrite Employment Agreement contains the following provisions:
Parties: Sets forth the name of the producer and writer who will rewrite the screenplay;
Employment: Sets out that the producer employs the writer on a "work for hire" basis and sets out the specific dates the rewritten screenplay should be completed and delivered;
Compensation: Sets out the amount of compensation paid to writer (on execution of the agreement and completion of the screenplay);
Profit Participation: Writer shall be given sole screenplay credit if picture is produced and will share in producer's profits after all costs have been recouped;
Publicity: The writer shall render services in connection with publicity and exploitation of the motion picture unless writer has conflicting contractual commitments;
Suspension: Sets out the contingencies for which writer will be suspended including writer's incapacity or failure and refusal to perform;
Termination: The producer may exercise its rights of termination under this agreement if a suspension continues;
Signatures: The producer and writer must both sign the agreement.
Protect Yourself and Your Rights by using our professionally prepared forms.
This attorney-prepared packet contains:
General Information
Rewrite Employment Agreement
State Law Compliance:
This form complies with the laws of all states
Dimensions
Designed for Letter Size (8.5" x 11")
Editable
Yes (.doc, .wpd and .rtf)
Usage
Unlimited number of prints
This is the content of the form and is provided for your convenience. It is not necessarily what the actual form looks like and does not include the information, instructions and other materials that come with the form you would purchase. An actual sample can also be viewed by clicking on the "Sample Form" near the top left of this page.
Rewrite Employment Agreement
AGREEMENT dated as of __________________________________20_____ between
(
"Producer
"), c/o
and
(
"Writer
").
1.
EMPLOYMENT
. Producer hereby employs Writer, commencing on the date hereof, to rewrite a screenplay (
"the Work
"), as a work-made-for-hire, written by _______________________ based upon
. Writer shall complete and deliver to Producer at the address indicated above the rewritten screenplay within
(
) weeks from the date hereof.
2.
COMPENSATION
. Provided Writer complies with all the terms hereof, Producer shall pay Writer, as full and complete consideration for Writer's services and for all rights granted herein, compensation of ___________________________ Dollars ($
) payable as follows:
a.
Dollars ($
) on execution hereof;
b.
Dollars ($
) on delivery of the Work.
3.
PRODUCTION BONUS
. If a motion picture photoplay is produced based upon the Work (the
"Picture
") and Writer shall be accorded sole screenplay credit (except for any screenplay credit accorded on account of prior writing by others), then Producer shall cause to be paid to Writer the additional sum of
_____________________________Dollars ($
) within _____ (___) days after commencement of principal photography of the Picture.
4.
PROFIT PARTICIPATION
. If the Picture is produced and Writer shall be accorded sole screenplay credit (except for any screenplay credit accorded on account of prior writing by others), then Producer shall pay Writer an amount equal to
percent (________%) of Producer's share of the net profits derived from exploitation of the Picture, provided that Producer shall have recouped all costs incurred by it in connection with the Picture prior to such computation of net profits.
5.
CREDIT
. Unless the Writers Guild of America Theatrical and Television Basic Agreement of 2001, as revised (the "Basic Agreement") or Producer's contract(s) with third parties, shall require otherwise, Writer shall be accorded
position screenplay writing credit on all positive prints of the Picture and in paid advertising issued by or under Producer's control relating thereto. A casual or inadvertent violation of this paragraph shall not constitute a breach of this agreement. The non-compliance with the provisions of this paragraph by any third party shall not constitute a breach hereof. Writer's rights in the event of a breach of this paragraph shall be limited to an action at law for damages, and in no event shall Writer be entitled by reason of any such breach, to terminate or rescind this agreement or to enjoin or restrain the distribution, exhibition or exploitation of the Picture.
(a)
Producer may change, alter, revise, add to or subtract from any of the aforesaid material, in Producer's sole discretion, and may combine any of the aforesaid material with material furnished or created by others; Writer hereby waives any
"droit moral
" or author's
"moral rights.
"
(b)
Writer will, at the request of Producer, execute, verify, acknowledge and deliver to Producer such assignments or other instruments as Producer may from time to time deem necessary or desirable to evidence, establish, maintain, protect, enforce and/or defend its right and title in and to all of the aforesaid material, and Writer hereby irrevocably appoints Producer Writer's attorney-in-fact with full authority to execute, verify, acknowledge and deliver any such instruments which Writer shall fail or refuse to execute, verify, acknowledge or deliver.
(c)
Writer grants to Producer the perpetual exclusive right to use and license others to use Writer's name, likeness and biographical material in connection with advertising, publicizing, or otherwise exploiting the Picture or any element thereof or the aforesaid material written by Writer or any portion thereof in any medium, provided that such use is not in the form of a product or service endorsement, without the specific written consent of Writer in each instance.
(d)
As between Writer and Producer, the Picture and all films, tapes, recordings, prints and copies thereof, all rights therein, and any element or part contained therein shall be the sole property of Producer and may be exhibited, used and/or exploited, in whole or in part, in perpetuity, throughout the universe, in any manner and through any media, whether presently in existence or subsequently devised, as Producer may elect.
(e)
All rights granted and/or agreed to be granted to Producer hereunder shall be irrevocably vested in Producer and shall not be subject to rescission by Writer for any cause whatsoever.
7.
WARRANTIES
. Writer hereby represents, warrants and agrees that: (a) Writer has the right to enter into this agreement and grant the rights agreed to be granted by Writer hereunder; (b) Writer is not subject to any obligation or disability which will or might prevent Writer from fully keeping and performing all of the covenants and conditions to be kept or performed by Writer hereunder, and Writer has not made and Writer will not make any grant, assignment, commitment or do or permit any act which will or might interfere with or impair the full and complete performance of Writer's services or Producer's full and complete enjoyment and exercise of the rights and privileges herein granted; (c) all material, writings, ideas,
"gags
" and dialogue written, composed, prepared, interpolated, or supplied by Writer hereunder (hereinafter "said material") shall be Writer's original creation and shall not be copied in whole or in part from any other work (except for material in the public domain and/or delivered by Producer to Writer for inclusion in the material written by Writer hereunder), and will not violate the right of privacy nor constitute a libel or slander of any person, and that said material will not infringe upon any copyright, literary, dramatic, statutory or common law rights of any kind; provided, however, that Writer shall not be required to warrant or indemnify with respect to any claim that the work defamed or invaded the privacy of any person unless Writer knowingly used the name or personality of such person or should have known, in the exercise of reasonable prudence, that such person would or might claim that Writer's personality was used in such material; Writer acknowledges that Writer's rights and remedies in the event of a breach of this Agreement by Producer shall be limited to the right, if any, to recover damages in an action at law for breach of contract only and shall not include the right to enjoin the use of any material written by Writer hereunder or the exploitation of the Picture. The rights granted by Writer under this Agreement shall not terminate by reason of any breach hereof by Producer.
8.
INDEMNITIES
. Writer shall hold Producer, its successors, licensees and assigns, and the directors, officers, employees and agents of the foregoing harmless from and against all claims, liabilities, damages, costs and expenses (including reasonable attorney fees) arising from any breach by Writer of any warranty or agreement made by Writer hereunder. Producer may, at its election, upon timely notice to Writer, assume the defense of any such claim in which event Writer will fully cooperate with Producer in connection therewith. Producer will hold Writer harmless from all claims, liabilities, damages, costs and expenses (including reasonable attorneys' fees) arising from the use of any material supplied to Writer by Producer for inclusion in the Picture. Producer and Writer agree that upon the presentation of any claim or the institution of any action involving a breach of warranty or agreement, the party receiving notice thereof will promptly notify the other party in regard thereto. Producer agrees that the pendency of any claim or action shall not relieve Producer of its obligation to pay Writer any monies due hereunder, and Producer will not have the right to withhold such monies until it has sustained a loss or suffered an adverse judgment or decree by reason of such claim or action. The provisions of this paragraph are intended to be an indemnity against liability and loss and damage.
9.
ASSIGNMENT
. Producer may assign this Agreement in whole or in part, to any person.
10.
PUBLICITY
. Subject to Writer's conflicting contractual commitments to others, Writer shall render services in connection with interviews, stills and otherwise in connection with the publicizing and exploitation of the Picture. Writer will not furnish or authorize any advertising matter or publicity of any form relating to the Picture, services in connection therewith, Producer or its operations or personnel or any exhibitor of the Picture to any person without the prior written approval of Producer in each case; provided, however, that in personal publicity not relating primarily to the Picture, Writer may make incidental non-derogatory reference to the Picture and Writer's engagement hereunder.
(a)
Rendition of services and accrual and payment of monies hereunder shall be automatically suspended upon the commencement of any one or more of the following contingencies unless Producer notifies Writer in writing to the contrary.
(i)
"Incapacity
": Interference with Writer's ability to fully perform hereunder by reason of mental, physical or other disability. Writer shall notify Producer immediately upon the occurrence of any incapacity. Producer may, at its expense, have Writer examined at any time by such physician(s) it may designate. Writer may have Writer's own personal physician present at such examinations at Writer's expense.
(ii)
"Force Majeure
": Interruption of or interference with the preparation or production of the Picture by any cause or occurrence beyond the sole control of the Producer.
(iii)
"Default
": Writer's failure or refusal to perform hereunder, and any incapacity caused by intoxication or the influence of narcotic drugs. Writer shall notify Producer immediately of any such failure, refusal or incapacity. Any statement by Writer or Writer's agent of Writer's intention not to perform hereunder shall be deemed a default. The failure of Writer to confirm in writing Writer's intention to comply with Writer's obligations (generally or specifically) within twenty-four (24) hours after Producer's request for such confirmation shall be deemed an immediate default although the time for any particular obligation has not then arrived.
(b)
Each suspension shall continue until ended by Producer or upon the end of the contingency (plus such additional period as Producer may reasonably need to arrange to use Writer's services), whichever first occurs. An incapacity or default shall be deemed to have ended when Writer reports to Producer unconditionally ready, willing and able to render services, or otherwise cures the incapacity or default and gives Producer written notice thereof.
(c)
If a suspension exists on a starting date, such starting date shall be deemed postponed from day to day until the end of such suspension or until this agreement is terminated.
(d)
Dates for delivery of material referred to in the Main Agreement shall be postponed for a period equal to the period of suspension, except that in the case of suspension for default postponement shall be at Producer's option.
(e)
Writer shall not render services in the entertainment industry for other than Producer during any suspension; provided that during any suspension for force majeure, Writer may render Writer's services for others, but immediately upon the end of such suspension, Writer shall resume Writer's services hereunder; provided further that to the extent it may be lawful for Producer to so require, Writer shall not render such services for others if Writer is a participant in a labor dispute or strike which is the cause of the force majeure contingency. For purposes of this agreement, Writer shall be deemed to be a participant in any such labor dispute or strike if any labor organization claiming jurisdiction over Writer's services hereunder is the cause of the force majeure contingency.
(a)
If suspension for incapacity continues for ______ (e.g. two) consecutive weeks or ________________ (e.g. three) weeks in the aggregate, Producer may terminate this Agreement at any time during the further continuance of any such suspension.
(b)
If a suspension for force majeure continues for a period or aggregate period of __________ (e.g. five) weeks either Producer or Writer may terminate this Agreement at any time during the further continuance of such suspension, except if Producer within ___________ (e.g. one) week after the actual receipt of Writer's notice of termination, elects to end the suspension as of such date of actual receipt, this Agreement shall not be terminated. Nevertheless, Producer may thereafter terminate this Agreement as provided herein for any contingency other than the contingency giving rise to the suspension in effect at the time payment of monies was resumed. Writer does not have the right to terminate this Agreement pursuant hereto if Writer is a participant in a labor or strike which is the cause of the force majeure contingency.
(c)
Producer may terminate this Agreement at any time during a suspension for default, or a suspension for incapacity if it is clearly apparent that the cause of such incapacity will continue for ______ (e.g. two) consecutive weeks.
(d)
If Producer exercises its right of termination, it shall terminate Producer's obligation to pay Writer any monies which have not accrued or become payable at the time of such termination. No such termination shall waive any other rights Producer may have, at law or otherwise, or affect any right herein granted or warranty herein made by Writer.
(a)
Writer authorizes Producer to make all withholdings and deductions required or allowed by law from any monies which may become payable hereunder.
(b)
This Agreement contains the entire understanding of the parties as to the subject matter hereof, and all prior agreements as to such subject matter have been merged herein.
(c)
This Agreement may not be altered in any way except by an instrument in writing signed by the parties.
(d)
This Agreement shall be interpreted in accordance with the laws of the State of _____________, applicable to agreements executed and to be wholly performed therein. Any controversy or claim arising out of or in relation to this Agreement or the validity, construction or performance of this Agreement, or the breach thereof, shall be resolved by arbitration in accordance with the rules and procedures of the Independent Film & Television Alliance (IFTA), said rules may be amended from time to time with rights of discovery if requested by the arbitrator. Such rules and procedures are incorporated and made a part of this Agreement by reference. If IFTA shall refuse to accept jurisdiction of such dispute, then the parties agree to arbitrate such matter before and in accordance with the rules of the American Arbitration Association under its jurisdiction in ____________ before a single arbitrator familiar with entertainment law. The parties shall have the right to engage in pre-hearing discovery in connection with such arbitration proceedings. The parties agree hereto that they will abide by and perform any award rendered in any arbitration conducted pursuant hereto, that any court having jurisdiction thereof may issue a judgment based upon such award and that the prevailing party in such arbitration and/or confirmation proceeding shall be entitled to recover its reasonable attorney
'
s fees and expenses. The arbitration will be held in ______________ and any award shall be final, binding and non-appealable. The Parties agree to accept service of process in accordance with the IFTA Rules.
__________________________
_________________________
You've found your form, but will you need others? If there are other related forms you may need in the future, it may be beneficial to look at our combo packages. On average, customers who purchase a combo package save 40% on the related forms they need. Take a look at the combo packages below to see if one is right for you.

Screenwriter Combo Kit
Get 8 forms for just $39.95

Save 68%!
This combo kit includes a number of forms for screenwriters. Significant savings off the retail price!

Motion Picture Producer Combo Package
Get 40 forms for just $99.95

Save 87%!
Best Value! This kit includes a comprehensive library of forms for film producers.
Customer Reviews
Average Rating:
Reviews: 1
---




---
Looking for something else?