Synch & Performance License for Use of a Composition on a Soundtrack
for Your State
This license allows a producer to use a musical work in a motion picture.
For Immediate Download
$19.95
Add to Cart
Free eSignature included
with every order
Please select a state
File types included
Microsoft Word
Adobe PDF
WordPerfect
Rich Text Format
Compatible with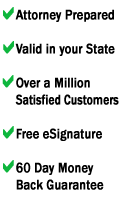 For Immediate Download
$19.95
Add to Cart
Free eSignature included
with every order
Please select a state
Attorney prepared
Our forms are kept up-to-date and accurate by our lawyers
Unlike other sites, every document on FindLegalForms.com is prepared by an attorney, so you can be sure that you are getting a form that is accurate and valid in your state.
Valid in your state
Our forms are guaranteed
to be valid in your state
Our team works tirelessly to keep our products current. As the laws change in your state, so do our forms.
Over 3,500,000
satisfied customers
In over 10 years of creating and selling legal forms, our focus has never changed: providing our customers high quality legal products, low prices and an experience that takes some confusion out of the law.
Free eSignature
Sign your form online, free with any form purchase
We now provide a free Electronic Signature Service to all of our visitors. There are no hidden charges or subscription fees, it's just plain free.
60-Days Money Back
Try our forms with no risk
If you are unhappy with your form purchase for any reason at all, contact us within 60 days and we will refund 100% of your money back.
This Synch and Performance License for Use of Composition on Soundtrack of Motion Picture grants a producer the right to record a composition in synch with the soundtrack of a motion picture. This agreement is between the owner of the composition and a producer and sets out the definitive terms of their arrangement. The license is for perpetuity and worldwide use and it is imperative this license be memorialized in writing. A written Synch and Performance License for Use of Composition on Soundtrack of Motion Picture will prove invaluable in the event of disagreements or litigation.
This Synch and Performance License for Use of Composition on Soundtrack contains the following:
Parties/Motion Picture/Territory and Term: The names of the licensor and producer, the title of the motion picture and the composition, territory and term;
Fees/Ownership and Credit: The license fees, publisher's ownership share, type of use and publisher credit for cue sheet;
Rights: Specific rights under the license including recording, distribution and live performances;
Warranties and Indemnities: Sets out the specific warranties and indemnities of the licensor, including ownership of the composition;
Breach of License Agreement: Any breach will be resolved through binding arbitration;
Signatures: The licensor and producer must sign the agreement.
Protect Your Rights and Property by using our attorney-prepared up-to-date forms.
This attorney-prepared packet contains:
General Information
Synch and Performance License for Use of Composition on Soundtrack of Motion Picture
State Law Compliance:
This form complies with the laws of all states
Dimensions
Designed for Letter Size (8.5" x 11")
Editable
Yes (.doc, .wpd and .rtf)
Usage
Unlimited number of prints
This is the content of the form and is provided for your convenience. It is not necessarily what the actual form looks like and does not include the information, instructions and other materials that come with the form you would purchase. An actual sample can also be viewed by clicking on the "Sample Form" near the top left of this page.
SYNCH & PERFORMANCE LICENSE
FOR USE OF COMPOSITION ON SOUNDTRACK OF MOTION PICTURE
TITLE OF MOTION PICTURE (PICTURE):_________________
TITLE OF COMPOSITION(S) :_______________
TERRITORY:
Throughout the Universe
LICENSE FEE: ____________________
PUBLISHER'S OWNERSHIP SHARE:
100%
TYPE & DURATION OF USE: __________________
PUBLISHER CREDIT FOR CUE SHEET: __________________
1. Right. In consideration for the payment of the License Fee promptly following the signing of this agreement, Licensor hereby grants to PRODUCER, its successors, assignees and successors, the following nonexclusive and irrevocable rights throughout the Territory in perpetuity:
(a) the right to record the Composition in synchronization or timed relation with the Picture and copies thereof in any manner, medium, form or language to make copies of such recordings and to import such recordings and copies into and exploit them in each country of the Territory in accordance with the terms, conditions and limitations contained in this license
,
(b) the right to distribute, publicly perform, sell, lease, broadcast, exhibit and otherwise use and exploit all versions and copies of the Picture with the Composition contained therein in any media and by any means now known or hereafter devised (including without limitation in the theatrical, non-theatrical, television (all forms including pay
per
view) and home video media;
(c) the right to utilize the Composition or excerpts therefrom, in or out of the context in which the Composition has been recorded in the Picture, in any media for the purpose of advertising, promot
ing or publicizing the Picture (including without limitation in trailers, spots and commercials).
2. Performing Rights. PRODUCER agrees that it shall not authorize the performance of the Composition in the Picture in the United States by means of television unless the broadcaster or exhibitor has a valid small performing rights license for the Composition from a performing rights society or from Licensor, unless PRODUCER has obtained such a license directly from Licensor and with respect to the theatrical or television performance of the Composition in the Picture in any country outside of the United States where small performing rights licenses are required for such use, unless the performance shall have been cleared by the applicable performing rights society in accordance with such society's customary practice and subject to payment to such society of such society's customary fees for such performance, unless PRODUCER has otherwise obtained a valid license for such use directly from Licensor.
3. Reservation of Rights. This license does not authorize or permit any use of the Composition not expressly set forth herein, all rights not expressly granted herein being reserved to the Licensor.
4. Warranties and Indemnities. Licensor hereby warrants and represents that:
(a) it has the full right, power and authority to enter into this Agreement and to grant all rights granted herein, that it is not under nor will it be under, any disability, restriction or prohibition with respect to its rights to fully perform in accordance with the terms and conditions of this Agreement and that there shall be no liens, claims or other interests which may interfere with, impair or be in derogation of the rights granted herein;
(b) Licensee shall not be required to make any payments of any nature for, or in connection with, the acquisition, exercise or exploitation of rights by Licensee pursuant to this Agreement except as specifically provided in this Agreement;
(c) The use of the Composition(s) and the rights granted by Licensor will violate or infringe upon any common law or statutory right of any person, firm or corporation including, without limitation, contractual rights, copyrights, and rights of privacy.
(d) Licensor owns or control 100% of the Composition.
Licensor will indemnify and hold PRODUCER harm
less from any and all claims, liabilities, losses, damages and expenses arising from any breach or alleged breach of Licensor's warranties or representations under this license.
5. Cure/Remedies. No failure by PRODUCER to perform any of its obligations hereunder shall be deemed a breach hereof unless Licensor has given written notice of such failure to PRODUCER does not cure such nonperformance within thirty (30) days after receipt of such notice. In the event of a breach of this agreement by PRODUCER, Licensor's rights and remedies shall be limited to its right, if any, to recover damages in an action at law and in no event shall Licensor be entitled to injunctive or other equitable relief.
6. Binding Effect. This license shall be binding upon and shall inure to the benefit of the parties and their respective successors, licensees and/or assigns.
7. Arbitration & Jurisdiction: This Agreement shall be interpreted in accordance with the laws of the State of _________________________, applicable to agreements executed and to be wholly performed therein. Any controversy or claim arising out of or in relation to this Agreement or the validity, construction or performance of this Agreement, or the breach thereof, shall be resolved by arbitration in accordance with the rules and procedures of Independent Film and Television Alliance (IFTA), as said rules may be amended from time to time with rights of discovery if requested by the arbitrator. Such rules and procedures are incorporated and made a part of this Agreement by reference. If IFTA shall refuse to accept jurisdiction of such dispute, then the parties agree to arbitrate such matter before and in accordance with the rules of the American Arbitration Association under its jurisdiction in __________________________ before a single arbitrator familiar with entertainment law. The parties shall have the right to engage in pre-hearing discovery in connection with such arbitration proceedings. The parties agree hereto that they will abide by and perform any award rendered in any arbitration conducted pursuant hereto, that any court having jurisdiction thereof may issue a judgment based upon such award and that the prevailing party in such arbitration and/or confirmation proceeding shall be entitled to recover its reasonable attorney
'
s fees and expenses. The arbitration will be held in __________________________ and any award shall be final, binding and non-appealable. The Parties agree to accept service of process in accordance with the IFTA Rules.
IN WITNESS WHEREOF, the parties hereto have executed this Agreement as of the year and date written below.
By:
___________________________
___________ an Authorized Officer
Date:__________________________
By:
_____________________________
___________ an Authorized Officer
Date:__________________________
You've found your form, but will you need others? If there are other related forms you may need in the future, it may be beneficial to look at our combo packages. On average, customers who purchase a combo package save 40% on the related forms they need. Take a look at the combo packages below to see if one is right for you.

Motion Picture Producer Combo Package
Get 40 forms for just $99.95

Save 87%!
Best Value! This kit includes a comprehensive library of forms for film producers.
Customer Reviews
Average Rating:
Reviews: 1
---





Smooth transition....thanks
---
Looking for something else?