Writer Employment Agreement - Motion Picture
for Your State
This Writer Employer Agreement is between a producer and writer who will write a screenplay for a non-union motion picture. This form is for use in all states and is available for instant download.
For Immediate Download
$14.95
Add to Cart
Free eSignature included
with every order
Please select a state
File types included
Microsoft Word
Adobe PDF
WordPerfect
Rich Text Format
Compatible with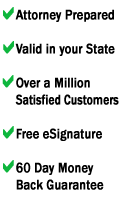 For Immediate Download
$14.95
Add to Cart
Free eSignature included
with every order
Please select a state
Attorney prepared
Our forms are kept up-to-date and accurate by our lawyers
Unlike other sites, every document on FindLegalForms.com is prepared by an attorney, so you can be sure that you are getting a form that is accurate and valid in your state.
Valid in your state
Our forms are guaranteed
to be valid in your state
Our team works tirelessly to keep our products current. As the laws change in your state, so do our forms.
Over 3,500,000
satisfied customers
In over 10 years of creating and selling legal forms, our focus has never changed: providing our customers high quality legal products, low prices and an experience that takes some confusion out of the law.
Free eSignature
Sign your form online, free with any form purchase
We now provide a free Electronic Signature Service to all of our visitors. There are no hidden charges or subscription fees, it's just plain free.
60-Days Money Back
Try our forms with no risk
If you are unhappy with your form purchase for any reason at all, contact us within 60 days and we will refund 100% of your money back.
This Writer Employment Agreement is between a producer and a writer who will write a screenplay for a non-union motion picture. This agreement successfully sets out terms of the arrangement including forms of work and delivery, performance standards and compensation. It is crucial that this type of business arrangement is memorialized in writing. A written Writer Employment Agreement for a Non-Union Motion Picture will prove invaluable if there are future disagreements or misunderstandings.
This Writer Employment Agreement (Non-Union Motion Picture) contains the following provisions:
Parties: Identifies the producer and writer;
Employment: Sets forth the title of the motion picture for which writer will perform services;
Services/Form of Work: Sets out the producer's use of the work and forms (first draft screenplay, rewrite, final version);
Delivery: Writer agrees to deliver the forms of work on specific dates;
Compensation: Fixed compensation writer will receive for services rendered;
Ownership: Any work written by writer is a "work for hire" and producer shall retain the sole and exclusive rights to any works;
Name and Likeness: Producer has the right to use writer's name and likeness for publicity purposes;
Arbitration and Jurisdiction: Any controversy, claim or breach of this agreement will be heard by the American Arbitration Association before an arbitrator familiar with entertainment law;
Signatures: Producer and writer must sign the agreement.
Protect Yourself and Your Rights by using our professionally prepared forms.
This attorney-prepared packet contains:
General Information
Writer Employment Agreement (Non-Union Motion Picture)
State Law Compliance:
This form complies with the laws of all states
Dimensions
Designed for Letter Size (8.5" x 11")
Editable
Yes (.doc, .wpd and .rtf)
Usage
Unlimited number of prints
This is the content of the form and is provided for your convenience. It is not necessarily what the actual form looks like and does not include the information, instructions and other materials that come with the form you would purchase. An actual sample can also be viewed by clicking on the "Sample Form" near the top left of this page.
WRITER EMPLOYMENT AGREEMENT
(Motion Picture, Non-Union)
Agreement effective __________, 20___, between _____________________________[Name of Production Company], a __________[State of
Incorporation
] Corporation (
"Producer
"), and _______________ [Name of Writer] (
"Writer
").
1. EMPLOYMENT: Producer employs Writer to perform and Writer agrees to perform writing services for Producer's proposed motion picture currently entitled
"___________________
" (
"The Picture
"), based on an original story by Producer. All of Producer's obligations under this Agreement are expressly conditioned upon Writer's completion, to Producer's satisfaction, of Form I-9 (Employment Eligibility Verification Form) and Writer's submission to Producer of original documents satisfactory to Producer to prove Writer's employment eligibility.
2. SERVICES/FORM OF WORK: The completed results and product of Writer's services (including all material created, added, interpolated and submitted by Writer) shall be deemed the
"Work
" which shall be created in each of the applicable forms listed below (
"Form of Work
"):
FORMS OF WORK: _____________________________________________________
__________________________________________________________________________________________________________________ [e.g., First Draft Screenplay, rewrite]
(a) Use of Work: In Producer's sole, absolute and unfettered discretion, Producer may use or not use the Work and may make any changes in, deletions from or additions to the Work.
(b) Underlying Property: If the Work is based on an original idea or material (
"Property
") created by Writer, Writer hereby grants Producer the same rights in the Property as Producer is acquiring hereunder in the Work. The compensation payable to Writer pursuant to Paragraph 5 includes payment for said rights in the Property and for the writing services of Writer hereunder.
3. DELIVERY: Writer agrees to complete and deliver each Form of Work and the Work, including any changes and revisions required by Producer as follows:
First Draft due: ________.
4. PERFORMANCE STANDARDS: All of Writer's services shall be rendered promptly in a diligent, conscientious, artistic and efficient manner and Writer shall devote Writer's entire time and attention and best talents and abilities to the services to be rendered, either alone or in collaboration with others. Writer's services shall be rendered in such manner as Producer may reasonably direct pursuant to the instructions, suggestions and ideas of, and under the control of, and at the times and places reasonably required by, Producer's duly authorized representatives. Writer, as and when reasonably requested by Producer, shall consult with Producer's duly authorized representatives and shall be available for conferences with such representatives for such purposes at such times and places during Writer's employment as may be required by such representatives.
5. COMPENSATION: Conditioned upon Writer's full performance of all of Writer's obligations hereunder, Producer will pay Writer as full and complete compensation for all services rendered and rights granted as follows:
(a) Fixed compensation: _______________ dollars ($__________) which shall be paid one half upon execution of this agreement, and one-half upon delivery of the last Form of Work due Producer.
(b) No further payments of any type shall be paid to writer.
6. WARRANTIES, REPRESENTATIONS, INDEMNITIES:
(a) Writer Warranties and Representations: Writer warrants and represents that each Form of Work and the Work shall be wholly original with Writer, except as to matters within the public domain and except as to material inserted by Writer pursuant to specific instructions of Producer, and shall not infringe upon or violate the rights of privacy or publicity of, or constitute a libel or slander against, or violate any common law or any other rights of, any person, firm or corporation.
(b) Writer's Indemnities: Writer shall indemnify Producer and Producer's licensees and assigns and its or their officers, agents and employees, from all liabilities, actions, suits or other claims arising out of any breach by Writer of Writer's warranties and representations and out of the use by Producer of the Work and from reasonable attorneys' fees and costs in defending against the same. The foregoing shall apply only to material created or furnished by Writer, and shall not extend to changes or additions made therein by Producer, or to claims for defamation or invasion of the privacy of any person unless Writer knowingly uses the name or personality of such person or should have known, in the exercise of reasonable prudence, that such person would or might claim that such person's personality was used in the Work.
(c) Producer's Indemnities: Producer shall indemnify Writer to the same extent that Writer indemnifies Producer hereunder, as to any material supplied by Producer to Writer for incorporation into the Work.
(d) Notice and Pendency of Claims: The party receiving notice of any claim or action subject to indemnity hereunder shall promptly notify the other party.
7. OWNERSHIP: As Writer's employer, Producer shall solely and exclusively own throughout the world in perpetuity all rights of every kind and nature in the Work, and all of the results and proceeds thereof in whatever stage of completion as may exist from time to time, together with the rights generally known as the
"moral rights of authors.
" Writer acknowledges that the Work is being written by Writer for use as a Motion Picture and that each Form of Work is being written by Writer as a "work made for hire" within the scope of Writer's employment by Producer, and, therefore, Producer shall be the author and copyright owner of the Work.
8. FCC: Writer understands that, as to any Television Program based on the Work, it is a Federal offense, unless disclosed prior to broadcast to Producer or to the station or licensee which broadcasts the Program, to:
(a) Give or agree to give any member of the production staff, anyone associated in any manner with the Program or any representative of the Producer, the station or network, any portion of compensation payable to Writer or anything else of value for arranging Writer's employment in connection with the Program.
(b) Accept or agree to accept anything of value, other than compensation payable to Writer under this Agreement, to promote any product, service or venture on the air, or to incorporate any material containing such a promotion in the Program.
Writer is aware that Producer prohibits such conduct with or without disclosure to Producer, and any such conduct or failure to disclose shall be a material breach of this Agreement.
(a) To Writer: All notices from Producer to Writer may be given in writing by mailing the notice to Writer, postage prepaid, or at Producer's option, Producer may deliver such notice to Writer personally, either orally or in writing. The date of mailing or of personal delivery shall be deemed to be the date of service. Payments and written notice to Writer shall be sent to Writer at ______________________________________.
(b) To Producer: All notices from Writer to Producer shall be given in writing by mail, messenger, cable or fax addressed as indicated below. The date of mailing, messengering, cabling, telexing or faxing shall be deemed to be the date of service.
Mail:
_____________________________
_____________________________
_____________________________
FAX: _____________________________
(c) Change of Address: The address of Writer and of Producer set forth herein may be changed to such other address as Writer or Producer may hereafter specify by written notice given to the other Party.
10. ASSIGNMENT: This Agreement is non-assignable by Writer. This Agreement shall inure to the benefit of Producer's successors, assignees, licensees and grantees and associated, affiliated and subsidiary companies. Producer and any subsequent assignee may freely assign this Agreement, in whole or in part, to any party provided that such party assumes and agrees in writing to keep and perform all of the executory obligations of Producer hereunder.
11. NAME AND LIKENESS: Producer shall have the right to use and permit others (including any exhibitor of the Picture) to use Writer's name and likeness for the purpose of advertising and publicizing the Work, any television broadcast of the Picture, and any of exhibitor's services, but not as an endorsement or testimonial.
12. PAY OR PLAY: The rights in this Paragraph shall be in addition to and shall not in any way diminish or detract from Producer's rights as otherwise set forth. Producer shall not be obligated to use Writer's services, nor use the results and product of Writers services, nor produce, release, distribute, exhibit, advertise, exploit or otherwise make use of the Picture. Producer may at any time, without legal justification or excuse, elect not to use Writer's services or to have any further obligations to Writer under this Agreement. If Producer elects not to use Writer's services pursuant to this Paragraph, Writer shall be paid the Compensation set forth in Paragraph 5 (a) if Writer performs those services.
13. CREDIT: If Writer is only employed to rewrite or polish another work, Writer shall receive writing or co-writing credit only if Writer's work comprises more than half of the final completed screenplay. In determining whether Writer is awarded sole, shared or no writing credit, reference shall be made to the principles of the WGA credit arbitration rules. Although Producer is not a WGA signatory and writer is not a WGA member, to the extent possible, the principles of the WGA credit arbitration rules shall be followed by producer in good faith. In the event of a credit dispute, the arbitrator of such a dispute shall follow the WGA credit rules to the extent they do not conflict with the rules of the American Arbitration Association.
14. CONDITIONS AFFECTING OR RELATED TO COMPENSATION:
(a) Method of Payment: All compensation which shall become due to Writer shall be paid by Producer by check and sent to Writer at the address provided in the Notices and Payments provision of this Agreement.
(b) Governmental Limitation: No withholding, deduction, reduction or limitation of compensation by Producer which is required or authorized by law ("Governmental Limitation") shall be a breach by Producer or relieve Writer from Writer's obligations. Payment of compensation as permitted pursuant to the Governmental Limitation shall continue while such Governmental Limitation is in effect and shall be deemed to constitute full performance by Producer of its obligations respecting the payment of compensation. The foregoing-notwithstanding, if at such time as the Governmental Limitation is no longer in effect there is compensation remaining unpaid to Writer, Producer shall cooperate with Writer in connection with the processing of any applications relative to the payment of such unpaid compensation and Producer shall pay such compensation to Writer at such times as Producer is legally permitted to do so.
(c) Garnishment/Attachment: If Producer shall be required, because of the service of any garnishment, attachment, writ of execution, or lien, or by the terms of any contract or assignment executed by Writer, to withhold, or to pay to any other Party all or any portion of the compensation due Writer, the withholding or payment of such compensation or any portion thereof in accordance with the requirements of any such attachment, garnishment, writ of execution, lien, contract or assignment shall not be construed as a breach by Producer.
(d) Overpayment/Offset: If Producer makes any overpayment to Writer for any reason or if Writer is indebted to Producer for any reason, Writer shall pay Producer such overpayment or indebtedness on demand, or at the election of Producer, Producer may deduct and retain for its own account an amount equal to all or any part of such overpayment or indebtedness from any sums that may be due or become due or payable by Producer to Writer or for the account of Writer and such deduction or retention shall not be construed as a breach by Producer.
15. ARBITRATION AND JURISDICTION: This Agreement shall be interpreted in accordance with the laws of the State of ______________, applicable to agreements executed and to be wholly performed therein. Any controversy or claim arising out of or in relation to this Agreement or the validity, construction or performance of this Agreement, or the breach thereof, shall be resolved by arbitration in accordance with the rules and procedures of the Independent Film & Television Alliance (IFTA), said rules may be amended from time to time with rights of discovery if requested by the arbitrator. Such rules and procedures are incorporated and made a part of this Agreement by reference. If IFTA shall refuse to accept jurisdiction of such dispute, then the parties agree to arbitrate such matter before and in accordance with the rules of the American Arbitration Association under its jurisdiction in ___________ before a single arbitrator familiar with entertainment law. The parties shall have the right to engage in pre-hearing discovery in connection with such arbitration proceedings. The parties agree hereto that they will abide by and perform any award rendered in any arbitration conducted pursuant hereto, that any court having jurisdiction thereof may issue a judgment based upon such award and that the prevailing party in such arbitration and/or confirmation proceeding shall be entitled to recover its reasonable attorney
'
s fees and expenses. The arbitration will be held in ___________ and any award shall be final, binding and non-appealable. The Parties agree to accept service of process in accordance with the IFTA Rules.
Signed and agreed to by the unders
igned as of ____________, 20___.
[Name of Production Company]
Social Security #
_____________________
You've found your form, but will you need others? If there are other related forms you may need in the future, it may be beneficial to look at our combo packages. On average, customers who purchase a combo package save 40% on the related forms they need. Take a look at the combo packages below to see if one is right for you.

Screenwriter Combo Kit
Get 8 forms for just $39.95

Save 68%!
This combo kit includes a number of forms for screenwriters. Significant savings off the retail price!

Motion Picture Producer Combo Package
Get 40 forms for just $99.95

Save 87%!
Best Value! This kit includes a comprehensive library of forms for film producers.
Customer Reviews
Average Rating:
Reviews: 1
---




---
Looking for something else?